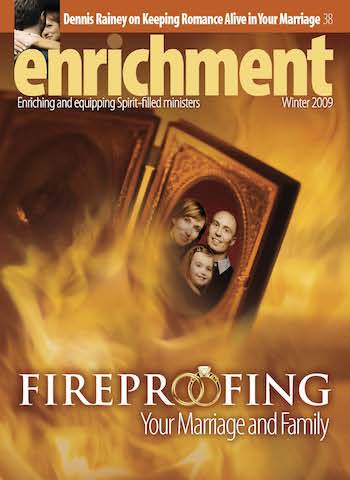 Downloads:
Fizzle or Sizzle
Keeping Romance and Adventure Alive in Your Marriage
by Dennis Rainey
---
A television talk show host was interviewing one of Hollywood's biggest male stars, a man known for his romantic image. The host asked him, "What makes a great lover?"
"Two things," the star replied. "First, it is a man who can satisfy one woman over a lifetime. And it is a man who can be satisfied with one woman for a lifetime."
What a great answer. To build a lasting marriage of oneness and intimacy, you and your spouse must be committed to meeting each other's physical and emotional needs — for a lifetime. And one of those needs is romance.
To ensure that we do not miss the importance of romance, God dedicated an entire book of the Bible — Song of Solomon — to the subject. Reading this poetic book is like eavesdropping on a romantic dialogue between a man and his wife. Solomon describes his love as a hot fire. "Even much water," he declares, "cannot put out the flame of love" (Song of Solomon 8:7, NCV).1
We need that fire in our marriages. The problem is that within the first year or two after the wedding, the romantic flames that burned so brightly during engagement seem to crumble into faint, glowing embers.
Romantic love is part of God's character. He made us in His image, and He gave us emotions. Just as He woos us to follow Him and express our love for Him, so a husband and wife attempt to win each other's affections. In many regards, husbands and wives are modeling how God pursues people.
While we cannot base marriage solely on romantic feelings, we also cannot deny our need for closeness and intimacy. Without these qualities in their relationship, a couple will drift into isolation.
Solomon also uses the vineyard metaphor to describe romantic love. In Song of Solomon 2:15, he describes the "little foxes that are ruining the vineyards, while our vineyards are in blossom" (NASB).2 These thieves steal the fruit of love before a couple has a chance to enjoy it.
Pastors are especially vulnerable to these foxes. In addition to the normal challenges of marriage — unresolved conflict, unrealistic expectations, and young children who wear you out — the weight of pastoral ministry is one of the more difficult assignments in life. The work schedule alone can create tensions at home. One pastor told me, "We have become ministers because we have this great passion to care for and love people to Christ. We will do whatever it takes, and sometimes we get misguided. We put so much energy into the work of the church that we don't realize what we are doing to our own families and to our own lives and children."
I will never forget attending a day-long focus group of more than 20 pastors. For hours we discussed family issues and what the church needs to do to strengthen families. At the end of the day I asked, "What is your greatest need concerning strengthening families in your church?"
I was unprepared for the response these church leaders gave. Nearly in unison they said, "My marriage and family." Ministry was exacting an incredible toll on these men's families.
On another occasion I talked with a group of pastors' wives. I asked them what advice they would give young pastors and their wives about marriage. Here are some of their answers:
"Make dating a priority — see if you can have a date without discussing the church. Tell your husband if he's home by (a reasonable hour), you will make it worth his while."
"Advise them to take care of themselves as a couple first. They need to remind themselves as they counsel others, particularly the unmarried, that they must focus on their oneness in Christ."
"Talk. Be sure that some of your activities are not church related (have a life outside the church). Laugh about things instead of getting defensive."
"Be who you are, not what others expect you to be."
"Pray about developing healthy boundaries for the two of you — what God would have you do to protect yourselves from being consumed by others. You desire to help everyone, but without healthy boundaries, the two of you will suffer."
"Have a family day once a week. Read and learn together."
"Each week set aside at least 3 or 4 hours to spend together discussing what is important, what is going on that week, and concerns, as well as doing something fun. Pray together daily."
Do you recognize the underlying desire these women have for a real relationship with their husbands? They want connection. They want romance. They want their marriages to be a priority.
If you want to put some spark back into your relationship, I have a few tips:
Seek To Meet Your Spouse's Romantic Needs
Become a student of your spouse. Learn what pleases him or her. Do you know that men and women view romance through different lenses? To confirm this, the next time you are in Bible study or Sunday School class, divide the men and women into separate groups and ask: "What romantic gesture would you like your spouse to do for you?"
I guarantee that, if they are honest, the men will focus on physical intimacy: "Dress up in a sexy negligee," or "Meet me at the front door without any clothes." The women, however, will say: "Take me to a romantic, candle-lit restaurant"; "Spend time talking with me"; or "Sit in front of a fire and cuddle." Sight and touch motivate men; women want to develop a relationship.
Meeting your spouse's romantic needs involves more than understanding male/female differences. It also means remembering what pleases him or her. And it means sacrificing your own needs to meet those of your spouse. Selfishness and romance do not mix well.
Make Romance a Priority in Your Relationship
Everything of value or everything that requires a time commitment finds a place on your schedule. Romance should, too. Sit down tonight with your spouse and your calendars. Find a time in the next 2 weeks when both of you can go out. Make sure both of you write down the date — if you use a day planner or a PDA, put in the information. This exercise will cause both of you to anticipate your time together.
This also means making time in your schedule for sex. One reason so many marriage beds seem frozen over or boring is that couples do not have time for sex. Let's face it, today our jobs and businesses seem to get our best. Our children usually get our best. Even church work can get our best. But adding romance and adventure to our marriages seldom gets our best.
Make Your Home — and Especially Your Bedroom — a Creative Setting for Sex
Your bedroom needs to be a private, secure, romantic hideaway, not a place where the husband rebuilds his motorcycle or the children gather to sculpt play dough.
When we had children at home, Barbara and I worked hard to save some of our best for each other. Our children learned over the years that Mom and Dad often like to have quiet evenings alone. When the children were younger, we occasionally turned the kitchen into a famous, big-time restaurant called the Rainey Rainbow Room. We let each child order a special meal from a special menu. Barbara and I served as chef and waiter, and the kids had a great time learning a little about how to eat out.
Later in the evening, they knew they were to stay in their rooms except for bathroom runs. At 8 p.m., Barbara and I turned our bedroom into our own romantic cafe, complete with a small table, candles, and flowers. There we would eat, talk, and relax. As we communicated, we reminded ourselves of what attracted us to each other, and romance had opportunity to ignite. We did not need to worry about a baby-sitter and did not need to leave the house to get away alone.
Look for Creative Ways To Communicate Love and Commitment to Your Spouse
When two people are dating and considering marriage, they often come up with creative ways to woo and attract each other. They talk on the phone, send notes and flowers, and plan special outings. Isn't it a shame that this courtship fizzles within a few months of the wedding? We need to court our spouses with the same enthusiasm.
Plan Some Special Dates or Weekends Together
You may be thinking, How can you plan romance? It is supposed to be spontaneous.Sometimes that is true. But we are amazed at the number of couples we meet who rarely spend meaningful time together. Many couples attending our Weekend To Remember marriage conferences say they have not been on a date in more than a year. Even more shocking is the fact some have not been away alone together overnight since their honeymoon. How long has it been for you?
I know a man who planned a romantic getaway as a surprise for his wife. About 2 weeks before they were to leave, he began to scatter little hints around the house. Using clues he gave her, she would find these hints and collect them.
Finally, she took all the clues and pieced together a map of New England. Then the husband told her what was happening and all she had time for was to pack and kiss their kids goodbye. They took off and spent their 10th wedding anniversary in New England. His wife still talks about that trip — and is ready for another one.
Rekindling the romance in your marriage does not require a great deal of money, and it often does not even take much time. What you do need is a long-term commitment to do it. Like any good fire in the fireplace, romance needs attention and fuel. Take some time today to throw another log on the fire — the warmth is worth it.
Dennis Rainey is the president, CEO, and cofounder of FamilyLife, a subsidiary of Campus Crusade for Christ. Rainey has written and cowritten more than a dozen books, including Staying Close, selected in 1990 as the outstanding book on marriage and family. He can be heard daily as cohost of the nationally syndicated radio program FamilyLife Today™. He and his wife, Barbara, live near Little Rock, Arkansas.
Endnotes
1. Scripture quotations marked NCV are taken from the Holy Bible, The New Century Version®. Copyright © 1987, 1988, 1991. Used by permission of Word Publishing.
2. Scripture quotations taken from the New American Standard Bible®, Copyright © 1960, 1962, 1963, 1968, 1971, 1972, 1973, 1975, 1977, 1995 by The Lockman Foundation. Used by permission (www.Lockman.org).
15 Ways to Please Your Husband
If you are creative, pleasing your mate may be a natural part of your personality. But a less creative person may need some coaching to become a partner pleaser. All wives need an occasional reminder to reach out. Here are a few ideas:
1. Write him a letter and send it to his office, or put a love note in his lunch box or briefcase.
2. Prepare his favorite meal.
3. Arrange an evening out for just the two of you.
4. Wear his favorite dress with your hair done the way he likes it.
5. Purchase something small and frivolous for him that he will not buy himself.
6. Give him a nicely framed picture of yourself, or of you and the children, for his office.
7. Surprise him with an all-expense-paid trip to do something he likes, such as golf, fishing, or hunting.
8. Put the children to bed early and prepare a candlelight dinner.
9. Do something that especially pleased him when you were dating.
10. Read Scripture and pray with him regularly.
11. Take walks together.
12. Keep your junk out of the garage.
13. Greet your husband warmly after work.
14. Wear his favorite negligee, or buy a new nightgown to add sizzle to your evening attire.
15. Clean out the car for him.
Sometimes the smallest gestures can make the biggest difference in your marriage. Pick out something you have not tried before; do not give complacency a foothold in your marriage relationship.
BARBARA RAINEY, Little Rock, Arkansas
5 Romantic Needs of a Wife
To most women, the word romance is spelled relationship. I have spent the better part of my marriage learning and adjusting this summary of a woman's romantic needs. I developed this list through observation and conversation with Barbara and other women, and through studying the Song of Solomon.
A wife has more than five romantic needs, but I consider these the top five:
1. To receive spiritual nourishment from her husband. A woman wants a man to be her protector, someone who cares not only about her security and physical needs, but also (and even more important) about her spirituality — the well-being of her soul.
Pastors are no different from many men in that they, too, struggle with providing leadership in the home. One pastor told me that it is easier for him to lead his church spiritually than it is to lead his wife and family. But being a spiritual protector and advocate for your wife can be as simple as praying with and for her daily, sharing Scripture and initiating conversation on spiritual issues, and giving her some time to pursue her spiritual growth.
2. To feel safe and secure with her husband. When woman feels her husband's covenantal commitment to stay married and to love her and accept her, she feels safe to give him the gift of who she is in the marriage relationship. The Shulammite woman who was the object of Solomon's passion said, "I am my beloved's and my beloved is mine" (Song of Solomon 6:3, NASB). She obviously had a strong sense of contentment and security.
3. To share intimate conversation. Many husbands do not realize that for our wives to consider us romantic, we first need to be a great friend and a conversationalist.
Grunts and one-word answers to questions will not cut it. Too many women do not feel that their husbands need them, and bare-bones conversation confirms their sense of low personal value. Many men who engage in romantic, deep conversations during courtship lose this talent later. Rediscover romantic conversation. Make a commitment to learn to make intimate conversation a priority with your wife.
4. To receive a tender touch and hear gentle words. There is great power in tender touch, whether it is a long, full-body hug, or a lingering kiss. Or the touch may be a gentle caress of her face that has no motive to make sexual demands but communicates, "I love you, Sweetheart, and I care for you tenderly."
Gentle words have similar power. A husband needs to habitually praise and compliment his wife.
5. To feel pursued and set apart by her man. A wife wants a husband who will swoop her off her feet, carry her away to the castle, and say, "Let's spend time together." Focused attention is like precious gold in a relationship.
DENNIS RAINEY, Little Rock, Arkansas