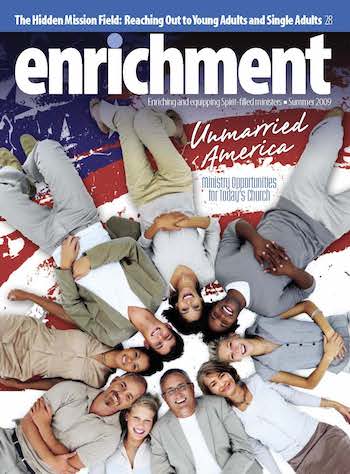 Downloads:
Unmarried America
How Single Adults Are Changing the Face of the U.S. and What It Means for the Church
---
How is the church doing when it comes to reaching the 14th largest nation in the world? How many missionaries are focused on that group? How manypeople are aware that this population is exploding, while its representation in churches is falling dramatically?
These questions take on real significance when we realize we are speaking about single adults in America. According to census data, there were 101 million unmarried adults in the U.S. in 2007. If single adults were a country, they would be the 14th largest nation. (Germany, the largest country in Europe, is number 17.)
Growing Population
Who are single adults? For one thing, they are heads of households. A Census Bureau report released September 23, 2008, shows that in 2007, for the third consecutive year the majority of the nation's households were headed by unmarried Americans. Unmarried adults now head up a majority of households in 22 states, and more than 300 cities — a figure that has increased each year for several years. According to the Census Bureau American Community Survey, over half of the country's total households are headed by single adults.
That survey also revealed that blacks and Hispanics are more likely than whites or Asians to be single. More than six in 10 blacks are unmarried, and almost one in 10 black adults lives alone with children. Gays and lesbians are also a significant segment of the single population (approximately 9 percent), though not necessarily by choice since only two states allow same-sex marriage.
The Census Bureau surveyed about 3 million households from every county in the nation. They include 12.2 million widows and 3 million widowers, as well as 25 million men and women who are divorced. In addition, there are 32.8 million men and 27.1 million women who have never married.
More racially diverse than the overall population, singles are also younger — 57 percent are less than 45 years old, and four in 10 are younger than 35, according to "Singles in the U.S.: the New Nuclear Family," a report from market research publisher Packaged Facts, a division of MarketResearch.com.
Unmarried adults — those never married, divorced, widowed, or separated — share generational similarities: younger singles are comfortable with technology, for example, while older singles focus on luxury. About a quarter of singles are Boomers, who seem open to experience-oriented travel. The most significant unmarried sub-group — single parents — enjoys sharing their children's entertainment, according to the report. And single moms, despite earning 66 percent less than their male counterparts, concentrate more on providing for their kids materially and emotionally.
The configuration of these unmarried households is diverse. More than 30 million Americans live alone, far outnumbering the 24.2 million households that contain married couples with children less than 18 years of age. The 10.8 million single-parent homes include 2.5 million single dads with custody of their children and 8.3 million single mothers. About 12 million adults are living with an unmarried partner, while some 47 million unmarried Americans are living with relatives.
Shrinking Population
While this enormous growth has occurred among this segment of the U.S. population, another dramatic shift has been taking place at the same time. Attendance in most U.S. churches has declined or plateaued across all segments of the population, and especially among singles.
Let us look at two denominations.
According to the 2006 Annual Church Profile (ACP), there are 44,223 churches in the Southern Baptist Convention. The Southern Baptist Convention measures church growth by the number of baptisms. In 2006, 10,449 churches baptized no one; 3,312 churches baptized only one person; and 13,760 churches baptized 1 to 5 people. A total of 27,521 churches in the SBC baptized five or less people for an entire year, which is 62 percent of all SBC churches. Furthermore, at least three of four churches are plateaued or declining.
Or consider the Presbyterian Church USA. In 2 years, the denomination shrank by approximately 94,000 people. In 2006, this church saw a net loss of 56 congregations and a membership decrease of nearly 46,000 people.
"We Presbyterians have a lot to be humble about," said Dan Chun, speaker at last year's General Assembly closing worship. For 42 consecutive years, the church has been losing members. Only five churches of the nearly 11,000 in the denomination have grown every year for the past 10 years. Three in every four churches have either reached an attendance plateau or have experienced declining attendance.
Addressing Both Problems at Once
We have a great opportunity in American church history to address two issues at the same time. We can reach out in love to single adults and avail ourselves of their gifts and energy to strengthen the church.
Viewing single adults as a specific target of church ministry is not a new idea; single adult ministry was a focus in many churches during the 1970s and 1980s. Yet, years later, there are increasing numbers of singles and decreasing numbers of churchgoers. The question today is: How can we use the lessons learned — or missed — by those who focused on single adult ministry in earlier decades?
Singles were the new kids on the block in the '70s when I took my first position as singles pastor. Our church was one of the first to have a singles ministry in our city. By the '80s it seemed every church had a singles ministry. Furthermore, the church had countless resources for single adults and their leaders: singles conferences, books about ministry to singles, Bible studies for singles groups, teaching videos for singles pastors, newsletters, sports leagues, cruises and trips to the Holy Land, and much more.
At the time, those in singles ministry understood that churches did not want to embrace singles any more than they wanted to embrace the homeless. But singles simply became too powerful in terms of affluence, education, and sheer numbers to ignore. Singles had forced their way into the church, and the church had to figure out what to do with these parishioners who did not fit neatly into any established ministries.
What did we do? We took single adults who were looking for answers and put them into fellowship groups where they studied topics like relationships, loneliness, and recovery. We encouraged them to be consumers, not partners. Mike Regele, who wrote Death of the Church, said, "You can only talk about singles issues so much before you kill the singles ministry."
So, how do we incorporate single adults into the life of the church? Simple. First, you attract them, and then you retain them.
Attracting Single Adults to Our Churches
In the 1950s and '60s, many churches and parachurch organizations saw one in two individuals become believers when they first heard the gospel. Today, estimates vary between one in 10, to one in 20. Only 5 to 10 percent of our culture is open and ready to make a commitment to Christ. Furthermore, it takes 6 to 9 months longer for someone to come to faith than before — once he begins to interact with a believer. Today there is less understanding of the Christian view of life and truth.
Eric Hoey, PC (USA) director of evangelism and church growth, says the answer to turning the tide lies in simply sharing the good news. "If every Presbyterian were able to have the skill and the confidence to share his faith with only one person in the next 10 years, we could stop the decline of our denomination andstart a new wave of bearing fruit in the name of Christ," he writes.
Sharing Christ's love is especially important for reaching single adults. This group is keenly aware of their need for love, relationship, support, stability, comfort, and understanding. Christ offers this to those who seek Him. And yet, single adults as a group are not responsive to the gospel. Where is the disconnect?
The answer may lie in the difference between harvesting and sowing. In the 1960s, the Peace Corps discovered that people were eating the corn the Peace Corps had distributed to hungry people for planting. The recipients did not, or could not see the advantage of sowing to increase the harvest. We need to transition from a harvest mentality to seeing the value in sowing. Christianity is marginalized and trivialized among today's single adults, a trend that will not be reversed unless we cultivate conversations and relationships that make the gospel meaningful to them.
We may need to rethink what constitutes evangelism, especially among single adults. We need less emphasis on point-in-time evangelism (where the decision is paramount) and more emphasis on process evangelism (which makes room for conversations on a range of topics). Process evangelism gives legitimacy to the efforts of those interacting on the level of worldview, establishing common ground, and discussing cultural issues.
James Engels, retired faculty member from Eastern College, St. Davids, Pennsylvania, has developed a continuum to illustrate this process view of evangelism. At the far left is an individual who has rather large and negative hurdles to cross before considering the claims of Christ. The closer the numbers come to the cross (in the middle of the continuum), the more these represent individuals who are increasingly open to the gospel. The middle of the continuum represents the point of decision — when a person trusts Christ for the first time in his life. The higher numbers on the right reflect deepening trust and maturity in Christ.
For example, a person on the far left would be considered a "-10." This could be a friend who is against anything religious or someone who is unfamiliar with the gospel. Moving toward the center would be those like the scribe in Mark 12:34: someone who is "not far from the kingdom of God." The goal of reaching single adults is to help singles move from unfamiliarity with God to love for Him (Deuteronomy 6:5). Anything along the scale with anyone is evangelism. One number on the scale is not necessarily more important than any other. At every point you are evidencing and explaining the Kingdom — which is what evangelism is about.
We need to rethink how we reach singles and how we move them along the continuum. First, evaluate what you are currently doing to reach single adults. Second, ask questions about what environment would welcome singles to come and discuss Christ with your church. Third, create a plan to teach the Word and give singles a chance to move from hearers to doers (James 1:19–27).
Years ago, I worked with the singles pastor from Peachtree Presbyterian Church near Atlanta. Their primary method for reaching singles was by doing Habitat For Humanity projects each weekend. The Peachtree singles would invite their friends from work to join them on Saturdays at a building site. The friends would get excited about what they had accomplished on Saturday and would ask to return to the site on Sunday. When they heard the response, "Oh, we don't work on Sundays; we go to church," their friends would say something like, "Well, if that's what you're doing tomorrow, I am going with you." Thousands crowded into their singles classes every Sunday. Why? Peachtree learned to create a place where anyone along Engel's continuum felt at ease.
In the '70s, '80s and '90s we failed to listen to single adults and talk about what was on their minds. Paul quoted the Athenian poets — not his prophets — on Mars Hill (Acts 17). To quote theologian George MacLeod, "I simply say, the cross must be raised again at the center of the marketplace as well as on the steeple of the church. I am claiming that Jesus was not crucified in a cathedral between two candles, but on a cross between two thieves; on the town garbage heap, at a crossroads so cosmopolitan they had to write his title in Hebrew, Latin, and Greek. At the kind of place where cynics talk smut, and thieves curse, and soldiers gamble, because that is where He died and that is what He died about and that is where churchmen ought to be and what churchmen should be about."
Retaining Single Adults in Our Churches
During the heyday of singles ministry, we had no shortage of single adults in our churches. We filled our church calendars with events that attracted singles. Many of those we attracted did not stick around long enough to become fully devoted followers of Christ. In time, churches lost interest in singles ministries that provided lots of great activities, but few great disciples.
How can we avoid this mistake today? Eric Swanson of Leadership Network suggests we must cultivate an outward focus. He writes, "All over our nation there is a quiet movement of the Spirit of God that is causing believers to reexamine how they 'do church.' Churches around our nation are throwing out old measures of success. It is no longer merely about size, sensitivity, spiritual gifts, church health, nor the number of small groups. It is about making a significant and sustainable difference in the lives of people around us — in our communities and in our cities."
In 1994, McLean Bible Church just inside the Beltway in suburban Virginia hired me as a consultant to help them reach singles and young single adults. This church of a few hundred members decided to commit the majority of its budget to reaching young singles. At the time, the church had few members who were single adults. Yet, located on the outskirts of Washington D.C., the church's leaders felt compelled to reach single adults working for the federal government and the new technology sector.
Today, 14 years later, more than a quarter of the church's 12,000 weekly adult attendees are members who participate in Frontline, the church's congregation of young (and mostly single) adults. Many more single adults participate through the church's main congregations. When people ask me what made the difference in this church, there are only two things I can point to that changed this church that now has a citywide impact on Washington D.C. One was its decision to specifically target young singles, and the other was to reach out to families with disabled children. The first infused an army of servants, and the second blessed the church by giving it a mission beyond itself.
As McLean Bible Church was building its ministry to singles and young adults, there was little focus on social activities, topical study groups, and the other staples of old-school singles ministry. Instead, from the start, the church built Frontline on servant ministry among its members, undergirded by biblical teaching. No one spends more than a week or two as a visitor without understanding that the center of one's participation in Frontline involves a two-pronged approach of small-group study of Scripture (not just topics about singleness) and engagement in servant ministry.
In Phoenix, Arizona, Pam participated in a Back-to-School Day — sponsored by the Phoenix Rescue Mission — handing out backpacks and school clothes to hundreds of children. On that hot August day, Pam noticed the pavement was burning the bare feet of a girl waiting for her backpack, so Pam picked her up and held her until they found her a pair of shoes. As Pam held the child, she felt the girl's heart beat next to her heart and suddenly felt a bond of passion, both for the girl and for the ministry at the Rescue Mission. The experience of Frontline ministry engaged Pam in a way that a social activity or a singles class could never have done.
Conclusion
So, how are we doing reaching the 14th largest population in the world? Not so well, but we can make real inroads. For one thing, we must recognize the category "singles" represents young and old, never married, widowed, and divorced. They are grandparents, parents, and childless. They are students, professionals, unemployed, and underemployed. They are interested in who Jesus is, but many are skeptical of His messengers.
The way to reach singles is to decide what group you want to reach, do your homework, listen, and do not assume your current singles ministry is what they are looking for. You will not reach single adults by doing church as usual. Begin thinking outside the box. We cannot expect singles to come knocking on our church door. We fulfill the Great Commission when we go outside of our churches, daily walking with singles until they tune into God's Word and see the relevance of Christ's claims for their own lives. We will reach them when we challenge our church and our missionaries sitting in the pews to do whatever it takes to listen and share the hope of Christ with them.