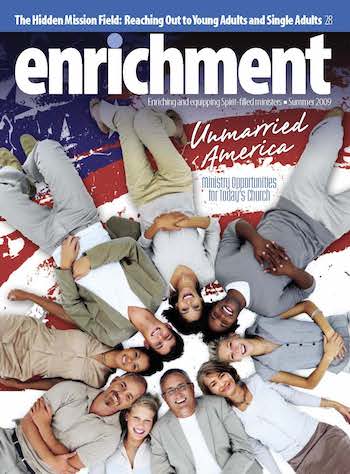 Downloads:
The Hidden Mission Field
Reaching Out to Young Adults and Single Adults
---
"Out of the divorces, widowhood, singles bars, clubs, apartments, and condominiums comes a torrent of need, and it is flowing right past the door of our churches. … There is boundless talent and creativity in this flood of single adults. The church can help and it can also be helped. It can give and it can receive. Opportunity is there. What will we do?"1
According to Earl Creps, former director of the doctoral leadership program at Assemblies of God Theological Seminary, "To fail to reach out to the single adult is to 'wall out' over 40 percent of the adult population today."
David Reddout, pastor, First Assembly of God, Leesville, Louisiana, says, "Every group in the church has unique needs and gifts … children, youth, men, women, married, etc. Because we have put emphasis on these groups for so long, we have inadvertently forgotten the single adults and have led them to believe we do not expect them to be involved in ministry. The apostle Paul said for ministry it is better to be single (1 Corinthians 7:25–35). The purpose of ministry to singles is to help them see they are the church and to help them come to a place of ministry."
I define young adults as adults between the ages of 18–35 whether single or married. Single adults who might attend a single adult ministry are adults between the ages of 30 and 60 who are unmarried by chance, change, or choice — whether theirs or someone else's.Young andsingle adults fall into one or more of the following categories:
never married
formerly married
widowed
single parent
separated (The separated person is legally married but living a single lifestyle.)
Young adults and single adults are here to stay. The church must be aware of and involved with the needs and issues of young and single adults if it is going to be effective in reaching, nurturing, disciplining, and training them.
A Healthy Church
Typically, churches emphasize marriage and family. All families — nuclear, step, blended, expanded, and single-parent — need strengthening. Amarriage and family emphasis, however — without affirming and emphasizing singleness at any age as an acceptable lifestyle — tends to alienate and isolate the unmarried person.
A church that mainly emphasizes families and marriage is not healthy. To forget the unmarried adult and his/her family is to target only half of adults in society.
Questions pastors and churches need to answer are:
Did Jesus target only families and married couples?
Did He minister to the woman at the well who had five husbands and was now living with a man (John 4)?
Did He accept, forgive, and minister to the woman caught in adultery (John 8)?
Could Jesus' singleness be the reason for His awareness of, and ministry to, unmarried adults?
Could the inclusion of biblical writers who were single adults be a subtle, yet powerful reminder that God values the single and single-again person? (Paul was single; Jeremiah was never married; Ezekiel was widowed; Hosea was divorced.)
Every church can do something to show an attitude of understanding and acceptance of young and single adults. (See sidebar, Any Church Can.)
Demographics Demonstrate the Need for the Church To Minister to Young Adults and Single Adults
The loss of young adults from the church (especially 18–30 year olds).
The church's emphasis on marriage and family without an equal emphasis on singleness as an acceptable lifestyle.
The decrease and postponement of marriage in society.
Married couple households only increased 7 percent between 1990–2000.2
The average age of first marriage: men — 27.1; women — 26.0.3
Unmarried households now outnumber married households — 55.8 versus 55.2 million.4
The percentage of U.S. adults (age 18 plus) who are unmarried — 45 percent — 97 million adults.5
Single-person households
1900 — 5 percent of all households were single-person households 6
1960 — 13 percent of all households were single-person households 7
2000 — 26 percent of all households were single-person households 8
Single-parent families
1970 — One-ninth of all family types were single-parent families.9
2000 — Almost one-third of all family types were single-parent families.10
28 percent of children under age 18 live with a single parent.11
60 percent of all children born in the 1990s will spend a significant amount of their childhood in a father-absent household.12
43 percent of teens do not live with both natural parents.13
Cohabitation
Cohabitation is a halfway house for people who do not want the degree of personal, legal, and social commitment that marriage represents, at least for now. Cohabitation has skyrocketed, up 1,150 percent from 1960 to 2000, increasing from 439,000 to 5.5 million couples. It increased 71 percent during 1990–2000.14
Nearly half of people between 25 and 40 have cohabited.15
Half of currently married stepfamilies with children began with cohabitation.16
The biggest increase in cohabiting couples is not among twenty-somethings, but people over the age of 35. Almost half of adults under 40 have lived with an unmarried partner.
For single adults, ages 35–39, 49 percent are currently living with someone.17
Divorce and Remarriage
43 percent of first marriages divorce.18
60 percent of remarriages with children divorce.19
65 percent of remarriages with children from a prior marriage divorce.20
65 percent of simple stepfamilies (one partner with a child) divorce.21
70 percent of complex stepfamilies (both partners have children) divorce.22
Widowed
There are more widowed people in the U.S. than the entire population of each of the nations of Belgium, Ireland, and Norway.23
45 percent of all women 65 or older are widowed.24
70 percent of all widowed adults live alone.25
In the next 30 years the U.S. will experience a doubling of the population age 65 or older.26
Life Issues Should Motivate the Church To Minister to Young Adults and Single Adults
Single and married adults have the same basic spiritual needs. Because single adults sometimes feel uncomfortable in churches with family-oriented programs and emphases, though, they do not always stay long enough for these needs to be met.
Because single adults do not have a spouse to provide encouragement and spiritual support, some single adults become undisciplined in their spiritual life. A specialized ministry provides a place to identify with others and nurture their needs such as self-esteem, commitment to God, faith, and personal discipline.
Cathy Roth from Hayward, California, says, "Just getting the opportunity to observe and getting to know other single Christians has challenged and humbled me spiritually. It has helped me value others (quite different from myself) for the gifts God has given them and increased my tolerance and patience."
Helen Marispini from Livermore, California, says, "Being a part of the single adult ministry has given me a place where I can find friendship, encouragement, and support. My friends hold me accountable to my commitment to the Lord."
Personal needs and issues
When churches do not address the unique needs of unmarried adults, single adults do not receive a biblical and single adult perspective on relevant topics. If the church is not providing teaching and discussion opportunities on the issues facing single and single-again adults, where are they receiving this information? The answer: The media, Internet, television, theaters, newspapers, non-Christian friends, videos, and other sources, many of which are unhealthy.
How many of the following issues is your church addressing?
Rearing children alone
Shared parenting
Dealing with changes as a single adult
Relating to a former spouse
Sexuality and singleness
Money management
Developing friendships with males/females
Learning to forgive an ex-spouse
Accepting singleness
Dating/dating again
Divorce recovery
Living with mom/dad
Understanding emotions
Grief recovery
Trust
Loneliness
Building a healthy identity
Career choice
Premarital education
Re-marital education
Blending families
Stepparenting
Relating to married adults
Adjusting to widowhood
Healthy friendships
Single adults of any age want quality friendships with others of the same and opposite sex. A young adult and single adult ministry provides an atmosphere of acceptance and openness where people can discover others with the same experiences, hopes, and hurts. The ministry also creates an atmosphere that nurtures relationships in a Christian context. Many young and single adults coming from the bar scene are tired of the selfish attitudes and are open to the grace and love of God through others.
Lisa Stevko from Castro Valley, California, says, "I don't feel like I'm just waiting to be married anymore. The Single Adult Ministry has provided me with a circle of friends and activities. I have others I can talk and relate to that are being stretched and grown by God in the same ways I am."
Greg Davis, Castro Valley, California, says, "Because of common experiences there is a greater understanding of the struggles, as well as help and encouragement. People without common experiences may be able to sympathize, feel foryou, but cannot empathize, feel withyou (2 Corinthians 1:4). Because of this commonality, there is a dynamic that fosters spiritual, emotional, and relational growth."
Ministry Potential Validates the Need for the Church To Minister to Young and Single Adults
Unmarried adults have time, talent, and creativity to share with the church. They do not need to obtain approval from a spouse to use their time and talents. When the pastor preaches a message on tithing and giving, married adults must confer with their spouse for consensus on giving 10 percent to the Lord's work. The single adult does not.
If married adults want to give three or more hours a week to a lay ministry, the wise thing to do is obtain agreement from one's spouse. Again, for the single adult God has only one heart to convince.
Jesus' Life Authenticates the Need for the Church To Minister to Young and Single Adults
Jesus, a single adult
Jesus was a single adult in Jewish society that pushed children into marriage at ages 14, 15, and 16 to carry on the family name and procreate. Jesus did not fit the social, cultural, or family mold as a single adult. He was rare in His day. He is the example of what a life, wholly dedicated to the Father, can accomplish.
Sensitivity/response: Six church types
I define six types of churches by their level of sensitivity and responsiveness toward single adults and young adults. A church's sensitivity/response level is influenced by the following:
The church's attitude and ministry history
Priorities of the pastor
Priorities of the board
Personal experience of pastor(s) with young and single adults (church, community, work, immediate or extended family, etc.)
Understanding and attitude of other church leaders
Budget concerns
Available potential leadership
Personal experience of board
Personal experience of staff
Personal experience of congregation
Biases and verbal reactions and recommendations of pastors, board, and congregation
Young adult/single adult ministries in other churches within the community
Size of the church
Type One — Little sensitivity and no targeted ministry to young or single adults
This church and its leadership may not see the need for a targeted ministry to young and/or single adults. This church generally does not understand single adults and does not practice intentional sensitivity toward them. This church may not be aware of its biases toward married adults. This may be evident in that, for single adults to attend an event, it is generally more than half the cost for married adults. This church also lacks the use of inclusive language and help for single parents.
Type Two — Some sensitivity to young and single adults, but no targeted ministry to them
This church and its leadership may have only a little understanding of the needs and issues of single adults. They may verbally accept and recognize unmarried adults from the pulpit and in some adult classes. However, there is no targeted ministry to single adults of any age.
Type Three — More sensitivity to young and single adults, and a targeted ministry with a volunteer leader
This church and its leadership have more understanding of the needs of young and single adults than do type two churches. The pastor may have appointed a volunteer leader to develop single adult ministries. This church may want to pay its leader, but for now can only support this person through prayer and material resources. A type three church displays an understanding of the needs of young and single adults through inclusive language in preaching and teaching. This church establishes equitable costs for events, provides childcare and help for single parents, and includes single adults in all leadership levels.
Type Four — Much sensitivity to young and single adults, a targeted ministry and a part-time, paid leader to develop it
This church and its leadership have a greater understanding than the level three church. It shows financial priority by budgeting for a part-time leader to develop and oversee young and single adult ministry. Church leadership includes single adults in many facets of the church and demonstrates they understand them through their sensitivity in preaching, teaching, and in other ways listed in the type three church.
Type Five — High sensitivity to young and single adults, a targeted ministry, and a full-time, paid staff member to oversee the various ministries
This church and its leadership have a reasonably good understanding of young adults and single adults and are open to learning as much as they can about them. They genuinely want to see young and single adults ministered to and become part of every ministry area and leadership level of the church. This church's understanding and openness is displayed through sensitive preaching, teaching, and unbiased programs of the church as in the type-four church.
Type Six — Very high sensitivity to young and single adults, a targeted ministry (developed as a multifaceted ministry), and a full-time, paid leader exclusively for these ministries
This church and its leadership desire young and single adults to become part of every leadership level of the church. This church will display a greater understanding and sensitivity to their needs than most other church types.
The Minimum a Church Could Do
Whether your church is a type one or type six church, you can do something to reach young adults and single adults in your church and community. It might be only an occasional event for single adults in the church and community. For example, one Bible study a week, one social activity a month, one seminar every three months, one community outreach every six months, and/or one retreat a year is a start. In this way, your church will be meeting some of the diverse needs of young and single adults.
Young adults and single adults are here to stay. If the church is to be effective in reaching, nurturing, disciplining, and training adults, the young and single adults warrant our best efforts, time, prayer, and resources. This segment of the population is too large to ignore, and the abilities and talents of young and single adults are too valuable to waste.
A church of any size can and should minister to young and single adults. Through prayerful consideration and strategic ministry, young and single adults can become a force in your church and can emulate the greatest single adult who ever lived, Jesus.
NOTES
1. Edward and Gwen Weising, Singleness, An Opportunity for Growth and Fulfillment, (Springfield, Missouri: Gospel Publishing House).
2. Thomas A. Bookstave, "Changes in Households," Springfield News Leader, (May 15, 2001):5.
3. Springfield News Leader, 12/2/04.
4. Maxim Kniazkov, "For First Time, Unmarried Households Reign in U.S." USA TODAY, http://www.usatoday.com/news/washington/2006-10-15-unmarried-households_x.htm. Accessed 9/12/2008.
5. Sharon Jayson, "Being Single Has Its Benefits; Unmarrieds Stay More Connected to Family, Friends" USA TODAY, April 12, 2007, 4D.
6. Susan Goter , "Nearly One Half of All U.S. Households Consist of Single Adults," Single Adult Ministry Journal, Issue 124 (Colorado Springs: Cook Publications) 4.
7. Ibid.
8. Ibid.
9. George Barna, Single Focus: Understanding Single Adults, (Ventura, Califorinia: Regal, 2003), 15.
10. Ibid.
11. Ibid.
12. Horn, Wade F., President of the National Fatherhood Initiative, Gaithersburg, Md.
13. Susan Goter, "Good News/Bad News/News for Families," Strategic Adult Ministry Journal, (Colorado Springs: Cook Communications), Issue 144, (2002):7.
14. U.S. Census Bureau, Internet, http://eire.census.gov/popest/archives/1990.php#household (January 2000).
15. The National Marriage Project, Rutgers University, as reported in Reuter's news report, (2005).
16. Don Weston, "All About Cohabiting Before Marriage," http://www Members.aol.com/cohabiting/facts.htm. Accessed October 6, 2008.
17. Pamela Paul, The Starter Marriage and Future of Matrimony, (New York: Random House, 2003), 9.
18. Newsweek, "The Family Moon," January 9, 2006.
19. Ibid.
20. E. Mavis Hetherington and John Kelly, For Better or For Worse: Divorce Reconsidered, (New York: W.W. Norton & Company, 2008), 178. The authors specify the divorce rate for step-couples to be "50 percent higher in remarriages with stepchildren." Specifically, then, the divorce rate is 65 to 70 percent.
21. Ibid.
22. Ibid.
23. George Barna, Single Adults, (Ventura, California:Barna Research Group, 2002), 7.
24. Ibid., 18.
25. Ibid.
26. Ibid., 20.