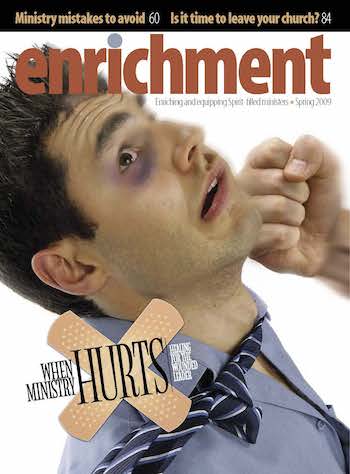 Downloads:
Steps to Forgiveness
by George O. Wood
---
"And when you stand praying, if you hold anything against anyone, forgive him, so that your Father in heaven may forgive you your sins" (Mark 11:25).
Life is full of hurts, but Jesus is full of healing.
Ministers, their spouses, and families are not exempt from being hurt. How does hurt come?
Identifying the Sources of Our Hurts
Who hurt you? Was it a parent, family member, spouse, children, friend, fellow minister, board member, or congregants? The closer the relationship, the deeper the hurt.
The wife of Leo Tolstoi, the great Russian writer, said concerning her husband: "His biographers will tell of how he helped the laborers carry buckets of water, but no one will ever know that he never gave his wife a rest and never — in all these 32 years — gave his child a drink of water or spent 5 minutes by his bedside to give me a chance to rest a little from all my labors."
Ministers are not immune to hurts caused by others. And some spouses, even of Assemblies of God ministers, might identify with the remarks of Mrs. Tolstoi.
Pastors can also hurt themselves.
Many years ago I stood at the rim of the Grand Canyon. About two or three feet from the ledge a rock island rose from the canyon floor. Its flat surface was level with the ground I stood on. Over time, people had tossed coins onto this island. Suddenly, a 6-year-old child ran from the crowd, jumped over to this rock island, and started scooping up the coins. Along with others, I watched paralyzed with fear for this child's safety. His mother screamed, "Johnny, get back here." With his pockets full of coins, and without hesitation, he immediately leapt back to our side.
I thought later, What if he had missed on the return jump? Would his mother ever be able to forgive herself for her instinctive reaction and for not waiting for expert help to arrive to extract her son from that place of danger?
Forgiving others may be easier than forgiving ourselves.
We may also feel God has caused or permitted some of our hurts.
Early in David Wilkerson's ministry a pastor friend was backing his car out of the driveway and ran over his toddler. David Wilkerson wrestled with how God could have permitted this to happen to his friend, and his despair almost drove him from the ministry and effective service to Christ.
The Price of Unforgiveness
Seldom do we discuss the high price for unforgiveness, but consider the consequences for harboring grievances:
The fruit of the Spirit ebbs away.
Indifference or hatred displaces love.
Bitterness or depression displaces joy.
Anxiety displaces peace.
Short-temperedness displaces patience.
Hard-heartedness or indifference displaces kindness.
Meanness or a get-even attitude displaces goodness.
A demanding nature displaces gentleness.
Resignation from responsibility displaces self-control.
When we do not forgive, we can easily blame someone else for our condition. When we do, we forsake our responsibility to control our own responses.
Basilea Schlink, founder of the charismatic Lutheran community of the Evangelical Sisterhood of Mary in Darmstadt, Germany, tells the story of Plumb Orchard in her book, Realities.
The Sisterhood needed the property next to their community to expand their ministry, but the owner refused to sell. The sister who tried to negotiate never made it past this woman's front door.
One day, the woman's great nephew met the sister at the door and let her in. In his great-aunt's room she understood why they were having problems purchasing the property. The room was crowded with inherited furniture — enough to fill a house — and most of it was dilapidated. One room had 13 mattresses stacked one on top of another — a stepladder was required to reach the top.
As the sisters began to pray, the Lord began to deal with them about inviting Him to judge their own lives in relationship to what they saw in another's. They had no estate to manage, but they did have secret attachments — a pretty picture postcard, a certain personal necessity, a little wooden cross. "Oh, I hope the day will never come when God will ask this of me," each said.
But the Spirit impressed them to have a surrender week. Each one was to let loose of her secret attachment. After that week they visited the woman. She had changed her heart.
Basilea Schlink said that experience taught them the power of empathetic forgiveness, and that people cannot make progress when they blame someone else. People must deal with their own attitudes first.
Since the Garden of Eden, blame is the means people use to avoid facing up to their responsibility. Blame finds the fault; forgiveness finds the cure. Blame makes you a victim; forgiveness makes you a victor.
Lacking forgiveness may cause other problems from illness (James 5:16) to retention of our own sins (Mark 11:25).
In her autobiography, Something More, the late Catherine Marshall tells the story of her stepdaughter, Linda. Catherine married Linda's widowed father when Linda was 12.
In Linda's early adolescence, her behavior and grades seesawed wildly. After leaving high school, Linda joined the 1960s generation of rebellion. Catherine did not succeed in her attempts to establish a warm relationship.
One day Catherine read Jesus' words from the King James Version about having aughts against another. She learned if you did not forgive those aughts, God would not forgive your own aughts (Mark 11:25). She filled her journal with three pages of specific aughts she had against Linda and forgave each one.
In a matter of weeks, Linda's attitude toward her stepmother began to dramatically change. Catherine had learned a powerful lesson from Jesus: We must not retain wrongs.
On the cross Jesus did not clench His nail-pierced hands into a fist and yell, "I'll get even with you for this." Instead, He opened His hands and cried, "Father, forgive."
A concentration camp survivor said, "My heart is so bitter that if you were to open me and lick my heart you would die of poison." What does your heart look like?
Someone said getting even with another person for the wrong he has done is like throwing a cactus. When the cactus hits him, he will hurt; but you will hurt your own hands in the process.
How to Forgive
Unforgiveness has a high cost, but how does one proceed in forgiveness? Allow me to suggest six steps.
First, re-evaluate
Several years ago I watched a motivational film that recorded a scientific experiment done on a northern pike, a cold-water fish found in the north central United States.
The scientist placed the fish in a glass tank filled with water and denied it food. Next, he placed a glass cylinder containing minnows — the pike's favorite food — in the center of the tank. The pike could not detect the glass that stood between him and dinner. He backed up and charged for the kill. Smash! Smash! Smash!
After several unsuccessful attempts, he finally stopped. The scientist then removed the glass cylinder. Minnows swam throughout the tank, even up to the pike's nose. He never stirred. He remained quiet and beaten, and he died. He died because he did not re-evaluate the changing situation.
The same thing can happen to pastors. They get hurt and find it hard to trust again. Understandable.
Re-evaluation, however, must be ongoing in the journey of life. If the apostle Paul had not re-evaluated John Mark, we would not have the second Gospel.
Second, repent
The great preacher Clarence Macartney told this story about Leonardo da Vinci. The story itself may not be true, but it well illustrates a point.
Just before da Vinci began work on his famous fresco, The Last Supper, he quarreled violently with a fellow painter. Da Vinci was so enraged and bitter he determined that when he painted Judas, he would model Judas' face after the face of his enemy. He would get revenge as future generations looked on Judas' face with scorn and infamy. The face of Judas was one of the first he finished, and everyone easily recognized it as the face of the painter with whom he had quarreled.
The last face da Vinci needed to paint was that of Christ; however, he made no progress. Something baffled him, held him back, and frustrated his best efforts.
He concluded that the one thing that hindered him was the fact he had used his enemy's face when painting Judas. He took his brush and gave Judas a new face. With ease, he then finished the face of Christ.
A pastor cannot paint the features of Christ into his own life while painting the face of another with colors of enmity and hatred.
Repentance means to change your mind. Some call repentance the first word of the gospel because it was the message of John the Baptist (Matthew 3:2), Jesus (Matthew 4:17), the Twelve (Mark 6:12), Jesus after His resurrection (Luke 24:47), Peter (Acts 2:38), and Paul (Acts 26:20).
Repentance is unilateral. It does not, therefore, wait for another person to first repent.
Furthermore, repentance has nothing to do with one's feelings. It involves a mindset change that brings different behavior. Jesus describes in the Sermon on the Mount how we are to treat our enemy: We are to bless him, go the extra mile, turn the other cheek, pray for him, and forgive him. None of these actions require our enemy to do a single thing. All address our behavior.
If a pastor waits until he has the right feelings, he may never forgive. The Lord calls us to repent if we have any attitude unlike His.
Third, redeem
Goldie Bristol wrote a book entitled, These Tears Are for Diane. A man raped and murdered her 21-year-old daughter. Police found the perpetrator, and a jury sentenced him to a double-life term.
Five years later Goldie and her husband Bob concluded, "We can see no other purpose for his coming into our lives if there is no possibility that he will be saved."
They wrote him a letter — not condoning the crime — but expressing their concern and God's for him. After two more letters, they received a reply. The man said he had not realized there were people in the world anywhere who could place their concern for him above their own hurt.
"What good does it do to hate?" Goldie asked. Hate could not bring her daughter back; it would only spread the poison of anger and unforgiveness in her own life, and it would not have any effect on her daughter's killer.
Goldie wrote: "The dictionary associates malice with malignancy — it eats and consumes and finally destroys. If I allow it to take hold in my life, I am anything but a free person. The very tool I would use to get even is the one that would chain me. Only God is able to handle this kind of treachery in our lives and release us from the entrapment. So the decision is mine. I either carry anger, unforgiveness, and resentment around with me, and break under the load, or hand it over to my Heavenly Father who can bear the weight."
Goldie's insight is not new. Stephen knew the power of redemptive forgiveness when "he fell on his knees and cried out, 'Lord, do not hold this sin against them' " (Acts 7:60). Ultimately, Stephen's prayer resulted in Saul's conversion.
Fourth, repeat
Jesus told us to forgive 70 times seven (Matthew 18:22, KJV). My mother taught me this when I was a boy. She told me when other children picked on me, I was to turn the other cheek.
One little bully became my nemesis. He continually hit and insulted me, and tried to pick a fight. One day, my mother noticed that I was putting marks on a piece of paper. Responding to her inquiry, I said that every time Billy bothered me I was adding a mark. When I reached 491, Jesus had given me permission to hit him back.
My mother must have begun praying harder because a few days later Billy announced that his parents were moving. My count by then was around 250.
I had a childish view of Jesus' words. I did not realize that 70 times seven was Jesus' way of describing unlimited forgiveness.
If the Lord told us to forgive one another 70 times seven, we know He does the same and far more.
Jesus said Christians might need to repeatedly forgive someone. This does not mean we become a doormat and allow someone to abuse us. Forgiveness does not grant someone permission to keep hurting us. Spatial distance may be required, but our hearts can remain tender. When we forgive, we may not forget the past. To continually dredge it up, however, is not beneficial.
Fifth, remember — grace pays the bill
If I visit your home and break something valuable of yours and you forgive me, you release me from the obligation to pay the replacement cost. (Nevertheless, if I am a decent person, I will offer to pay.)
When a pastor forgives, he picks up the tab. This is what Jesus did for us on the Cross. He paid our debt — a debt He did not owe.
A forgiving person is stronger than the one who did the wrong because it takes more strength to forgive than it does to injure.
Hard-liners often criticized Billy Graham because he associated with Christians who did not adhere to every element of doctrine important to his critics. He recited this poem as a response.
He drew a circle that shut me out,
Rebel, heretic, a thing to flout.
But love and I had the wit to win,
We drew a circle that took him in.
To join in Christ's work of reconciliation, we must be persons of grace.
Sixth, reach up to God for help
To forgive is not easy.
Consider the story of David and Absalom in 2 Samuel 13 through 18. Absalom's brother, Amnon, raped Absalom's sister, Tamar. Absalom then killed Amnon and fled. After 3 years, David brought his son back to Jerusalem but refused to see him for 2 years.
David made the mistake of incomplete forgiveness.
Contrast David with the father of the prodigal (Luke 15:11–32). That father ran to his son, embraced him, kissed him, clothed him, killed the fatted calf, enjoyed him, and defended him.
Which example will you follow with the person who wronged you?
At times, a pastor may find it impossible from a human point of view to forgive. Regardless of how much he knows it is right and biblical to forgive, he cannot do it. The hurt is too deep; the wound still festers.
This example may help. Corrie ten Boom closes The Hiding Place with the story of speaking at a church in Munich after World War II. A German SS man who had guarded the shower room door in the processing center at Ravensbruck Concentration Camp was in the service. When ten Boom saw him, she suddenly remembered the roomful of mocking men, the heaps of clothing, and her sister Betsie's pain-blanched face. He came to ten Boom as the church was emptying, beaming and bowing. "Fraulein," he said, "to think that, as you say, He has washed my sins away."
He thrust out his hand to shake hers; but ten Boom, who had spoken to others concerning the need to forgive, kept her hand at her side. As she fought with her anger, she prayed, Lord, forgive me and help me to forgive him. She tried to smile and struggled to raise her hand, but could not. Again, she prayed, Jesus, I cannot forgive him. Give me Your forgiveness. She writes, "As I took his hand the most incredible thing happened. From my shoulder along my arm and through my hand a current seemed to pass from me to him, while into my heart sprang a love for this stranger that almost overwhelmed me.
"And so I discovered that it is not on our forgiveness any more than our goodness that the world's healing hinges, but on His. When He tells us to love our enemies, He gives, along with the command, the power."
For Thought
Think again of the person or persons who hurt you. Who are they? Will you be unforgiving or forgiving?
Give heart to the counsel of the apostle Paul, "Be kind and compassionate to one another, forgiving each other, just as in Christ God forgave you" (Ephesians 4:32).