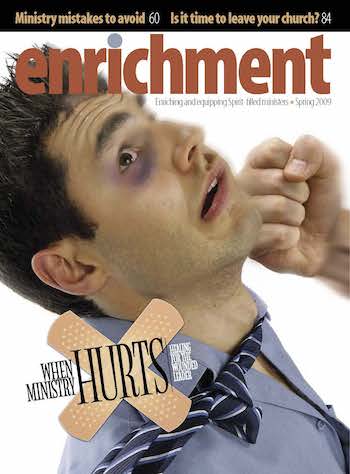 Downloads:
Beyond the Ashes - The Journey Back to Wholeness
Ministry wives who limp along the dark and lonely path of their husband's moral failure share a common desire — to find healing for their broken hearts.
---
I dedicate this article to the ministry wife who might be limping along a dark and lonely path carved by her husband's moral failure. This failure can create issues that range from the inability to fulfill one's role in ministry to the shame that accompanies moral failure. One thing is certain: Those who limp along this path share a common desire to find healing for their broken hearts.
No other pain can rival the pain of a broken heart. Details surrounding the events that brought the pain etch themselves into our memories with uncanny distinction. Even the feeblest trigger has the power to bring to mind the intricate elements that surrounded the proceedings of that day.
In a moment we remember the meal we shared. We recall the clothes we wore and the order of the errands we ran. We reawaken to the sensations we endured the moment we learned the devastating news.
January 20, 2006, began as any other normal day for me. I noticed, however, my husband, Tom [not his real name], was uncharacteristically distant that day. We generally touch base every few hours, but on January 20, calls were brief. During dinner he seemed distracted and troubled. Since we share an open and honest relationship, I knew he would give me an entrance into the circumstances plaguing him after the children were in bed.
That evening he invited me to coffee. He was so agitated we swiftly left the coffee shop and headed to the church. To my surprise, three of our church leaders joined us. As we sat around a small table in our pastor's office, I began to sense something was dreadfully wrong.
Strengthened by the comfort of those witnesses, my husband began to unfold the agonizing truth — he had engaged in compromise and deception. He broke as he shared the details of his marital unfaithfulness.
Irrepressible shakes seemed to overtake my body. Emotions held me captive in a relentless battle between anger and brokenness, deep sorrow and rage.
By the time my husband and I walked out of the office that night, it seemed as if the bottom had fallen out of our world. Life would never be the same.
Curse God and Die … and Other Words We Dare Not Speak
One might acknowledge a sense of reassurance in the fact the sin that once lurked in darkness now cowered before the light of truth. Yet, even today, I marvel at the depth of hemorrhaging pain you endure in the days and weeks following the disclosure of your spouse's sin.
I had criticized Job's wife because of her shortsighted and arrogant request that Job "curse God and die!" (Job 2:9). Today, however, I extend a larger measure of compassion toward this infamous woman. Having identified with her feelings of abandonment, I now admit that words of a similar nature echoed in my mind.
My own confessions of faith mocked me: "I know whom I have believed, and am convinced that he is able to guard what I have entrusted to him for that day" (2 Timothy 1:12). I found myself bitterly questioning God's dedication to me and my family, and I boldly voiced my complaint before Him.
Considering death to be the worst possible punishment I could receive, I acted out in ways in which I thought I was incapable. Death seemed a better option than living with a mutilated heart that forced me to face another moment of my miserable existence.
Undeniable Grace
Two years prior to Tom's confession, we had resigned from a senior pastorate in Colorado. For 3 years this church had seemed to reject his call and ministry. Tom felt wounded, discouraged, and disillusioned. It seemed that people had questioned his ministry gifts. He doubted God's ability to use him.
Two months after his resignation, he received an invitation from a friend in the South. He felt humbled by God's affirmation reflected in this call. He rejoiced in the opportunity to experience a fresh start in ministry alongside a friend.
This new assignment, however, did not mend the deep brokenness in my husband's spirit or heal the wounds he attempted to bury. He grew skilled in elevating his gifts to hide his broken spirit.
He experienced incredible favor and external success in this new ministry. Yet inwardly he was not functioning with the spiritual fervor and passionate trust in God that had once guided his thoughts and actions.
The enemy soon crafted a choice weapon, fashioned to the moment and to the insecurities in my husband's emotional tank. He began to rely on the affirmation and approval of those with whom he ministered. The enemy used this dependency to issue a deathblow to my wounded shepherd. He attempted to take him out of the race once and for all.
Sin has staggering wages. We experienced the loss of reputation, friends, opportunity, ministry, trust, security, finances, joy, and freedom. I had been investing more than 150 hours in the lives of our four children each month. This priority swiftly changed because I was forced to work full time to assist Tom in meeting the financial needs of our family.
Yet, even amid this riveting loss, I could not deny God's faithfulness to guard what I had entrusted to His care. He placed himself in the middle of our situation. He gently removed every scale of deception from my husband's eyes, led him to genuine repentance, and gave him a passionate commitment to restore all that was shattered.
Even though this dark season caught me by surprise, it did not catch the Lord off guard, nor did He need a plan B for our lives. The words recorded in His Book did not need amending (Psalm 139:16). He was orchestrating these events concerning my family, even though we could not always discern His footprints.
A New Beginning
After confessing to the church leaders and to our family, Tom met with our district leadership. They expressed their willingness to walk with him on the pathway of rehabilitation. They committed to lead our family toward restoration.
The leadership team provided the means for an extensive season of counseling with a team of highly trained and equally discerning counselors. Over the next 2 years, these counselors proved to be a contemporary portrait of Ezra's reconstruction team. They assisted every member of our family after our foundations had crumbled. It would have been impossible to emerge from the rubble that buried us and begin to rebuild if we had tried to accomplish the task alone.
Tom and I sensed opposition from the enemy as we attempted to rebuild the foundations of our marriage and family. The enemy's condemnation threatened to hinder the work of God in Tom's life. I often added my own accusations: "What kind of a husband would do this to his family? How dare you say you love us and treat us with such indifference?"
My emotional state was inadequate to make great strides in the rebuilding project. I was isolated, scared, and a target for the enemy's attacks. His attacks came with relentless cruelty and penetrated my spirit. But in the same way God sent Haggai and Zechariah to aid those who were faltering in the task of rebuilding the house of God, the Lord sent counselors who remained by our side. They continue to assist us in the completion of God's healing journey.
Just as the workers rebuilt Jerusalem's foundations and walls to make them stronger than ever, unprecedented resolves and renewed commitments became the protective walls surrounding and providing security for our family. As recorded in Ezra, all the rebuilding costs came from the king's treasury, paid for by taxes collected from those who had attempted to destroy the rebuilding project.
Tom and I marveled in the truth that the enemy, who had tried to stop God's renown through our lives, would suffer loss as the rebuilding continued (Ezra 6:8). Our own supply was inadequate for the daunting task ahead of us. The means to rebuild our lives must come from the King's treasury. Without fail, God has provided for our daily needs.
Uncharted Waters
During rehabilitation, one key concern for a minister and his family is finding a source of steady income. After serving in ministry for 22 years, my husband was concerned about how he would provide for our family.
After sending several résumés with no response, Tom launched his own commercial cleaning service. He spent the next 2 1/2 years in various aspects of business property upkeep.
The One who met humanity face-to-face once again made himself available to visit Tom in his loneliness and pain. As a result, his life began to reflect a heart of deep adoration. God's approval began to define my husband's value.
Tom had no longing to return to the place he had once known. He had experienced decades of life as a doer. Now, for the first time, he could embrace the joy of God's love, affirmation, forgiveness, and approval.
I rejoiced in God's thorough restoration of my husband's heart. I, however, found myself wrestling with issues I believed I had mastered as a mature Christ follower.
If you want to find the shallow roots in your life, send a hurricane. This storm uprooted and left exposed whatever the wind could shake loose.
Victims of betrayal wrestle with the validity of biblical forgiveness in the context of their own unique circumstances. I quietly clung to feelings of bitterness and unforgiveness as a constant companion and comforting friend. I soon discovered this friend was a viper, aimed at my destruction.
Bitterness is like drinking poison and waiting for the other person to die.1 The longer I embraced condemnation, hatred, and retaliation, the less capable I was of moving forward in my relationship with Christ. I found myself in a place of desperation. I prayed that the Lord would remove every root of bitterness that sought to defile my life.
Forgiveness became a daily choice, practiced in fits and starts. As I began to extend the same forgiveness I desperately needed, God brought new levels of healing grace and spiritual liberty.
The Journey Toward Wholeness
Even though Tom and I processed this journey from different perspectives and our own distinct needs, the healing power of God's agape love has knit our spirits together. We cherish each moment together more than ever before, and we have sensed God's renewal of our marriage and family as we have spent consistent time together in prayer. We now exercise a deeper, more authentic level of intimacy and honest communication with one another.
Even though discipline, surrender, boundaries, and isolation have all been real and necessary elements in our healing, one vital truth is exalted above the others: Agape love heals.2 Embracing the richness of God's boundless love through the many promises in His Word has been a key factor in our healing journey. God did not provide His Word so we might enjoy heads that are full, but hearts that are whole.3
His Word is an irreplaceable anchor for the wounded spirit. It is our source of hope for a brighter tomorrow. It enables us to daily renew our minds (Romans 12:2).
Satan attempts to paralyze victims of betrayal with low feelings of self-esteem and mistrust. I grew to realize my need to daily renew my mind with the truth of God's Word to refute Satan's twisted truth about my situation. I sought creative means of ingesting it.
The Daily Audio Bible, available on iTunes, has become a regular companion when I run or work out at the gym. During lunch breaks I read the Bible, study, and meditate. Scripture passages adorn the dashboard of my car, my bathroom mirror, and random areas of my home, offering hope in my suffering.
Through biblical meditation, the wounds that can become strongholds in one's life lose their power to morph people into something much less than who they really are through Christ. God sends forth His living, healing Word into places of brokenness: "The ruins will be rebuilt. The desolate land will be cultivated instead of lying desolate in the sight of all who pass through it. They will say, 'This land that was laid waste has become like the garden of Eden; the cities that were lying in ruins, desolate and destroyed, are now fortified and inhabited.' Then the nations around you that remain will know that I, the Lord, have rebuilt the ruined places and planted what was desolate. I the Lord have spoken, and I will do it" (Ezekiel 36:33–36).
Rebuilding the ruins in our life is an intimidating task for most of us. This task, however, does not extend beyond God's ability to restore.
We can choose to gaze at the desolation around us and lose hope, or we may set our hearts on a pilgrimage to find God in the storm. God has not called us to lie down in the Valley of Baca (the place of suffering), but to pass through it, moving forward in the strength He supplies.4
While on this healing journey, I have often reflected on an eagle's perspective on a storm: Its goal is not to survive the storm, but to overcome it. As it opens its wings to the thermal currents of the storm, it finds that what might have appeared to bring disaster is capable of lifting it upward to a safer elevation that it was incapable of reaching in its own strength.5
I have chosen to embrace this storm rather than hide from its fury. Even on days when I am too weak to open my wings to its thermal current, I remember that God declared, "I carried you on eagles' wings and brought you to myself" (Exodus 19:4).
When Does the Journey End?
Man ascribes time frames to rehabilitation. After the completion of my husband's rehabilitation program, God revealed to him that the work in his life was not yet complete. Rehabilitation had removed huge boulders, but finer gravel buried since Tom's childhood became visible in the light of God's love.
My husband had been introduced to pornography at a young age. During our marriage, he gave in to this temptation every few years. Deeply embarrassed, he would confess his sin to me. We would pray for healing but were too ashamed to seek help. How does a pastor admit his involvement in this kind of degrading activity to his colleagues? I was too ashamed to share the pain I felt with my friends.
We both agreed we had completed 20 miles of a challenging marathon, but miles separated us from the finish line. Tom re-entered rehabilitation through the district to work on these areas to prevent defiling the work God had accomplished. The district leadership and our counseling staff surrounded us in gracious support.
Today, our healing journey continues. Our situation could have destroyed our lives, the lives of our children, and our marriage. Calvary's invitation, however, offers the redeeming power of the Cross in our situation.
The Cross overcomes all that would bring discouragement, despair, and even death. It powerfully addsnew meaning to our pain. It can turn our misery into ministry. After all, isn't our confidence that "all things work together for good"? (Romans 8:28, NKJV).6
"All things" includes devastating pain that can shatter your heart. God promises in the Book of Hosea to make the Valley of Achor (trouble) into a door of hope. There, in that valley, He will give us back our vineyards and cause us to sing again (Hosea 2:14–16).
You may have lost rich vineyards or circumstances may have stolen your song. You may have wounds that are decades old, yet God's desire is perfect healing and to renew your song. 7
Every painful situation is unique and can bring genuine brokenness. I am certain, however, of this fact: You do not have the onesituation that is beyond God's ability to redeem.
God does not offer a one-time act of redemption. He offers us daily redemption because this is His nature as Redeemer.8
Can your valley of devastated, dry bones live? I can testify that He breathed life back into me and my marriage and family by His power and grace.
God has lifted me out of the ash heap of suffering (1 Samuel 2:8). Just as a master refiner uses ash to create glorious, colorful glass treasures, God is transforming the ash of our own suffering into a celebrated display for His glory. This is my confidence. This is my prayer for everyone whose heart is broken.
Trisha Matthews is an Assemblies of God pastor's wife living on the west coast.
*Trisha Matthews is an assumed name.
Notes
1. Joyce Meyer Ministries 1999 radio broadcast.
2. Concepts from Jack Rozell, MRAP director and counselor, Kirkland, Wash., 2006.
3. Beth Moore, Breaking Free (Nashville, Tenn.: Broadman and Holman Publishers, 2000).
4. Reflections from Psalm 84:5–7.
5. Joyce Meyer Ministries, Mount Up with Wings as Eagles.
6. Scripture quotations marked NKJV are from the New King James Version. Copyright © 1982 by Thomas Nelson, Inc. Used by permission. All rights reserved.
7. Nicole Johnson, Fresh Brewed Life (Nashville, Tenn.: Thomas Nelson Publishers, 1999).
8. Concept from Jack Hayford, pastors conference, Van Nuys, Calif., 2002.