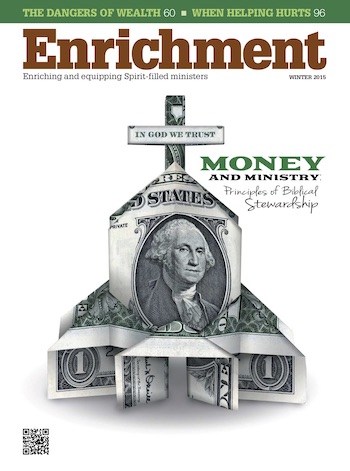 Downloads:
The Problem with Pornography
An estimated 53 percent of Christian men view pornographic images; 37 percent of pastors say pornography is currently a struggle.
by Gabriele Rienas
---
I am mortified by my situation, and I don't know where else to turn. I have suspected for a long time that my husband might be looking at pornography on his computer. Last night after he stayed up late as he frequently does, I walked in on him viewing disgusting pictures. This is the second time this has happened. Like last time, he was very embarrassed and apologetic, saying that he had a weak moment. We talked for a long time, and he assured me that it has happened only a few times, promising that he will never do it again. Today, I figured out how to check his browser history and discovered that he has been visiting porn websites on a regular basis for months. I am devastated and don't have a clue what to do.
Thank you for your honesty and your courage to talk about your situation. I am certain you feel a lot of mixed emotions, including pain, embarrassment, and anger. Your dilemma will likely gain the attention of countless wives and husbands who secretly carry this burden — along with a lot of inner anguish and hopelessness.
First we must face the reality of what is happening. Through modern technology, pornography is now readily accessible to almost anyone, at any time, and virtually any place. Many Christian men and women struggle with the temptation to view the easily accessible images. The erotic sensations that follow become an escape from the difficulties of life and emotional pain. One statistic estimates that 53 percent of Christian men view pornographic images, and 37 percent of pastors say pornography is currently a struggle.1 These are hefty figures that encompass all of our communities.
Contrary to secular thinking, pornography undermines the pure sexual union of body, soul, and spirit and has no place in a God-honoring relationship (1 Corinthians 6:18–20). Your husband is aware that it needs to stop, and I'm sure you are in agreement with that declaration. Often a discovery like this can be the first step in fixing a hidden agony, so take courage. At the same time, you cannot gloss over or quickly excuse his behavior. There is a serious problem, and you and your husband must address it in the most straightforward, behavior-changing way possible.
Pornography viewing is 100 percent wrong, and believers must rid it from their lives. Yet we must remember the decision to engage in it is a symptom of deeper issues — always. For this reason, simply promising to "stop" is not an adequate approach to coming clean. White-knuckling purity simply does not work because it does not address the deeper brokenness and unmet needs that drive the behavior in the first place.
Pornography viewing is a form of self-medication for dealing with life's difficult emotions. In very simple terms, a person learns to focus on physical sexual sensations (a rush of good feelings) while detached from the messiness of real relationships. Basically, porn images bring an adrenaline rush — a pleasant sensation — without emotional or spiritual attachment. Unfortunately, the physical sensation is addictive and cries out for more of the same or greater intensity. It is sinful behavior because it substitutes third-party involvement for what should be cherished between a husband and wife alone (Hebrews 13:4).
Please know that your husband's addiction is not about your body type, sexuality, or attractiveness. I am saddened to meet too many women who valiantly launch self-improvement campaigns (including surgery) to compete for their husband's eye. This is futile and tragically misses the real issue. His behavior is not directly about you but about emotional processes in his life.
Of course, you must know the revelation of his habit will greatly impact you. As a minister's wife, you realize your husband's role compounds this problem you uncovered. Therefore, you face gut-wrenching dilemmas. While dealing with the betrayal of the marital relationship, the potential repercussions on your husband's ministry career also hang over you. Revealing his sin to the congregation or district may affect you and your family in many ways, including your income, location, and social connections. In other words, it can impact virtually every area of your lives.
Again, take courage. The Lord promises to walk with you — through floods and fires and, yes, even through this kind of humiliating pain (Isaiah 43:1–3). You will certainly need much wisdom and wise counsel to move forward toward health and restoration. The alternative is staying stuck in a nightmare of lies and mistrust. It might help to look at your life, ministry, and marriage as a race that you run (Hebrews 12). Do not skimp on your pursuit of health and wholeness in order to finish the race successfully. If you take courage and invest in healing now, you will reap the benefits as you move forward. Let your decisions be redemption-based rather than fear-based.
Your husband lied to you about his behavior. Obviously, lying is neither acceptable nor moral, but it is common for people with addictions. Therefore, he will need checks and balances to hold him accountable for his words until enough time has passed to prove otherwise. No matter what he promises, declares, or says, this is the reality.
When trust is broken, repairs are in order. Love and trust are not synonymous. Trust is not a gift to be given but a confidence to be earned. Take steps to increase accountability in your home. Your husband should answer to you for his time and activities. Put viewing safeguards on your electronic equipment immediately. Some companies like Covenant Eyes will send reports of Internet viewing to spouses and/or accountability partners. Agree to keep electronics in public spaces and to avoid periods of solitary viewing behind closed doors. Yes, your husband will lose some privacy for a period of time, but the heightened scrutiny is a predictable consequence of his choices.
Having said that, do not put yourself in the place of alone holding your husband accountable. This task is too big for you and not helpful to the dynamics of your marriage. You need outside intervention, both for your husband and for your healing. This is not to criticize his strength of character or his level of self-discipline. It is simply admitting the reality of the unmet needs that drive him and his inability to handle this on his own. (If he were able to handle it, he would have already done so.) He must learn to deal with the emotional side of himself without medicating. If the exposure of his pornography habit has truly humbled him, he will freely admit his need for help.
An AG Help Line is set up for situations just like this one. Calls are confidential and designed to assist you both compassionately. The phone number, printed on the back of your minister's credential card, is 1-800-867-4011. In larger communities, professional Christian counseling resources are available as well. Again, these professionals are confidential and concerned for your family's well-being. They are also experienced and insightful in these issues. They can guide both of you in steps toward recovery and healing. You can search for Christian counselors by zip code or state at aacc.net/resources/find-a-counselor/ or by visiting the minister care referral system on AGPassport at agpassport.ag.org.
If your husband resists coming clean and reaching out for intervention, you can no longer help keep his secret. Your husband's choice is destructive to himself and his ministry and detrimental to the marriage. Secret keeping is codependent behavior that helps him remain in denial, and it will certainly harm your relationship more than protecting his pride. By all means, use wisdom in deciding whom to tell, but do speak up and seek help. Find someone who will hold him accountable and who has the power to insist that he seek out the help he needs.
No matter what, you will walk through an emotional windstorm. To bring clarity in the midst of a difficult, confusing time, seek help and support from safe, educated, and nonjudgmental sources in your life. Eventually, you will likely need couples' counseling, but personal counseling for you can be a powerful tool to help you as your husband works on his issues. Claim the truth of Psalm 91:2: "I will say of the Lord, 'He is my refuge and my fortress, my God, in whom I trust.' "
Draw daily strength from your gentle, compassionate Savior who has promised to walk with you through every circumstance.
Can a ministry couple recover from a situation such as this? Absolutely! Not only can you recover, you can become stronger both individually and as a couple. God can use even this circumstance to glorify His name and, in turn, help others.
Recommended Reading
• Pure Desire by Ted Roberts
• Every Man's Battle by Stephen Arterburn and Fred Stoeker
• Healing the Wounds of Sexual Addiction by Mark Laaser
NOTE
1.http://www.getintolife.org/SolutionsResources/Statistics/PornographyStatistics/tabid/2662/Default.aspx