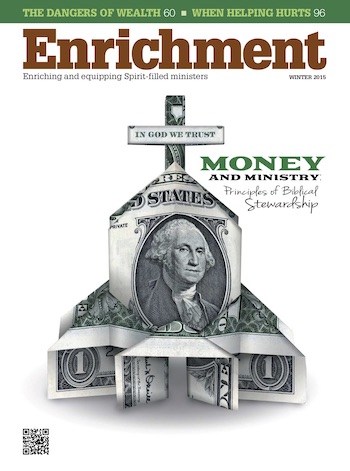 Downloads:
Stewardship God's Way
Introduction to Winter 2015 Theme Articles
by Rick Knoth
---
North Americans today enjoy historically unprecedented levels of affluence compared to the rest of the world. However, Americans' once irrepressible optimism toward their financial futures may be waning in the face of national and international unrest.
In the past number of years, the U.S. has experienced an unusually long, deep recession. According to the National Bureau of Economic Research, an American nonprofit research organization, from peak to trough, this economic downturn has been the worst since the 1930s Great Depression.1 The Great Recession, as it has been called, and the slow-paced recovery following it, has left a pronounced pessimism in the minds of many Americans.
Macroeconomist Robert J. Gordon of Northwestern University predicts that the real living standards of all but the top one percent in the income distribution will barely grow at all in the decades ahead.2 Such a startling forecast paints a gloomy picture for future financial growth in America and for the financial security of its citizens.
Furthermore, listen to or read the news on any day, and you will hear oppressive accounts of national and international concern: government defaults, skyrocketing national debt, dwindling labor markets, overvalued share prices, currency crashes, and social and political unrest in the Middle East, to name a few.
Consciously or not, many of these concerns weigh heavily on the hearts of average Americans. Financial pressure is one of the leading causes of stress today. Most everyone knows the toll that rising personal debt brings. Money-related stress affects our marriages, our productivity, and our health. Even among Spirit-filled, Bible-believing Christians, fiscal concerns remain a controlling reality.
In these tenuous times, it's imperative for those who earn their living from preaching the gospel to learn to manage church and personal finances wisely. Nothing tests the mettle of pastoral leadership more than managing God's resources. Any breach of fiscal responsibility on the part of clergy can present serious challenges to both the minister and the future of his or her church or ministry.
Not only must astute church leaders be vigilant stewards over personal and church resources, they must help relieve the angst felt by church members and attendees by guiding them to a deeper, richer, biblical understanding of money and its purpose in their lives.
The Bible has a lot to say about money: Wealth, poverty, greed, generosity, and contentment are just a few of the many topics that pertain to our financial and spiritual lives. In the New Testament, Jesus talked about money and possessions more than He did heaven and hell combined. In fact, Jesus had more to say about money and possessions than any other subject except the kingdom of God.
Why such an emphasis in the Bible on money and possessions? Does the idea that Jesus spoke more about money than anything else justify much of the wealth and prosperity teaching we hear today? Hardly! A closer look at Jesus' teaching on money reveals quite a different tone. Consider the following two verses:
"Do not store up for yourselves treasures on earth, where moths and vermin destroy, and where thieves break in and steal" (Matthew 6:19).
"You still lack one thing. Sell everything you have and give to the poor, and you will have treasure in heaven. Then come, follow me" (Luke 18:22).
A proper understanding of what the Bible says about money and stewardship can change how our people serve, spend their time, give, experience contentment, find balance between their needs and wants, and approach personal relationships. And it can give them an unshakable peace in an increasingly unpredictable world.
From a practical perspective, God expects ministers of the gospel to be careful and deliberate in matters of personal finance. Remember, integrity in the pulpit begins at home. In God's provision, He expects us to use wisely what He gives us. That means adopting a biblical approach to spending practices, eliminating debt, minimizing expenses, finding contentment in what we have, and being generous toward others. How we manage our own affairs is a reflection of how we will manage the resources under the care of the church. Ministers who establish a positive, personal, financial testimony before God and their congregations have the credibility to lead the church — even amid uncertainty, crisis, and confusion.
To this end, we examine in this issue of Enrichment some time-tested, biblical principles that will help guide you and your church during these turbulent times. This issue addresses such questions as: What does the Bible teach about wealth and stewardship? Will believing in Jesus Christ make us rich? Once wealth is acquired, how should Christians use it? Why has giving decreased, and what practical steps can Christian leaders take to help reverse this trend? In tight times, what are best practices for stretching ministry dollars? Because helping the poor is a core moral obligation for Christians and churches, what are some proven ways of helping the poor that do more good than harm? We explore these and many other stewardship-related topics in the forthcoming pages of this issue.
On behalf of the editors, I offer you this money issue of Enrichment. May the "wealth" of information resting in your hands lead you and your church on a financial journey that is both rewarding and God-honoring.
NOTES
1. "U.S. Business Cycle Expansions and Contractions," National Bureau of Economic Research, http://www.nber.org/cycles/cyclesmain.html.
2. Robert J. Gordon, "Is U.S. Economic Growth Over? Faltering Innovation Confronts the Six Headwinds," Northwestern University and Centre for Economic Policy Research, Policy Insight 63 (September 2012): http://www.cepr.org/sites/default/files/policy_insights/PolicyInsight63.pdf.