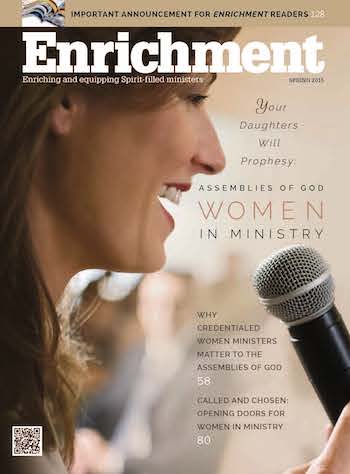 Downloads:
Women in Ministry
Introduction A Called Community
by Judy Rachels
---
Ministerial ordination happened to me this year. The event was steeped in challenge, meaning, and symbolism. I received a mantle, a staff, and a Bible — symbols of servant ministry.
When it was time for the laying on of hands, our presbyter son, Scott, who had interviewed, approved, and, recommended me for ordination, created a dramatic moment. He put in front of me an iPad with a 1992 video of my mother, Ruth Homer, quoting Mary's Song from Luke 1 (one of the more than 25 chapters she had memorized). She has been in heaven with the Lord for 11 years; yet she still speaks.
"My soul glorifies the Lord and my spirit rejoices in God my Savior, for he has been mindful of the humble state of his servant. From now on all generations will call me blessed, for the Mighty One has done great things for me — holy is his name. His mercy extends to those who fear him, from generation to generation. He has performed mighty deeds with his arm; he has scattered those who are proud in their inmost thoughts. He has brought down rulers from their thrones but has lifted up the humble. He has filled the hungry with good things but has sent the rich away empty. He has helped his servant Israel, remembering to be merciful to Abraham and his descendants forever, just as he promised our ancestors" (Luke 1:46–55).
My mother planted a church while she was pregnant with me, and she planted in me the absolute assurance that God uses women in the extension of His kingdom. She thrived on presenting Christ through the unseen habits of her servant life, as well as her powerful preaching.
All those years later, she reminded me, as a woman in ministry, that God is mindful of His servant. He is merciful to those who fear Him. He lifts up the humble. He fills the hungry. He keeps His promises.
My mom would want me to remember from Mary's Song that the qualities so necessary to being an effective minister are: servanthood, God-awareness, humility, and spiritual hunger. These are compelling spiritual virtues for those who will serve and lead in His name.
The Assemblies of God is committed to developing, mentoring, and resourcing vocational women ministers and women preparing for ministry.
On the Day of Pentecost, the apostle Peter, quoting Joel 2:28, said, "Your sons and daughters will prophesy" (Acts 2:17).
Jesus fulfilled — and continues to fulfill — God's promise of an eschatological outpouring of the Holy Spirit. The Holy Spirit calls and empowers both men and women to exercise prophetic ministry in the last days.
Historically, the Assemblies of God has recognized that this Spirit empowerment opens the doors of credentialed ministry to all qualified applicants, whether women or men. The rise of the so-called New Calvinism, which often teaches that credentialed ministry is open to men only, is causing many young men (and a few young women) to step back from our historic commitment to equality in ministry.
Nevertheless, women are increasingly seeking credentials with the Assemblies of God. In fact, women completing degrees in theology and seeking credentials are outnumbering men in some areas of our country.
Today's women in ministry are planting churches and serving as chaplains — in prisons, hospitals, industries, and even military combat zones. They are pushing back the darkness, "living dead," and confronting strongholds. They are in your city, your county, and your state. They are courageously, creatively answering the call to serve.
Servanthood, God-awareness, humility, and spiritual hunger make up the shared language of credentialed women ministers in the Assemblies of God. Look around, and you will see them leading churches, serving as executive pastors, directing university ministries, and moving into difficult places around the globe. They boldly serve in obscure mission stations, where they lift up the fallen, administer compassion, and often paint with a softer brush. They faithfully do whatever is possible while trusting the One who calls them to do the impossible.
This issue of Enrichment promotes awareness of credentialed women ministers within the Assemblies of God (USA). The issue explores our history, searches the Scriptures, and evaluates our contemporary practice through the lens of our Pentecostal commitments. It further examines why women's perspectives and voices on issues are important, and how male leaders can promote the value of credentialed women ministers across the Assemblies of God Fellowship.