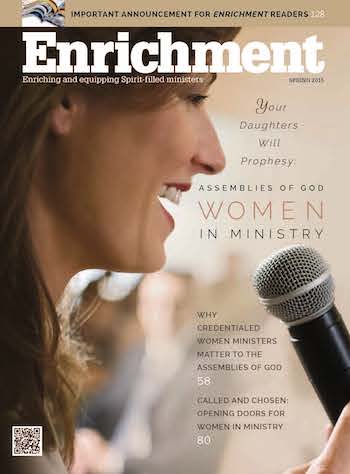 Downloads:
Women and Pornography
by Gabriele Rienas
---
Q: I know there has been a lot of talk about Christian men and pornography, but I want to raise the issue for women. As I interact with the women of my church and community, I am becoming increasingly aware of women who are reading erotic, popular literature, watching sexually oriented television, and viewing Internet porn. It's almost like it has become normalized behavior, and in some circles women freely admit to it. I have heard married Christian women rationalize their behavior by saying that it's no big deal and it even adds spice to their marriage. I have heard that this type of temptation does not draw women, who are supposedly not visually stimulated. However, my current experience tells me otherwise. Am I alone in my concerns about women and pornography?
A: You are accurate in your observations. Thanks to our current unlimited electronic access to whatever we want to view, new societal challenges are surfacing. Traditionally, pornography has largely been a male thing, and women's voices have been against it.
However, with the growth of Web access and increasing freedom of sexual expression, more and more women are admitting to sexual addictions.
Women, like men, are finding that viewing and reading explicit materials can bring private pleasure without the effort of emotional investment. It provides a temporary escape from the stress and sadness of real life. In turn, the temporary relief creates a cycle of addiction as the person turns again and again to this means of dealing with negative feelings.
Addictive behavior is no new thing for either gender. People have always sought ways to relieve the stresses of life. However, the one-click accessibility of private visual sexual stimulants has increased dramatically, making it so much harder to avoid. At the same time, society has become markedly less abhorrent of this kind of behavior. It is now common in movies and on TV to reference pornography either in a humorous way or as normal (if not slightly awkward) behavior.
While it remains true that women are less visually sexually stimulated than men, purchases of pornographic material by women indicates a marked upswing in this kind of pursuit. Marketers are learning that women are drawn to fantasies about sexuality by a strong desire for closeness, nurture and connection, and a great desire to be loved. Purchases of pornography by women might take the form of sexually erotic love stories (read or viewed) or even borderline sexual behavior (flirtations, affairs, or one-night stands). Some women engage in dangerous behavior while telling themselves that what they are experiencing is love. They are willing to settle for sexual expression as a substitute for true, covenant love that requires a commitment of one's entire being. Some women fall for the lie that someone desiring them sexually gives them value.
The book series Fifty Shades of Grey, sometimes referred to as "mommy porn," has topped the New York Time's bestseller list. In fact, it has broken records as the fastest-selling Kindle eBook and paperback novel in history.1 The trilogy is a national phenomenon discussed everywhere from the TODAY show to Christianity Today. Why are women of all ages in record numbers reading books about a mousy, inexperienced young woman who meets a rich man and then engages in sexually submissive bondage?
Crystal Renaud, a committed Christian, started the first sexual addictions support group for women in the U.S. Former pornography addict and author of the book Dirty Girls Come Clean, Renaud is now free from pornography and works as a trained counselor. She characterizes women's involvement with pornography as "widespread and silent."
On her ministry website, she says: "Pornography is not just a man's issue. Twenty-five percentof Christian women are addicted to pornography and sadly, 70 percent of these women will never confide in someone about their problems …. Women turn to pornography for different reasons than men but once addicted feel the same alienation and shame."2
Thankfully, the problem is getting more attention. Women involved with pornography often feel very ashamed, believing that they are alone in their struggle and, therefore, abnormal.
Christianity Today suggests that pornography speaks to a sexual hunger that is prevalent among believers and nonbelievers alike. An article published in June 2012 noted that sexuality is a good and healthy gift from God.3 Yet in the absence of healthy fulfillment, it grows perverse and distorted.
I could not agree more. Society's increasing discard of sexual restraint, combined with increasing relational distance and isolation (in spite of social media), leads to a renewed hunger for meaningful connection. Pornographic materials provide a cheap substitute for the true connection people desire. Sexuality is becoming more and more distorted and shame-based as society becomes less attached to God-honoring, covenant relationships — the intended context for sexuality and the only framework that leads to fulfillment.
Contrary to the messages we get from the general media, pornography is neither humorous nor benign. It is destructive to deep, committed relationships. Its consumption leads to emotional issues associated with depression, and it correlates with sexual dysfunction in people who are addicted to it. It also prepares the way for a fantasy life people cannot reproduce in real-life relationships. It is a cheap substitute for the unity of body, soul, and spirit God designed as the union between a committed-for-life man and woman.
For the woman who struggles: If you recognize that the problem is a symptom of a deeper longing, you must get to its root. That means going to the source of your wound and discovering what drives you. It means examining where you have substituted other things for the grace and sufficiency of God in your life. This journey of repentance and exploration almost always requires the wise input of a counselor, mentor, or support group. Healing begins by admitting you need help and revealing your struggle to a qualified person.
For those stuck in the cycle of addiction, repenting and seeking help are not optional. The Scriptures are quite clear on the matter. This sinful behavior must be rooted out by the grace of God and the assistance of others who can help you.
First Corinthians 7 calls us to mutuality in our sexual expression. Within the bonds of marriage, a husband and wife must abstain from sexual immorality and mutually submit to one another.
Hebrews 13:4 says, "Marriage should be honored by all, and the marriage bed kept pure, for God will judge the adulterer and all the sexually immoral."
Remember Jesus' promise that the pure in heart are blessed and will see God (Matthew 5:8).
Those of us in leadership should first examine our own lives. Then we must warn others about the pitfalls and dangers of viewing and digesting erotic sexual images. We must continue to point others toward purity of thought and expression as God's best for our lives.
We should engage in honest conversations about the realities and pitfalls of these behaviors. We also need to seek out and provide resources and help for those who find themselves swept away. Women need to know that they are not alone in their sexual temptations and that pure, God-honoring sexuality is possible if they are willing to pursue it.
Remember Philippians 4:8: "Finally, brothers and sisters, whatever is true, whatever is noble, whatever is right, whatever is pure, whatever is lovely, whatever is admirable — if anything is excellent or praiseworthy — think about such things."
NOTES
1. Kirsten Acuna, "By the Numbers: The '50 Shades of Grey' Phenomenon" Business Insider (June 2012) http://www.businessinsider.com/by-the-numbers-the-50-shades-of-grey-phenomenon-2012-6?op=1
2. Crystal Renaud, Dirty Girls Ministries, http://dirtygirlsministries.com/dgcc/
3. Jonalyn Fincher, "Is There Anything Redeeming in the '50 Shades' Trilogy?" (June 2012) http://www.christianitytoday.com/women/2012/june/is-there-anything-redeeming-in-50-shades-trilogy.html/