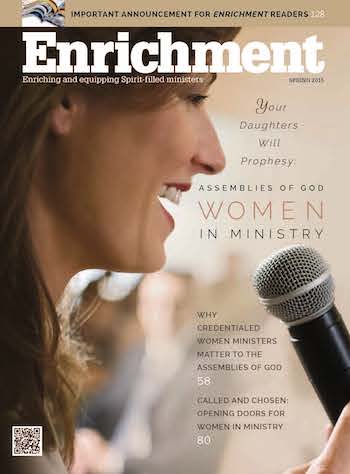 Downloads:
Called and Chosen
Opening Doors for Women in Ministry
by Clarence St. John
---
When Jesus rose from the grave, He chose women to deliver the news to His other followers. Similarly, some of the first people who pointed me to the risen Christ were women.
Ruth Jackson, my third-grade Sunday School teacher, made a point of telling me she prayed daily for God to guide my steps. As an 8-year-old boy, that made a profound impression on me. When I prepared to leave home to attend North Central University in Minneapolis, I stopped by Ruth's house for a visit.
She took me to her sink, pointed to it, and said, "Clarence, every time I do dishes, I pray for you."
I saw Ruth again a few years ago when I returned home for my father's 90th birthday party. She greeted me with a tender smile, put a frail arm around me, and whispered, "Clarence, I still pray for you every day."
Each day for 50 years, Ruth had made an altar at her kitchen sink and brought my name to the very throne of God. There's no question her intercession, her teaching, and her example have made a difference in my life and in the lives of countless others.
Over the years, I have had the privilege of knowing many godly women — lay people as well as credentialed leaders — who poured their prayers, wisdom, and anointing into my life.
When I think of the vital contributions of women in ministry, it's not a matter of academic debate. It's clear to me from Scripture as well as personal experience: God powerfully uses women to accomplish His kingdom purposes.
I think of women like Ruth. And I think of my senior high Sunday School teacher, a dear lady who refused to give up on students in the throes of adolescent rebellion.
I think of a pastor's wife and elementary school teacher named Norma who helped me along when I took on my first Sunday School teaching assignment as a college student. The rowdy gaggle of second-graders met in a furnace room stairwell because there was no other space for us in the small church. Norma sat at the top of the stairs, maintaining order as I taught, and graciously offered me invaluable advice at the end of each lesson. Through her words and actions, Norma instilled confidence in me as a young minister-in-training. When I graduated and became the church's youth pastor, she taught me how to greet newcomers and extend the same Christlike warmth she shared with everyone around her.
I think of another kind and patient sister in the Lord, named Gerri, who taught me how to manage a Vacation Bible School with 400 kids in attendance — my first week on the job.
Needless to say, I believe in women in ministry.
Called and Chosen
The history of the Assemblies of God is replete with examples of women who not only served in ministry but also led the charge on many fronts. Our Movement started with ladies stepping up as missionaries, evangelists, and church planters. They were aggressive, and they were prophetic and apostolic.
In the Fellowship's early days, women were often the catalysts of new initiatives. They started orphanages and were some of our first missionaries. They took the gospel to places it had never before gone. These Spirit-filled women sprinted past social impediments and boldly stormed the gates for Jesus. Nothing could stop them from doing what God had put in their hearts to do or going where He had told them to go.
We need such workers in this generation, called and chosen women who will dare to follow Jesus wherever He leads — from pulpit to polity to the ends of the Earth. There should be no limits in Christ's kingdom because there are no limits in Christ.
Of course, the reality is there is still room for progress. Women, responding to God's call, are eager to enter the harvest fields. Yet some doors of ministry remain closed to them. For instance, while women today assume a variety of other pastoral roles, many congregations are reluctant to consider a woman candidate for the position of senior pastor. Others forbid women from serving on deacon boards.
Some argue that the Bible excludes women from certain ministry positions. However, when you look at the whole volume of Scripture, you see women playing a prominent role in the Early Church. Paul refers to women again and again in his greetings to the churches. He didn't greet these women just because they provided him a meal. I believe they were involved in actual ministry and service. They were prophets, teachers, and house church leaders. The gospel opened doors of opportunity for women. Who are we to slam them shut?
I'm not suggesting we always favor women over men when making hiring decisions. Rather, we should seek the most qualified person for each job, whether that individual happens to be a man or woman, single or married, young or old. More specifically, we should seek the person God has chosen for the job. Paul taught that every member of the Body brings something special to the table. We must make room for a person's gifts and calling, regardless of gender or any other physical attribute.
Overlooking and underestimating the contributions of half the Church population is a mistake. For instance, the most powerful intercessors in many congregations are women. A woman who knows how to reach the heart of Christ and reach out to others with the heart of Christ is a mighty ministry force. God often calls women to do new things for Him because their ears are attuned to Him, and they are ready to step out and take risks.
Keep Knocking
Exciting things are happening for women in ministry. More doors are swinging open every day. But change takes time. Some women may grow weary knocking at iron portals that never seem to budge.
Allow me to offer some words of encouragement for women standing at these thresholds: Keep knocking. Whatever dream God has given you, don't give up on it. Realize, however, that it might not happen overnight. Few women — or men, for that matter — start at the top of their professions. Ministry is no exception. It can take years to accomplish goals and realize dreams. Wait on the Lord, and serve where you can. Preach where a pulpit is open to you. Teach where a classroom is available. Meet a need where you encounter one. Reap a harvest where you stand. Find an open door, and walk through it.
Be willing to go into breakthrough areas like church planting. We have three women church planters in Minnesota who are doing very well. A lot of people think church planting is for ministers who can't do anything else. We don't look at it that way at all. We feel church planters are on the cutting edge of ministry.
Early in my ministry I wanted to plant a church, but I couldn't get the green light because I was young and single. Fortunately, I was also passionate and determined. For two years, I kept knocking. Finally, the district superintendent told me to go start a church.
I could have given up and said, I'm single; they're not going to let me do this. But I never lost my dream. If God put it in your heart, He will help you find a way to do it. Push hard. Keep at it. Don't take no for an answer.
A century ago, ladies were leading the way because no one else was doing it. I want to challenge women leaders today to take the initiative again. Be bold, and plow the way for new beginnings.
Leadership Pipeline
In the business world, the leadership pipeline model is a plan for building managers within the corporation. This practice helps ensure the company's long-term health and survival by nurturing a pool of talent from which to recruit new leaders.
Long before corporate America discovered this model, it was deeply embedded in the fabric of the Church. As we continually disciple, train, and send out leaders for ministry, the gospel advances from one generation to the next. This is a good thing. But it can be better.
Too often we fail to include women ministers in the equation. Here are five ideas for bringing women into the Church's leadership pipeline.
1. Let them lead.This seems obvious, but we have to be intentional about it. Women know how to take steps of faith. They are willing to take chances when others are willing to let them try.
Ask God to give you discernment to see His hand and His call on the lives of those around you. When you identify a woman emerging in leadership, continue to give her opportunities.
Women sometimes lead in the prophetic and in the apostolic in ways that are scary to men. But when the Lord is working through someone, we need to step back and let God have His way.
2. Begin at home. Some pastors have daughters God is calling to serve in some area. These pastors could model the value of women in ministry by using these young women in their gifts.
Others have wives who are ministers. Seven of our church pastors in Minnesota are co-pastoring with their wives. These women are ordained and preaching alongside their husbands. They are flowing in their gifts and learning to complement each other in ministry. Together, such a husband and wife team can accomplish three or four times as much as an individual could manage alone.
We can multiply our efforts by including our wives in ministry. Many of our pastors' wives are becoming ordained or licensed because they feel as called as their husbands. We have two churches in Minnesota where the wife is the stronger preacher and does most of the pulpit ministry while the husband manages the other church business.
3. Create a mentoring environment. Most of ministry is about building relationships. The Minnesota District's women in ministry director travels around, section by section, and meets with women to build relationships with them.
We also have a workshop where women just starting in ministry can hear from our director of women in ministry. She always asks, "Who wants to be mentored?"
This year she is mentoring four women. It is key for women ministry leaders to mentor the younger women. (See the article in this issue, "Mentoring: A Non-Negotiable Toward Empowering Women in Ministry," by Karen Yancey.)
4. Encourage equality.As soon as a pastorate opens up, I always tell the congregation, "You might want to hire a single man, a young pastor, a seasoned pastor, or a woman. Many churches are hiring women. I think you should be open to that."
We have also spent a lot of time talking to churches about including women on their boards. We talk about the wisdom of having a woman's voice on the board. If the church is not yet open to that, we suggest having one board meeting per quarter where the board members' wives come and sit in. After hearing the wisdom the women bring to the conversation, deacons often consider opening board membership to women.
5. Empower and release them. As a leader, I look for people who excel in areas where I'm weak. I want to empower and release them to exercise their God-given gifts. That's the beauty of the diverse kingdom of God.
In the Minnesota District, we have a motto: "Reach up, reach out, and reach down." The idea is to reach up to people ahead of you and learn from them. Have several mentors or coaches in your life. Then reach out to colleagues who are your equals. Notice what they're doing that works, and ask them questions to find out how they're doing it. Finally, reach down to bless, lift up, and help out ministers who are just getting started. Senior pastors and district leaders need to create opportunities for women to participate in that process.
Roll Out the Welcome Mat
The Holy Spirit is a great recruiter. He isn't restricted to the narrow confines of cultural conventions and human expectations. First Samuel 16:7 says, "The Lord does not look at the things people look at. People look at the outward appearance, but the Lord looks at the heart."
Stroll across the grounds of our Bible college campuses, and it becomes apparent God is recruiting women in large numbers. I think anyone heaven recruits should have the opportunity and privilege to serve in our churches. Our goal should be helping facilitate what the Holy Spirit is calling people to do. We need to find out what their ministry dreams are and help them reach them.
Our younger leaders are already doing this. In many cases, they're the ones opening doors for women. Our youth director in the Minnesota District is excited about women becoming youth pastors. Our district children's director is a woman. All of us in ministry should be delighted to see the landscape changing and the entrances no longer barred.
A vast mission field stretches before us in these last days, and God is sending His work crew. As they come knocking, will we open doors? We need every available laborer. Let's roll out the welcome mat, roll up our sleeves, and work together to carry the good news of Jesus Christ to all creation.
SIDEBAR: Why Women Ministers Should Network
Deborah Tannen, author of He Said, She Said: Exploring the Different Ways Men and Women Communicate, nailed the truth about the diverse communication skills of men and women. She says medical research suggests that long before birth, girl babies exercise jaw movement and practice tongue thrust, preparing for a lifetime of talking, bonding, and making friends. When I read that, I finally understood why being married to a member of the "silent majority" was absolutely normal.
A road trip with several women in ministry validated for me the reality of Tannen's findings. A driver suddenly and recklessly cut off our vehicle on one of the busiest Southern California freeways. After the stunned silence, one friend spoke up: "That driver shouldn't have a license."
Another said, "Bad drivers should be sent to another planet."
Soon the car was abuzz with accusations for the offending driver and affirmations for our friend at the wheel. Women use language to bond, network, affirm, teach, heal and delight.
When the cell phone lights up with the announcement that a friend is calling, it warms my heart. I immediately anticipate that she will be available to bring perspective, encouragement, confidentiality and safety to my journey.
Of course, Jesus is the provider of all instruction, inspiration, and perspective. Phone calls, emails, and visits to Starbucks should never take the place of prayer and meditation. Yet social connections certainly have their place in the life of a woman in ministry.
Networks spring out of shared interests, mutual passions, and similar callings. They are based on support, connection to reality, advocacy, understanding, and life integration that transcends time and place. Networks provide easy access, continuity, and familiarity.
Recently, I met with a group of credentialed women ministers from across America. We were diverse, speaking with unique regional dialects and representing different generations, experiences, and perspectives. However, we also discovered common ground, including mutual friendships, common relatives (that's something to be careful about), shared histories, and similar journeys. When people connect, the world becomes a smaller place — perspectives grow, and realities yield wider truth.
Networking isn't just a recent idea. God's Word has a lot to say about the benefits of working together. Consider these scriptural realities.
1. Networkers take risks together.
Read about Deborah and Barak in Judges 4. This Old Testament wartime duo was courage to the second power.
2. Networkers keep each other safe.
Ecclesiastes 4:9,12 says, "Two are better than one. … Though one may be overpowered, two can defend themselves."
God never intended for people to do life alone. There is power in community and safety in numbers.
3. Networkers gain perspective from one another.
See the story of Mary and Martha in Luke 10:38–41. Mary's nontraditional approach provided an opportunity for Martha to learn a valuable lesson from Jesus.
4. Networkers are more fulfilled.
Numerous studies have shown the benefits of living in community, from better mental health to greater longevity. No wonder God's Word encourages us to come together and encourage one another. Networking gives us a chance to point one another toward the blessings of knowing and serving God in ministry.
In 1 Thessalonians 5:11, Paul says, "Therefore encourage one another and build each other up, just as in fact you are doing."
Attending local ministers' meetings is one way to interact with friends and build your network.
Read articles written by and for women ministers on the Women in Ministry website (womeninministry.ag.org). You may also enjoy reading and posting on the Women in Ministry Facebook page.
Better yet, get acquainted with your peers locally and regionally. I'm on my way to coffee with a friend now. Catch you later!
— JUDY RACHELS, Assemblies of God minister and national chairperson, Network for Women in Ministry, Huntington Beach, California