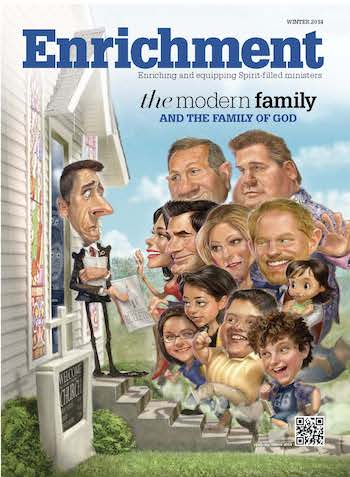 Downloads:
Equipping Blended Families for Healthy Christian Living
Blended families are quickly becoming the new traditional family. Here are practical suggestions you can use to equip these families for healthy Christian living.
by Ron L Deal
---
Churches are getting smarter. After serving and consulting with congregations for nearly 25 years in the areas of youth and family ministry, it seems churches are finally getting a full picture of American family life. Church leaders are learning more about the families that comprise their congregations and communities. Even more important, smart churches are doing a better job of helping families get smart as well.
A healthy church is comprised of healthy families — of all types. Stepfamilies, sometimes called blended families, are quickly becoming the new traditional family in America. According to 2002 data, only 23 percent of U.S. households consist of a first-marriage couple with their biological children, what we used to call the traditional family. By contrast, stepfamilies, whether formed after the death of a spouse, divorce, or an out-of-wedlock pregnancy, comprise around 40 percent of households with children in the U.S.1 Approximately 30 percent of weddings create stepfamilies, while 100 million Americans today have a steprelationship of some kind (a stepparent, stepsibling, or stepchild).2
After hearing these stats one pastor said, "Okay, there are a lot of stepfamilies. Doesn't our marriage and parent ministry address these families just like everyone else's?" No. Even though marriage education and marital therapy have the goal of strengthening all marriages, in truth we rarely practice it. For years solid research suggested that the history and context of remarriage and/or stepfamily living makes it distinctively different from first-marriage families.3
While some dyadic (interaction between two people) and external marital dynamics are similar to first-marriages, others are different — extremely different. For example, blended-family couples are usually embedded in a complex stepfamily system that often sabotages the dyadic-focused interventions of most marriage-enrichment programs. Stepcouple enrichment requires a triadic (if not quadratic — interaction between three or four people) and multisystemic educational model that examines the intersection of parenting, stepparenting, coparenting between homes, grief reactions, loyalty conflicts, and marital dynamics.
Research conducted by the Couple Checkup Research Team headed by marital researcher David Olson, Ph.D. confirmed this understanding. The team — including Peter Larson, Ph.D., Amy Olson-Sigg, M.A., and myself — conducted two studies of over 100,000 married and remarried couples (each study was of 50,000 couples) and published two books summarizing our findings. The Couple Checkup and The Remarriage Checkup report on the top strengths of each marital situation and what predicted high-quality, satisfying relationships versus poor ones. Our research confirmed that first marriage and remarriage couples do have many dyadic similarities, but that some of the top predictors of success are different, as are the stumbling blocks. Seven of the top 12 stumbling blocks for remarried couples (issues on which couples disagree significantly), for example, are related to former relationship dissolution, fear of another breakup, or the complexity of their stepfamily. Remarriage poses challenges for couples that first-marriage couples do not face in the same way.
Traditional marriage ministries address only half of what it takes to beat the two-thirds stepcouple divorce rate. Likewise, the typical premarital counseling program does not come close to preparing couples for the added challenges of stepfamily living nor does a standard parenting program address what it means to be a stepparent. Once savvy church leaders understand this, they want to know how to equip blended families for healthy Christian living.
The Ideal Versus the Real
"But stepfamilies are not God's ideal for the Christian home," someone might object. "Doesn't stepfamily ministry lessen what God intended?" What this person is really asking is can the church be a spiritual hospital without giving blessing to the "ill" that brought them there. I sure hope so. After all, the church is in the redemption business.
The "married for life" nuclear family is God's design for the home — it is Plan A — and it truly is the most optimum environment for intimate marriage and childrearing. There is no question about that — and we should encourage marital reconciliation of a first marriage whenever possible. But the reality of God's people from the beginning has included plenty of Plan B homes. Abraham's home did not meet God's ideal. He had multiple wives who stepparented his children by other women (with resentment and jealousy), as did Jacob, David, and many other heroes of the faith. Their homes were not as they should be, but God extended grace to these less-than-ideal people and families. He even used them for His purposes. When Jesus met the woman at the well (John 4), she was a cohabiting five-time divorcee. In a matter of minutes, He not only affirmed her acceptability to God and importance (something no one else offered her unless it was accompanied by a marriage proposal), He turned her into an evangelist. The next thing we see is her returning to town and telling everyone that grace is available no matter what your family story. And people came to Jesus.
Grace has the audacity of grabbing you where you are and then nurturing you back to faithful living. First it redeems, then it transforms. But then, smart churches have known this for years and have designed ministries to facilitate and communicate God's redemptive power to people from a variety of backgrounds. These churches offer divorce recovery programs knowing that it does not condone divorce; they offer postabortion and ex-gay ministries and walk people out of darkness into light and hope. In fact, churches across America are celebrating recovery on a weekly basis without ever believing they are celebrating addiction. Can't we have the same attitude about stepfamily ministry for families formed after sinful divorce? Not all stepfamilies are formed by personal transgression — many are formed after the death of a spouse — but for those born from sinful choices, stepfamily ministry offers healing, grace, redemptive hope for the future, and practical tools for faithful living.
Practical Ministry Suggestions
1. Become educated about the unique dynamics of stepfamily living and learn the essential elements of blended family ministry. Suggested resource: Ministering to Stepfamilies DVD, Ron Deal, available at FamilyLife.com.
2. Communicate messages of hope and determination. The "wilderness wanderings" can be long and frightening, but there is a promised land of marital fulfillment, interpersonal connectedness, child well-being, and spiritual redemption. Remind them not to give up (divorce) but to endure the journey to reach the promised land.
3. Maintain an outreach (evangelistic) mentality. You may have only a few stepfamilies in your congregation, but you have a lot surrounding it. Educate your leadership and staff to consider stepfamily ministry as an outreach effort. Design your classes (titles, meeting times, etc.) with the unchurched in mind.
4. Start a small group or Bible class for stepfamilies. Recruit a well-adjusted stepfamily couple and a nonstepfamily ministry couple to lead the discussion group. Equip them with The Smart Stepfamily DVD Small Group Resource (Ron Deal) and/or The Remarriage Checkup small group curriculum (Ron Deal and David Olson) to share with the group. These and other resources are available at FamilyLife.com.
5. When a stepfamily visits your congregation: a) Educate your welcome team not to ask too many questions about why their last names are different. Asking probing questions may feel like an "inquisition" and may lead to more spiritual guilt and shame over a past they cannot change. Without confidence that they can trust the church, most stepfamilies come to church already leery of judgment; don't call out their past without first proving your church has a posture of grace. b) If you have a discussion group, let them know about it once they offer information about their stepfamily, but don't require they attend. Many will find it a comfort to connect with other stepfamilies, others will not want to be pigeonholed. Initially, let them hide their past if they need to.
6. Sensitize your Bible class teachers to stepfamily complexities. For example, during Father's Day activities give children the option of making two cards for dad and stepdad (but only if the child wants to). On Mother's Day encourage stepmoms in their role and sympathize with their struggles. Most stepmoms will tell you Mother's Day is the worst day of the year for them to attend church because of the anxiety around their role (to be honest, most skip it). Use language from the pulpit on Mother's Day that acknowledges stepmothers. For example, when you welcome everyone say something like, "Of course today is Mother's Day and we welcome all our moms. If you are a mom, a stepmom, a foster mother, an adoptive mother, a grandmother, or a woman who is mentoring a child not her own, please stand so we can thank you for all you do." This acknowledges the presence of different family types and affirms the role these people play in the lives of children. Finally, because some parents coordinate visitation exchange at church, find out who is authorized to pick up the kids after Bible class and who is not. The custodial parent should put this in writing for the teachers.
7. Student ministries need to be sensitive as well. Biological parents should sign medical releases; stepparents generally do not have the legal right to provide consent for medical treatment.
If traveling with youth, chaperones should carry phone numbers to both sets of parents (i.e., both households) in case of an emergency, not just the church member parent.
Class curriculum should include case studies that deal with common adolescent struggles. For example, how to honor stepparents in view of Ephesians 6:1–3, conflicts with stepsiblings, and uninvolved biological parents. Teens need a place to talk about such matters with youth leaders who understand their experiences.
Youth staff should develop counseling skills to help custodial parents when their child leaves to live with the other parent. This happens frequently during the teen years and can bring much grief to the parents left behind.
8. Discuss stepparenting and remarriage pressures when doing general marriage and family enrichment classes or sermons. I have found that sidebars, as I like to call them, are an effective method of speaking to the diverse family situations that all of us experience these days. A sidebar is when you pause your regular presentation and speak for a few moments to a particular subgroup within your audience, usually to point out how the principle you just shared works differently for the subgroup. For example, when speaking to couples about how a strong marital commitment helps stabilize their home and provides a backbone for parenting, you might sidebar and say, "For those of you in stepfamilies, please know that in the early years of your marriage expressing marital commitment to your spouse, hugging him or her in front of the children, or even going on a date actually increases insecurities in your children because they may feel pushed out. They have already had a number of losses in their life, and your marital commitment to a new spouse may feel like another loss to them. Furthermore, they are not as invested in your new marriage being successful as you are — at least not in the beginning. Despite these reactions in your children, a strong commitment to your marriage is very important. You just need to expect some resistance to it. Long-term, though, there is a reward. While it might not start out this way, eventually most children do come to appreciate your commitment to your spouse." This quick sidebar recalibrates the principle you just taught for the stepfamily couples attending allowing you to then go back to your general marriage teaching.
9. Pre-stepfamily counseling should educate couples and children about stepfamily dynamics. Notice I included children in the process. To educate just the couple and not the children will shortchange the effectiveness of the premarital program. Couples need to know that "coupleness" does not necessarily equal "familyness." These are two separate dynamics with two separate trajectories we must attend to (I discuss this is in depth in my book Dating and the Single Parent). Children need perspective on how life will change when a stepparent (and perhaps stepsiblings) move into the house. Some of the topics to address include:
Dealing with losses (children and adults)
Realistic and unrealistic expectations
How to cook for a stepfamily
How bonding takes place
Establishing the relationship after remarriage
Parenting and stepparenting roles
The ex-files: Coparenting issues after divorce
Loyalty issues
Establishing traditions and rituals
Sessions might include:
1) Bring stepfamily adults and children together to discuss expectations, roles, authority, and how children will refer to their stepparent;

2) Have an ex-spouse session to negotiate coparenting responsibilities;

3) Schedule 6-month and 12-month follow-up sessions to gauge progress and coach them through difficulties.
A complete discussion of pre-stepfamily counseling can be found online at smartstepfamilies.com/view/counselor.
10. Sponsor a community event. Host a stepfamily seminar, sponsor a stepfamily retreat, or offer a short course for stepfamily adults. This communicates your awareness of stepfamilies in the community and extends a welcome to them.
11. Offer competent pastoral counseling. When couples are hurting, they will seek help from their church. For years I have had to undo poor counsel from well-intentioned pastors who did not do their homework on stepfamily dynamics. To be helpful you must be able to provide good information related to their present situation. This requires a good understanding of stepfamily dynamics. To get started in understanding stepfamilies, read The Smart Stepfamily. If you lack adequate training in counseling, find a competent marriage and family therapist in your area and make a referral. Keep in mind that most therapists have no specific training in stepfamily therapy and may cause more harm than good. Ask questions to see if they have had any training in stepfamily therapy. If not, you can always refer couples to me for a marital therapy intensive. See SmartStepfamilies.com for details.
Notes
1. Benjamin R. Karney, Cynthia Wilson Garvan, and Michael S. Thomas, Family Formation in Florida: 2003 Baseline Survey of Attitudes, Beliefs, and Demographics Relating to Marriage and Family Formation, published report by the University of Florida. These findings were replicated in two other state representative samples. While these stats are several years old, the 2003 stat is the most recent and best stat. The Census stopped asking questions about remarriage and stepparenting about 15 years ago. The 2003 data is the best because it asked better questions (better than any other nationally representative data in the last 30 years) that resulted in more complete data about stepfamilies. For example, in the past the Census asked about remarriage, but not about stepchildren. Since not all remarriages form stepfamilies, we had to make assumptions about the number of stepfamilies. Or the Census asked about stepchildren, but did not count kids who had primary residence in the other home. That resulted in an under-reporting of stepfamily homes. Found at: [http://www.healthymarriageinfo.org/resource-detail/index.aspx?rid=2512]. Accessed 1 April, 2013.
2. Statistical references for all stats are available at http://www.smartstepfamilies.com/view/statistics.
3. See for example, Lawrence H. Ganong and Marilyn Coleman, Stepfamily Relationships: Development, Dynamics, and Interventions (New York: Kluwer), 2004; or James H. Bray and John Kelly, Stepfamilies: Love, Marriage, and Parenting in the First Decade (New York: Broadway Books), 1998.