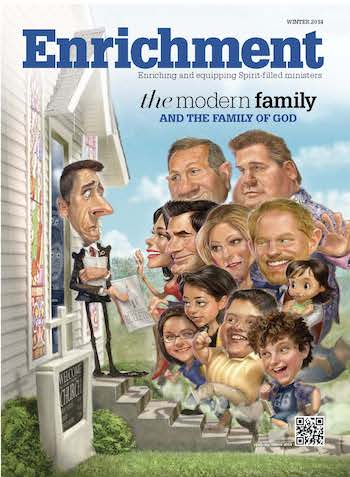 Downloads:
Dementia and Caregiving
Remembering Spiritual Needs
by Christina M. H. Powell
---
Not all bioethical dilemmas involve doctors in a hospital setting. For patients with dementia, many ethical issues revolve around everyday caregiving situations involving family members and friends.
Now that Susan provided care at home for her mom whom doctors recently diagnosed with Alzheimer's disease, getting to church on Sunday became a rare treat. Sitting through the long service filled with people whose names she could no longer recall became too difficult and embarrassing for her mom. Susan longed for the support of her church, but her growing responsibilities as a caregiver squeezed out the time for fellowship.
Mark felt a touch of guilt every time he told his wife he was going grocery shopping at the end of his visit to her at the nursing home. Yet, this story helped her accept his departure without becoming agitated.
Rose felt relieved that her sister's room in the assisted living facility had a door alarm, but her sister resented the technology as a restriction of her freedom.
The World Health Organization estimates that 35.6 million people worldwide are living with dementia, and expects that number to double by 2030.1 Many patients with dementia continue to live at home, especially in the early stages of their disease. Although patients lose intellectual capabilities, the need for spiritual care remains. As a pastor, you can make a difference by helping caregivers stay connected to the community of believers and affirming the dignity of the person affected by dementia.
Understanding the Scope of Dementia
Dementia is a cluster of symptoms rather than a single disease. Three of the main causes of dementia are Alzheimer's disease, Lewy body disease, and cerebrovascular disease. Other causes of dementia include Parkinson's disease, Pick's disease, Korsakoff's syndrome, Binswanger's disease, and Creutzfeldt-Jakob disease (CJD). All these diseases affect a person's ability to recall information, communicate with others, and make rational decisions.
These diseases are biological in origin, but they quickly become social and spiritual diseases as well. A person's erratic behavior can separate the person from the rest of the community and limit opportunities to worship with other believers. Changes in personality may cause a person with dementia to behave in ways not in keeping with his or her character before the illness. For example, the patient may swear, become argumentative, and act aggressively as a result of changes in brain function. Loss of memory and language skills may impede the practice of the patient's faith.
When you minister to patients with dementia, remember to separate the effects of the disease from your experience with the patient. A person behaving inappropriately as a result of personality changes from dementia has not become weak in his or her faith. Try to overlook the disease-related behavior and give the patient the gift of your relaxed and accepting presence.
Defining the Source of Dignity
Emphasize the source of human dignity as you minister to patients with dementia and their caregivers. Help them remember a person's worth comes from being made in the image of God, not a person's ability to think and make rational decisions. Genesis 1:27 states, "So God created mankind in his own image, in the image of God he created them; male and female he created them." This intrinsic worth does not diminish in the face of illness or disability. A disease that erases memories and creates confusion in the mind leaves the soul intact.
The care we show to the most vulnerable among us demonstrates our love for Christ. In the Parable of the Sheep and Goats, Jesus explained to His disciples that when they look after the sick, they are caring for Him (Matthew 25:36). Jesus said, " 'Truly I tell you, whatever you did for one of the least of these brothers and sisters of mine, you did for me' " (Matthew 25:40). Becoming a caregiver is an opportunity to put faith in action. Ministering to the sick allows us to express love for Christ as well as love for fellow believers.
In 1 Corinthians 12:26,27, Paul reminds believers of the value of each member of the body of Christ: "If one part suffers, every part suffers with it; if one part is honored, every part rejoices with it. Now you are the body of Christ, and each one of you is a part of it." This teaching not only calls believers to come alongside members of the body of Christ who are suffering, but it also recognizes that everyone makes a valuable contribution. Believers enjoying good health can learn spiritual lessons about patience, true joy, and peace from believers facing diminishing capabilities.
Providing the Support of Community
Churches can provide support to caregivers and patients in a variety of ways. For example, you can create special services to minister to patients in the early stages of memory loss. Such services should be short, follow a simple routine, and include familiar worship music. You can also make opportunities for continued church participation through small groups or home visits.
By developing church programs to provide practical help, you can ease the burdens of caregivers. Many times caregivers face ethical dilemmas such as balancing the patient's desire for freedom with the need to minimize risk because of lack of resources. Caregivers can become socially isolated, financially drained, and emotionally exhausted. Perhaps your church can provide meals or help with household tasks. Someone from your church ministry team might be able to sit with a patient to permit the caregiver to attend church or take care of other responsibilities.
Growing technologies provide potential solutions for caregivers and patients. Assistive technologies can support the independence and safety of patients with dementia. A device can be as simple and inexpensive as a calendar clock with large numbers that helps patients orient to the month, day, and year, as well as the hour and minute. Complex assistive technology such as automated home systems can manage lighting, temperature, and safety features in the home.
Of course, the most important component of any technology is the human response. Technology that warns a caregiver when a patient leaves a room can enhance life for the patient if the technology summons a person to help the patient accomplish his or her desire in a safe manner. If the technology leads to the patient being confined to a room, then the patient will resent the technology as restrictive. When the emphasis stays on human dignity, technology works for patients instead of against them.
By caring for the caregivers, you can help families grow closer while dealing with the grief that accompanies the progressive decline of a loved one with dementia. When you guide caregivers through ethical challenges using biblical insight, you reduce the guilt experienced by caregivers and ease tensions within family relationships. Addressing spiritual needs helps patients experience love, protection, and respect. Throughout a season of memory loss, you can ensure a person that you have not forgotten his or her core identity.