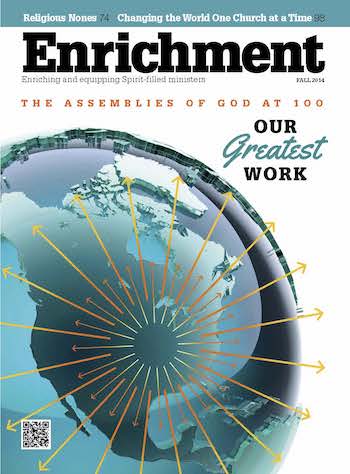 Downloads:
The Indigenous Church
Advancing Our Missions Strategy for the Next 100 Years
by John L. Easter
---
One hundred years ago, the Assemblies of God grounded its very purpose in the fulfillment of the Great Commission. The often-quoted declaration from the second General Council remains quite remarkable: "We commit ourselves and the Movement to Him for the greatest evangelism that the world has ever seen."
This statement of purpose reflected more than the optimistic exuberance of a small band of Pentecostal preachers. It symbolized their collective calling to take the gospel to the ends of the Earth, daring to believe in Jesus' promise to enable them, by the Spirit's power, to fulfill the task (Acts 1:8).
Advancing this vision, the third General Council adopted a formal statement in 1915 urging the movement to "exert all its powers" toward promoting the evangelization of the lost according to New Testament methods.1 To strengthen this commitment, the 1921 Council declared that it would seek "to establish self-supporting, self-propagating and self-governing native churches."2
This statement defined the strategic method by which the Assemblies of God would fulfill its mission of evangelization.
From a fledgling group of 300 people in 1914, the Assemblies of God has grown to more than 67.5 million members and over 350,000 local churches worldwide. One major factor that contributed to the success of our mission is the long-standing commitment to plant indigenous churches and train local leaders wherever missionaries serve. Though some may question whether the philosophy of the indigenous church remains adequate for our contemporary missional context, this method remains highly effective as we seek to fulfill the unfinished task of reaching the lost.
The Indigenous Philosophy
The concept of the indigenous church emerged in the 19th century during a period of western missionary expansion often referred to as the Great Century of missions.
As products of their times, numerous missionary societies were overtly paternalistic in an age of colonial dominance, holding the prevailing view that nationals should first be civilized. Missionaries expected national believers to conform to a western form of Christianity. The rise of missionary compounds inadvertently separated missionaries and new converts from their communities. Further, missionaries began financially supporting local ministries, including the livelihoods of national ministers. Terms like "rice Christians" described people who converted solely for the benefits they received. These circumstances developed an unhealthy system of dependency between missionaries and national converts, and serious issues associated with basic trust and human dignity emerged.
Of the People and by the People
Responding to the dilemma created by the dependency system, Henry Venn and Rufus Anderson, two missionary statesmen, initiated the modern concept of the indigenous church.3 In their view, the ideal goal of Protestant missions was planting the Church on foreign fields through preaching the gospel, cultivating leadership, and developing indigenous churches.4 They articulated the now-famous three-self formula to describe an indigenous church: self-governing, self-supporting, and self-propagating. The Venn/Anderson model of missions offered a radical departure from the old paradigm.
Later, John Nevius, an American missionary to China and Korea, developed a similar strategy of indigenous methods known as the "Nevius Plan,"5 which stressed the three-self formula, as well as an emphasis on laity training.
Missionaries in Korea eagerly applied this strategy. Their efforts to plant and develop viable indigenous churches quickly yielded evidence of success, which did not go unnoticed by the larger Protestant world.
A Spirit-Centered Ecclesiology
Roland Allen, an Anglican missionary to China and East Africa, indirectly exerted tremendous influence on the future of Assemblies of God mission practice. His concept of the indigenous church, as described in his Missionary Methods: St. Paul's or Ours? (1921), offered a revolutionary element to the indigenous church philosophy. Providing a strong biblical framework, Allen emphasized the necessity of a Spirit-centered ecclesiology.
Allen's missiological exposition of the Book of Acts attracted the interest of many Pentecostals, including Alice Luce. A former Anglican, Luce experienced the baptism in the Holy Spirit and later joined the Assemblies of God. In 1921, she authored three influential articles in the Pentecostal Evangel vying for the establishment of indigenous churches according to the New Testament pattern.
Luce's approach went beyond Allen's concept of the indigenous church, in that she stressed the necessity of Spirit baptism as the means to empower believers for witness. She proposed that the Spirit provides the bond for meaningful relationships when planting indigenous churches and fostering sustainable partnership.6
Three decades later, pioneer missionary and mission statesman Melvin Hodges provided the clearest description of the indigenous church practice and the three-self formula for the Assemblies of God. In his well-known book, The Indigenous Church (1953), Hodges contended that national converts empowered by the Spirit could carry on the work of the church as well as Americans or Europeans: "There is no place on earth where, if the gospel seed be properly planted, it will not produce an indigenous church. The Holy Spirit can work in one country as well as in another."7
Thus, early in its history, the Assemblies of God mission strategy endorsed the principles of the three-self formula, understanding them as follows:
"Self-governing: In a self-governing church, nationals, empowered by the Holy Spirit, provide leadership for the church, rather than rely on outside agencies for decision making.
"Self-supporting: A self-supporting national church does not rely on outside funding to carry on its work, but rather encourages its people to give in devotion to Christ and the work of ministry.
"Self-propagating: A self-propagating national church effectively evangelizes on its own within the surrounding region and beyond. A self-propagating church should by nature be self-missionizing. There may be no greater indication of indigeneity than when a national church establishes a sending structure to mobilize workers to reach beyond its own people."
Many missionaries have realized it is not enough to characterize a church as indigenous only because it is self-governing, self-supporting, and self-propagating. As a national church grows and matures, it should also learn to apply the Word of God appropriately to the lives of its members in light of the unique issues, situations, and experiences of the local people, as the Holy Spirit illuminates and quickens a community of faith. Hence, self-theologizing represents a fourth key element of indigeneity.
Planting the Indigenous Church
The presence and work of the Church represents an important feature of God's redemptive purpose in the world. We learn from the ministry of Jesus that personal conversion and relationship with God are of fundamental importance. Yet Jesus also declared, "I will build my church" (Matthew 16:18).
While God calls individuals, they must become part of the mission and life of the Church. In accordance with Matthew 28:18–20, Christ's mission strategy centers on His Church. His followers are to establish communities of disciples among every people group. Encompassing communities of believers, the Church functions as the primary agent for world evangelization.
Empowered Indigenous Churches
One reason for the success of Assemblies of God missions over the past 100 years is our belief that the Holy Spirit is the great equalizer. All people who trust Christ can receive the Holy Spirit's empowerment as part of the witnessing Church — without respect to ethnicity, culture, history, language, gender, or economic position (Joel 2:28,29; Acts 2:17–21).
In Acts 2:39, Peter says, "The promise is for you and your children and for all who are far off — for all whom the Lord our God will call."
The Spirit's outpouring on all people emphasizes God's principle of inclusivity. The ground is level at the foot of the Cross. We believe the Spirit directs and empowers national believers everywhere to carry out the work of ministry in their own locality and beyond. If national believers everywhere can receive the Spirit, they can also effectively bear witness to the gospel of the Kingdom everywhere.
Training Indigenous Leaders
A local indigenous church does not emerge in a vacuum. The New Testament pattern validates the planting of churches through the work of training local leaders who will faithfully reproduce themselves.
In Paul's missions work, he affirmed believers in their faith, trained disciples, and appointed local believers as elders in the churches (Acts 14:22,23). The New Testament pattern is evident in Paul's instructions to Timothy and Titus to appoint elders and deacons in every township where churches had been planted (1 Timothy 3:1–13; 4:11–14; Titus 1:5).
Paul's words to Timothy highlight the need for mentoring local leadership in establishing the church: "And the things you have heard me say…entrust to reliable people who will also be qualified to teach others" (2 Timothy 2:2).
This passage suggests that indigenous churches take root in their own culture as the Spirit calls local believers to leadership positions. In turn, local leaders train and equip new converts for the work of ministry, which makes possible another generation of reproducible churches.
Planting and sustaining viable, indigenous churches directly corresponds to training and equipping national leaders for Pentecostal ministry. Empowered by the Spirit's effectual work within their lives and churches, leaders rise to their full potential in administrative oversight, evangelism, church planting, training, and financial readiness.
Partnership and Indigenous Principles
The pioneer work of planting indigenous churches must transform into partnership when new communities of faith take root and begin to mature into a national church.
The strategic partnership between a national church and an on-field missionary team certainly generates unique challenges. But when western institutional and support ministries (as well as short-term mission teams) also enter into that partnership, the relational dynamic requires greater care and consideration.
Strategic Partnership
History provides many painful lessons concerning western institutional and support ministries whose efforts resulted only in meeting short-term needs at the expense of the long-term goal to plant and nurture viable indigenous churches. These ministries include schools, orphanages, medical clinics, construction projects, and athletic camps. Noble motives often fuel institutional and support ministries. Even so, their purposes may not align with the mission of the national church.
Typically, institutional and support ministries are not designed for, nor are they oriented toward, the essential task of planting reproducible churches. This does not mean these ministries cannot positively contribute or add value to our mission as a sending church. It does underscore, however, the critical need for strategic partnership.
Only a far-reaching strategic partnership can ensure that the resources, personnel, and activity a western institution or support ministry offers do not disrupt or detract from the efforts of a missionary team and local believers to nurture an indigenous work.
Strategic Alignment
Western institutions and support ministries should work in alignment with the vision of national churches, valuing the role of local churches. Connecting to the vision and ministry of the local church produces more effectual ministry on the ground.
The national church and missionary team should carefully evaluate the activities of support ministries to safeguard long-term goals. Western ministries often bring large amounts of resources to the national church, so even when a western institution has a good relationship with the missionary team and national church, it can often lead to the "tail wagging the dog."
This same lesson applies to short-term mission teams. These workers should support the long-range goals of the missionary team and national church, growing the work of the indigenous national church. For this reason, short-term mission teams seek to work with missionaries who strategically support the planting and nurturing of indigenous churches, whether in a pioneer or partnership phase.
Indigenous Principles and the Local U.S. AG Church
An AGWM Africa support ministry recently held a forum on the West Coast to raise awareness for training indigenous leaders. At one point, a local American pastor raised his objection to U.S. churches providing financial support to missionaries. He said it would make more sense to use those funds to support national workers to carry out the work of ministry. He contended that AGWM could pay 100 nationals for the price of one American missionary unit.
At that moment, an executive church leader from an African nation stood up and pleaded with the attendees not to heed the pastor's suggestion.
"Please don't take away the opportunity for my brothers to believe God to provide for our ministry efforts by you becoming their provider," he said.
Today, representing one of the poorest countries in the world, this African church now numbers over 1 million members and sends out scores of cross-cultural missionaries to surrounding nations.
The view of this African statesman did not preclude strategic partnership between his church and an Assemblies of God missionary team. Throughout the years, missionaries had provided assistance with personnel, finances, and equipment — all as a sign of mutual respect and love. In fact, the U.S. AG now enjoys a century-old relationship with this particular country, and the partnership has become a model of a biblical indigenous church that continues to enjoy close friendship with our U.S. Fellowship.
In the present climate of world missions, most U.S. pastors insist on strategically investing their members and finances in mission priorities that will result in Kingdom advancement. When investing personnel and finances in missions, U.S. churches should assist missionaries and institutional ministries that strategically support the planting of replicating, indigenous fellowships.
For example, if a missionary or support ministry works independently from the vision of the mission team and national church, there is reason for concern regarding strategic alignment and accountability issues. Similarly, when supporting a missionary-led ministry in an area with a viable national church, a sending U.S. church should inquire as to whether both the national church and the missionary team consider the ministry as strategic.
Our collective calling has the greatest impact when missionaries, national churches, support ministries, and local U.S. Assemblies of God churches align through shared values and goals. In the end, we are a financially blessed church that sends missionaries to plant churches. These will, in turn, plant more churches to reach individuals and communities with the transformational power of the gospel.
Commitment to Continue the Greatest Work of Evangelism
Today, nearly 4 billion people have not yet received an adequate witness of the gospel, and over 6,500 people groups have no witness among them. These spiritually lost people are without a vibrant and sustained local community of faith. Going forward in this century, we must maintain our commitment to the "greatest evangelism the world has ever seen" by planting local churches and training local leaders — continuously guided by indigenous church principles.
The 100th anniversary of our Movement provides a marvelous opportunity for us to renew our collective calling to evangelize the "regions beyond" and to strengthen and mobilize national churches around the world in their efforts to do the same.
To remain committed to the priority of world evangelization, our mission must continue to value the planting of indigenous churches and the training of local leadership. If we have learned anything from 2,000 years of Christian missions, including our own 100-year history, there is no substitute for long-term "boots-on-the-ground" missionaries who work — regardless of the hardships — to plant and nurture indigenous churches that reflect the uniqueness of the local context and culture.
As the Assemblies of God celebrates 100 years of ministry as a Pentecostal movement, we enter a new era of world missions service. This period will look and feel much different than the world of 1914. Dramatic changes have occurred over this past century, and great challenges have arisen while engaging the unfinished task of world evangelization. Nonetheless, we can learn valuable lessons by drawing on the reservoir of missiological knowledge accumulated during our history.
The Assemblies of God continues to value the approach of planting indigenous churches, and our future success will be predicated in part by our continued commitment to planting new indigenous churches, training local leaders, and valuing historical partnerships.
Notes
1. General Council of the Assemblies of God, General Council Minutes (Combined Minutes), 1914–1917, 9–10.
2. General Council of the Assemblies of God, General Council Minutes, 1921, 61–64.
3. Rufus Anderson (1796–1880) served as the foreign secretary of the American Board of Commissioners for Foreign Missions. Henry Venn (1796–1873) served as the general secretary of the Church Missionary Society in London. At the time, these entities reflected the two largest Protestant missionary agencies. Independent of one another, Venn and Anderson arrived at the same basic principles during their early careers, but in the course of time, the two contemporaries shared ideas, experiences, and friendship.
4. William R. Shenk, "Rufus Anderson and Henry Venn: A Special Relationship?"International Bulletin of Missionary Research 5, no. 4 (October 1981): 168–172.
5. Gary McGee, This Gospel Shall Be Preached (Springfield, Missouri: Gospel Publishing House, 1986).
6. Gary McGee, Miracles, Missions, and American Pentecostalism: American Society of Missiology Series 45 (New York: Orbis Books, 2010).
7. Melvin Hodges, The Indigenous Church (Springfield, Missouri: Gospel Publishing House, 1953), 14.