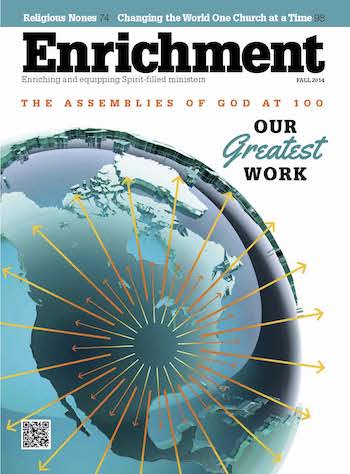 Downloads:
Pastoral Health
Four Behaviors to Discover
by John Opalewski
---
"My life is over!" I remember choking out those words to my best friend. Six weeks of insomnia and a severe decrease in appetite due to extreme anxiety had pushed me to the edge. My emotions were out of control, I was suicidal — and I was the lead pastor of a growing congregation. My story may be your story.
Clinical depression barged into my life uninvited. This affliction cuts across lines of age, race, gender, and position. It can happen to anyone — even to pastors and their family members.
Statistics regarding the current state of pastoral health vary depending on the source. The most conservative estimates reveal that:
More than 1,000 pastors leave the ministry every month. Burnout, contention in their church, and moral failure are the main drivers.
Approximately four in 10 pastors suffer from depression. Five out of 10 spouses of pastors are depressed.
So when pastors find themselves confronted with depression or burnout, what can they do? Give way to the idea that longevity and health are a lost cause? Or does a practical pathway exist to help leaders approach life and ministry in a manner that does not end in emotional crisis or a premature exit from their calling? Yes, it does.
Four behaviors will help leaders recover from depression, or help them avoid falling into that long, dark tunnel. These behaviors lend to health, and in turn, pastoral longevity. Before we unpack them, let's make one thing clear: These four habits assume a leader already possesses a passionate, growing relationship with Jesus Christ. In John 15:5, Jesus told the Twelve: "Apart from me you can do nothing."
Walking close to Him, reading and meditating on Scripture, and cultivating a private prayer and praise life provide the anchors for emotional fitness.
Behavior 1: Love Yourself
Emotional health begins with laying a solid foundation. Jesus revealed that the most important relational actions in life are loving God and loving our neighbors. " 'Love the Lord your God with all your heart and with all your soul and with all your mind.' This is the first and greatest commandment. And the second is like it: 'Love your neighbor as yourself.' All the Law and the Prophets hang on these two commandments" (Matthew 22:37–40).
Most pastors find loving God easy. Loving others is more difficult — but at least it is on our radar. Loving ourselves is where many of us go off the rails. Here are a few ideas regarding implementing this first behavior:
Use healthy self-talk. Self-talk is how you speak to yourself (inwardly or outwardly) about yourself. Verbally assaulting yourself damages your emotional health — every time. Being kind to yourself with words enhances your emotional health — every time. Ephesians 4:15 tells us to speak the truth in love. This includes telling the truth in love to yourself.
Understand what loving yourself means. It is different than selfishness. Acts 20:28 says: "Keep watch over yourselves and all the flock of which the Holy Spirit has made you overseers."
The phrase "keep watch" in the Greek language means "paying attention to; devoting thought and effort to." Loving yourself includes paying attention to others while simultaneously devoting thought and effort to you.
Uncover God's perspective. Self-image gets a bad rap in many Christian circles. Psalm 139 helps us think the right way about self. David wrote you are "fearfully and wonderfully made" (verse 14). God knows everythingabout you — but loves you anyway. He places high value on you. You are never outside His thoughts.
Using healthy self-talk, understanding what loving yourself means, and uncovering God's perspective form a pathway to a strong emotional foundation that helps you in every area of your life — in family, work, and ministry.
Behavior 2: Manage Your Anger
In Ephesians 4:26, Paul wrote: "In your anger do not sin."
Anger often fools us. We can express it externally or repress it internally. We easily identify the external variety. Take a drive on your local freeway, and within minutes you'll observe plenty of external anger. Repressed anger is more difficult to notice and corrosive to our health. Repression often results in depression.
Pastors get angry. Repressing their anger is not a healthy response. Neither is going ballistic. Learning how to express anger without sinning is Paul's prescription. It contributes to a healthy emotional life. With that in mind, how do spiritual leaders get a handle on their anger?
It's time for an honest assessment. This includes understanding:
Anger is part of the human experience. It happens when a person violates you or crosses a healthy boundary you have established.
Anger often involves emotional residue. Several years ago, I experienced severe pain in the middle of my back. After consulting with a chiropractor, I learned the source of my back pain was a compressed vertebra in my neck. Similarly, the presenting anger is not always the real issue. A rough day in the office sometimes translates to over-the-top reactions toward your spouse and children at home. A difficult evening at home can contribute to disproportionate anger over a minor incident with your staff the next day. Discovering what is boiling beneath the surface helps us more accurately assess our anger.
Anger is sometimes the right response. Jesus demonstrated this when He turned over tables in the temple. Some appropriate occasions for anger can include, for example, when someone you love betrays you. Anger is an appropriate response when you see injustice inflicted on others.
Anger can alert us to our limitations. Pay attention when you find yourself increasingly irritable. It could be due to an out-of-control calendar or too many emotionally draining events in a row with little time in between for recovery. Anger is a potential warning indicator that you may be overcommitted and overscheduled.
Learn to express your feelings of anger properly. The bottom line is figuring out how to be assertive rather than aggressive or passive. Aggression includes foul language, yelling, or getting physical with people. Passivity is another word for repression. Here we stuff our anger and let it boil on the inside. An example of passivity is giving someone the silent treatment. Assertiveness means standing up for yourself. It involves expressing your needs to others with love and respect. Assertiveness outlines how the behavior of the person violating you is negatively impacting your life.
Pastoral health requires us to learn how to manage anger. The good news is we are capable of adding this behavior to our tool kit. We can learn how to express our anger in a way that honors God and keeps us emotionally fit at the same time.
Behavior 3: Protect Yourself From Abuse
This includes establishing and enforcing healthy relational boundaries. Abusive personalities introduce special dynamics into a pastor's life. The first order of business is learning to identify abusive individuals.
An abusive person can be defined as one who harms people — verbally, emotionally, physically, sexually, or spiritually. They manipulate people through coercion, false guilt, and fear. Their primary interest is not relating with you; rather, it is controlling you.
The apostle Paul warned the young pastor, Timothy: "Alexander the metalworker did me a great deal of harm. The Lord will repay him for what he has done. You too should be on your guard against him, because he strongly opposed our message" (2 Timothy 4:14,15).
You are likely aware that some abusive people attend your church. How can you protect yourself?
Hold your ground. Standing up for yourself is the bedrock of Behavior 3. Jesus didn't allow anyone to push Him around until His hour had come. When an abusive person attacks you, or tries to intimidate you, you have the right to set a clear boundary and refuse to be treated poorly. When they pounce, monitor your self-talk and tell yourself the truth: I am fearfully and wonderfully made. I don't deserve this abuse. I am a capable person. Standing up for yourself in this fashion creates a perimeter around your emotions.
Highlight unhealthy relationships from your past. This can be a painful experience, but examining your family of origin can pay off. Recall how your family related to each other. How did you handle anger, conflict, or disappointment? If your family of origin was toxic, you have a higher probability of subconsciously being drawn to abusive people. The familiar often draws us — even if it is unhealthy.
Hang out with healthy people. Unless we are intentional here, our calendar can revolve solely around people in distress. Block out time in your schedule for people who replenish you — friends you trust, who give you permission to be human. Healthy relationships offer some protection from abusive people.
You cannot get or stay healthy without developing this third behavior. Protecting yourself from the "Alexander the metalworkers" of the world will increase your longevity in the ministry. Fortunately, with practice, you can develop this behavioral skill.
Behavior 4: Refuel Emotionally
This concept is the great frontier for many spiritual leaders. The idea of a healthy ebb and flow between work and rest flies in the face of our culture — and in many respects — our Church culture.
Jesus said: "Come to me, all you who are weary and burdened, and I will give you rest. Take my yoke upon you and learn from me, for I am gentle and humble in heart, and you will find rest for your souls. For my yoke is easy and my burden is light" (Matthew 11:28–30).
Refueling emotionally has nothing to do with being ruled by our emotions. It has everything to do with paying attention to them. Paying attention requires us to learn how to monitor the level of emotional fuel we have in our tanks. Here are several practical indicators:
Our pace. Our culture's influence impacts the Church in this area perhaps more than any other. God expects pastors to work hard and be responsible. The danger becomes running too fast because of the importance of our calling. Laziness isn't the answer. Sensible scheduling is a better response. Setting a reasonable work-rest cadence contributes to overall health. And it will make you a more effective and productive leader.
Our personal relationships. Spending day after day trying to lead a church and putting out fires leaves many leaders exhausted. The thought of taking time for the important work of friendship building is overwhelming for some pastors. Regardless, when did you last spend time around friends with no other agenda than having good, clean, fun? "Two are better than one, because they have a better return for their labor: If either of them falls down, one can help the other up" (Ecclesiastes 4:9,10).
Our plan. My car has a maintenance plan. Its purpose is extending the vehicle's life. I change the oil every several thousand miles and rotate the tires. Likewise, there are habits you can develop that help maintain your emotions. The following are some emotional maintenance items. None of these are earth-shattering, new revelations. This is stuff you probably already know. It's what you do with what you know that makes a real difference.
Laugh out loud. The feel-good rush we experience after a belly laugh is chemical in nature. Scientific research confirms that laughter releases endorphins that reduce stress hormone levels and elevate our mood. Regular doses of laughter help us refuel. "A cheerful heart is good medicine, but a crushed spirit dries up the bones" (Proverbs 17:22).
Get moving. Much like laughter, exercise helps burn off nervous energy and lowers our stress levels. When I've had a stressful day, pounding weights at the gym works wonders for my mood. Walking is effective as well. The type of exercise doesn't matter; just get your body in motion. If you are not currently exercising, check with your doctor before you begin.
Plan some down time. Some leaders could use a little boredom. God did not wire us to be on high alert 24/7. Plant some flowers; play 18 holes of golf; visit a museum; take a walk on the beach. For our 25th wedding anniversary, I surprised my wife with ballroom dancing lessons. When you are learning how to do the rumba, you have no time to think about ministry. You'll have a better chance of extending your leadership shelf life if you learn how and when to take your foot off the gas pedal.
If you are suffering with depression, anxiety, or burnout, make an appointment with your doctor. Seek out a qualified counselor. Surround yourself with people who love you and are committed to you.
Pastoral health can be elusive, but it is not unreachable. Love God wholeheartedly. Love yourself. Manage your anger. Protect yourself from abuse. Refuel emotionally. These four behaviors will help you get healthy (or stay healthy). They will free you to lead longer, better, and enjoy it more.