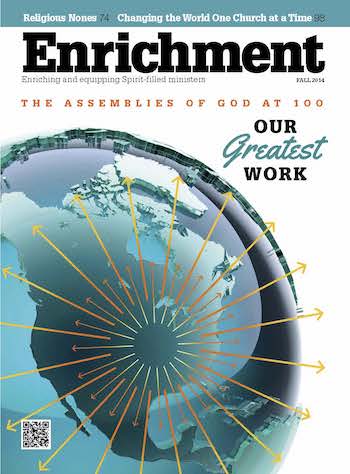 Downloads:
Discovering Your Divine Design in the Midst of Transition
Here are seven wise steps all ministry leaders can take that will guide them through the new phase they're facing.
---
Ministry leadership has many different phases, each with its own twists, turns, and challenges. No matter what phase you're facing in your journey — whether you are just starting out in ministry or making some form of a transition — one thing is the same: It's a process.
This leadership process is filled with new discoveries of who you are and the divine design that's embedded in your God-given DNA. The journey can be difficult to navigate, but there are seven wise steps all ministry leaders can take that will guide them through the new phase they're facing. These steps uncover new talents, gifts, and abilities for moving forward on the journey through ministry leadership. No matter how long it takes someone to discover deeper levels of their purpose and divine design, each ministry leader walks through a process to get there.
1. Catalyst
At the beginning of any story, there is an inciting action that gets the characters moving. Those moments are catalysts. They begin a process that shapes you into the person God created you to be — and become.
This phase is an invitation to recalibrate and reorient our lives for a new direction. Oftentimes in ministry these catalysts come in the form of an interruption. Perhaps an unexpected phone call, conversation, or email comes your way. It may be a news article or a TV documentary on a topic that stirred in your spirit. Whatever it was, it caused something deep within you to respond. It made you want to do something about it. In other words, an alarm clock in your soul caused your divine design to wake up!
God uses these catalyst moments to grab your attention because He wants to lead you to do something different. Maybe He wants you to enter a new ministry or maneuver your current ministry into an uncharted area.
In my own journey, a significant catalyst moment happened while I was serving as pastor in the suburbs of Chicago. I received a call that ignited the process. This one conversation eventually led me into higher education. The voice at the other end mentioned that my name had come up in a search committee for a position to serve as a university dean. I never thought I would serve in higher education, but God had a different design for my journey. No matter the transition in my life, it always started with a God-given catalyst that grabbed my attention and ignited the process for a new adventure.
2. Reflect
Once God awakens a new adventure or direction in your divine design, you should take time to reflect on your life. This is an essential step in confirming the catalyst as divinely inspired. During this process, think through experiences at work and events or conversations with family, friends, and mentors. Why do this? Because reflection reveals events and moments that help affirm the catalyst that ignited the process for the new transitional phase for your ministry. As you meditate on the past and ask for God's wisdom, you will begin to see events, circumstances, and situations that build the affirmation and, ultimately, the confidence for moving forward with the process the catalyst ignited in your soul. The point is that reflection produces affirmation for continuing the transition.
When I arrived at Southeastern University to serve as president, I went through a significant moment that affirmed the new direction in my journey. One of my old teachers came to me and gave me a book on presidential leadership, along with an unlikely gift: a paper that I had completed in his class during my undergraduate years. He gave it to me to affirm me in the new position of leadership I was just about to assume. Often, God uses the people in our lives to bring affirmation to our new direction.
3. Decision
Without this step, the transition in your ministry is just an idea in your head. Although you may not have all the answers, making a decision to do something about your calling is critical to fulfilling your divine design and navigating the next phase in your journey.
After reflecting, you have to accept or decline this calling. The reflection provides the confidence to respond. Unless you make a decision, the process is stuck. Indecision creates a state of instability, causing frustration in your personal and professional life. The only way to move forward from this point is to make the decision to move in either direction.
If I had not made a decision to accept the new direction that was opening before me to move to the Northwest and serve as dean at a university, the whole process would have just been a nice idea and not much more. Seek God, and reach a decision.
4. Confirmation
After we act, we have the ability to obtain confirmation to continue with the transition process. Confirmation often comes through prayer. Other times, it comes from an internal sense of fulfillment or through the words of another person. It is essential during this time to be attentive and open to God's Spirit.
Be aware that not every success is confirmation, and not every failure is a sign you should quit. Ask God to give you wisdom to discern His will as you navigate forward.
There are several ways confirmation can help solidify your direction. One way is relationships with key people, such as mentors and the people you look up to as leaders in your life. They may offer seemingly off-the-cuff comments that are relevant to what you're going through. Another way is simple common sense. In other words, the decision simply makes sense and doing anything else would seem ludicrous. Sometimes we don't like common sense and begin to over-spiritualize and over-analyze things. Be careful that you don't give way to this because it will eventually cripple the transitional process. God gave you a brain for a reason; use it to make good decisions.
When I was growing up in Bakersfield, Calif., my pastor at the time took an interest in me. He told me he had noticed some qualities in me and wanted to mentor me once a week. Years before my pastor approached me, I felt a growing desire to be in ministry, and this opportunity confirmed what was already brewing inside me. I knew for a fact that this was something I needed to do. Sometimes you simply know because you know.
5. Preparation
As you continue to grow to fulfill your divine design during this transitional process, push yourself to make the most of every opportunity to grow and prepare for what's to come. This type of development happens in many ways, often through formal training or general life experience. Whether it's higher education or the school of hard knocks — or a combination of the two — stay consistent in getting prepared.
Everything in life will either push you toward your divine design or away from it. The decision is yours. Intentionally take advantage of every opportunity to hone and sharpen your gifts and talents. God will bring situations and opportunities into your life to help you become the exceptional human being He divinely designed you to be. Embrace the challenge and molding process because it will certainly prepare you for whatever God has for you in the future.
When my pastor in Bakersfield was mentoring me, I encountered difficult things as well as pleasant things. I saw firsthand the situations pastors have to deal with, and through those moments, God was preparing me for a career in ministry. Make every effort to grow and learn so that you will be prepared for what lies ahead.
6. Stepping Out
Although it may be scary, stepping out into the new, transitional phase is the only way to make it real. Risk is an essential component to cultivating health and growth in your divine design, and transitions are perfect opportunities to cultivate that risk-taking faith into your journey. Until you follow through on what you know God has called you to do, you will have an unquenchable appetite for more and a general dissatisfaction with where you are today.
Keep in mind that if you're not stepping out, then you're not putting your faith into action. Faith is not something you simply talk about; it's something you work out through your decisions. You must cultivate the courage to follow the path laid before you. Make your divine design come alive, and step out in courage, confidence, and conviction to what God has awakened inside you.
I can tell you firsthand that it can be intimidating. I know I felt that way when I first assumed the role of president at SEU. The responsibility was a lot to get used to in the first few months. The university had been without a leader for two years and needed some radical transformative direction. However, as I reflected on the opportunity, decided on the transition, and prepared for the position, things in my life began to line up. I know God brought me to this place, and I know He will lead and guide me forward. He'll do the same for you. He led you this far, and He won't leave you where you are because He wants to take you further. So have faith, and step out.
7. Discovery
Cultivating your divine design and making new discoveries is a continual process, even after you act. Transitional phases provide the gateway to uncover new talents, gifts, passions, and abilities in your life journey. When you discipline yourself into a posture of mission-minded living — discovering and growing through reflection and prayer — you'll capture the significance of the important moments and experiences of transitional phases. This will give you momentum as you begin the growth process again.
Live with the God-given purpose and determination to impact the world for the glory of God. The more you cultivate God's purpose in your life and leadership development, the more you grow into the person God designed you to become. Always approach life with eyes wide open to what God might be birthing in your divine design, and you will never miss the opportunities that come in new transitional phases.
Whatever stage of the journey you're navigating toward your divine design, I trust these seven steps will serve as encouragement to keep you thriving. May they empower you to move forward with clarity, confidence, and conviction so you can strive in your mission.
Cultivating a posture of intentionality to discover your divine design will be the key that enhances the new experiences and opportunities in your life and career. Leadership in ministry is a process that is perpetual and will continue to enrich your Kingdom pursuits according to God's good plan and purpose.