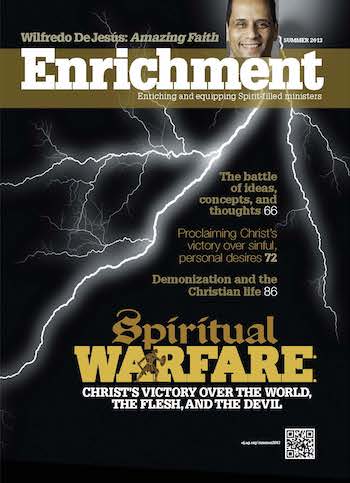 Downloads:
SIDEBAR: Leading With Grace
by Wilfredo De Jesús
---
Billy was born to be a leader. His desire to lead started at a young age. He went from being an altar boy to joining the church youth club and the high school letterman club. He was the founding member of an African-American fraternity in college, and he wasn't even African-American. Billy's drive to lead compelled him to push through any obstacles. When he focused his mind on something, everything else vaporized.
As a young man, Billy poured most of his time and energy into community activism — so much so that he was kicked out of college for failing grades. That didn't stop him from chasing his dreams and finishing college.
Billy became an alderman in Chicago for 16 years and had a successful political career. But as the years went on he grew tired and disillusioned with the job and made some poor lifestyle decisions. As he began attending our church, his faith was nurtured and he started to focus on God. Billy's life began to change.
Sometimes you're on a mission to pursue your purpose in life, and you realize you've taken a wrong turn that's leading you nowhere. No matter how much fame, fortune, and education you may have, you can still hit a plateau or glass ceiling where you stop advancing. You realize that you've lost sight of what's most important — your relationship with God. You've taken yourself as far as you can go from an earthly perspective. Now it's time to let God lead you where you never dreamed of — to reach your divinely ordained full potential.
When Billy surrendered his heart, life, and dreams to God, he no longer allowed others to control his choices. He trusted God with all his heart. He no longer felt like Saul, but more like a transformed Paul. He learned about true leadership, and he teaches those powerful spiritual truths at our church's Men's Retreat. He learned that leaders must have the courage to change. He teaches other men that embracing the truth gives them the courage to express their convictions and press through expected obstacles.
A godly leader always takes the narrow road and inspires others to do the right thing. Leaders with a godly vision and unshakeable faith must exhibit humility and passionately pursue their mission.
Once you've awakened from a self-induced spiritual slumber and found your purpose, you must act on it, shed the heavy weights from your life that hold you back, and lastly but most important, put on Christ. He's our strength to press on and fulfill the purposes God has for our lives.
WILFREDO DE JESÚS. Excerpted from Amazing Faith: How to Make God Take Notice (Influence Resources).