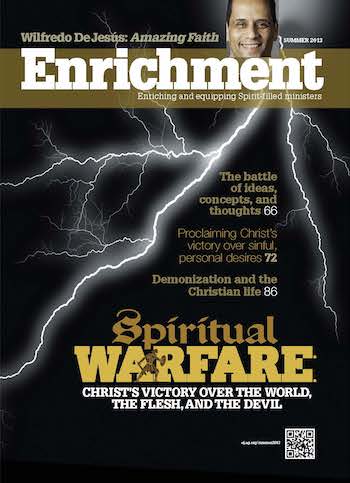 Downloads:
Hiring Family Members
Risk Or reward?
by Cal Carpenter and Warren D. Bullock
---
Building a cohesive and productive pastoral team is an ongoing challenge for lead pastors. They cast a big net to find the right person for the right job. They look for calling, character, competence, chemistry with the staff, and culture match with the church. Using objective tools — resumes, references, interviews — pastors narrow the field, while praying that the Holy Spirit will give them a subjective affirmation in their hearts as to the best possible choice.
This selection process gets more complicated when a lead pastor is considering a member of his or her family for the staff position. Anecdotal evidence abounds that hiring the pastor's loved ones can result in powerful and effective ministry. But the reverse is also true. Sometimes hiring family members has been disastrous, resulting in division, hard feelings, and wounded hearts. Bringing family on staff certainly presents unique challenges and risks.
Many nonprofits have sought to mitigate the risk by insulating the leader from his or her hired family members by requiring someone else to supervise them. But in most churches, staff pastors report directly to the lead pastor, even if they are family members. So this one-step-removed approach rarely works for pastoral teams. But if the pastor will take a few simple realities into account, the pastoral team can still function with effectiveness, and the rewards will far outweigh the risks.
Both writers, Cal and Warren, reflect their own positive experiences in hiring family. "For most of my 36 years in ministry, I (Cal) have served with my immediate family — my father, wife, and son-in-law." "I (Warren) was honored to have my father serve with me in my first pastorate." Nevertheless both have observed the disruption in churches when they did not negotiate this prickly issue of nepotism with wisdom and grace. Here are some observations to consider.
The Church Is Not a Family Business
The church does not exist to provide employment for our family and us. Serving as the lead pastor or as a staff pastor is a privilege, not an entitlement. No one owes us anything, including hiring our family. The church is not an arena for exerting family influence to get our way. Family members serving as staff dare not demand favored treatment, or by their attitudes suggest they are above correction.
To have people call us "Pastor" is a high honor. God has privileged us to serve in this way. That a church would trust us to lead it is a blessing. If God's will includes teaming with those we love as family members, this doubly blesses us. Together we honor the Lord's call and humbly accept the church's trust.
Include Others in the Hiring Process
Hiring family is not a decision the leader/pastor should make unilaterally. Others should recognize the pastor's family members for their call, ability, and leadership. It is not uncommon for church leaders or congregants who know members of the pastor's family to suggest that the church consider them for open positions on the pastoral team. When others take the initiative in acknowledging the strong ministry gifts of a family member, it lays a good foundation for future long-term effectiveness.
Considering a family member does not mean that the church should not interview other qualified candidates. In fact, it will strengthen the selection process if the church performs due diligence finding the best possible candidate. This can strengthen the position of both the candidate and the pastor if others assist with the interviews. Then, if the selection committee sees the family member as equal or better than his or her peers, the pastor can advance confidently through the approval process.
The advantages of having family as staff members include:
They understand the burden and passion of the pastor.
They see the pastor's and church's success as their success too.
Knowing well the pastor's gifts and skills enables them to complement his or her ministry through their own gifts.
They will be unswervingly loyal.
These qualities and others may be prime motivators for pastors to bring loved ones onto the pastoral team.
Clearly Delineate the Distinction Between Family Relationships and Ministry Functions
The family relationship never changes, i.e. father and son will always be father and son. But ministering together adds another dimension to the relationship because each has specific job responsibilities. When these two different roles are indistinct and confused, it can cause havoc in the family and frustration in the ministry.
"When I (Cal) worked with my father, Dale Carpenter, of course he was my dad, but he was also my boss. We developed a clear understanding that I needed both. As my boss, it was essential that I respect his authority and position and that I serve him to the best of my ability, not taking advantage of our relationship. As a son, I needed a dad to mentor, encourage, and love me. My father was a great boss, but an even better dad. To his credit, I always knew when he was the boss and when he was my dad. Our relationship grew stronger through our serving together. Now the roles have changed. For the past 12 years he has served on my pastoral staff and our relationship is still growing stronger."
"I (Warren) and my father, R.A. Bullock, were alike in that we were process leaders, so we wanted clear definition of our respective roles through written job descriptions. In addition, Dad would give me a regular written accounting of his pastoral care work. But he would also do anything I asked him to do, even when it was not in his job description. He wanted my success more than his own. He gave me advice only when I asked for it, which was often. Our personal relationship grew stronger, perhaps because of all of the staff meetings at the local donut shop."
When husband and wife are on staff together, they must learn when to take their "church hats" off and put their "family hats" on, and vice versa. At home they are not fellow pastors, but husband and wife. They are parents to their children, not pastors. Sometimes it takes a conscious effort to stop talking business and concentrate on family life, but it must be done for the sake of healthy relationships.
Hired Family Members Should Expect a High Level of Accountability
Church members sometimes have higher expectations of the pastor's family than they do of other staff members. While that may seem unfair, church members expect family members to be major contributors to the success of the church and the pastoral team. When family members do not seem to carry their portion of the responsibilities, it becomes a point of contention, if not division. The result can be a heightened level of criticism, not only for the staff member, but for the leader as well. Failure to address the contentious issues can compromise long-term effectiveness.
As family, it is natural to want to shield one another from criticism and accusation. We want to avoid the pain that such criticism causes. But the leader cannot immediately leap to defend the family member, especially when the criticism may be justified. He or she first needs to clarify the facts, evaluate the criticism, consider the criticism's source, and talk directly with the staff member about it. Wisdom is essential in navigating a course that maintains church unity and protects the family member from unwarranted negative comments.
Sometimes a kernel of truth is at the heart of the issue. If so, the leader and the family member must humbly accept it and use it to improve their ministry. A healthy church environment allows the church to raise legitimate concerns with its pastor about a family member.
While the church may have higher expectations for family members than it should, the pastor must not have lower expectations of them than other staff members. The pastor should treat all staff the same. Family members do not get special treatment when it comes to job performance. The pastor needs to hold every staff member to the same level of accountability.
Tools that can help.
The following are suggested tools that may assist in steering clear of potential pitfalls in family/staff issues.
1. Provide clear written job descriptions. Spell out specific responsibilities. Outline reporting relationships. Agree on the extent and limits of authority.
2. Include others in setting the salary. If the church has established a salary scale, then use that to determine pay levels. If not, the pay should be commensurate with the responsibilities and on par with what the church is paying other staff members. Also, if the church has an employee manual, it will set forth the types of benefits that are available to all employees. Develop a written compensation agreement, and in most cases the board should approve it.
3. Initiate regular job evaluations. These should be face-to-face meetings with the results in written form for the staff member's personnel file. In some cases, ask the employee to do a self-evaluation to compare with the employer's assessment of his or her job performance. At the least the pastor should do these evaluations annually.
4. Develop a written policy approved by the church board that outlines the process by which the church may discipline and/or terminate an employee, including a family member. In some cases job evaluations may signal the need for change, but in other cases egregious behavior may be the cause. When the pastor needs to administer such discipline or termination, wisdom dictates that he include another person, perhaps a trusted board member, in the process. Also he needs to take carefully written notes of each meeting with the employee. He will need to give thought as to what, if anything, he will communicate to key leaders and the congregation regarding the discipline/termination.
5. Maintain open communication with your family member/employee. When things get tense at work, you need to be able to talk openly about it. Productive conversations relieve tension, but also affirm the relationship. Long after you stop working together, you will still be family. So do not let job issues create a fissure in your relationship. Talk it out.
6. Recognize that not all family members are emotionally wired to work together. While working with family in ministry is a nice ideal, it is not always realistic in practice. Having a great family relationship does not always translate into a harmonious ministry team. And that's okay. Do not force it.
Admit it. Some family members drive us a little crazy. So why would we want to hire them? The good news is that we do not have to. We save ourselves a lot of grief by recognizing ahead of time that such a hire would be potentially disastrous.
Ministering with family is one of the most meaningful opportunities for growth and connection, but pastors must never take this for granted. Hold these opportunities loosely. Often it is only for a season. Churches that allow family members the privilege of working together are gracious and supportive. They ensure that the rewards for the church, the pastor, and his or her family far outweigh the risks.