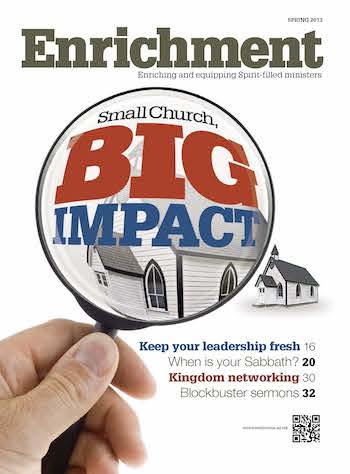 Downloads:
PROFILE: Faith Tabernacle Reflecting Diversity in Ministry
by Christina Quick
---
Growing up in Texas, Loren Hicks never imagined he would one day wind up in West Los Angeles.
The Fort Worth native headed west in 2001 to lead a Chi Alpha ministry at the University of California, Los Angeles. In 2005, he became senior pastor at Faith Tabernacle, a historic Assemblies of God church in an upscale region near Santa Monica.
"It was a scary thing to pick up my family and move to a new state," Hicks says. "This is an expensive place to live, but we knew we'd heard from the Lord. Sometimes you just need to have courage and trust God. Where He calls, He also provides and equips."
Founded in 1924, Faith Tabernacle is located in a trendy, urban area that is a launching pad for young professionals.
"One of the greatest challenges is that our community is in rapid transition," Hicks says. "The young adults who are here are not established. They're here for a while, and then they move on. We laugh sometimes and say we're preaching to a parade."
The parade brings a diverse assortment of people through the doors of Faith Tabernacle. On any given Sunday, Hicks says, there are at least 30 nationalities represented in the congregation. That diversity is reflected in the church's ministry approach.
"We try to be very intentional about it," Hicks says. "Our current deacon board includes members from several nations. We're even deliberate about it at the front door. We would never have two white people together at the front door greeting people. We believe the church should reflect the community."
To reach its relatively youthful neighborhood, Faith Tabernacle maintains an active Internet presence — updating its website regularly and advertising through Google. Hicks says most of the church's visitors first discover Faith Tabernacle online.
Two years ago, as California was reeling from the economic crisis, the church started a food pantry. Though skeptics initially said the neighborhood was too affluent for such an outreach, Faith Tabernacle now distributes 50 to 75 bags of groceries each week.
"With the current economy, we've had people pull up in a Lexus and get a bag of groceries," Hicks says. "Some have confessed getting this kind of help is the hardest thing they've ever done."
The church provides free oil changes and car washes to single moms. The congregation also partners with a downtown homeless shelter, providing volunteer staff and other assistance.
Hicks says Christians can make a difference by responding to the unique needs in their communities and answering God's call to go where He leads.
"I would encourage other young ministers not to be afraid to take a step of faith," Hicks says. "There are communities of over 100,000 people here in this area that do not have an Assemblies of God church. There are incredible opportunities to plant churches and revitalize existing churches all over this nation."
CHRISTINA QUICK, freelance writer, Springfield, Missouri