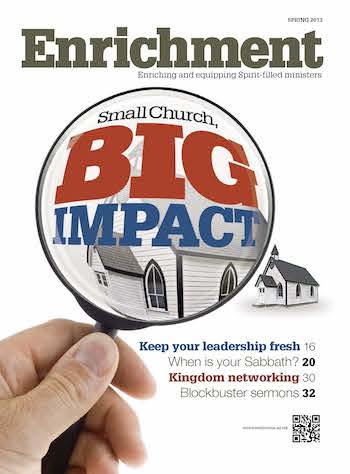 Downloads:
PROFILE: Faith Assembly Develops Community-Wide Outreach
Small Towns, Big Possibilities: Leading our Communities to Become a Better Place to Live
by Scott Harrup
---
For Pastor Brenda Henson, practical and compassionate ministry is key to Faith Assembly's influence in Greenville, Missouri. Greenville's 511 residents battle limited employment opportunities, drought-compromised crops, and widespread methamphetamine distribution. Faith Assembly is a life-giving presence in the midst of those challenges.
Partnering with Rural Compassion a few years ago, volunteers distributed bags of groceries to some 400 homes. The distribution center for the tons of bagged food? A thrift store the church has operated across the highway from its two original buildings.
The store became the most visible face of the church's outreach. Henson speaks of a woman who, with tears in her eyes, told volunteers, "If it wasn't for this store, my grandchildren wouldn't have anything."
The thrift store provided the lion's share of outreach funding. Relying entirely on donated goods, Faith Assembly could offer clothing, toys, appliances, and miscellaneous items at yard-sale prices every Thursday through Saturday, earning some $33,000 in 2011. But not everything was for sale.
"If we knew a family needed a refrigerator or small air conditioner, we'd try to find one and give it to them," Henson says. "If there was a house fire, we'd quickly get linens and dishes and clothes together."
Just minutes before she was to give an interview for this article, Henson received a call that Faith Assembly's thrift store had caught fire. Four fire departments from the area responded to the July blaze in the midst of 2012's record-breaking heat wave.
"We were so concerned the fire fighters would be safe in that 100-plus degree heat," Henson says. "They were climbing into the top of the building with all that fire and smoke. It was an answer to prayer no one was hurt."
The building and most of its contents were lost. Assemblies of God churches across Faith Assembly's Southern Missouri section donated funds to assist with the cleanup.
"We really don't know yet what the Lord's solution is," Henson says. "But we believe He has a continuing purpose for the store and for all the ministries it supports."
Ministries like a weekly recovery group for addicts. Every week Henson meets with people assigned to the recovery program who might never have come to her church otherwise. Some are also beginning to attend services.
Faith Assembly also offers Friday game nights at Jonah's Java, an activity center maintained in the original storefront building where Henson began her ministry in 2001. The church grew into a neighboring hardware store. Eventually they built a gymnasium to attract young athletes.
Henson sees all of Greenville and the surrounding area as the direct responsibility of her ministry team. But that view grew from her search for ministry significance.
"My husband and I have lived here for more than 30 years," she says, "But I was volunteering as a youth minister at a church we attended in another town."
As the new millennium loomed, Henson felt like her ministry was coming to an end. "I was sharing with someone that there was no place I could minister," she says. "Then God opened it up here in Greenville. I can see Jonah's Java from my porch.
"God opens doors you can never imagine. We can be pitiful and whine and cry, or we can say, 'Lord, what do You have for me to do?' "
SCOTT HARRUP, managing editor, The Pentecostal Evangel, Springfield, Missouri
UPDATE [January 4, 2013]: Faith Assembly is renting a doublewide trailer and is using it for their thrift store. The church would like to purchase a nearby building that is for sale but at this time lacks the funds.