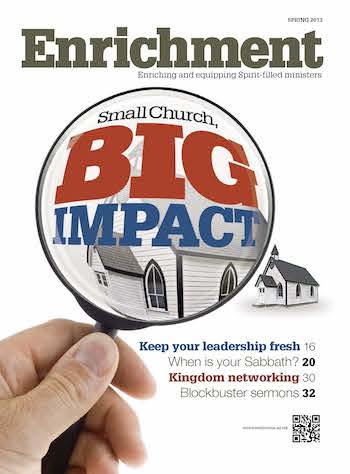 Downloads:
Introduction Pastoring a Small Church With Your Head, Heart, and Hands
Impact rather than size is the true marker of a well-led, spiritually healthy church — whether small or large.
by George P. Wood
---
According to official statistics, 84 percent (10,560 congregations) of the 12,595 Assemblies of God churches in the United States have fewer than 200 people in their major worship services; 65 percent (8,174 congregations) have fewer than 100 people; and 36 percent (4,539 congregations) have fewer than 50. Given the number of churches without a lead pastor, and churches with a non-AG-credentialed lead pastor, we estimate approximately 80 percent of all AG lead pastors lead a small church.
Pastors of large churches write most of the books about leading churches. These books reflect the contexts, challenges, and opportunities of large congregations with multiple staff members. They assume that numerical growth is not only normal, but also normative. Many AG small-church pastors find these otherwise excellent books unhelpful because their personal experiences are so different from the authors'.
The purpose of the spring 2013 issue of Enrichment is to provide contextually appropriate leadership advice for the pastors of small AG churches. It does not assume that all pastors must lead their churches to numerical bigness. (In some communities — especially rural ones — numerically large churches are simply not possible.) Indeed, it rejects the assumption that numerical bigness is necessarily a sign of spiritual health. (Just as important, it rejects the opposite assumption that numerical bigness is a sign of spiritual compromise.)
Rather, this issue assumes that some well-led, spiritually healthy churches will remain small, from a statistical point of view. What makes such churches distinct is not the size of their Sunday morning worship attendance, but the size of their impact on their communities. In other words, impact rather than size is the true marker of a well-led, spiritually healthy church — whether small or large. This issue of Enrichment therefore offers small-church pastors advice on how to lead their congregations for greater influence.
George O. Wood inaugurates the issue with a personal reflection on the small-church ministry of his parents, George and Elizabeth Wood. Though they never grew large churches, by any measure, their faithful efforts in missions, church planting, and pastoring produced good results. Next, I interview David Campbell, Karen Rydwansky, and David Silva about the challenges and opportunities of leading a small church. I think you will be inspired by their hopeful outlook and missions-mindedness.
The next group of article outlines what we might consider best practices of small-church ministry. Alton Garrison shows how to assess the current health of your church. Mike Clarensau demonstrates the importance of cultivating a culture of yes. Steve Pike suggests how to use church-planting methodology to reach your community. Eric Swanson points out the necessity of developing an external focus. Steve Donaldson demonstrates how rural churches can be leaders in their communities. Efraim Espinoza and Scott Temple report on how seven ethnic-minority congregations are creating a welcoming atmosphere in their churches.
The final group of articles addresses the challenges leaders of small churches face. Warren Bird offers practical guidance for mobilizing volunteers in the small-church setting. Lori O'Dea outlines a biblically grounded strategy for resolving conflict, which can feel especially intense in smaller churches. Tim Leathers provides a new way of looking at bivocational ministry, seeing it as an opportunity to expand your church's ministry. Pete Scazzero talks about cultivating emotional health in the pastorate. I interview Rich Guerra, Mike Quinn, and Eric Rountree about creative ways large and small churches can partner together for greater influence.
Finally, Karl Vaters pens the issue's closing editorial. A veteran small church pastor, Karl is author of The Grasshopper Myth: Big Churches, Small Churches and the Small Thinking That Divides Us.
It is our fervent prayer as editors that the spring 2013 issue of Enrichment will encourage all ministers who read it, whatever the size of their church. But we especially hope it will inspire small-church pastors to lead their congregations to greater health and influence.