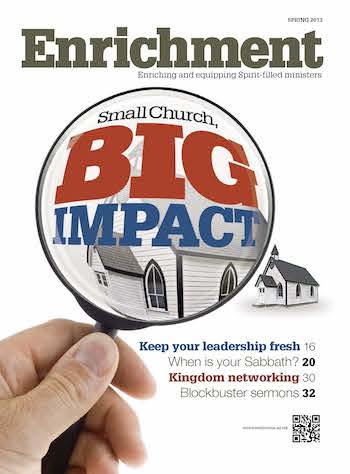 Downloads:
Church Partnership
Models of Creativity and Synergy
by Rich Guerra, Mike Quinn, and Eric Rountree
---
The challenges of small-church ministry sometimes force pastors to realize they need outside help. Smaller churches are partnering with larger churches in creative ways with positive results.
George Paul Wood, executive editor of Enrichment, interviewed three leaders to gain their perspective on small and large church partnerships. Rich Guerra is district superintendent of Southern California District of the Assemblies of God. Mike Quinn is lead pastor of Newbreak in San Diego, California. Eric Rountree is the pastor of the El Cajon, California, campus of Newbreak.
These leaders discuss ways the Southern California District and Newsbreak are successfully parenting smaller churches and bringing them to spiritual, numerical, and financial health. They present practical ways smaller and larger churches, as well as districts, can use their model for growing healthy churches.
Why would a smaller church and a larger church want to partner? What are the benefits of such partnerships?
ROUNTREE: In a smaller church, budget and lack of people limits the ability to have a full complement of ministry. In smaller churches, pastors often try to do the majority of ministry because they may not have people to fill key roles. With the synergy of the partnership with a larger church, the smaller church can have a wider range of ministry and can reach critical mass faster. Also, the church gains expertise in areas that are not the small-church pastor's strengths. For example, a pastor may excel at evangelism but have trouble balancing the books. In a parent-affiliated church (PAC) relationship, the pastor does not need to be an expert at everything.
QUINN: From a missional standpoint, the larger church reaches outside its normal geographic zone, and perhaps even its demographic zone. It extends its ministry to outlying arenas that otherwise might be challenging. Plus, instead of only focusing on growing your own church campus, you become a blessing in helping other churches grow. In the case of Newbreak, we are all one church meeting in multiple locations. Arguably, this is true of all Christ-centered churches from God's vantage point, but it is specifically true in our multiple locations.
From a business perspective, as long as the partnership works according to design, it grows and breaks barriers. Sometimes the finances of the adopted church are in the red. As the economics of the adopted church grow, it also benefits the parent church. This financial commitment requires strategic planning, but it does lead to economies of scale.
What is the district's perspective on smaller churches and larger churches partnering?
GUERRA: This is a growing need. Fifty percent of the churches in the district are under 100, and 23 percent are under 50 people. Smaller churches have a difficult time revitalizing on their own. A church needs about 50 people to afford a facility. It needs another 50 people to afford a full-time pastor. How can a church with 50 members operate a facility and staff a paid pastor? They cannot. This partnership allows the parent church to provide a paid pastor to oversee that location, which is a huge advantage to any church. Instead of working full time at an outside vocation, the pastor can devote all his or her time to pastoral ministry.
How does a smaller church pastor know when it is time to seek a partnership with a larger church? How do you help a pastor understand when it is time to seek help?
ROUNTREE: The parenting model is a biblical model. It is dangerous when a church operates as a lone-ranger church; we are supposed to be helping each other.
Desperation is a great motivator. When you cannot feed your family, pay the church's mortgage, or buy curriculum for the children's ministry, it affects the pastor's ability to reach people. I do not like to see pastors wait until they reach that desperate place. Instead, I would rather see pastors embrace the reality that the relationships they develop in partnering with a larger church will make them a better pastors. Why wait for desperation if you can realize your dreams through a parenting relationship?
When looking for a church to partner with, see if that church shares your church's DNA, your vision, and your heartbeat.
If your church is having trouble paying the bills and is not sustaining growth, or if members are leaving, consider a partnership. Some churches say they are waiting for the Holy Spirit to do the work in their church when He is ready. This takes away the active part we need to play in growing a healthy church. Clearly, we need to invite the Holy Spirit to work in our lives and in our churches, but we must also do the hard work. If a church is not growing and is not healthy, the pastor should not be afraid to ask for help. I would encourage any pastor struggling to gain or sustain momentum to contact their sectional or district leadership and ask about finding a parent church.
QUINN: Rich and his team have developed some memorandums of understanding (MOUs) that articulate different kinds of relationships. Pastors considering the parent-affiliated church model need to see the different variations of how churches do what we call parenting and adopting.
At Newbreak we work together. We are on the same team. I am the lead pastor and Eric is a campus pastor. We create everything together, we make decisions together, and we submit to each other. We even create our sermons together. It is a biblical model — perhaps one of the more advanced models in the MOUs.
I would never again choose to work by myself. Newbreak's partnership model offers creativity and synergy that is not available when a pastor works alone.
You mentioned five memorandums of understanding or models the partnership between a smaller church and larger church can take? Briefly describe each memorandum of understanding.
GUERRA: A trusting and respectful relationship between the pastor of the parenting church and the pastor of the district-affiliated church is key to a successful partnership.
The district has five memorandums of understanding. There is a MOU for church planting, merging of two churches, parenting an existing church where both the parent and parent-affiliated church agree that the end result of the relationship is to allow the PAC to return to General Council status after it becomes healthy again, and the PAC remains in a state of perpetuity — meaning it has no intention of becoming a stand-alone church again — it will always be a satellite church. The final MOU is when we assign a mentor to a district affiliated church for a specific purpose and limited time.
We developed this set of MOU's after walking through the parenting process several times and discovering that churches are raising the same basic questions, and that both churches involved in the parenting process need a clearly outlined set of rules and expectations. The end result of talking through everything, praying over each step of the process, and putting everything in writing is a very smooth working relationship.
We present the MOU templates early in the discussion to help guide the remainder of the process. For example, we are currently working on a parenting relationship where we expect the PAC to reach General Council status at a point in the future. As we dialogue with both churches, we are tailoring the MOU template to fit that specific situation. Simultaneously, the MOU is guiding the churches through the questions of membership, money, and management issues that they need to consider in this kind of relationship.
Allowing this process to happen and creating an MOU that is agreeable to both churches eliminates miscommunication and assumptions.
How can a smaller General Council church that is struggling also get involved in a parent-affiliated relationship?
GUERRA: My first question would be, "Are you willing to give up control?" I don't see it working if the adopted church remains a General Council church with its own board while having another General Council church parent it. We would need to move them to district-affiliated status first so the district and the parent church can make the necessary changes toward becoming a healthy church. The key to success is that the smaller church must give up control to the parent church.
What roles does the district play in bringing larger and smaller churches into partnership with one another?
GUERRA: Our involvement often includes several aspects: 1) We may work with the leadership of the church in need to assess their situation and help them understand the transformation and resources a parenting situation could bring to the church. 2) We recruit a parent church that we feel would be a good fit for the situation that the district-affiliated church is facing. 3) We walk both churches through the process of developing the MOU and help with decisions that we require for the larger church to parent the district-affiliated church. Our level of involvement varies in each situation and often goes beyond these three areas, but these are the three most consistent aspects in all parenting situations.
Mike, what are you looking for in a partnership with a smaller church?
QUINN: I love Rich's language of parent affiliation and adoption, because that language intuitively helps everybody understand the relationships. Like Eric said earlier, a DNA match is essential. The parenting experience varies depending on the church's size. Partnering with Eric's church was like adopting a 5-year-old child, because of the church's size and level of sophistication. Steve Bombaci is campus pastor at Pacific Beach. His campus was larger with a more robust infrastructure, making it like adopting a 12-year-old.
I look for potential. I also look at the ability of the adoptive church's leadership to complement the leadership of our church to advance the kingdom of God. You cannot have an unsubmissive spirit; you have to be willing to lay down your historic role. The adopted church's elder body lays down its mantle and submits to the authority of the parent church's elder body. I believe in Eric, and I believe in Steve. I believe in their leadership. I believe in their loyalty. I believe in their friendship.
What are some challenges as churches transition into a partnership?
QUINN: I describe the "two Cs" of parent affiliation as costly and complex. It is more costly and complex than you think. Larry Osborne, pastor of North Coast Church in Vista, California, explains that in planting the first campus it will be twice as complicated. But planting the third campus will be five times more complicated than planting the first one. He was correct. The parent church pours a lot of money into the adopted church — the additional salary expense, cost of launching a ministry, and any remodeling costs. You need to be honest and aware of this and make the infrastructural changes you need to make.
A DNA mismatch between the parent church and adopted church will present an enormous challenge. In our MOU, I made sure that each campus pastor was totally on board with Newbreak's philosophy and everything we do.
There are also spiritual dynamics that are essential to making a parent-affiliated partnership work. I must be a godly leader. I must submit my thoughts, opinions, and theology to the scrutiny of other godly men and women who will tell me what they think. I have to be humble. I have to be able to listen. I have to be patient. This has definitely been a growing experience for me. It is actually analogous to what you go through in parenting kids.
ROUNTREE: Pastors in the adopted church need to admit that they are not failing when a larger church parents them. Parenting is a natural growth process. Children cannot raise themselves. A parented pastor might fear the judgment of other pastors. Unwinding that old way of thinking and inviting new thinking is helpful.
Cultural differences among campuses sometimes present a challenge. Not everything that works at one campus works the same at another campus. Each church campus shares the same DNA but each campus might adapt its own methods to cultural differences.
GUERRA: Leadership is the most important component to a successful transition: leadership that is open to change, open to growth, and submissive to the authority of a parent pastor. In some cases, the parent church needs to close the adopted church and launch a brand new church. Sometimes that is a difficult choice. In those cases, we believe that the district does not help the church, the church's pastor, or the community by allowing a failing ministry to continue. Failing to act can result in lasting scars, so we move to help that struggling church move toward being parented.
QUINN: When Rich and I started parenting churches years ago, we closed several churches and remodeled or relocated them, then opened them later as new campuses. In these churches the pastors had resigned. We knew the churches would probably collapse, which would be a difficult and brutal experience. The parent-affiliated model enabled the district to turn that collapse into opportunity.
Eric, the focus of this issue of Enrichment is on the smaller church. In its partnership with Newbreak, your church has grown from 40 to 300. What is it like to pastor a smaller church in a parent-affiliated model of partnership?
ROUNTREE: It is awesome. I can ask somebody who is ahead of me in the game, "How can I do this?" Honestly, what pastor who has 30 or 40 people in his or her congregation is prepared for 300? To have somebody help me through that growth process is great.
We have a collaborative partnership. I do not simply have the right to be heard; I have an equal voice when I share an idea, and the other staff appreciate and implement my ideas. Parent-church pastors should see that pastors of smaller churches have a lot to offer, but they have not had the opportunity to showcase their abilities. I am at the place were I can use my God-given talents, spiritual gifts, and skill set, instead of having finances and numerics stifle me. I am living the dream because I get to use everything God gave me, versus being bogged down in some of the mundane things that I was not good at.
Pastors of a 50-person church typically are doing other work to support themselves while most of the ministry falls solely to them. How does a parent-affiliated model lift some of those concerns and liberate them for the ministry to which God has called them?
ROUNTREE: As pastor of a smaller church, I worked in construction. Also, a smaller church pastor often fills several ministry roles within the church. I led youth ministry, children's ministry, worship, and pastored the church. Now I focus on my sweet spot — sermonics — which makes Newbreak better. Mike has filled those other ministry roles with people who have those skills. As a result I am better, faster, and stronger.
QUINN: I pastored churches with memberships less than 200 for 20 years of my 32-year career. That experience does not compare with the reciprocity and the synergism of working together with other campus pastors. I cannot overstate the power of that partnership; it has led to personal growth I could never have comprehended.
The future of Newbreak's partnership model is churches of multiple thousands of people collaborating together. When Eric's church grows to 1,000 and that facility is full, I might place Eric in another facility and plant another campus. The power of this model improves local and global missiology, and creates a profound synergism of the ministry teams. It is a remarkable phenomenon.
GUERRA: It also creates job opportunities for younger ministers. When Eric called me he could not afford to remain as pastor of his church. He was about a week away from resigning. Because of this partnership with Newbreak, Eric has flourished and become one of the lead pastors. This is a healthy way to create jobs for young ministers who might otherwise leave the ministry. A young minister who serves as a campus pastor in this model has the opportunity to gain valuable experience in leading a church without the financial pressure, and benefit from the mentoring of and accountability to a more experienced pastor.
How do you move a congregation away from being sovereign into a partnership role? Does a move away from sovereignty present obstacles to doing the work God has called you to do?
ROUNTREE: I saw attaining church sovereignty as the dream — the indicator of success. That is a falsehood, a half-truth. Being sovereign is not always the answer. Sometimes sovereign, and even district-affiliated, churches think they can do what they want. But the origin of the Assemblies of God was a group of pastors who wanted to have voluntary cooperative fellowship. This is what a multisite, parent- affiliated church is. This is what the New Testament is about. If the elders in a smaller church agree to transition to this model, the church will not only fulfill God's call, it will do it more efficiently, and with more robust ministries that work more powerfully than the church could have done on its own.
A board of elders that refuses to relinquish control when the church needs help is holding that church and pastor hostage. That is a church that does not want to grow. I cannot imagine a truly godly board of elders who would not want to grow, who would not want to change the world, and who would not want to shape the planet. The only way to do that is through synergy and partnership.
QUINN: The parent church and the adopted church must design its MOU with the end in mind. We had to be clear about our goal, which was to be one church with multiple locations. The parent-church leadership must communicate that memorandum of understanding to its elder body, its deacon body, its membership, and its constituency, and it must engage in open conversations about its goals. During the transition, church leadership must demonstrate total honesty about the partnership's goals, agree on everything up front, and then live them out. You have to be Kingdom minded.
GUERRA: The goal is not sovereignty or self-governance. The goal of the local church is health. A lot of General Council churches are not healthy. We have found that healthy churches naturally grow, and a growing, healthy church will naturally become a General Council church. We are trying to change our model, and with pastors like Mike and Eric, we are seeing these changes work.
What are your top three metrics to let you know the partnership is working?
ROUNTREE: Obviously we measure nickels and noses. We also use an assimilation model. Are people in life groups? Are they in ministry? Are they doing outreach? Are they actively tithing? If they are, then most likely they are also growing spiritually.
QUINN: I measure quantitative and qualitative growth. Quantitative is how many people are getting saved, but we also count water baptisms. On the qualitative side we measure participation in four streams: life group, worship, ministry, and outreach. This is how Jesus made disciples. This is how we make disciples. Another metric is the emotional quotient — the emotional health of the whole organism as a family.
GUERRA: The district provides a matrix for churches that feel they are ready to become a General Council church. We use that same matrix to measure the health of a parent-affiliated church. We ask three questions: (1) Are people being baptized in water? (2) Is lay ministry being developed? The church has to develop lay leaders to staff for the rate of growth. (3) Does the church have a vision for tomorrow? Under the parent-affiliated model, we are seeing churches that have vision for the future. They are not only talking about yesterday, but they are looking forward to tomorrow.
How would your models work with a church that is not in close proximity to the parent church?
GUERRA: We have a church parenting a church in the Sierras, and these churches are over 350 miles apart (a 6-hour drive in good traffic). Both the lead pastor of the parent church and the campus pastor are committed to the relationship. I believe they have monthly face-to-face meetings and also utilize technology (Skype, Facetime, etc.) to have regular, weekly meetings. This would also be the case with the leaders of the ancillary ministries in the church. The accounting and business matters are handled online so there is an instantaneous communication between the parent and PAC. Both churches attend district functions, as well as other seminars and sessions together, which also builds the relationship and confidence between the two congregations.
Any final thoughts you would like to leave with our readers?
GUERRA: The parent-affiliated church model rises and falls on leadership. The Assemblies of God has an aging church leadership. In the Southern California District, 7.9 percent of our ministers are under age 35 and 44.6 percent are over age 60. In 10 years, those 60-somethings are going to be 70-somethings, and those 30-somethings are going to be 40-somethings. The church does not have enough ministers to fill pulpits. This is a huge challenge.
ROUNTREE: Smaller-church pastors who are thinking about being adopted by a parent church must be honest with themselves. We are supposed to be godly leaders, but we often lie to ourselves. Be honest about the health of your church. Be honest about your ability to climb out of the hole, whether you dug the hole or not. If you need help, ask for it. Help is available. Be honest with your team and your leadership.
QUINN: I admit that growing a single-cell church is often simpler and cheaper. However, I believe God is raising up an apostolic church model that has a burden for whole cities and whole regions. This model is biblically robust, powerful, and submissive. God is raising up churches that are collaborative and multisite. It is time for pastors of larger churches to embrace the Kingdom rewards of this approach to ministry.