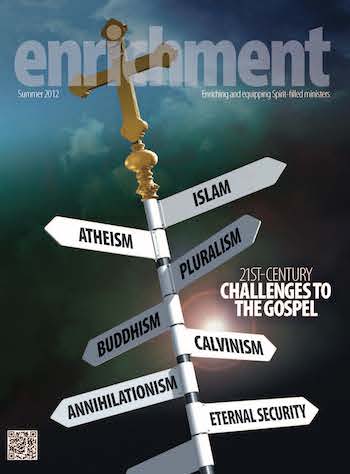 Downloads:
Once Saved, Always Saved?
A number of present-day teachers eloquently propose that once you have gained salvation, you cannot lose it. Does Scripture clearly refute this position?
by Waldemar Kowalski
---
See Also
Christians seem to agree on this: "If you end up in heaven, you have been saved." The process of how we end up in heaven brings with it controversy. In John 3:16, we encounter the God who loved, gave, and saved. He assures us that His intent is not condemnation but salvation (verse 17). He repeats this promise of salvation, followed by a stern warning in John 3:18: "Whoever believes in him is not condemned, but whoever does not believe stands condemned already because they have not believed in the name of God's one and only Son." But what is the fate of those who believed and then afterward rejected salvation?
The people in your pews face this question from their Calvinist friends. Many may know that we believe people can abandon their salvation, but they may not know how to respond with Scripture. This article provides the theological basis for our belief concerning eternal security and also ways you can help your people respond to those who challenge their beliefs.
Calvinistic Teaching
According to most Calvinists, a person was not a Christian in the first place if he departs from the faith. A number of moderate Calvinists, including popular Bible teacher Charles Stanley, hold to a variation of eternal security, a teaching often called "once saved, always saved."1 This idea argues that if we have ever made a salvation decision, we can in no way lose or abandon that salvation, even if appearances are otherwise. Stanley states, "God does not require a constant attitude of faith in order to be saved — only an act of faith in Christ."2 Even if we die in a completely reprobate state, cursing God, and rejecting any relationship with Him, we would still spend eternity in His presence. Stanley further states, "Believers who lose or abandon their faith will retain their salvation, for God remains faithful,"3 and "even if a believer for all practical purposes becomes an unbeliever, his salvation is not in jeopardy."4 "You can give it back only if the giver accepts the return. In the case of salvation God has a strict no-return policy."5 This effectively removes choice after the point of salvation, as one cannot even abandon one's salvation.
According to Stanley, not accepting this teaching of "once saved, always saved" means one must live in fear, violating Philippians 4:6 (being anxious for nothing). He believes that "Christians who are insecure in their relationship with God have a difficult time sharing the love of God with others."6 This also calls into question forgiveness itself, for "if the sins you commit after becoming a Christian can annul your relationship with the Savior, those sins were not covered at Calvary."7 Another danger seen by Stanley is that salvation becomes a matter of faith and works, not faith alone.
Biblical Response
What does the Bible teach about the possibility of departing from faith? From the beginning God reveals himself as a God who lets humanity choose whether or not to be in relationship with Him. The Bible offers examples and warnings of departure from God. Adam and Eve, as innocent of sin and "saved" as anyone might ever have been, had opportunity to reject Him. The Bible is silent on their ultimate destiny. Their choice was a real one, resulting in separation from God and bringing sin and death to mankind. Likewise, the prophets warn Israel that God has divorced her and sent her away because of her sin and lack of faithfulness (Isaiah 50:1; Jeremiah 3:8).
Jesus
Jesus offers several parables that include warnings about falling away. In the story of the sower (Luke 8:5–15), some "believe for a while, but in the time of testing they fall away" (verse 13). In the parable of the unfaithful steward (Luke 12:42-46), the master assigned the steward — whom he trusted and yet proved faithless — to "a place with the unbelievers" (verse 46).
We find Jesus' strongest warning in the teaching on the vine and the branches (John 15:1–6). Here Jesus warns, "If you do not remain in me, you are like a branch that is thrown away and withers; such branches are picked up, thrown into the fire and burned" (verse 6). The entire discussion is about remaining in Christ, the true Vine. This is not, as some suggest, about people who seemed to be in the church but were not truly in Christ. The ones discarded and burned were in Christ, but have not remained in Him.
The New Testament uses the language of being "in Christ" to refer to believers (Romans 8:1; 1 Corinthians 5:17; et al.). Individual branches (believers) that remain in Christ bear fruit and God prunes them. But God cuts off believers who do not produce fruit (John 15:2), and they ultimately suffer eternal separation from God.
Paul
Paul warns believers of the need to persevere. Paul told the Galatians, who were flirting with a return to the Law, "You who are trying to be justified by the law have been alienated from Christ; you have fallen away from grace" (Galatians 5:4). This language of alienation and falling away is clear. Paul reminded the Corinthians to keep hold of their faith and the truth of the gospel: "By this gospel you are saved, if you hold firmly to the word I preached to you. Otherwise, you have believed in vain" (1 Corinthians 15:2). Those who have "believed in vain" contrast with those who "are saved." Paul warns believers to "hold firmly" or risk the loss of their salvation.
This is clearly not just a theoretical admonition. In 1 Timothy 1:19,20, Paul names Hymenaeus and Alexander, two who rejected "faith and a good conscience" and therefore "have suffered shipwreck with regard to the faith." Paul works toward the goal of their repentance, but we have no record that this occurred. At the time Paul wrote the letter to Timothy, they had already been "handed over to Satan."8
Writing to Timothy, Paul offers encouragement coupled with a warning: "If we died with him, we will also live with him; if we endure, we will also reign with him. If we disown him, he will also disown us; if we are faithless, he remains faithful, for he cannot disown himself" (2 Timothy 2:11–13). Paul offers this caution to the believers for whom Timothy is responsible: Christ will disown those who disown Him. This warning against apostasy is to believers, not to the world. God is consistent in Scripture, true to His nature. He must remain faithful to His character, for to do otherwise would be to disown himself, which He cannot and will never choose to do. He is the Cosmic Lover, never the Cosmic Stalker who lets no one get away. In faithfulness to His own nature, He must disown those who reject Him. In Romans 6:1–4, Paul absolutely rejects the idea that one who experienced God's grace would deliberately continue in sin. God calls believers to live a new life that glorifies God.
Peter
Peter offers similar cautions, even as he reassures his audience that he expects them to persevere. He urges them to "make every effort to confirm your calling and election. For if you do these things, you will never stumble, and you will receive a rich welcome into the eternal kingdom of our Lord and Savior Jesus Christ" (2 Peter 1:10,11). Once again, if they do what is necessary, they will confirm their calling and election. The alternative is to "stumble," which indicates they would forfeit their "rich welcome into the eternal kingdom" of Christ.
Hebrews
The writer of Hebrews offers numerous examples of the danger of turning one's back on salvation. The majority of Israelites, saved from Egypt and led toward the Promised Land, lost their ultimate reward because of their unbelief (Hebrews 3:7–19). The author warns, "See to it, brothers and sisters, that none of you has a sinful, unbelieving heart that turns away from the living God. But encourage one another daily, as long as it is called 'Today,' so that none of you may be hardened by sin's deceitfulness. We have come to share in Christ, if indeed we hold our original conviction firmly to the very end" (verses 12–14, emphasis mine). To receive our share in Christ, we must hold our original conviction firmly. The writer cautions those who have started the journey that they need to complete it.
We find the strongest language in Hebrews 6:4–8, where the author offers a warning very similar to that of Jesus in John 15, using images of discarding and burning: "It is impossible for those who have once been enlightened, who have tasted the heavenly gift, who have shared in the Holy Spirit, who have tasted the goodness of the word of God and the powers of the coming age and who have fallen away, to be brought back to repentance. To their loss they are crucifying the Son of God all over again and subjecting him to public disgrace. Land that drinks in the rain often falling on it and that produces a crop useful to those for whom it is farmed receives the blessing of God. But land that produces thorns and thistles is worthless and is in danger of being cursed. In the end it will be burned."
The explicit risk of destruction and loss is for those who have clearly been in relationship with Christ.9 Further, in Hebrews 10:26–31, the author admonishes the readers that: "If we deliberately keep on sinning after we have received the knowledge of the truth, no sacrifice for sins is left, but only a fearful expectation of judgment and of raging fire that will consume the enemies of God. Anyone who rejected the Law of Moses died without mercy on the testimony of two or three witnesses. How much more severely do you think someone deserves to be punished who has trampled the Son of God underfoot, who has treated as an unholy thing the blood of the covenant that sanctified them, and who has insulted the Spirit of grace? For we know him who said, 'It is mine to avenge; I will repay,' and again, 'The Lord will judge his people.' It is a dreadful thing to fall into the hands of the living God."
Again, the focus is on those who "have received the knowledge of the truth" and have subsequently rejected that salvation. Indeed, for those who insult the Spirit of grace, "It is a dreadful thing to fall into the hands of the living God."
Application
A number of present-day teachers eloquently propose that once we have gained salvation, we cannot lose it. Scripture clearly refutes their position. The Word of God offers many vivid and impassioned warnings that make sense only if a believer can forfeit salvation by rejecting a relationship with God. Perhaps a personal cost/benefit analysis of these opposing positions would be useful.
What are the benefits of a "once saved, always saved position"? If it is indeed correct, which is unlikely in light of the explicit warnings of Scripture, then all who have ever come into relation with Christ would have no uncertainty regarding their eternal destiny. After one decision for Christ, the way a person lives no longer determines their eternal destiny. With this benefit fear could never cripple anyone.
Some who hold to a position that we can abandon our salvation may live in unnecessary fear, failing to enjoy the assurance of their salvation. An extreme perspective, where one is continually falling in and out of salvation, results in such unhealthy fears. This is not, however, the position we hold. We believe that true believers will enjoy the assurance of their salvation. We need not be afraid of losing our salvation, like a wallet dropping from a pocket in a careless moment. Scripture assures believers of God's provision and the sustaining power of His Holy Spirit. Accepting that the danger is real and that we can abandon our salvation does not mean that we live in continual fear of doing so.
What are the benefits of heeding Scripture's warning and living a faithful life? Paul asked the Romans, "What benefit did you reap at that time from the things you are now ashamed of? Those things result in death!" (Romans 6:21).
As a young man, had I believed I could confess Christ once and then live any way I wanted, I might have succumbed to some very attractive temptations that could have brought spiritual death. Looking back, I am profoundly grateful that I was spared from many of the experiences common to those who do not follow Christ. Did I fear the Lord and fear missing out on eternal life? Perhaps yes. But if this caution preserved my life and salvation, its benefits surely outweighed its costs. Paul noted that his suffering was "not worth comparing with the glory that will be revealed in us" (Romans 8:18). In my case, any "suffering" I might have experienced, "missing out" on the attractions of sin as a result of reverent fear, may have preserved my life. What some might consider costly, I assess as a benefit.
Calvinists believe that passages such as John 10:29; Romans 8:28–39; and Hebrews 7:25 (among others) teach eternal security: that the believer, once saved, cannot depart from salvation. The Bible is clear: God desires to save all, and He offers humanity not only the gracious gift of salvation but also strengthens those who respond. While the Bible assures us of God's loving will, it also gives strong warnings of the peril of falling away. While God is stable and strong, our response is fickle and weak.10 When a former believer abandons salvation, God's desire for relationship with that person has not changed. His faithfulness to His loving nature allows that person to walk away.
What about the costs of ignoring the warnings as unrelated to salvation? Those who rely on this doctrine and engage in a careless, licentious lifestyle suffer consequences here and now. How much more serious are the eternal consequences. If the scriptural cautions are real, this teaching of "once saved, always saved" is potentially devastating and destructive. The one who relies on it and ignores the admonitions to continue in relationship with God will suffer for eternity.
The burden of proof rests with those who propose a view of false eternal assurance, for their error imperils one's eternal destiny. Those who heed the cautions of Scripture and live a faithful reverent life need never fret about where they will spend eternity. They enjoy full assurance of their salvation, the benefits of a faithful life, and look forward to the blessed hope.
God calls us to holy living. While 2 Peter 1:10,11, presents very real warnings, the preceding verses reassure us that "His divine power has given us everything we need for a godly life through our knowledge of him who called us by his own glory and goodness" (2 Peter 1:3). Peter spells out this godly life with an exhortation to "make every effort to add to your faith goodness; and to goodness, knowledge; and to knowledge, self-control; and to self-control, perseverance; and to perseverance, godliness; and to godliness, mutual affection; and to mutual affection, love. For if you possess these qualities in increasing measure, they will keep you from being ineffective and unproductive in your knowledge of our Lord Jesus Christ. But whoever does not have them is nearsighted and blind, forgetting that they have been cleansed from their past sins" (verses 5–9).
Having been cleansed from our past sins, may we not regress into a habitual life of sin again, believing all the while that we are "safe." Let us truly walk in the power of the Spirit. The good news is indeed that God saves us (Romans 1:16,17), and we no longer live as slaves to sin, but as bond slaves of God, choosing to live in holiness and bound for eternal life (Romans 6:22,23). We are saved by this gospel, but only if we hold firmly: otherwise, we have believed in vain (1 Corinthians 15:1,2). The false doctrine of "once saved, always saved" not only offers false hope for eternity, but also robs the gospel of its power to change lives and produce holiness.
Discussion Questions:
1. What teaching did you receive about the assurance of salvation when you came to Christ? Did your commitment to Christ save you? Did continuing to be in a relationship with Christ save you? Or would you not know if you were saved until you died and went to heaven?
2. Did you ever wonder whether you had lost your salvation? Did this hinder you in following Christ, or did it spur you on to seek God?
3. As you have matured in your faith, what has changed about your motivation for serving God? For instance, in the past were you more motivated by fear of sin's consequences and hell, or motivated by love for God and a desire to be in relationship with Him? What about today?
4. What is your obligation to former believers living in sin? How does one's view on this issue influence whether one is obligated to admonish them?
Notes
1. Some include John F. MacArthur, Jr. in this category, but in Faith Works: The Gospel According to the Apostles (Dallas: Word, 1993), MacArthur explicitly states that perseverance "does not mean that people who 'accept Christ' can then live any way they please without fear of hell. The expression 'eternal security' is often used in this sense, as is 'once saved, always saved.' " (180) He rejects this teaching and labels it a "full-scale assault against the doctrine of perseverance affirmed in the Westminster Confession. Worse, it subverts Scripture itself" (181). His book, Saved Without a Doubt: Being Sure of Your Salvation, rev. ed. (Colorado Springs: Victor Books, 2006) presents the classic Calvinist position, that anyone who seems to have made a salvation decision and then departs from that was never really saved to begin with. Likewise, Mark Driscoll, another popular teacher identified by some with the "once saved, always saved" position, holds to the classic Reformed position on eternal security.
2. Charles Stanley, The Glorious Journey, (Nashville: Thomas Nelson, 1996), 174. Cf. also Charles Stanley, Eternal Security: Can You Be Sure? (Nashville: Oliver-Nelson Books, 1990), 80.
3. Stanley, Eternal Security, 94.
4. Stanley, Eternal Security, 93.
5. Stanley, Glorious Journey, 174.
6. Stanley, Glorious Journey, 173. These arguments are flawed, as fear and a resulting hesitancy to witness will only result if the believer has an incorrect view of salvation.
7. Stanley, Glorious Journey, 172. This argument is also flawed. The sinner's fundamental need is restoration of relationship with God. Our sins are a result of that broken relationship. Christ restored us to proper relationship (reconciled us to God) by His death on the Cross, which also took care of all sins, but the primary concern was relationship.
8. Cf. 1 Corinthians 5:5.
9. This text raises questions regarding the possibility of coming back to salvation. The NASB renders Hebrews 6:6 — "It is impossible to renew them again to repentance, since they again crucify to themselves the Son of God and put Him to open shame" and notes that "since" can also be rendered "while." As long as someone continues to reject Christ, they cannot be renewed to repentance.
10. I am indebted here to discussions with George Paul Wood. Further material is available in the position paper on Eternal Security found at http://ag.org/top/Beliefs/Position_Papers/index.cfm.