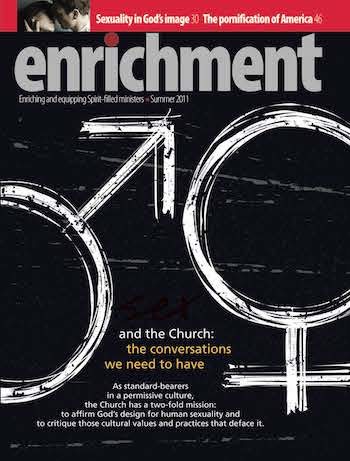 Downloads:
Restoring the Damaged
Church-Based Ministry to the Sexually Broken
by Andy Comiskey
---
Jim and Karen could barely look at you. Dumbfounded, you struggle to hold their gaze as well. Are these the same young adults you married 10 years earlier? You knew Jim had a struggle with Internet porn. Yet, as their story unfolds, these beleaguered partners reveal a marriage in crisis.
Apparently the sexual part of their marriage was never strong. A victim of childhood sexual abuse, Karen tolerated marital sex but resisted Jim more than not after their two kids were born. While Jim sought guilty pleasure in porn, Karen reconnected on Facebook with a college roommate. This friend, a lapsed Christian, was now a self-affirmed lesbian. She first provided solace to the struggling mom, then she initiated a sensual bond that met some deep needs in Karen.
Karen had just told Jim about the special friendship and the possibility of divorce. Jim was floored. He asked her if she would seek help with him. In conflict due to her faith, Karen agreed. The two await your pastoral response. What will be your counsel that will help heal their sexual brokenness?
How Whole Is Your Gospel?
What's at stake in sexual brokenness
Though perhaps an extreme example, this marriage in crisis reveals cords of sexual entanglement that threaten the spiritual and relational integrity of many Christians. You might say that the integrity of the gospel of Christ is at stake.
How the church handles sexual brokenness is a window to the fullness of the gospel: the challenge of surrender (Christ crucified), the hope of new life (Christ resurrected), the call to holiness, and the pursuit of healing. Paul knew this tension when addressing the Corinthians. Paul knew the whole gospel could be lost at Corinth because the Spirit-filled sophisticates in the church did not take seriously, "The body is not meant for sexual immorality, but for the Lord" (1 Corinthians 6:13).
Today's idolatry
Welcome to today's Corinth. Internet porn is the drug of choice for most men and some women. Never before in history have so many sex idols been available in so many homes with so few controls at absolutely no cost. Male and female homosexuality is on the increase. "The only problem with being gay, Pastor," a young man said to me recently, "is the one you have with it."
Beneath the surface of today's sexual idolater lies a profound instability of soul rooted in any number of wounds and distorted self-perceptions. This crisis in identity is sourced in destabilized families of origin, coupled later on with the unreal communities we forge in social networking. Countless hours of virtual screen time tempt people to create their own reality — to become their own "American idol."
Idol is right. Broken, empty, eager to worship or be worshiped, we are mired in a profound idolatry of self. Not knowing who we are, we put on any number of faces to secure love, usually sexual in nature. Our very need for love gets frustrated in the games we play. The result? People have a near inability to make and keep promises of love.
We are sexually fired up and yet unable to forge relationships that can sustain meaningful sexual expression. In short, many members of your church are sexually broken. Their sexual brokenness consists of two components.
Broken boundaries, fractured identities
Sexual brokenness usually consists of two distinct, yet related parts — broken sexual boundaries and a fractured personal identity. First, broken boundaries.
On the positive side, as Christians, we are pretty clear that sex is really powerful and essentially creative. The purpose of sex is to bond two people for life who may very well create a family.
The mutual commitment of two heterosexual adults provides a boundary that protects and guides sexual expression. Optimally, it dignifies both parties and confirms, rather than confuses, the humanity of both the man and woman. On the other hand, many grow up with few, if any, boundaries to guard their bodies and imaginations from sexual activity.
Karen was subject to the humiliations of a perverse uncle. Jim experimented sexually with other kids early on, then he went on to his father's porn stash — a habit that escalated years later on the Internet. He also had many partners before his conversion and marriage to Karen. Both entered into marriage ill-equipped to see the other with new eyes.
Jim and Karen's lives line up with Nehemiah's vision of the wall surrounding Jerusalem when he said the city's boundaries are burning with fire and left in disgrace (Nehemiah 2:17). In truth, Jim and Karen are nearly unable to yield their bodies to one another out of a genuine expression of love and authentic self-giving. Karen's sexuality is locked up in the shameful perversion of another; Jim cannot shake the shame of his lustful, porn-fed imagination. Their broken boundaries subject them to distorted views of self and others.
The second component of sexual brokenness is a damaged personal identity. Karen hated male sexuality and hated herself for not acting more decisively against her uncle's defilement. The enemy of her soul constantly accused her of being dirty and seductive, and she was oppressed by fear.
Jim had never really loved a woman as a whole person. Prior to Karen, he sexualized all of his relationships. The enemy had shrouded his vision of reality with a pornographic fog. This further distanced him from loving his wife for who she was — a person worthy of value — and limited his capacity to grasp the deeper issues underlying both his and Karen's sexual brokenness.
Jesus Redeems Sexual Brokenness
Scripture describes us as bearers of God's image: humanity as male and female (Genesis 1:26,27). This means we represent God in our sexual and relational lives. Sin distorts both of these aspects of our lives. This is why Jesus came: to grant us — damaged humanity — a place to go and to raise us to love like He does. He is the true image of God in His humanity (Colossians 1:15,16). His blood removes sin and shame; His Spirit raises us to resume the journey to loving others well. Jesus alone has power to transform sexual brokenness into an opportunity for deeper discipleship. The hope for Jesus' presence to heal sexual brokenness requires three things.
Jesus redeems the broken through His body — the Church
First, healing sexual brokenness requires ministry leaders to understand how God uses the church to restore sexually broken people. God's presence is mediated through people who stand with the sexually broken in the hard process of disclosure.
This dynamic fulfills Paul's words in 1 Corinthians 12:22–26, when he speaks of the different parts of the body. He refers to the weaker, less honorable parts (a good description of the sexually broken), then implores members of the church to give greater honor to them through sharing life together in the Body. Pastors may well be the first ones to convey the hope of Christ revealed through the church. Their calm, hopeful response manifests the honor God gives the dishonorable.
Confidentiality
Second, confidentiality is crucial to the healing process. Most Christians are intrigued by sexual brokenness and delight in disclosing another's failure to someone who has no business knowing it. The Karen and Jims in your church need the boundary of your word. This is no one else's business. You begin to restore their boundaries by keeping their secrets safe.
Willingness
Third, each party must have a willingness to change. It is important to discern the readiness of the broken to resume the journey to freedom. This discernment of genuine repentance can take time. Some know how to play the confession game, but their hearts are far from repentant. Others are dull and deceived at first, then when gracefully encouraged begin the slow turn.
Ultimately, sexually broken people must decide whether to clear or block their own path to sexual wholeness. For example, Karen's refusal to set boundaries with her friend, or Jim's unwillingness to realize he had a limited vision of who Karen was and what she needed, could have derailed the process.
Staying tender and broken before God, with proper encouragement from the body of Christ, is key to the long-term approach needed to get free and stay free from sexual brokenness.
Clear standard and track for redemption
It is important as church leaders to have two documents in place: a clear standard for the sexual conduct of your core team and a plan of action in case of failure. When these two procedures are in place, and you steward them consistently and compassionately, you can face the charge that you acted arbitrarily and harshly with integrity.
You also can say plainly to the fallen: "This is the course of action we use at this church; walk this way." This gives people clear guidelines and choice concerning whether or not they want to cooperate with you and the church in their sexual brokenness.
Willingness involves two sides: a sustained, humble attitude on the part of the broken, and you and your church having a helpful, long-term plan for them. Beware of the consumerism that insists sexual wholeness can and must be achieved quickly.
The Healing Process
Learning to love well
I believe in the power of the Spirit to act quickly as He wills to release one from certain strongholds. I also believe that unless we welcome and understand such Kingdom activity as one giant step on our life-long journey toward maturing in love we will be sorely disappointed. Being prone to proclaiming an "it is finished" approach to a person's brokenness serves no one well.
The truth is: Sexual brokenness is shameful, painful, and runs deep. We are all uncomfortable with sexual brokenness. Both struggler and church want it to be fast. So we may be tempted to " 'dress the wounds of my people as though it were not serious. "Peace, peace," they say, when there is no peace' " (Jeremiah 6:14). We minimize the depth of the struggle or exaggerate its resolve because we all just want to move on.
Jesus takes the long view. He wants us to become reliable in love, not merely seeking our own good, but the good of others (1 Corinthians 10:24).
A team approach
The goal of healing sexual brokenness requires more than what one Christian leader can give. It will serve everyone well to consider another course of action other than what you can provide for the sexually broken. Solid Christian counselors are invaluable, as are weekend conferences, and a variety of resources geared toward inner healing.
I recommend two discipleship/healing resources I've developed for the sexually broken for use in the local church: CrossCurrent, an introductory 8-week course; and, the main meal — Living Waters, a 25-week course. (For more information on Living Waters, e-mail: [email protected].) These courses are designed to be led by laity — wounded healers in their own right — who meet certain leadership requirements and are trained to lead once a week, for your church and community — under your auspices.
These resources provide concise teaching that gives a grid for understanding and addressing various strands of sexual brokenness, while providing a Cross-centered, Spirit-filled support system along the way.
The importance of well-run groups
When I was a young man coming out of homosexuality, my pastor urged me to gather with other strugglers in the hopes they too might find the healing they needed to become life-giving members of the community.
By following my pastor's advice, my wife, Annette, and I continue to grow in truth and grace. His suggestion led us to develop leaders as we taught on topics that seemed relevant to the broken. As God healed people trapped in same-sex relationships, we decided to also include heterosexual idolaters from our church that needed help.
A more diverse group presents a greater challenge, but ultimately a more diverse groups is much healthier. It seemed counterproductive and unbiblical to gather solely on the grounds of same-sex attraction when all humanity finds itself somewhere on the continuum of sexual brokenness.
As well, we included both men and women in the group, as this was healthy too. Our group meetings would include times of worship, teaching and testimony, and ministry time. Following this, same-sex groups were formed for deeper prayer and accountability in specific areas. The Living Waters group emerged out of this initial phase of our growth.
Through the Living Waters Group Annette continued to receive healing for her childhood sexual abuse, and together we grew as more mature expressions of God's image. All of this occurred as we offered ourselves in service to the local body of Christ.
Sexual brokenness impacts our daily lives: how we worship and how we love. Its resolve in individual lives is an expression of the power of the body of Christ to bring about healing. Discipleship groups — run by trustworthy lay people — are a safe and solid way of serving the needs of the broken without the pastor needing to do all the work.
Keys to healing
Following are nine keys to facilitating the healing process. I use Jim and Karen as examples of two individuals who might benefit from this process.
God seeks to meet our needs
The first key to discuss with the sexually broken is the truth that God wants to meet our needs for love and security. We all have these needs. When our need for love and security is not met, we are more likely to go looking for them in all the wrong places. Our sexuality is often a powerful barometer of how secure the love is around us. What we know about Jesus: He came to give us what we need — a double portion of love in the place of our sin (Isaiah 40:1). God gives us what we need, not what we deserve.
Praying over this with Karen and Jim was a revelation. God took a long view of their lives and wanted to satisfy them with good things. This takes the edge off fear and dread. It brought hope to what seemed unmanageable. The Father gives us bread for our sexual hunger, not snakes and stones (Matthew 7:9–11).
Upholding the hope of the Cross
Another key to help sexual brokenness involves the power of hope rooted in the Cross. I urged Jim and Karen to realize that in light of all the pain in their lives Christ endured the ultimate suffering — the suffering at Calvary. The Cross invites us in our suffering to enter into relationship with the Father and Son. Divine relationship restores human relationships. The Cross invites us into that communion constantly.
Trust
Most sexually broken people doubt whether others who are aware of their brokenness can and will be genuine agents of healing for them. Consistently gathering with trustworthy saints is vital to the healing process — growing in love and trust with people who stand with you. The sexually broken need to surround themselves with individuals who have been around the block and who have made good but difficult choices in light of God's love.
Sexuality is all about relationship. So sexual problems require relational solutions. The sexually broken lay down their defenses when they see others doing so in a way that brings life, not greater fear or shame.
Identifying and overcoming shame
Shame is huge — perhaps the greatest barrier to receiving God's love through the body of Christ. Karen felt shame for her same-sex attraction; Jim for his porn addiction and feelings of inadequacy. To discover others who faced these struggles in the light of mercy and truth made a difference for the both of them. It allowed the One who endured the final shaming at Calvary to break through their shame.
They learned to tell themselves this: God's love makes a way for me in my weakness. I won't let shame disqualify me from that love.
Confession of sin, and repentance
Confession and repentance is another important key in the healing process. Both Jim and Karen needed to give an in-depth confession of the real and specific sins they had committed. Neither was exempt from this. Each had sought to meet his or her needs the wrong way. Also, each had wronged the other in judgmental attitudes, as well as in blaming the other for sins he or she did not commit, e.g. Karen transferred her childhood abuse onto Jim.
In-depth healing requires an in-depth confession, one to another. There is nothing quite like naming specific sins before a trusted Christian and then hear: "You are forgiven." Shame and guilt flee, and grace rests on areas of weakness, giving new strength and a new perspective on how to choose differently.
That capacity to choose is the fruit of confession. Repentance requires decisive action. If confession is not in the service of repentance, it can remain in the service of sin, fooling one into believing that merely naming the sin is enough. We name it in order to refuse it.
The power to refuse familiar robbers
The sexually broken need to renounce certain strongholds of sin tied to the idolatry at hand. They need to identify deep patterns of lust, seduction, or hatred, especially those rooted in longstanding addictions and/or family patterns. This process empowered Jim and Karen to take authority over their family patterns. With the help of others, they needed to name and refuse their own idols of action and attitude.
A big problem with deliverance tied to sexual problems is this: If someone else casts the robbers out of our temple, it leaves us defenseless when the enemy gathers his friends and returns home.
Feeling pain, not lust, and forgiving
Another key to overcoming inordinate sexual desire is identifying the wounds underlying it, and then feeling the appropriate emotion. The power of the Cross is available to bear our wounds. Both Karen and Jim had huge early gaps in their lives: Karen, with her abuse, but also a troubled family life (a divorce early on that left her mother depressed and unstable); Jim, with a sexually addicted father who neglected his son's masculine development almost entirely. Discovering how Jesus frees us to abide with Him in our suffering was a revelation for Karen and Jim. It gave them a place to go with much of the raw energy empowering their sexual actions.
They also grew in their capacity to forgive those who wounded them. As they forgave others from the heart (Matthew 18:35), their hearts began to heal. That applied to past offenders and to the ones very near to them in the marriage.
Confirmation of Gender: Seeing the Other With New Eyes
God prepared Jim and Karen to receive fresh confirmation as image-bearers. They needed to be reminded of the beauty of her womanhood and the strength of his manhood, and also of the many ways the enemy had beaten down the original good of that design in their own lives. We can profoundly impart "gender blessing" in the power of God's confirming Spirit. That is crucial to the raising up of true men and women of God in our midst.
We agreed together that Jesus' sacrifice "destroyed the barrier, the dividing wall of hostility" (Ephesians.2:14) that otherwise brought about the division between them. With renewed eyes, Jim began to see how he had reduced Karen to the sum of her capacity to please him sexually. He vowed to grow in his capacity to love her as a whole, not a sexual part.
Karen had to face the hard truth that she could not handle her special friendship. Though she needed consolation, she had to find it with safe friends and ultimately through growing in friendship with Jim. She also vowed to keep working on her pain, to not make it Jim's pain, and to try to not judge him for his distinctly masculine sexuality. She was committed to learning how to accept its difference without fear.
Through surrender to Christ, Karen and Jim became progressively good gifts to each other. They reflected this freedom as they offered themselves to each other in their sexual life as well.
A Lifetime Plan
Jim and Karen still have a long way to go. Jim needs ongoing same-sex accountability to help him steer clear of Internet porn; Karen needs help in keeping the boundary she set with her friend. She is also getting counseling for further healing of her sexual abuse. Each is taking seriously the weaknesses they brought into the marriage. They are renewing their efforts to make the relationship a priority. God is restoring the integrity of their faith and marriage.
Jim and Karen are taking small steps on a lifelong path to loving others better. This is what freedom from sexual brokenness is about: We follow Jesus and seek to love others rightly, from the heart. Walking alongside trustworthy Christians is key. As ministers, our part is to cultivate healing communities where the sexually broken receive Jesus' help, full of grace and truth.
Questions for Self-reflection or Group Discussion:
Are we all sexually broken? Consider how you rate certain sexual issues as more broken than others.
Why is confidentiality key in helping the sexually broken? Consider your own hesitation to disclose your sexual vulnerabilities to another.
Why does Jesus have unique authority to reclaim the broken image in humanity? What aspects of your gender or sexual identity has He reclaimed? How?
What is the goal of sexual wholeness? Why is its attainment a process? Explain the flaws in certain deliverance approaches to sexual healing.
What is the bigger problem: a sexual problem itself, or the shame that shrouds it and silences the struggler? How can we create a holy and yet open environment for congregants to deal with these issues?
Would you entrust certain laypersons to serve the church by serving the sexually broken? What are the risks? The rewards?
Consider the power of the Cross in healing the sexually broken. Does the Cross represent hope to you in your brokenness? Does the Cross invite you in your affliction to come to God, or does it distance you? Why?
Do you believe Jim and Karen could find hope and help in your church? What resources would you have for them?