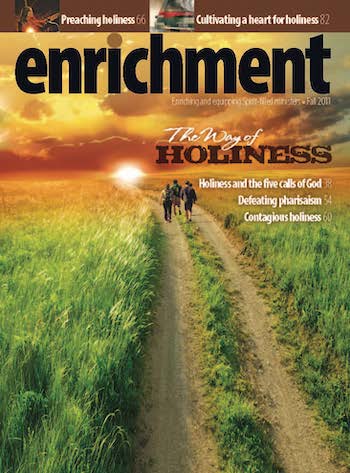 Downloads:
Introduction God's Call For Holy Living
by Richard L. Schoonover
---
"Rooty toot, toot; rooty toot, toot. We're the young men from the Institute. We don't smoke; we don't chew; and we don't go with girls who do." We smile when we hear this satirical ditty that pokes fun at holiness as a list of rules. But today, many look suspiciously at the holiness requirements laid out by our early Pentecostal pioneers: no reading comics on Sunday, no TV, no playing basketball (wearing shorts), no dress above the knee, or long hair for men. People often called preaching on such topics, clothesline preaching.
Philip Wannenmacher, longtime pastor of Central Assembly of God, Springfield, Missouri, made a profound statement: "While we might not agree with our Pentecostal forefathers' list of requirements for living a holy life, we cannot fault their desire to live a life of holiness." Thus, what does it mean to be holy?
Holiness is at the heart of biblical teaching. In the Old Testament, the words used for holiness suggest a cutting off or separation. God's holiness expresses His perfection, His separateness, and His distinction from creation. Holiness, then, is the core of God's being, encompassing all other divine attributes: "Be holy, because I am holy" (Leviticus 11:44).
Holiness is also central to the life of God's people. The command, "You shall be holy; for I the Lord your God am holy" (Leviticus 19:2; 1 Peter 1:15) sums up this understandings of God and His relationship to His people.
God's command for His people to be holy describes their separation from ordinary use and their separation for service to and worship of God. In the Old Testament, God's call to holiness involved being distinct from other people. God commanded His people to separate from other nations and from everything that would compromise their commitment to Him. In the New Testament, God calls believers to live "in the world" (among unbelievers) but not "of the world" (according to their ways or values).
Because of the fall of man, we live in a sinful world and are not holy. But if God is holy and separate from His creation, how can we, as His creation, come to be holy?
God cannot make himself less holy to have fellowship with us. He has, however, provided for our holiness by redemption through Christ and applied to us through the Holy Spirit (1 Corinthians 6:11). This is our positional holiness (sanctification) in Christ. As a result, we bring honor to God through our lives (1 Peter 2:9). But how does holiness play out in our everyday lives?
Too often we regulate our holiness to a list of rules — dos and don'ts — as reflected in the satirical ditty above. We become like the Pharisees (See Gary Tyra's article, "Defeating Pharisaism: Jesus' Critique of Pseudo-Holiness." But this is not what God desires of us. Holiness must be more than outward actions; it must come from the heart.
Cheryl Bridges Johns, in her article, "Cultivating a Heart for Holiness," discusses the importance of our affections in our walk in holiness and provides practical counsel in cultivating such a heart. Dan Crabtree, in "The Fulfilled Life: Rediscovering the Transforming Power of Sanctification," explains how we can live out who we are in Christ.
Christians often wish they had quick formulas that would take care of their spiritual problems. To live a life of holiness, however, we must do what Paul tells us in Galatians 5:16: "Live by the Spirit, and you will not gratify the desires of the sinful nature." The word "live" describes our daily walk — our way of life.
The Spirit and the sinful nature are mutually exclusive. If we are occupied in pleasing the former, we will not please the latter. Paul continues his instruction by telling believers to be "led by the Spirit," (verse 18); and, "keep in step with the Spirit" (verse 25). As we allow the Holy Spirit to direct our thoughts and actions, we will continue on the path of holiness God requires of us.
The editors of Enrichment hope the articles in this issue on holiness will not only help you in your personal walk of holiness, but will also provide material you can use to help your people walk in holiness. "Without holiness no one will see the Lord" (Hebrews 12:14).