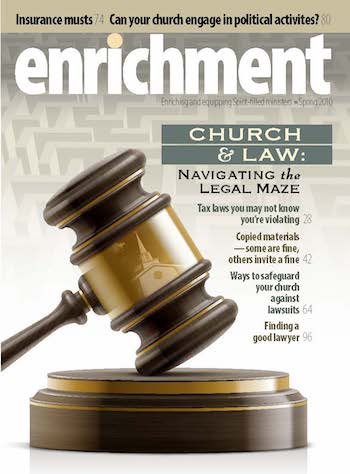 Downloads:
It's the Law [and Grace]
Imputation and Respondeat Superior
by George O. Wood
---
I have the advantage of being both an attorney and a minister of the gospel. I jokingly tell audiences that this gives me the right to sue them for severe and intentional infliction of emotional distress if they do not like my sermon.
This issue of Enrichment is devoted to helping the church navigate through legal issues. That set me to thinking about the central legal concept found in the New Testament — Imputation and Respondeat Superior.
So often we only approach the subject of the Cross from the emotions of wonder and love — and that is right and proper. Who is not moved when from the heart we sing?
And can it be that I should gain
an interest in the Savior's blood?
Died He for me, who caused His pain?
For me, who Him to death pursued?
Amazing love! How can it be
that Thou, my God, shouldst die for me?
Theologian J.S. Whale put it eloquently: "Instead of putting off our shoes from our feet because the place whereon we stand is holy ground … we are chatting about theories of the Atonement with our feet on the mantelpiece, instead of kneeling down before the wounds of Christ."
We must, of course, always approach the Cross with gratitude, wonder, and love. But the Scripture also gives us a legal framework for understanding what Christ did for us on the Cross. Eight hundred years before Christ, Isaiah put it this way:
"Surely he took up our infirmities and carried our sorrows, yet we did consider him stricken by God, smitten by him, and afflicted. But he was pierced for our transgressions, he was crushed for our iniquities; the punishment that brought us peace was upon him, and by his wounds we are healed" (Isaiah 53:4,5).
Peter picked up on Isaiah's language by saying: "He himself bore our sins in his body on the tree, so that we might die to sins, and live for righteousness; by his wounds you have been healed" (1 Peter 2:24).
The apostle Paul described the effect of the Cross in this way: "God made him who had no sin to be sin for us, so that in him we might become the righteousness of God" (2 Corinthians 5:21).
These Scriptures show that the Cross involved a transfer wherein God transferred our sins to Him and then transferred His righteousness to us.
We understand this principle through the legal concept of imputation and respondeat superior (let the master answer for the deeds of his servants).
Respondeat Superior
In 1986, the Von Groningen case hit the California Supreme Court. An employer owned an orchard and had given both verbal and written instructions that when employees drove the tractor to disc the orchard they were not to let anyone ride with them.
An employee, however, permitted his 11-year-old nephew to ride on the toolbox behind the seat. The nephew fell off, was injured, and lost the lower part of his leg and the use of one of his arms.
The nephew sued the employer under the doctrine of respondeat superior — that the guilt of the tractor driver (the uncle who had no money) should be imputed to the owner. The owner sought to keep liability from attaching. After all, he had given specific directions that the employee not let anyone ride with him on the tractor.
The California Supreme Court, however, held that as a matter of law the employer was liable and had to pay the 11-year-old for the losses he incurred. They imposed the legal doctrine of strict liability.
In any negligence case, the employer or owner will always fight to keep liability from attaching. They do not want the misdeeds of employees to be imputed to them. No company or employer wants to have to pay for injuries caused by the negligence of its employees.
This is the opposite with Jesus. He invites our liabilities (sins) to be placed on Him. He bore our sins in His body on the tree.
Imputation of guilt
My parents were missionaries in northwest China and Tibet. When I was around 7 years of age, I was home schooled in our town of Xining, Qinghai Province. The area we lived in looked much like the dusty mud brick towns you see on the news today from Afghanistan. I had finished my studies one day, went out into our inner courtyard, and saw no one around. My mom and dad were busy elsewhere, and my older sister and brother were nowhere to be found. I started thinking of how to make the day more exciting.
I looked over and saw our American bird dog, Blackie. She guarded the inner door and was standing outside her big wooden dog box, a chain affixed to her collar that ran all the way up to a hook on the underside of the roof beneath her box.
I knew if I let her loose, the day would become exciting. So I went out to the main gate and opened it. Then I cracked open the inner door, crawled up on the dog box, and slipped the chain link off its hook. Crack. At the sound of the chain hitting her box, Blackie was off like a shot. I waited until she cleared the outer gate, and then I shouted, "Blackie's loose! Blackie's loose!"
From nowhere, my dad and brother materialized. We ran out the gate onto the street. I was excited. This was now a good day. People were running from Blackie left and right, her chain trailing behind her. As he ran, my dad looked down at me and between huffs and puffs said, "Georgie, when we get home you are going to get the whipping of your life."
Now my day turned to dread. Evidently the guilt on my face had given me away.
We finally stepped on Blackie's chain and brought her back home. Fortunately, she had not bitten anyone.
For corporal punishment, my dad used a razor strap. I had thus far been able to pretty much avoid it.
My older brother, Paul, saw me shaking with fear and crying. He then did the noblest thing. He offered to take my whipping.
Before I tell you my father's response, let me freeze the story and talk about the Atonement (at-one-ment).
My brother's offer to take my punishment would have been no good had he crawled up on the dog box with me and let Blackie loose. If he had participated with me, then he needed to be punished for his own misdeeds and was disqualified from being a substitute for mine.
In the same manner, the sinlessness of Christ is important because if at any point He had sinned, then He would need to be punished for His own act and could not qualify as a substitute for our sin (2 Corinthians 5:21).
Also, the punishment my brother would bear for me necessarily must have a remedial impact on my own behavior. So, if I stood outside the door, heard the belt applied to my brother, and heard his cries, I would never want to repeat what I did because I would never want him to suffer again (Hebrews 6:6). My brother's pain would have an even better remedial effect on my behavior than had I myself received the whipping. I would have known the terrible effect produced by doing wrong. The memory of my brother's suffering would be an antidote to misbehavior on my part.
Unfortunately for me, my father failed to see these vital components of the doctrine of Atonement, declined to impute my sin to my brother; thus, I bore the punishment instead.
The cross of Jesus Christ, however, involves the legal transfer of our sin and guilt to Christ. God imputed it to Him. He, the Master, answers for the misdeeds of His servants. But, unlike an employer who resists liability from attaching, He willingly invites us to lay our sin on Him. The soul that sins shall die an eternal separation from God (Romans 6:23). The only way for us to avoid that is to permit Him to bear our punishment.
Imputation of righteousness
Jesus does for us what no court of law could do. A court can impute guilt, but it cannot impute righteousness. How different the gospel.
"What does the Scripture say? 'Abraham believed God, and it was credited [imputed] to him as righteousness.' The words 'it was credited [imputed] to him' were written not for him alone, but also for us, to whom God will credit [impute] righteousness — for us who believe in him who raised Jesus our Lord from the dead. He was delivered over to death for our sins and raised to life for our justification" (Romans 4:3,23–25).
That last sentence — "delivered over to death for our sins and raised to life for our justification" — sums up the double imputation: my guilt is imputed to Him, His righteousness is imputed to me.
We understand the first part of the transfer better because of our familiarity with the legal concept of imputing the misdeeds of an employee to an employer. But the imputation of righteousness is a much harder concept to grasp, because we have never seen it happen or even heard of it outside the gospel.
How can persons who are guilty be declared righteous? Factually, they are not. But, forensically, they are through the sacrifice of Christ. "God made him who had no sin to be sin for us, so that in him we might become the righteousness of God"(2 Corinthians 5:21).
Here's a helpful analogy from the Gospels. Remember the woman with the issue of blood (Mark 5:25–34)?
According to the Old Testament Law (Leviticus 15), she was ritually impure. Whatever she touched also became ritually impure. She took a chance that she could be healed if she could just slip through the crowd anonymously and touch the hem of Jesus' garment. Surely He would not know she had defiled Him (i.e., made Him ritually impure).
No wonder she trembled with fear when Jesus stopped, turned around, and asked, "Who touched me?"
Oh boy, she thought. I'm in real trouble now. I've made a Rabbi impure and is he ever going to be mad at me. I've just ruined his day and put him through a lot of trouble by causing him now to go through a process of ritual purification.
In the Old Testament, when the contaminated touched the uncontaminated, the uncontaminated became contaminated. The pure did not have power to make the impure clean — "energy" only flowed one way. The impure defiled the pure.
But Jesus takes the woman's impurity upon himself, and then returns back to her purity, wholeness, and health. He decontaminates the contaminated, makes pure the impure, and cleanses the defiled.
What Jesus did for the woman is a picture of what He does for us on the Cross. Our sin is placed upon Him; and His wholeness, His righteousness, His purity are transferred to us. The songwriter put it well:
Oh yes, Oh yes, I'm a child of the King
His royal blood now flows in my veins.
And I who was wretched and poor now can sing
Praise God, praise God, I'm a child of the King!
The apostle Paul sums it up: "Therefore, there is now no condemnation for those who are in Christ Jesus, because through Christ Jesus the law of the Spirit of life set me free from the law of sin and death" (Romans 8:1,2).
The Old Testament had two kinds of sins: intentional and unintentional (sins of ignorance). An example of the former was first-degree murder. Under the provisions of the city of refuge, there was no amnesty for those guilty of such a crime — even if they made it safely to the refuge city. Only sins of ignorance could be atoned for under the sacrificial system (Numbers 35:16–28).
What a difference in the New Testament. After healing the lame man at the temple, Peter preaches to the crowd and says: "Now, brothers, I know that you acted in ignorance, as did your leaders" (Acts 3:17). What? The leaders acted in ignorance? Oh no, Peter. They acted with deliberated intention.
But Peter's words show us that the cross of Jesus Christ provides the widest possible amnesty and pardon. God is willing to consider sins of intention or sins deliberately committed as sins of ignorance. But no pardon is good unless received.
The United State Supreme Court in the 1830s considered the case of a man named George Wilson. The issue: Was a pardon valid if it was not received?
The facts were these.
George Wilson killed a government employee while robbing the mail on a train. He was tried and sentenced to be hanged. However, President Andrew Jackson sent him a pardon. The rationale for the pardon is a little murky from this distance. Some did, however, raise the possibility that while Wilson was guilty of robbery, someone else committed the murder. But Wilson did a strange thing. He refused to accept the pardon and no one seemed to know why. So the case was carried to the Supreme Court of the United States.
Chief Justice John Marshall, perhaps one of the greatest chief justices who ever lived, wrote the opinion. In it he said, "A pardon is a slip of paper, the value of which is determined by the acceptance of the person to be pardoned. If it is refused, it is no pardon. George Wilson must be hanged." And so he was.
How tragic for a man to refuse a pardon.
But through Jesus Christ we are more than pardoned. President Andrew Jackson could only offer a pardon; but, even if Wilson had accepted it, Jackson could not make George Wilson righteous. How different with the Lord. "God presented him [Jesus] as a sacrifice of atonement, through faith in his blood. … he did it to demonstrate his justice at the present time, so as to be just and the one who justifies those who have faith in Jesus" (Romans 3:25,26).
The good news of the gospel from a legal framework is this: Our sin has been imputed to Christ and His righteousness has been imputed to us. God has not only answered (respondeat superior) for the misdeeds of His servants, He has made His servants sons and daughters (John 1:12).