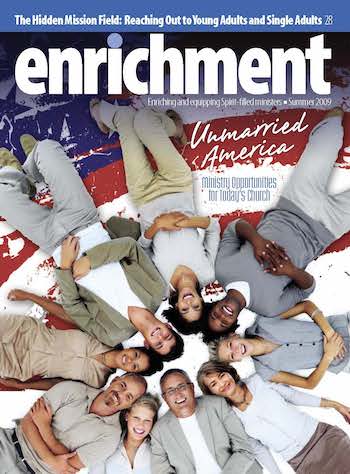 Downloads:
Salvation for the Single-Parent Family
What can your church do for the single-parent families looking for answers and help? More than you can possibly imagine.
---
Imagine losing your main source of income overnight and wondering how you will buy groceries, pay rent, and keep utilities on while facing an unknown future. Now add:
Meeting all family needs before and after work. These may include angry teens, depressed children, or an infant.
Searching for a cheaper place to live, packing up for a move to a less-desirable location.
Dealing with your own grief, loss, loneliness, and fears.
Welcome to the daily life for many single parents, something with which I am familiar.
When my husband left, I was unprepared. My identity as a wife and mother changed. I had the responsibility of raising five children, while dealing with the loss of family, friends, home, community, and a husband I loved.
By the time I stumbled into what became our home church, I was broken and so were my children, then ages 2, 5, 7, 9, and 11. My boys were angry at their dad, me, and life. They fought all the time. My girls were confused and crushed. Disciplining my oldest son was impossible because he was so depressed he did not care what privilege I revoked. My fun-loving second son became mouthy and cynical. My shy, 7-year-old daughter began bed wetting. My youngest previously cuddly son now refused any hugs or affection, while my 2-year-old kept looking for her daddy to come home every night.
Recent statistics tell us that more than 50 percent of marriages, even within the church, end in divorce. I offer the following suggestions and challenges to pastors and congregations to meet this ever-increasing need.
My family was changed because we found a church that was willing to take on the challenges we brought. Here are ways the pastoral staff and church body cared:
Prayer. A team prayed for us daily, even years, as my children became teens.
Teaching about the Holy Spirit. He was presented as Comforter, Healer, and Restorer.
Awareness of our physical and emotional needs
Intentional inclusion. They changed couple events to adult activities. Progressive dinners did not have to be an even number.
Awareness of my children's pain. My children at times tried everyone's patience; but, because the church did not give up on them, my children gradually accepted their love.
Love. Love is the greatest healer. Love gives hope, overcomes depression, and paves the way for a future. By withholding judgment, God's people were showing His love saved my family.
Ministry training. They allowed me to give back in ways that built my confidence and let me bless others. This can be simple: handing out bulletins, greeting, or assisting with a class.
Practical Ways To Minister to Single Parents
Pastor, how would your church have welcomed us? How would you have counseled us? What hope would you have offered?
Offer acceptance
My divorce left me feeling like a failure; while love and acceptance gave me the courage to go on. As a single parent feels safe, he or she will begin to face personal issues.
Meet immediate physical needs
Asking non-invasive questions is often what it takes to discover the needs of someone struggling alone. The need may not be food, shelter, or a ride, but protection from an abusive spouse. Do you know where the nearest women's shelters are located? A person's mind and spirit will be open to the Word once you alleviate her biggest source of fear or worry.
Emulate forgiveness
Forgiveness is the key component to healing and wholeness. If the single parent avoids this step, he or she will waste everyone's time. Here are a few indicators of single parents' willingness to forgive:
Have they accepted God's forgiveness for themselves?
Do they blame others or God, while rarely taking responsibility? Will they pray with you to forgive the person who has offended them? Does their attitude toward the person or situation change?
A woman divorced her unfaithful and addicted husband. She and her children became involved in ministries; but, because she was unable to forgive, her patterns changed little. She cut off friends who would not agree or commiserate with her and her church that tried to protect her when she wanted to enter another bad relationship. Her new marriage was a disaster. Her children became rebellious teens and ended up in difficult marriages. Forgiveness is a choice.
Develop training programs
After I taught a parenting class, a single mom said, "I am now ready to go back home. I have hope, techniques, and a plan to bring order to my home."
MOPS or Teen MOPS (Mothers of Pre-Schoolers). Consider an evening Teen MOPS to teach teen mothers.
One teen MOPS meets at a coffee shop each week. Last Christmas, nine high school and neighborhood teen mothers accepted Jesus after hearing the gospel through the Christmas story.
Strong children and youth programs. If you are genuine and truthful, children and youth will listen. Bring hope to parents and children through education classes.
Financial planning
Finance classes will benefit everyone in your congregation, but are necessary for single parents. With over 50 percent of single-parent homes below the poverty level, here are some ways the church can help:
Assess current needs and how the church can help; always start with the immediate need.
Set up financial-planning classes which include:

Designing an actual budget with the single parent.
Answering tax questions. Include instructions on filing an EZ or online tax form, EITC information, and provide names of trusted volunteers or professional tax preparers.
Teach tithing and giving, and the blessings that ensue.

Set boundaries. Help them solve their problems, rather than take a role as problem solver.
Offer partial scholarships for their children.
Help them evaluate how their choices cause their financial crises.
Sound financial decisions build character, vision, and a future. Your church can launch a single-parent family into financial stability.
Provide counseling
Offer a choice of trained counselors in your community. Lack of transportation, finances, or depression can immobilize a single parent, but your church can help get the ball rolling.
Suicidal thoughts can capture the mind of an overwhelmed single parent. Help leadership recognize the signs of depression and suicide. They may be the only one close enough to see the danger signals in an emotionally distraught parent or child.
Small group involvement
Bible study or care groups are essential to understanding and having a personal knowledge of the single parent's real needs. These groups can be a training ground for trust, friendships, and lifelong behavior patterns.
I caution against exclusively single-parents groups. They can feed anger and resentment, while being around the healthy breeds healing. Careful training of leadership will keep single-parent groups positive.
Rebuild self-esteem
Court appearances, accusations, and threats leave single parents lacking confidence. What can the church do? Compliment. Find a single parent's strengths and encourage them. Avoid unrealistic expectations.
A mini spa, fresh haircut, manicure, or a make-up party can help heal a crushed spirit.
Social life
Encourage your congregation to invite a single parent to personal gatherings, not just church functions. Divorce, death, and moves cause many to lose their friends, family, and homes. They feel on the outside, but have a desire to be included.
Bringing a single-parent family into your social realm involves wisdom and boundaries. Single parents can become clingy in their need, dependent in their weakness, and pesky in their loneliness. When the pastor, leadership, and congregation set guidelines and boundaries for this ministry, problems should be limited and healthy friendships should grow.
Spiritual growth
Set mini goals for the single parent; provide a printed list of God's promises; encourage their presence in Sunday School, Bible studies, etc. Have people invest in and mentor your single parents. Senior citizens can be mentors answering spiritual questions, challenging their faith, and keeping their actions accountable.
Sensitivity to the children
Patience and grace will be needed as you minister to the children. In the first several years their lives are raw. Parents often bicker and put their children in the middle. Some children cry because they do not see their absent parent; others cry because they have to. Some children are angry they cannot live with the other parent; some are angry they have to talk to them. Some wait for a phone call or visit that will never come.
What to do with the children?
Pray for the children: For continued prayer covering select leadership teams, mentor families, and people who truly care about children.
Choose proven men in the church to invite boys to a ballgame, to go out for a hamburger, or just talk. (Conduct background checks on all who will be working with children and teens.)
A grandparent couple can invest time in the life of a young girl.
Love them into wanting to behave in church, rather than expecting them to. They are grieving the loss of a parent, family, and maybe the lifestyle they once had.
Limit expectations for them in answering questions or earning badges in classes. Let the shy ones absorb, engage the outgoing, and provide a refuge.
Concentration, discipline, and a will to succeed in their studies can be weak while grieving. A tutor could be a ticket to success. Look to your youth group.
Recognize those who carry shame, guilt, or blame for things that were not their fault.
Poor grades and hand-me-down clothes can make a child feel odd, stupid, or unacceptable. Find ways to build them up. Focus on their strengths.
Train volunteers to:
Know they are not to solve all problems, just have a listening ear and a caring heart.
Meet with the pastor and/or parent to assess the child's needs, abilities, and initial goals before committing to this ministry.
Recognize when they are in over their heads, i.e.: realize the child's emotional issues are too extensive for them, they are becoming too personally attached, or they do not have the time to give to this ministry.
Not overreact. Remember, children are not always accurate in their assessment of situations.
Keep in communication with the parents.
Never interfere with the parental role. They should not become a threat to the parent's relationship with the child. Volunteers are not responsible to give the child a better life, only to help him or her cope.
Protect their privacy.
Have regular progress evaluations with parents and/or pastors.
The Church Made a Difference for My Family
The church did not know us, but they embraced us. They had no grounds to trust me, but they gave me an old car to use. They did not know if we had food, they just brought groceries. The church was Jesus, letting us know we were still loved and cared for at a time we felt unloved and abandoned.
My children's behavior was often irritating, disruptive, and humiliating. A man once told me, "Take your disruptive children out of the service." But the pastor told me to keep bringing them, even though my 9-year-old son was talking back to him during the services.
The pastor said, "I can take it if you can take it; he needs to be here." I listened to the pastor who not only took what my son gave him, but became a lifelong friend to him.
Because of this church and its pastors, our lives changed. My brash and mouthy young son grew into a man who loves God. He and his family are now missionaries to Mexico City. The toddler waiting for her daddy to come home every night is preparing to leave as a missionary to Eurasia. The shy, timid girl became a witness in her school and workplace. She is in nursing school, and she and her husband are youth pastors. The isolated little boy became a passionate evangelist and outgoing youth pastor. The angry, frustrated son has learned the power of forgiveness and has given his life to the Lord. As for me, I am an ordained minister, having served as an associate pastor, district youth director's assistant, and currently as a U.S. missions and district retreat/conference speaker. God can do the impossible when the church lives out the gospel.
What can your church do for the single-parent families looking for answers and help? More than you can possibly imagine.