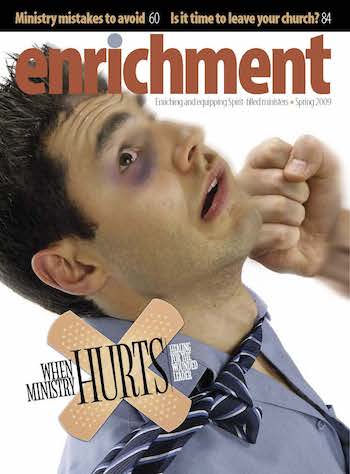 Downloads:
Fearfully and Wonderfully Made
The Interrelationship of Physical, Mental, and Spiritual Health
by Christina M. H. Powell
---
One goal of a pastor is to bring healing to broken lives. "Jesus went through all the towns and villages, teaching in their synagogues, preaching the good news of the kingdom and healing every disease and sickness" (Matthew 9:35).
A pastor who follows Jesus' footsteps realizes healing is a vital part of ministry. Biblical healing encompasses physical, mental, and spiritual health. All three aspects are often interrelated.
For example, a problem in one area of human health can often impact the other two areas. We are "fearfully and wonderfully made" (Psalm 139:14) — an interplay of body, mind, and spirit. Understanding this interrelationship will impact practical aspects of your approach to pastoral care.
Physical Health: Your Body as a Temple
The apostle Paul asked the Corinthians, "Do you not know that your body is a temple of the Holy Spirit, who is in you, whom you have received from God? You are not your own; you were bought at a price. Therefore honor God with your body" (1 Corinthians 6:19,20). Dealing with sexual immorality, Paul illuminated the truth that the physical aspect of man can impact his mental and spiritual aspects.
For example, an elderly man had been a deacon for many years. People knew him for his gentleness, kindness, and wisdom. Lately he has started swearing, is frequently agitated, and is expressing physical aggression toward his wife of 50 years. Perhaps you might assume that deep-seated emotional issues are now coming to the surface. Suppose I provide a piece of missing information: doctors recently diagnosed the man as having Alzheimer's disease. Lecturing him on the unscriptural nature of his behavior is of little use. The solution concerning his change in behavior involves addressing the physical problems. Teaching his wife techniques for communicating with him, however, may bring relief.
You do not need a diagnosis of an incurable disease for a physical problem to create mental and spiritual problems. Consider the church staff member who has behaved impatiently with other staff members. While such behavior cannot be tolerated, knowing she has recently battled the flu and has gone nights with insufficient sleep caring for her three sick children provide a context for the situation. If she takes several personal days and gets a decent night's sleep, she may become the lady you once were happy to have hired. Physical exhaustion produced changes in her mood and her ability to have the spiritual perspective in relating to others.
Jesus explained to the Pharisees, "The Sabbath was made for man, not man for the Sabbath" (Mark 2:27). Our bodies need one day a week for rest to function best. Proper rest, nutrition, and exercise can improve mental health. Exercise improves cognitive functioning and reduces the risk of developing dementia. Two studies published in the Journal of the American Medical Association September 2004, support this statement. In one study, older men, aged 71 to 93, who walked less than a quarter mile a day, were 1.8 times more likely to develop dementia than men who walked more than 2 miles a day.1 In the second study, researchers from Harvard Medical School and Harvard School of Public Health found that women, aged 70 to 81, who walked at least 1.5 hours per week, had less cognitive decline than those who walked less than 40 minutes per week.2
How nutrition affects a person's mood is another example of physical health impacting mental health. In general, a diet that keeps blood sugars at an acceptable level and provides plenty of tryptophan and omega-3 polyunsaturated fatty acids is most likely to help a person make and use serotonin, a feel-good chemical in the brain. Thus foods rich in omega-3 fats — salmon, sardines, walnuts, and flaxseed — may help combat mild depression. Good food sources of tryptophan — an essential amino acid in the human diet that the body uses to make serotonin — include fish, turkey, chicken, cheese, beans, milk, eggs, and chocolate. A person who feels healthy and energetic will have greater resources for ministering to others and bouncing back from setbacks. While physical suffering and anxiety over health concerns certainly can draw us closer to God, it is easier to resist temptation and make wise choices when we are feeling well. Thus, a person's physical health can affect a person's spiritual well-being.
Mental Health: A Cheerful Heart as Medicine
Mental health can impact physical and spiritual health. For example, prolonged stress can weaken the immune system and lower resistance to disease. Stress causes the release of adrenaline and cortisol, two powerful hormones that increase alertness and boost energy. This fight-or-flight stress response is perfect for responding to physical danger, preparing people to fight or flee a threat to survival. However, when the constant stresses of life trigger this response, it can compromise one's health. Mental stress may increase blood pressure by constricting blood flow in arteries, resulting in cardiovascular problems. Cortisol increases blood sugar, which is normal if one needs to run from danger. However, chronically elevated cortisol levels can lead to insulin resistance and type 2 diabetes. Many people who suffer from depression have elevated cortisol levels, mimicking the effects of chronic stress. Thus, medical science corroborates the truth in Proverbs 17:22: "A cheerful heart is good medicine, but a crushed spirit dries up the bones."
One's mental health can also adversely affect spiritual health. For example, a woman who suffers from agoraphobia — fear of the marketplace — may be unable to enjoy church services. In a large sanctuary, she may experience panic attacks or become overwhelmed by the fear of panic attacks. However, she might be able to participate in church by viewing services by video in a smaller room in the building. She may benefit from a sermon podcast or a DVD of the service so she can view it at home. A sensitive pastor can support her spiritual growth as she undergoes the healing process by finding creative ways to facilitate her participation in church life.
Mental illness is a handicap like a broken leg. Those suffering mental problems often do not share their need out of shame or the fear of being misunderstood. A church staff willing to be creative can make a life-changing difference for the individual suffering from mental illness.
Another mental disorder that may interfere with church attendance is obsessive-compulsive disorder. A person with this disorder may keep checking his pew at the end of the service to make sure he did not leave anything. A person with OCD feels powerless to stop such compulsions, but is acutely aware that his behavior is not normal. To avoid the stress of trying to overcome such ritual behavior as well as the stress of being noticed behaving bizarrely, a person may quit attending church. A pastor who talks with a person about the challenges of his mental illness may be able to help that person find a way to integrate into church life. Perhaps a person with OCD simply needs to sit in a back pew where his behavior would not attract unwanted attention. Making accommodations for the person's needs during the healing process is essential for ministering to the whole person.
A final example of a mental illness that can adversely impact spiritual health is depression. Depression may lead to feelings of spiritual failure. Spiritual disciplines such as prayer and Bible reading may go by the wayside. A pastor can help the person let go of unrealistic expectations and perfectionistic thinking and embrace the doable goal of gradual progress in the right direction. Perhaps returning to an hour of prayer and Bible study a day is not feasible until the physical symptoms of depression subside. However, 10 minutes of prayer a day in the morning and reading one Psalm before bedtime might be a reachable goal. The person needs to focus on receiving God's grace and love in his life, while understanding his mental illness may be distorting his view of God.
A pastor can help a person learn to better manage the mental stress that is detrimental to his physical and spiritual health. Being able to handle normal levels of stress, maintain fulfilling relationships, and bounce back from tough circumstances are all signs of good mental health. Scriptures teach principles that lead to good mental health.
Spiritual Health: His Words As Source of Life
Jesus said, "Come to me, all you that are weary and are carrying heavy burdens and I will give you rest. Take my yoke upon you, and learn from me; for I am gentle and humble in heart, and you will find rest for your souls. For my yoke is easy, and my burden is light" (Matthew 11:28–30, NRSV3). This spiritual answer is capable of providing the rest needed for good health on all levels. In Proverbs 4:22, God's words of wisdom "are life to those who find them and health to a man's whole body." Spiritual health brings health to the whole person.
The Bible promotes balance in life and avoidance of destructive choices. The Bible warns against drunkenness (Ephesians 5:18), gluttony (Proverbs 23:20,21), and promiscuity (Hebrews 13:4). These three behaviors have negative consequences for physical health. In following spiritual choices for life, a person is choosing physical health as well. The Bible promotes an approach to life that results in sound mental health. Take the advice found in Philippians 4:8 as an example, "Finally, brothers [and sisters], whatever is true, whatever is noble, whatever is right, whatever is pure, whatever is lovely, whatever is admirable — if anything is excellent or praiseworthy — think about such things."
God is concerned with redeeming the whole man. In the words of the Psalmist, "Praise the Lord, O my soul, and forget not all his benefits — who forgives all your sins and heals all your diseases, who redeems your life from the pit and crowns you with love and compassion, who satisfies your desires with good things so that your youth is renewed like the eagle's" (Psalm 103:2–5). The good news you share with your congregation is that Jesus not only came so our sins can be forgiven, but also so we can be made whole again. While not all sickness is a result of sin, sin does harm our physical and mental health. God desires that the bondage of sin be broken in a person's life. Addressing a person's spiritual needs can set a person free from guilt, addictions, and habits harmful to physical and mental health.
The apostle Paul wrote to Timothy, the young man he was mentoring, "physical training is of some value, but godliness has value for all things, holding promise for both the present life and the life to come" (1 Timothy 4:8). Spiritual exercises such as prayer, worship, Bible reading, and fellowship impact the whole person. As you discipline believers to grow spiritually, you are leading them in the path to better health on all levels. While sickness and poor health will be a part of life until Jesus returns, you can help bring healing to broken lives one person at a time. As you do, you will be following in the footsteps of Jesus, the Good Shepherd who was also the Great Physician.
Notes
1. R.D. Abbott et al., "Walking and Dementia in Physically Capable Elderly Men," JAMA 2004;292:1447–1453.
2. J. Weuve et al., "Physical Activity, Including Walking, and Cognitive Function in Older Women," JAMA 2004;292:1454-1461.
3. Scripture quotations marked NRSV are taken from The Holy Bible: New Revised Standard Version/Division of Christian Education of the National Council of Churches of Christ in the United States of America. — Nashville: Thomas Nelson Publishers, c1989. Used by permission. All rights reserved.