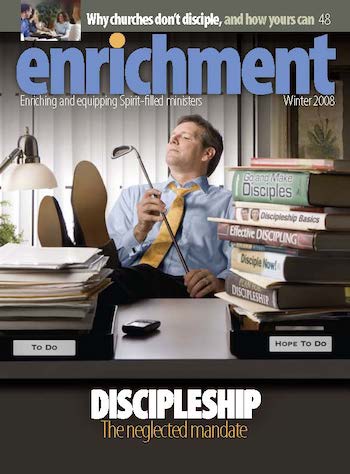 Downloads:
Sunday School
A Recipe for Discipleship
---
Cake is my favorite food. I have enjoyed cake since I was a child, and I have never outgrown its appeal. I do not require that it be covered with icing, or chocolate, or fruit, or any other embellishment. In my opinion, it is perfect just as it comes out of the oven. It makes little difference to me when it is served. I could eat cake for breakfast, lunch, or dinner. It is good as a wake-up snack, and it serves well as an evening tonic for the insomniac. I like cake in almost any size, shape, or form. To me, cake is the 21st-century manna. Its appeal is not in its form or even in the way it is decorated or served. Its appeal is found in its ingredients. What goes into the cake is what makes it a cake.
Just as a cake is not defined by its form but by its essential ingredients, 21st-century discipleship must be defined in the same way. While we cannot identify a specific recipe that every church can follow, we can identify some indispensable ingredients. These ingredients are necessary for healthy spiritual growth. "Anyone who lives on milk, being still an infant, is not acquainted with the teaching about righteousness. But solid food is for the mature, who by constant use have trained themselves to distinguish good from evil" (Hebrews 5:13,14).
Today, Sunday School serves as the primary discipleship meal for more than 90 percent of our churches. Unfortunately, in many churches the meal has become somewhat mundane. Bored students, declining attendance, tired teachers, and other problems seem to testify of a need for change.
Often our solution is to discard past methods and create a new and dynamic template of ministry that will more effectively fit the 21st century. It is possible, however, that the real problem lies not with our existing methods, but with our application of existing methods. We need the ability to see old things in new ways.
What should an effective discipleship ministry look like in the 21st century? There are at least four necessary ingredients needed to create an effective Sunday School or Christian education ministry.
To read the rest of this article and obtain a downloadable PDF of the winter 2008 issue of Enrichment journal, click here.