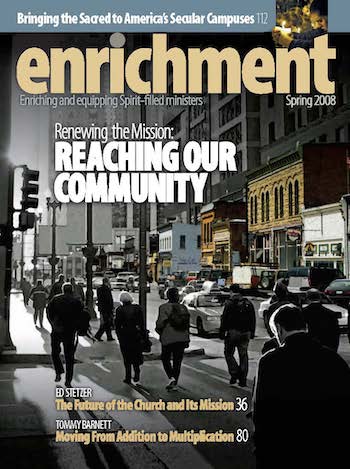 Downloads:
Evangelism or Disciple Making?
---
Do not assume that decision making and disciple making are synonymous. Nearly every pastor can testify that not all decisions result in disciples and responsible church members.
By Charles Arn
A growing body of evidence exists in church growth research, as well as in the practical experience of pastors and church leaders, that causes me to make the following startling observation: Many current evangelism methods are, at best, irrelevant to church growth and are, at worse, inhibiting the effective outreach of well-meaning Christians and churches.
When I first considered this paradox, I found it both curious and discouraging. Most churches can point to some results from their evangelistic endeavors. But if we are honest with ourselves, the return on the investment of our people, time, and resources spent in evangelism does not show a healthy stewardship of the "talents" the Master has left in our care (Matthew 25:14–28). In fact, the methods used in many evangelistic activities seem to confine the gospel within the walls of the church.
But church growth research does not study traditions simply to create disorder in the status quo. Instead, it searches for best practices that help maximize results in response to Christ's command to "go and make disciples" (Matthew 28:20).
Toward this end, I would like to highlight some basic differences between traditional evangelism, as commonly practiced today, and disciple making, a term that more accurately describes our efforts in response to the Great Commission. A more complete discussion of both the research and a church growth model of evangelism may be found in the book, The Master's Plan for Making Disciples.1