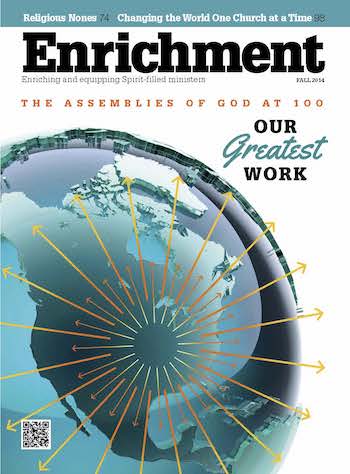 Downloads:
Passing the Pastoral Baton
How can we avoid the pitfalls of poor transitions? How can we better manage these seasons of change? Moses and Joshua provide a good working model.
by Tim McGraw
---
Leadership transition during the "days of the kings" was uncomplicated. You simply executed your rivals! A king's succession called for a sword but little tact. Aren't you glad those days are over? Today, more than zeal is required. We need ample wisdom and abundant grace to experience a healthy pastoral transition.
Passing the baton can be difficult — even under the best of circumstances. Whether the change happens because a pastor dies, retires, or simply moves on, transition is a vulnerable time for the church. I know. I've lived through two of them — thankfully, with my head still intact.
A transition is like a train switching tracks. You only get one crack at it. Unfortunately, churches often derail at this critical juncture. When this happens, the results can be messy. How can we avoid the pitfalls of poor transitions? How can we better manage these seasons of change? I believe Moses and Joshua provide a good working model.
Moses to Joshua
The Book of Joshua opens with a transition already in progress. Joshua had been Moses' aide (Joshua 1:1). He enjoyed a close relationship with Israel's senior pastor. He knew Moses' heart and shared his vision and values.
He and Moses were a good fit. Nevertheless, they needed more than chemistry to make the transition. They needed grace — lots of it!
Grace Required
I've learned that God gives grace to take up the leadership mantle and grace to let it go. Moses' season had ended, but Joshua's had just begun (Joshua 1:6).
I'll never forget how overwhelmed I felt as a newly elected senior pastor. The board members, as well as most of the congregation, were much older than I. We had two senior ordained pastors actively involved in ministry. The age of those around me magnified my inexperience. Of course, some folks weren't afraid to let me know. Still, I felt God's call on my life. I sensed His empowerment. God gives grace to take up the mantle of leadership, whatever our shortcomings.
But there's also a grace to let go. In Joshua's case, that matter had been decided — Moses was dead. But a senior pastor today may struggle with letting go. You've seen the athlete who plays past his prime, continuing to hang on despite diminished skills. It's a sad thing to watch. The same can happen to a senior pastor. It can be difficult to let go of the honor and esteem given the pastoral office. It can require sorting out emotion and need. But God, who gives grace to take up the leadership mantle, will give grace to let it go.
Accept Reality
Can you see the humor? God interrupts Joshua staring into space, his eyes glazed over. "Moses my servant is dead" (Joshua 1:2).
News flash: Moses had been dead for a month. This wasn't new information. God's interruption startled Joshua into consciousness. "Wake up! It's time to get moving!"
A pastoral transition requires that we accept the reality that a chapter has closed and a new one is opening. If that sounds simple enough, put yourself in Joshua's shoes. Moses was a towering figure. Joshua likely felt dwarfed under his shadow. Who wouldn't feel intimidated? Joshua must have thought: Who am I? We can understand his paralysis. Those who have followed an esteemed and long-term pastorate know the feeling.
Still, the church can't remain in limbo. Yesterday is gone no matter how glorious it may have been, and today won't wait. You can't move forward looking through the rearview mirror. The future is now.
Clarify Roles and Boundaries
Moses had a clear mandate, and Joshua did, too (Joshua 1:2–4). Clear lines of communication facilitate a healthy transition. Yet here is where things can get sticky.
What if the previous pastor remains in the community? What if he or she remains in the church as pastor emeritus? What boundaries are in place to safeguard potential conflict? How do we avoid ethical violations?
These questions need answers. Without clear roles and boundaries, authority becomes blurred. Divided loyalties pull church members in different directions. The new pastor may feel undermined while his or her predecessor may feel hurt or confused. This can skew — or even derail — the church's progress.
I've lived through this kind of confusion. Believe me, you wouldn't wish it upon your worst enemy. Everyone involved — the pastor, the predecessor, and the entire congregation — suffers. Rule of thumb: the fuzzier the boundaries, the greater the risk. Get clarity, whatever you do. Decide these matters ahead of time. Do it for the sake of the church.
Give Closure
Before I resigned my first pastorate, I paid a visit to the district superintendent. He asked about my plans. Naively, I said, "I'm offering my resignation this weekend, and then I'll be gone."
He calmly replied, "You might want to give it a few more weeks."
"Why is that?" I asked.
"The people need closure. Give them time to say goodbye."
Wise words.
Pastoral transitions are not just about the pastor. They are about the congregation as well. Emotion is heightened during a time of loss. People need closure. They need time to say goodbye. Give them time to process their emotions and grieve their loss.
Israel grieved the death of Moses for a month (Deuteronomy 34:8). This was an act of wisdom. Otherwise, imagine the turmoil and brokenness the people of Israel would have carried into their future. Instead of conquest under Joshua, they would have limped into the future like the walking wounded. A period of grieving allowed them time to heal.
All change involves loss — even if it's a good change. Be sensitive to people's emotional bonds and shared history. Give them closure.
Preach Faith
Most of all, preach faith. Nothing comforts fragile emotions more than preaching faith. Jesus comforted the disciples: "Very truly I tell you, it is for your good that I am going away. Unless I go away, the Advocate will not come to you; but if I go, I will send him to you" (John 16:7).
When one season ends, another one begins. God gives us "hope and a future" (Jeremiah 29:11).
That's what the Bible says. That's what we believe. But the congregation needs to hear this.
To preach faith, the pastor must set aside his emotion. If the church has passed through a difficult or trying season, a leader may be tempted to let raw wounds bleed through. Resist the temptation. Remember what Moses' anger cost him.
The pastor's hurts are for him to resolve later. The congregation should not be burdened. Tears that flow from the emotional bonds of years spent together is a good thing. Bitterness and cynicism are not. Emotional maturity is the price you pay for a good transition.
Preach faith. The weeks of transition allow the pastor to speak words of blessing over the people. Be thankful for what God has done in the past, but the accent should be on the future. Remind them the new pastor is God's gift to them. He will possess God's heart and vision. In the weeks of transition, bless, encourage, and strengthen. Preach faith. God will do the rest.
The aging Boomer population makes transition inevitable. I believe God will provide a generation of Joshuas to take up leadership. We don't have to stumble and drop the baton. Pastoral transitions, though delicate, can be done in a healthy way. Let's learn from Moses and Joshua how to do them well.