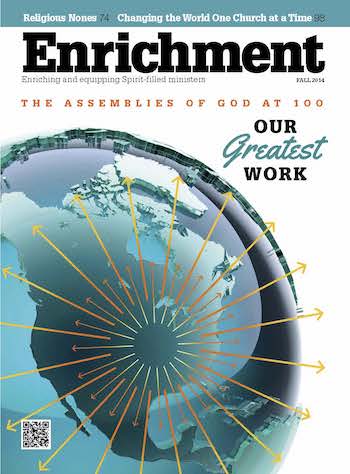 Downloads:
Making the Most of the Assemblies of God
The same easy access to denominational resources that can make us lazy networkers can also make us prodigious ones.
by Joseph Castleberry
---
Belonging to a denomination or fellowship can become a real stumbling block to networking. I've been an Assemblies of God guy my whole life. I am part of the fourth generation of AG adherents in my family. I grew up attending Royal Rangers and AG youth camps. I graduated from an AG university and received credentials by age 20. I spent 20 years as a missionary with Assemblies of God World Missions, and I've now worked for a dozen years as an AG college administrator. Few can claim a more devoted AG pedigree. I even lived nine years in Springfield, Mo., and consider it my hometown.
I am an insider. Yet all of these things that might count as a benefit to me, I now consider loss if they turn me into a lazy networker.
I used to think independent pastors stood at a disadvantage to people like me in terms of networking. I assumed they must carry out a very lonely ministry. Then one day the late Wendell Smith, founder of The City Church in Seattle, made me realize he stood miles ahead of me as a networker.
Independents must be serious about networking. Otherwise, they won't know anybody. Denominational pastors can fall asleep on networking because the network always seeks them out. Missionaries call for services, a monthly news packet arrives in the mail, the retirement plan beckons for their savings, and a host of other agencies appear in turn to call for their attention. In the process, networking can seem superfluous. But the same easy access to denominational resources that can make us lazy networkers can also make us prodigious ones.
Start With Your Section
As you probably know, the AG organizes itself by sections, districts, and regions, as well as by ministry focus. Your most important connection to the Fellowship may occur at the sectional level.
If the business of such meetings seems uninteresting to you, remember that you aren't there for the formal part, but rather to connect with other members of the section. Take a half-hour with the district directory to learn the names and faces of every minister in your section before you attend the next meeting. When you already know people's names and faces, it is much easier to connect with them. Make a special effort to greet each minister at the meeting by name.
Obviously, learning names and going to meetings only gets you started. Follow up by putting an appointment on your calendar to call every minister in the section at least once a year to ask how they are doing and how you can pray for them. End the call by praying for them. Let them know that for the next week you'll continue praying for them every day. At the next meeting ask them how the issue you prayed about has developed. It may amaze you how much you start caring about people you have prayed for every day, even for just a week.
As you begin to know the members of your section, invite a few of them to join you in activities of mutual interest outside formal ministry. Sharing something other than ministry can help create deep friendships. After all, it's true what the old adage says about all work and no play. The friendships you form with other ministers offer the most important benefit of denominational affiliation.
In addition to connection within the section, ministers should establish relationships in areas of church type (urban, rural, suburban, etc.) or ministry specialty (youth, children, etc.) within their district.
Pastors may feel more in common with colleagues outside their section for a variety of reasons. But the idea that we do not need relationships with proximate pastors does not negate the reality that they need us. Becoming known in the section as a genuine person who cares will inevitably open up opportunities for further ministry.
District and General Council Activities
Many pastors adopt an idea from the business world that they should try to encounter at least one new idea while attending conferences. Perhaps an equally important goal is establishing at least one new relationship.
To get the most out of district council, plan ahead. Call a few friends, and set up appointments to connect with them during a meal or break time. In addition to meeting with friends, take the opportunity to connect with people you admire but have not yet met. When you see them, introduce yourself. Ask if you could visit them for a half-hour at their office and ask for their advice about some issue in your own ministry. Even pastors of large churches will usually make time for a colleague who has travelled a couple of hours for a previously arranged, half-hour opportunity to pick their brain. If they agree, promise to contact their assistant to set up an appointment. Bring along some small gift to show your appreciation. The advice — and enhanced relationship — will be well worth your time.
Some districts have formal mentorship programs to help young ministers gain personalized coaching and professional formation. Whether you are a potential mentor or coach or a less-experienced minister, ask your district office whether such a program is available.
Leverage Your Missionary Relationships
Every Assemblies of God minister should participate in AG World Missions and financially support our missionaries. Our network of churches around the world and our ability to connect with them on a personal basis has no precedent in all of church history. Make the most of it.
Set up a regular Skype appointment with at least a few of your missionaries to hear their latest stories and pray for them. Don't just wait for a newsletter to come. Visit them on the field to see their work and meet the local pastors with whom they work. Go to help them, and just as importantly, to learn from them. Collect direct experiences from outstanding ministries around the world, and use them to improve your own ministry.
AG Colleges, Charities, and Services
Assemblies of God members sometimes suffer from a slight inferiority complex, assuming our AG agencies don't measure up to those of other organizations. Nothing could be further from the truth! AG institutions set a very high standard, with world-class players like AGWM, Chi Alpha, Teen Challenge, Convoy of Hope, AGFinancial, Royal Rangers, and many others leading in their fields. Make the most of their services.
AG university graduates have a distinguished record of building lifelong ministry networks that connect them to ministry opportunities. Engaging with people in AG ministries also creates connections in various fields of work, offering significant help and opportunity for service to our ministers.
Ministry Networks
Several AG districts have already recast themselves as ministry networks. Perhaps it does not matter what we call our work, but it absolutely matters that we function as a ministry network.
Our relationships constitute the best thing we have as a Fellowship. Belonging to the Assemblies of God without making the most of its network connections makes no sense at all. As you build your own ministry networks, make sure to take full advantage of all the Assemblies of God has to offer.