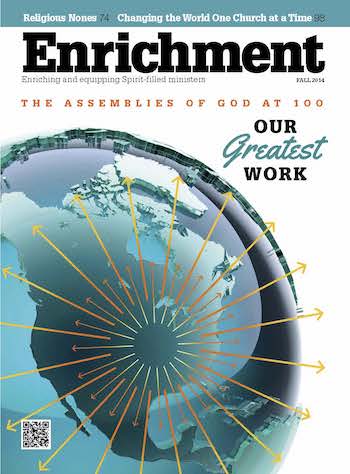 Downloads:
In What Part of Your Ministry Are You Failing?
A self-aware shepherd should follow three pragmatic steps toward accurately identifying specific ministry skills he or she is lacking.
by Cal LeMon
---
Perhaps you have a stellar reputation as an empathetic caregiver who quietly reads Scripture at the bedside of a sick or dying parishioner. Yet people may also know you as a mind-numbing, wake-me-up-when-the-sermon-is-over preacher.
You may parse Hebrew verbs but cannot decipher the myriad rows of numbers slathered across a spreadsheet for the upcoming annual church business meeting.
Maybe you believe a "strategic plan" in your ministry is an increase in your housing allowance and the installation of a new double sink in the women's restroom.
Regardless of your quasi-divine reputation, look down. You do have feet of clay. While you excel at some theological tasks, you probably struggle in other areas. Consider this question: In what part of your ministry are you failing?
The Self-Aware Shepherd
Clergy are notorious for their personal discomfort with the subject of failure.
The idea of failing in any area of ministry somehow seems unbiblical. When face-to-face with failure, spiritual leaders have a default recording between their ears that cues up the words, "We are more than conquerors through him who loved us" (Romans 8:37).
Yet we easily forget the passage of Scripture that says Christ's "power is made perfect in weakness" (2 Corinthians 12:9).
The abundant life preached from our pulpits often paints the servant of God with a patina of perfectionism. Sure, the minister may not excel at every detail of the job description. But failing is not an option — at least not one that is privately or publicly acknowledged.
An admission of weakness seems out of place in leadership. The persistent illusion that the minister should not need ministry plagues spiritual leaders. "More than conquerors" is the only choice — every day and in every ministerial situation.
This closet collusion between clergy and laity can produce an unproductive and stilted ministry. When everyone quietly accepts the pastor's floundering, and the shepherd quietly accepts the silence of the lambs, the body of Christ ultimately suffers atrophy and remains anemic.
Charles Caleb Colton, an English cleric and graduate of Eaton and King's College said: "To dare to live alone is the rarest courage; since there are many who had rather meet their bitterest enemy in the field, than their own hearts in their closet."
Yet in our hearts — in those interminable hours in the middle of the night — we must finally confront the fact that we have failed and are failing.
Therefore, the mark of the self-aware shepherd is someone who has the courage to step off the well-lit dais in the sanctuary into the darkness of honesty and embrace his or her limitations and resulting failures.
Naming and Claiming Failure
Without apology or intimidation, the self-aware shepherd can openly admit to the mirror: "I know my gifts, and I also know the areas of ministry where I am not competent."
To get to this internal transparency, the self-aware shepherd must take the following three, pragmatic steps toward accurately identifying specific ministry skills that are lacking.
1. Make a list of all the duties in your present ministry. Be specific (e.g., providing marital counseling, visiting elderly parishioners in retirement facilities, conducting a weekly staff meeting, etc.).
Next to each duty, rate your performance from 1 to 10. One represents a responsibility your ministry community expects of you even though you have no skills or interest. A 10 represents what you love about the ministry. You probably expend lots of time and energy in these areas because you enjoy them and excel in them. Any score of 10 should immediately make you smile.
Once you finish this quick numerical assessment, make two lists. You may want to use the headings, "Ministry Skills Where I Excel" and "Ministry Skills Where I Fail." Keep both lists in a private place.
Regularly look at each list, and start taking steps to make the "fail" list shorter.
2. Surround yourself with friends and colleagues you can trust. Meet with these confidants individually in a private setting and ask this question: "What skill sets demonstrate I am engaged and adept, and what ministry skills do I seem to lack or show little interest in pursuing?"
Keep notes from the conversations. Periodically check with these people to ask whether they see positive changes in your ministry.
3. If the leadership in your ministry conducts an annual performance review, take full advantage of this organizational asset. When you have been "around the block" in your ministry for years, you know the silent parishioner is the greatest threat. This person consistently warms a pew, smiles, and pumps your hand in the foyer but rarely offers affirmation. Consequently, you may wonder about this person's support of you and your ministry.
An annual performance review provides a ministry-wide, comprehensive process to affirm your gifts and appropriately list your challenges.
These three suggestions are not exhaustive. Consider other ways for getting accurate feedback about your strengths and weaknesses.
The Freedom of Failure
Failure is an intimidating word in the ministry.
Your life of serving is all about success and building the Kingdom. We feast at banquets that serve up huge platters of overcoming victory. Yet effectiveness in ministry requires honest faith.
Repentance is an honest confession that we have willfully missed the mark. Sanctification is an honest commitment to be holy in an unholy world. And a willingness to receive the baptism in the Holy Spirit is an honest admission that we are powerless to follow Christ in our own strength. We teach and preach that no one can receive salvation without first admitting he or she is spiritually lost.
The freedom of owning our failures provides the minister with three assets.
1. Acknowledging our failures creates credibility to speak as God's representatives.
Perfect people are not believable. Preachers tell the good news to people immersed in their own bad news. The wounded are more readily willing to receive this message from wounded healers.
2. Failure shows others that discipleship is not a destination, but a journey.
Do you know Christ as Lord of your life in a more intimate and powerful way today than when you first made a public confession of faith? We are all growing into the image of Christ. This spiritual journey takes time, confession, restoration — and failure. Without the reality of failure, there is no journey because we would already have arrived.
3. Our confession of failure makes us malleable clay on the Potter's wheel.
Failure places us in the stanza of "Spirit of the living God, fall fresh on me. Melt me, mold me, fill me, use me."
There is spiritual freedom in owning our failure.