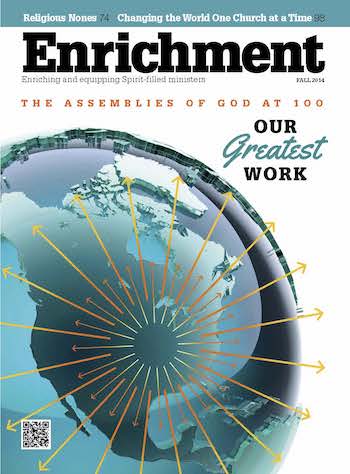 Downloads:
Fanning the Flame: Spirit Empowerment for the Next 1OO Years
Interview with GEORGE O. WOOD and GREG MUNDIS
by George O. Wood and Greg Mundis
---
To discuss this connection and our way forward for the next 100 years, George Paul Wood interviewed George O. Wood, general superintendent of the Assemblies of God USA and chairman of the World Assemblies of God Fellowship, and Greg Mundis, Assemblies of God World Missions executive director.
In essence, what is baptism in the Holy Spirit?
WOOD: Baptism in the Spirit is defined for us in Acts 1:8 and Acts 2:4, where Jesus commands the early disciples to remain in Jerusalem until they are endued with power from on high. Acts 2:4 then describes that experience of receiving the baptism in the Spirit. I like to use the phrase "overwhelming baptism," since the meaning of baptism is really immersion. It is the "overwhelming" in the Spirit, with Christ being the Baptizer. He is the One who baptizes us into the Holy Spirit, and the Spirit is the element into which we are placed, much like a minister baptizes a person into water. So Christ baptizes us into the Spirit — overwhelms us with the Spirit. That, for me, is a very helpful way of casting the doctrine and the experience of Spirit baptism, by saying it's an incredible experience of truly being overwhelmed in God.
Dr. Wood has brought up the connection in Acts 1:8 and Acts 2:4. How then does this overwhelming experience of the Holy Spirit relate to the Church's evangelistic mission?
Mundis: Acts 1:8 says, "But ye shall receive power, after that the Holy Ghost is come upon you: and ye shall be witnesses unto me both in Jerusalem, and in all Judaea, and in Samaria, and unto the uttermost part of the earth" (KJV).
Christ said once you receive this power, you will be My witness. After Peter's sermon in Acts 2, the first thing that happens after the baptism in the Spirit is a proclamation. Pentecostal scholars, particularly in the 20th and 21st centuries, see that the prophetic gift, the utterance, was such an important part of the baptism in the Holy Spirit.
That brings us into the question of our distinctive doctrine. In the Assemblies of God Statement of Fundamental Truths, Article 8, the initial physical sign — sometimes now referred to as the initial physical evidence of the baptism in the Holy Spirit — is speaking in tongues. Why tongues? What is the connection of tongues, or more broadly, prophetic speech, to the Church's evangelistic mission?
Wood: Acts 2 puts together what I would call the inward journey and the outward journey. The outward journey is the empowerment to proclaim the gospel. The inward journey is that we are filled up with the Spirit's presence. We are placed into the Spirit. If you are going to have a successful outward journey, you have to be inwardly enabled and empowered to make you able to bear witness in the outer way.
We understand from the Book of Acts that they were all filled with the Spirit and began to speak in tongues as the Spirit caused them to give forth speech. That speaking in other tongues is inextricably linked to this empowerment, which first of all has the inward component. You have to trust the Holy Spirit when you speak in a language you have not learned, just like you have to trust the Holy Spirit to speak to others in a language you have learned. One of the great impediments to a gospel-empowered witness is people do not feel confident to step out in faith and bear witness. If you have had this experience of the inward journey and have stepped out in faith, it is a natural sequence to step into the outward journey of empowerment. There is a definite connection between Spirit empowerment, speaking in tongues, and bearing witness for the Lord.
Mundis: Bob Menzies has written in his book Spirit and Power: "Luke describes the gift of the Spirit exclusively in charismatic terms as the source of power for effective witness."
He goes on to say, "The manifestation of tongues is a powerful reminder that the church is by virtue of the Pentecostal gift a prophetic community empowered for the missionary task."
Menzies articulated that our Pentecostal community is a prophetic community. The prophetic gift Dr. Wood just mentioned, the inward and the outward expression, is a symbiotic relationship between the two.
Critics of the Pentecostal Movement describe baptism in the Spirit as a form of ecstasy, an uncontrolled emotionalism. Share your experience of baptism in the Spirit, and that ongoing filling. How has that affected your life in ministry?
Wood: It affected me deeply as a kid, because I thought that in order to receive the baptism in the Holy Spirit, I needed to be unconscious or in a catatonic state where I would wake up afterwards and would be told I had spoken in tongues and received the baptism in the Holy Spirit.
Of course when I was young I had no knowledge of the root word in the Greek for ecstasy. The word comes from two Greek words — ek stasis. Stasis means "being," and ek means "out." Ecstasy literally means "out of being." Nothing could be further from the truth in terms of Spirit baptism and Spirit empowerment. In fact, the apostle Paul says, "The spirits of prophets are subject to the control of prophets" (1 Corinthians 14:32).
One of the things I discovered in Spirit baptism was that I gave expression to the Spirit's utterance to speak in a language I had not learned while I was fully conscious. It did not involve me being ecstatic.
Are there ecstatic experiences that believers can have as a personal spiritual blessing? Yes! We have witnessed that in the Pentecostal Movement. Those unique phenomena are exceptive kinds of circumstances. They are not directly related to the scriptural theme of Spirit baptism and Spirit empowerment. For me, it was the release of praying that gave me a liberty to talk to the Lord when I ran out of intelligible words to say.
When you kiss the one you love for the first time, the kiss beats about a million words. How do you communicate with God outside of the parameter of the normal verbal language? It seems to me that the Lord reaches deep into our psyche, deep into our inner being, to give us a way of loving God, praying to God, and interceding to God past our cognitive ability. God taps the noncognitive side of our personality to help us relate to Him in a powerful way.
Mundis: I grew up in a heathen home, so coming into salvation and coming into Pentecost was a huge paradigm shift for me. My experience was in an independent Italian Pentecostal church. I did not know if they were speaking in tongues or speaking in Italian. I knew that this was an important element in the life of a believer, but I did not have any kind of background for it.
As a teenager, I knew that everybody in the youth group was seeking the Baptism, but I was extremely shy. I remember so passionately wanting more of God. The Baptism for me was like the unleashing of a fire hydrant. It was just so marvelous. The Baptism altered me. If you were to talk to my wife, she would say it altered my personality. It transformed me, not only to be His witness, but it transformed even a part of who I am.
Is the baptism in the Holy Spirit a one-time event or a repeatable event, and are there other results in a person's life from being baptized in the Spirit?
Wood: The Scripture says be filled with the Spirit, and that admonition to the Ephesians is being given to persons who have received the baptism in the Spirit. Receiving the baptism in the Spirit is like a moment in time and space; like salvation, you cross from one line to another. It is a definite happening.
If a person gets saved and then does not live the Christian life, the great moment will quickly dissipate in its impact and influence. It is the same way with Spirit baptism.
I had to learn growing up in the Pentecostal Movement and in the Assemblies of God that life in the Spirit is an ongoing development in our lives. The term "filled with the Spirit" throughout the Book of Acts and in Paul's letters is an elastic term that not only refers to the initial Baptism; it also can refer to moments in our life when we are being pressed upon with new challenges.
In Acts 4, Peter and John are thrown into prison. Acts 4:8 says Peter was filled with the Spirit. He was filled with the Spirit in Acts 2. But now he has a situation that he has never faced, and he needs to be filled up to his then present need. That is the ongoing work of the Spirit that meets us in crisis moments.
Paul also talks about the continual life in the Spirit in Ephesians: "Instead, be filled with the Spirit, speaking to one another with psalms, hymns, and songs from the Spirit. Sing and make music from your heart to the Lord, always giving thanks to God the Father for everything, in the name of our Lord Jesus Christ" (Ephesians 5:18–20).
The fruit of the Spirit are also marks of a Spirit-filled life: "But the fruit of the Spirit is love, joy, peace, forbearance, kindness, goodness, faithfulness, gentleness and self-control. Against such things there is no law" (Galatians 5:22,23).
The hallmark of Spirit-filled, Spirit-empowered people always ought to be that one word: more. I am capable of receiving more of the Spirit, and He is capable of giving himself more to me.
Paul prays in Ephesians 3:19, "And to know this love that surpasses knowledge — that you may be filled to the measure of all the fullness of God." That is the most audacious prayer request ever made. That would be like saying pour the ocean into my little cup. My cup cannot contain the ocean any more than my life can contain all the fullness of God. Our life is not like a porcelain cup that is not expandable. We are expandable. We are capable of receiving more of Him, and we need more of Him as we journey through life, because there is nothing worse than stale experience.
Some churches are good at bringing people to an experience of baptism in the Holy Spirit, but not good at making converts. Other churches are good at making converts, but not good at discipling them into the baptism in the Holy Spirit. How do we interpret this dilemma?
Wood: Pastors who emphasize Spirit baptism need to also emphasize that the Spirit is given that we might be empowered to bear witness. Pastors who do not emphasize Spirit baptism but emphasize conversion need to emphasize Spirit baptism as a consequence to conversion.
It all comes down to pastoral leadership. You get what you preach. You get what you set your mark for. You get what you plan for. If you do not preach on Spirit baptism, you will not have Spirit baptisms. If you do not give opportunity for people to receive the Spirit, they will not receive the Spirit. If you do not preach for an altar call, if you do not preach for a response, if you do not preach for conversion, you will not get it. It all boils down to the priority of leadership.
Mundis: Bob Mackish was one of my mentors. He always approached this with the same answer: You get what you preach and teach. If you are not preaching the baptism in the Spirit or conversion, you will not get it. But if you are preaching it, that is what will happen. Pretty simple, but pretty profound.
Wood: You cannot do it in an overbearing way. You cannot get people to move to the altar by overloading them with guilt. The Holy Spirit has to do that. You want to create the context for hunger, to set the table scripturally and experientially for both conversion and Spirit baptism.
Prior to the 2013 General Council in Orlando, the Associated Press released a story using Assemblies of God official statistics from 2012 that indicated a three percent decline in Spirit baptisms. This AP story got magnified around the media world that while the Assemblies of God is growing, its distinctive practice is declining. This is about biblical faithfulness to the pattern of biblical living, so should we be worried about this or not?
Wood: No matter what the statistics tell us, the fact remains that we need to be more intentional and more deliberate in seeing that people are given the opportunity to receive Holy Spirit baptism.
A large percentage of our people are in churches with attendance over 400 people. Many of these churches have multiple services on Sunday morning, and they do not have adequate time at the close of the service for people to come forward for prayer to receive the baptism in the Spirit.
Churches have to be intentional about providing opportunities for people to be taught what Spirit baptism is and what living in the Spirit is. Many churches do that very well through monthly Holy Spirit emphasis, adult retreats, youth retreats, and children's retreats.
We also recognize that many churches are completely unaware of how many people receive the baptism in the Spirit in a youth convention, youth camp, or children's camp. We do not tabulate those numbers. Nor do we gather statistics for family retreat centers. We are cautious when we see a three percent drop in a statistic, because that may not be accurate in terms of describing the totality of what happened. We are trying to make a more complete statistical analysis so we get better data, without doing double counting.
Mundis: That is our heart, our passion. That is who we are; it is our identification. My hunger for God that I described in the 1960s has not waivered. It has grown. Seeking after God and wanting to fulfill His will, with all of the circumstances of life that I have endured — that does not change. God is a nonchanging God who wants to fill me and use me for His glory and honor. He is so passionate about me that He sent His only Son. I want to be that passionate about Him.
In my own heart as a minister of the gospel and in the Assemblies of God, I don't ever want that kind of passion to wane. I want to be a model for young people. I want to be a model for my family. I want to be a model for people that I associate with that Christ is all in all, and that is who I seek. I seek Jesus. Jesus then overwhelms me with His presence in the baptism in the Spirit.
You said earlier it all devolves to pastoral leadership. With the growth of larger churches, what are some innovative ways that churches in these new cultural settings can use to help people both to receive Spirit baptism and then to express this experience through mission?
Mundis: An effective tool is the cell group, where life is lived together in community. Spiritual experiences happen there, along with physical and social experiences. Cell groups offer that opportunity for the expression of the body of Christ in an environment where you really know people. Cell groups grow and people bring in friends for specific interest groups. They can experience Jesus, and they can experience what I have experienced.
Wood: One of the aspects of early Pentecostalism is the power of testimony. A pastor of a church of about 4,000 people was preaching, and a young man who was in a third-generation criminal enterprise was in his church. He came from horrendous family circumstances. The preacher later found out that the previous night, this young man had a gun pointed at his head, and the attacker fired, but the bullet did not discharge. The boy ran, and subsequent bullets discharged and did not hit him.
This boy finds himself in church on Sunday morning with his mother. As he is preaching, the pastor experienced a gift of discernment. He pointed to the young man and said, "God is calling you right now to give your life to Jesus Christ. If you're serious about that, I want you to get out of your seat and come up and join me on the platform."
That young man came up. Today that young man is finishing his fourth year in Bible college and is going into youth ministry. When you share a testimony, it creates a hunger in people. What is God doing in the life of a layperson that has significantly altered them? The power in testimony is a tremendous augmentation to the singing and to the preaching.
Mundis: In our early Pentecostal movements, it is the priesthood of all believers. The identification factor is so important. Sometimes preachers are held up to be a little bit more sanctified or holy. But as a layperson, a businessperson, a carpenter, a plumber, a housewife, a child, that identification factor accelerates that excitement in people.
Wood: Entrepreneurs — spiritual entrepreneurs — tend to look for the next innovative thing they can do. The main things are the plain things, and the plain things are the main things. A local church must cultivate an atmosphere of prayer to be effective in any arena — Spirit baptism, divine healing, conversion, and deliverance. If you can get a band of people who are interceding for God to work in that church, and God to work in that town or community, He will do that. Nothing goes forward without prayer.
You can do all the whiz-bang stuff in the world; but if it is not backed by a solid commitment to praying and letting the Holy Spirit go beyond what we can plan, think, and do, it is going to crash and burn.
Mundis: Prayer is the underlying assumption in our conversation. We have talked about mechanical and logistical aspects, with the underlying assumption that you are tarrying and hearing from God. We cannot just pass over it by assuming it is happening.
Prayer is the igniting force — that connection with God that keeps this whole thing going. I love getting on the 714 prayer app and seeing people praying around the world. Prayer is so important to this whole conversation.
Both of you have pastored churches, and both of you currently lead leaders. So you can imagine a pastor saying, "Yes, yes, I long for more, but I'm tapped out." Talk to that pastor. How does he or she receive this fresh infilling of the Spirit that is the kick-start for everything else?
Mundis: We have the opportunity in leadership to travel across the states and visit many churches and associate with incredible people — pastors and associate pastors and laypeople. On occasion, we find pastors who are struggling. My heart goes out to them, because Sunday keeps coming. It does not matter if you are depressed. Sunday is there, and people need pastoral care and need a word from God.
I default back to prayer, and not only my prayers. Those people in your life — your family, your spouse, people you trust — are praying for you and can lay hands on you and walk with you.
Obviously, with severe depression, that needs to be addressed with other elements. I am Pentecostal enough in belief and practice to believe that God can intervene in those kinds of situations. Even though I may not be the best vessel He can use, I am a vessel that He can use if I open myself up to Him.
Wood: As a pastor, I set aside, as a regular discipline, significant blocks of time for personal feeding through study, Scripture, and prayer. Nearly every week I would devote at least 20 hours for intake, where I study the Scriptures, break out the commentaries, and really take time to develop and feed my soul. When my soul is fed, I can feed other people with the overflow.
Having a vision greater than my current resources always encouraged me. If I can get up excited about the next challenge that waits, that helps me deal with fatigue or even depression. I have experienced depression, so I know what it is like to keep going despite it.
This is where our Movement has been so great. We have exposed people through world missions and U.S. missions to areas of tremendous personal and social need. Finding a way to give is a critical component of our Christian walk. Jesus did say it is more blessed to give than to receive, and I find that I am really energized by the joy of giving. I am not just talking about writing out a check, but giving meaningfully of yourself to another.