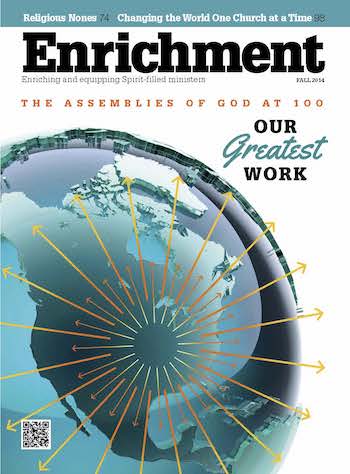 Downloads:
Expository Sermon
"What's It Going to Take to Be Holy?"
by James D. Hernando
---
"Make every effort to live in peace with everyone and to be holy; without holiness no one will see the Lord" (Hebrews 12:14).
Have you ever lingered over a Bible verse you've read a hundred times, only to have it leap off the page as something profoundly new and shocking? That is what happened to me while reading the above verse from Hebrews. It is a well-known Scripture verse that does not seem radical until you let the weight of this exhortation press on your mind and conscience.
Could God really be saying that holiness, or sanctification,1 is indispensable for the Christian? What does it mean that, without it, no one will see the Lord? What implication does that hold for our assurance of salvation by grace through faith in Jesus Christ? Perhaps the warning means our ability to receive a revelation of God hinges on our spiritual consecration and state of moral purity. This is similar to Jesus' words: "Blessed are the pure in heart, for they will see God" (Matthew 5:8).
In Hebrews 8–9, the author calls to mind the Old Testament scene of God's manifestation to Israel at Mount Sinai in Exodus 19. But his words seem to echo the words of God to Moses, who told the people to wash their clothes in consecration and warned of capital punishment for every person who even touched the mountain (Exodus 19:9–13).
The New Testament Christian recoils at the notion of such harsh judgment. Yet the author of Hebrews addressed these words to New Testament believers. Some theologians dodge the force of this warning, saying people must be believers to escape God's judgment. Since Paul calls all Christian believers, regardless of their spiritual maturity (such as in 1 Corinthians 6:5), some might conclude this is a warning without teeth. That is, they might think the exhortation to holiness carries a warning meant to motivate us toward that end even though the threat of judgment is not real.
We cannot begin to settle the theological debate this question raises. Some deny that the eternal security of the believer is in question, and the context of judgment indicates that those who fall short of holiness were never really Christians at all. Others assert that the context of historical Israel points to the real possibility that we are capable of following in the footsteps of unbelieving Israel, which succumbed to the temptations of their sinful flesh and fell under God's judgment. (See Paul's warning in 1 Corinthians 10:1–11.) In either case, we do well to let Scripture interpret Scripture, especially if we are to grasp the weight of this exhortation to holiness.
We find help in Peter's first epistle (1:13–18). Within this passage is an unambiguous call to holiness: "As obedient children, do not conform to the evil desires you had when you lived in ignorance. But just as he who called is holy, so be holy in all you do; for it is written: 'Be holy, because I am holy' " (1 Peter 1:14–16).
The question remains: "How do we pursue holiness?" I believe the churches and believers scattered across the provinces of Asia Minor were asking the same thing, and Peter gives some pastoral advice and counsel. His words do not exhaust the topic of holiness for the believer, but they do give us a good start and foundation for further study.
Let us look at what Peter had to say. What does it take to be holy? We can summarize Peter's teaching in three simple words.
1. Discipline (1 Peter 1:13,17)
There is a discipline to the pursuit of holiness we cannot ignore. Peter opens this passage with a salvo of three commands or exhortations in rapid succession.
Peter explains that discipline begins in the mind. The King James Version2 says: "Gird up the loins of your mind" (verse 13). This word picture describes someone preparing for action by gathering the loose material of his clothes around his body and affixing it in such a way to allow freedom of movement. But why does Peter point to our minds? The Greek word here is dianoia, or "the faculty of understanding." Holiness requires a change of thinking — first and foremost.
Paul agrees, as he admonishes us to experience God's transformation through the renewing of our minds (Romans 12:2). Peter teaches us that the disciplined mind is ready for active engagement. Holiness requires discernment of those things that conform to and reflect God's holy nature. The lazy thinker who dismisses ideas and values that are alien to his sinful nature cannot attain such discernment. Rather, holiness starts with clear thinking and careful assessment of all that assaults the character of God in our lives. Ignoring God's call for holiness plays into the hands of our adversary, the devil, who desires to press us into the mold and mores of this world. Too many professing Christians today approve of moral lifestyles that would have been unthinkable to our spiritual forebears. They flaunt rebellion as a badge of liberty and enlightenment, forgetting that sin is still sin to God and always will be.
Although the exhortation to be "fully sober" can describe someone free from the intoxicating influence of wine, the exhortation here more likely describes the alertness and clarity that flows from a disciplined mind. Unlike the drunkard who gives in to excess and unbridled passions,3 Christians who are sober exercise self-control.
The Roman Stoics elevated this character trait to the top of their lists of moral virtues. But such moral serenity and equilibrium is impossible apart from the work of the Spirit. It is not surprising, then, that Paul lists a synonym of "self-control" (egkrateia in the original Greek) among the fruit of the Spirit (Galatians 5:23). He also declares that only by walking in the Spirit can we escape the controlling power of the lusts of the flesh (Galatians 5:16).
The third command related to the discipline of holiness involves the spiritual focus of the believer. "Set your hope on the grace to be brought to you when Jesus Christ is revealed at his coming" (1 Peter 1:13).
Does our future eschatology invade present living? Hope is an eschatological word that looks at what God does at the end of this age. A wonderful little book titled the Pastoral Ministry According to Paul, by James Thompson,4 presents a compelling thesis that the preeminent pastoral goal of the apostle was to prepare God's people for the Lord's coming. Without a future, eschatological focal point for our hope, this life can become a string of one temporal pleasure pursuit after another. If my theological instincts are correct, the existential, now-oriented generation does not inspire holiness. Peter reminds Christians that a proper eschatological focus should generate a reverential fear of God. While we address Him as Father, we also know He is the impartial Judge who will hold us accountable for our works (1 Peter 1:17).
2. Resistance (1 Peter 1:14,17,18)
The pursuit of holiness is not a passive enterprise, but an active one that refuses to conform to the values and standards of this world and to obey its lusts. John outlines the ways and means of the world in his first epistle. He commands us not to love the world or anything in the world (1 John 2:15).
The reason: Loving the world is adverse and antithetical to loving God. John elaborates, "For everything in the world — the lust of the flesh, the lust of the eyes, and the pride of life — comes not from the Father but from the world" (verse 16).
Peter echoes both John and Paul when he says: "As obedient children, do not conform to the evil desires you had when you lived in your ignorance" (1 Peter 1:14).
The pursuit of worldly or carnal lusts belongs to our old, unredeemed life, which God wants us to leave behind. This age alienates people from the life of God. Our new life in Christ belongs to the age to come, which breaks upon us as God's new creations (2 Corinthians 5:17). To live as new creations and pursue holiness, we must refuse to live in ignorance of this new life in Christ. Doing so denies the reality and power of their new existence. This explains the consternation of the apostle Paul with the Corinthians. In chapters 1–2 of his first epistle, Paul chides them for living as if they were still pagans, divorced from the wisdom, life, and power of God.
3. Imitation (1 Peter 1:15,16)
Finally, Peter portrays the pursuit of holiness as a path of imitation. In Ephesians 5:1, Paul calls us to imitate God as His beloved children, but quickly offers the love of Christ as the model for such imitation (verse 2). Similarly, he calls the Corinthians to come follow him as he follows Christ (1 Corinthians 11:1).5
Peter does not use the same language, but his call to imitation is equally clear. Believers in Christ should seek to imitate the holiness of the Holy One who called them. It is a call to pervasive holiness. We are to apply the principles of holiness in all areas of our lives — in all our conduct or behavior — not selectively, in particular or peculiar areas of personal preference.
A quotation from Leviticus 11:44 supports this exhortation. In this Old Testament passage, God issues to Israel a simple but comprehensive command: "Be holy, because I am holy."
The call to holiness is central to God's redemptive goal for our lives. After all, we are predestined to be conformed to the image of God's Son (Romans 8:29). That image, revealed to us in His incarnation (John 1:14,18), is the fullest and most complete picture we have of the divine image.
Jesus "is the radiance of God's glory and the exact representation of his being" (Hebrews 1:3). It is to Jesus, then, that we should look for the clearest example of holiness.
The apostle John understood this when he wrote that the one who says he abides in Him ought himself also to walk in the same manner as He also walked6 (1 John 2:6). Some will balk at this suggestion. How can we be so presumptuous as to think we can walk like Jesus? However, that is exactly what it meant to be a disciple of a Jewish rabbi in His day. Not only did the disciple adopt as his own that rabbi's teaching, he also adopted the teacher's manner of ministry and conduct. This explains why the Jewish leaders, upon observing the ministry of Peter and John, recognized that they had been with Jesus. That is, they could tell they were disciples of Jesus.
In His Steps is a Christian classic written by Charles M. Sheldon in 1897. In this book, the author takes us on a fascinating tour into the incredible potential of being a sold-out disciple of Jesus. It is fiction, but the book's enduring value7 lies in its ability to strike a resonant chord with all true believers who wonder what life and the world would be like if more Christians were guided by the life and character of their Savior. Consequently, it is provocative to ask, "What would life be like if I sought to live out a life of holiness, in imitation of Jesus Christ and under His lordship?"
James D. Hernando, Ph.D., professor of New Testament, Assemblies of God Theological Seminary, Springfield, Missouri.
Notes
1. The wordhagiosmos (rendered both "sanctification" and "holiness" in translation) is a noun that describes the state or status of being hagios ("holy"). A related noun from the same root is hagiotēs in Hebrews 12:10; it denotes the same state of holiness.
2. Scripture quotations marked KJV are taken from the Holy Bible, King James Version, Cambridge, 1769.
3. In Ephesians 5:18, Paul describes drunkenness as "debauchery." The Greek word is asōtia, which describes a state of moral abandonment, dissoluteness, or profligacy.
4. James W. Thompson, Pastoral Ministry According to Paul: A Biblical Vision (Grand Rapids, Michigan: Baker Academic, 2006).
5. Confident that he is imitating Christ, Paul calls the Philippians to become summimētēs, or fellow imitators (Philippians 3:17).
6. The translation is the author's own from the Greek text that is more literal than most. Most versions leave words out that underscore John's emphatic (albeit redundant) language.
7. In His Steps has sold over 30 million copies and is ranked as one of best-selling Christian books of all time.