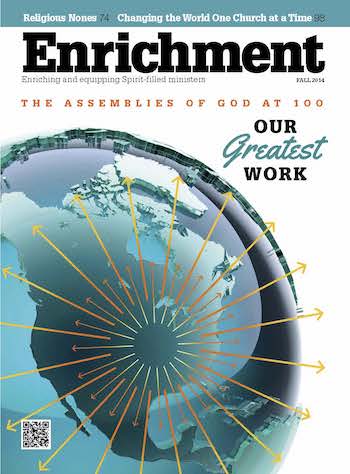 Downloads:
Evangelizing Religious Nones
Are you a church in the community or for the community? Reaching religious nones takes a willingness to do things differently.
by Joel and Rachel Triska
---
Life in Deep Ellum is a cultural center built for the artistic, social, economic, and spiritual benefit of Deep Ellum and urban Dallas. We are its pastors.
Seven years ago our faith community received a 24,000-square-foot facility on the edge of Deep Ellum, the street art counterpart to the fine arts district in Dallas. And we made a crucial decision: Rather than renovating the building to serve our church body, we would develop the building as a community cultural center.
The vision was for a space where believers and those outside the faith would gather and do life together. So instead of investing in a reception area, we opened a craft coffee shop that is open Monday through Friday, 7 a.m. to 7 p.m. Instead of a lobby, we have a 1,700-square-foot art gallery with shows rotating every four to six weeks. Our exhibits feature local artists, including many who do not share our faith.
Rather than meeting in a traditional worship center, we have a venue the Dallas community uses widely. Two of our favorite events from the last year were a fashion show that benefitted the Transplant Center at Baylor and a Red Bull Curate event. The latter occasion brought 20 of the city's premier emerging artists into our building for a week that culminated in an art show attracting more than 1,500 guests.
NoneS, Not Nuns
By trial and error, this approach has taught us how to connect with a sector of our population churches are struggling to reach. Many refer to this group as the religious "nones" or the "religiously unaffiliated." Those labels reference a population that is largely uninterested in organized religion and unconnected to a specific faith.
Deep Ellum is one of the few concentrated pockets of this type of post-Christian culture in the South. The majority of people who live, work, or play in Deep Ellum take a great deal of pride in not needing religion. Still, each year 10,000 people come through our cultural center. A large number of these have never come to our Sunday morning worship service, but they are in our building — becoming friends with our members and learning to love this unusual community of faith. We would love for the success we've experienced in engaging the nones to become the norm among churches, rather than the exception.
The religious nones are the fastest-growing religious group in the U.S.1 Over the last five years, the number of people who identify as religiously unaffiliated has grown from 14 percent of the adult population to nearly 20 percent.2
We have a friend who serves as a rabbi here in Dallas. Like us, he is in his 30s. When Pew Research reported on this trend of the nones, he said the Jewish community was shocked to learn they were not exempt. Though many American Jews had no problem identifying as culturally Jewish, 22 percent checked the box labeled "none" when it came to religion.3 Our rabbi friend said this was no surprise to him. He has known about this trend for years. And it's only growing.
Our Movement is not immune from a hesitancy to tune out significant cultural shifts. What we in the Assemblies of God heralded as the Decade of Harvest, sociologists called the secular boom. Each year of the 1990s, 1.3 million more American adults joined the ranks of the nones.4
Are You Engaging the Nones?
If you're wondering how well your church is engaging the nones, here are a few questions to consider: How do you do with liberal Democrats? Are there any attending your church? Does a significant percentage of your annual budget go toward engaging college students and young professionals? Would outsiders say that your church contributes to your city by building community or serving the poor and needy? Would the religiously unaffiliated engage your programs even if they didn't attend your weekend worship services? And lastly, if your church disappeared, would your community miss you? We point to our ability to answer, "Yes," to these questions as part of the reason we have success engaging the nones.
According to the experts, more than six in 10 nones identify with the Democratic Party. Seven in 10 are under the age of 50, and the 18 to 29 crowd is where this trend is most evident. Though the nones are uncomfortable with church, researchers list community building and helping those in need as two areas where nones continue to view religious organization positively.
Statistically, 72 percent of nones seldom, or never, attend religious services (other than weddings and funerals). In fact, 88 percent of nones report zero interest in affiliating with an organized religion. If we wait for the nones to come to us, we will continue to see the number of the religiously unaffiliated grow.
Low-hanging Fruit
One of the leading thinkers in this area is Alan Hirsch, a South African missiologist. Recently, he argued that the reigning model of the American church only reaches a maximum of 40 percent of our population. He argues: "Ninety-five percent of American churches are using a model that, even if successful, will reach less than half the population."5
This is where many pastors push back. They point out that churches are still growing. Well, that depends on how you look at it. Many internal church studies show that increases in attendance are attributable either to people coming from another church or families expanding.
If missiologists are right, decline will soon outstrip growth if our approach to evangelism does not take into account the growing number of nones. Reaching these people takes a willingness to do things differently. We must discipline ourselves to reach above the low-hanging fruit. We understand it's much easier to communicate with an audience that already identifies with our values, rituals, and worldview. But the problem is that the number of people who fit that category is shrinking. Statistically speaking, there are too many workers trying to harvest the bottom third of the tree.
Listening to the Nones
Sean
Our friend Sean is agnostic on good days. Other days, he'd tell you he's atheist. While he grew up Roman Catholic, he has no interest in institutional religion. He lives across the alley from our building, and we share a passion for social and economic development in our neighborhood. So we decided to ask Sean about his perspective on the rising number of nones.
We began by asking how he feels when he hears Christians talk about "evangelism." His very honest reply was, "It puts me on edge. I get it — for those who feel it's a moral imperative. In every other respect, it makes my skin crawl."
To explain his distaste, he referenced anecdotal examples of American missionaries entering third-world countries, ignoring the cultures and customs of the people groups they engaged, and creating replicas of their version of Christianity.
When asked what he believes to be the most effective form of outreach, Sean said simply, "To live what you teach."
He shared that he walked away from the Catholic Church decades ago but added that in the last year he had been "rooting for the team again." So what changed? Sean was moved by the authenticity of Pope Francis's faith. He had watched from a distance as the pope washed the feet of convicts and welcomed little children. If the pope begins ordaining female priests, Sean said he might start attending mass — though he didn't plan on taking Communion.
Quietly observing Christians engaging their faith with integrity and authenticity is what makes the nones willing to think about faith and talk about their beliefs. Sean said if people at Life in Deep Ellum bombarded him with those "uncomfortable Jesus questions" instead of just having "normal conversations," or if we were always bothering him to join us for church on Sunday, he'd probably stop coming around. He said the reason he's comfortable with us (as opposed to other churches) is because of how we practice community.
"Your sense of community is outward," he said. "Someone doesn't have to be a part of the club to be a part of the community. You walk in the doors here, and you don't know you're in a church. It doesn't trigger my defenses."
Heather
Our friend Heather is a successful, young businesswoman and former agnostic, but she was raised in the church. According to her, the family rule was: "If you are in the house, you will be in church."
She attended services weekly, but when she moved out of her childhood home, she walked away from the church. As a part of her experience with Life in Deep Ellum, she came into a personal relationship with Christ about three years ago. We sat down with Heather to get her perspective on how to reach people who have no interest in becoming a person of faith.
Heather explained her former view of religion this way: "My attitude was apathetic — really, nonexistent. It wasn't hateful. I wasn't against it, and I didn't judge people who engaged with faith. I just didn't feel like it had anything to offer."
She had grown up in church, and though her experience was not wholly negative, it seemed like something to rebel against rather than grow in.
We asked her how she perceived witnessing and evangelistic efforts when she was outside the faith. She chose four words to describe her feelings as a none toward traditional evangelism: uncomfortable, ineffective, phony, and self-serving. So what made the difference when she began to engage with our faith community? Heather said the difference at Life in Deep Ellum was that relationship came first.
Heather's friend Justin, who is now her husband, introduced her to a life group. Prior to coming into the community at Life in Deep Ellum, it had been about five years since she had any kind of spiritual conversation with anyone. If any of her friends were Christians, they didn't talk about it. Heather started attending services with Justin about six months after his conversion. A former none, he quickly became an active part of Life in Deep Ellum. Heather came for several months without a significant change in attitude toward faith, but things began to shift when she joined a life group.
Initially, she was uncomfortable around the group that included, in her words, "artists who didn't work." Yet she found the group's transparency compelling. The people were open and authentic. For her, it was meaningful that she never felt like anyone had an agenda. What she experienced was something more than friendship evangelism. She knew these people would still be hanging out with her years from now even if she never came to share their faith. She felt permission to be herself, without pressure to conform. As friendships developed with those in the group, she began to learn from her Christian friends. She also read the Bible and books on faith. And somewhere along the way, those friends helped guide her into a relationship with Christ.
When asked what she wants people to know about reaching the nones, her advice is this: "Friendship comes first."
"As a friend, live openly and authentically, and make sure your friends know they are more than welcome to join you on the journey," she said.
Today, Heather and Justin regularly live this out among their friends.
Will
Will is one of our friends. He founded and runs an amazing spoken word art program called DaVerse Lounge. DaVerse Lounge is an opportunity for middle and high school students to perform original spoken word pieces on a big stage with musical accompaniment. LIDE hosts the event in our space. At the most recent show, we welcomed more than 450 guests from 10 Dallas schools. It is always a blast.
Will is one of our Cultural Center's community partners. He has office space in our facilities, our members volunteer for his events, and several businesspeople from our faith community have mentored him over the past year. Just recently, he started attending services with his family.
Will comes from what he describes as a highly religious and very rigid background. The religious structure of his childhood and college experience was not life-giving.
"I had issues that mass and the church were not solving," Will said.
So Will became a devout spiritual seeker. He went from attending mass daily to a spiritual journey that was synonymous with his experience with the arts. He said he tried to bring the two worlds together, only to find that his religious friends "couldn't handle the content."
Will summed up his spiritual state during that time as "religious paranoia." When life got chaotic, he attended a church service. He stayed connected to the faith of his childhood, if only out of guilt. He said he was exploring, but he was hesitant to commit to anything else. Will represents well the 12 percent of the nones who are actively seeking.
We told Will, "We have this thing here on Sunday, but you don't have to attend."
That, for him, was a radical shift from what he expected from a religious organization.
Will was with us five days a week, using our office space, getting lunch with us, watching us work, and dropping in on staff meetings.
"When I came here," he said, "I wasn't looking for the pastor, or choir practice, or any of those church dealings. I was just tired of trying to take the awkward out of places. This place offered a place to be treated like a human being — like a person — to be received and met with a genuine connection. What happened here Monday through Friday is why I gave Sundays a chance. And it's because of Sunday that my faith is being restored in what a [Christian] community can be."
When we listen to our friends outside the faith, what we hear is that evangelism is most effective when they are given the opportunity to live alongside a community of believers, know they are loved by that community, and experience that love unconditionally in the context of real friendships.
A friend asked once, "So what's the difference between your friendships with other Christians and non-believers?"
We replied, "Not much — except we pray differently for our unbelieving friends."
Fleshing Out Our Philosophy
We've found two strategies particularly effective in engaging the nones.
Assess assets. Instead of focusing on the weaknesses of our immediate neighborhood, we decided to focus on its strengths — the assets of the community. We conducted about a thousand street interviews asking people in downtown Dallas, "What are Deep Ellum's strengths, and what would you would miss if Deep Ellum disappeared?"
After compiling the results, these four pillars of our Cultural Center emerged: art, music, commerce, and community. Dallas had several ministries addressing the weaknesses of an urban context. We decided to get behind the good that was already happening. We interpret those strengths as places where the Holy Spirit is already at work. This is how we exegete the community so we can appropriately contextualize the gospel.
What are the strengths of your community or city? Where do you see the Spirit of God already at work?
Develop community partners. From the beginning, we decided we didn't have to be in control of every program. So we built relationships with other organizations that shared our values of community development. We partnered with artist collectives, counseling practices, design firms, yoga studios, and others. Not only did we harness their particular expertise to help forward our mission, but we built great relationships along the way. Some of these community partners share our faith; others do not. But we choose to focus on our common ground rather than our differences. This is one of many reasons why we have nones regularly wandering our building.
Has your church ever worked alongside non-Christians? Whom can you partner with to help forward your mission?
Engaging Your World
In Acts 17, Paul ministered in two very different contexts. In Thessalonica and Berea, he engaged the low-hanging fruit. These Jews and God-fearers already shared most of Paul's worldview. This was necessary evangelism in his day. Not many preachers were introducing synagogues to Jesus back then.
Paul's next stop was Athens. Here's what we learn from his brief ministry there:
Metrics for success are different. You can't simply look at numbers to see whether you are effectively connecting. Only a few in Athens responded. But that doesn't mean Paul's ministry made no impact.
Be respectful. In spite of Paul's disgust of the people's idolatry, he respectfully addressed their worldview. He even used their statues and poets as means for communicating the gospel. Respecting others breeds respect in return.
Be authentic. Paul was faithful to the gospel. He didn't hide who he was nor did he shy away from hard truths. In this generation, authenticity is vital. But without mutual respect, it will quickly devolve into a shouting match.
We know other churches share our passion to reach the nones (or Athens or the one lost sheep). The question is not, "Do we care?" The question is, "How can we communicate our care?"
We think this is best addressed with one simple shift: Stop being a church in the community, and start being a church for the community. Trust us, the nones will notice.
Notes
1. Amy Sullivan, "The Rise of the Nones," TIME,March 12, 2012.
2. Pew Research, "Nones on the Rise," Religion and Public Life Project, http://www.pewforum.org/2012/10/09/nones-on-the-rise.
3. Robert Goldblum, "Fast-Growing Jewish None Seen Reshaping Community,"The Jewish Week (October 10, 2013), http://www.thejewishweek.com/news/national-news/fast-growing-jewish-nones-seen-reshaping-community
4. Barry A. Kosmin and Ariela Keysar, "American Religious Identification Survey (ARIS 2008) Summary Report," Hartford, CT: Institute for the Study of Secularism in Society and Culture, https://commons.trincoll.edu/aris/publications/2008-2/aris-2008-summary-report.
5. Alan Hirsch, Forgotten Ways (Grand Rapids: Brazos Press, 2006).