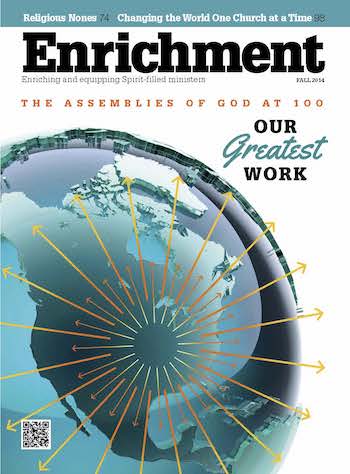 Downloads:
Changing the World One Church at a Time
In this article-interview, three church planters discuss how church planting is transforming lives and communities.
by John W. Kennedy
---
As Bryan Briggs stood in a lengthy line on the opening night of the new movie theater complex in Colonial Heights, Va., the youth pastor sensed God giving him a vision: start a church on the site that would duplicate the scene of eager attendees.
Briggs knew he had the call and the will, but not the wherewithal, to start a church.
"I didn't have any money, contacts, or knowledge of church planting," Briggs recalls.
God soon connected him with Stan Grant, who in a decade of pastoring in nearby Midlothian saw the congregation grow to 1,200 from 20. Grant hired Briggs at Clover Hills Assembly of God, and for the next year and a half the two men, along with help from the district and national offices, began planning for Destination Church to open in Colonial Heights.
With Clover Hills AG as its parent affiliate, Destination Church launched in February 2011 with 450 attendees the first day. Since then, someone has been saved at the church every weekend, and more than 1,000 people have been water baptized.
"Most of those who attend are unchurched," Briggs explains. "When they get saved, they invite their unsaved friends to church."
According to Outreach, in 2013 Destination Church was the youngest fastest-growing church on the magazine's list of 100 fastest-growing churches.
Briggs says 15,000 people each week watch a movie at the multiplex adjacent to Interstate 95.
"All we have to say is, 'We meet at the movie theater at the mall,'" Briggs says. "We don't have to give directions; they already know where to park because they have been here during the week to see a movie."
In addition to the 1,000 attending Destination Church every Sunday morning at 8:45 and 11, last September Destination launched a daughter church in Hopewell, Va., with 500 showing up the first weekend. The Hopewell campus meets Saturday afternoon and Sunday morning in a renovated defunct movie theater.
The U.S. Assemblies of God is one of the few denominations in the nation experiencing growth these days. That in large part is attributable to an aggressive renewed interest in church planting via a variety of methods, in a plethora of unlikely places.
"Church planting is the building block of the kingdom of God," says AG General Superintendent George O. Wood. "Evangelism and discipleship can't happen without the local church."
The Assemblies of God had 117 U.S. churches by the end of its first year when forming 100 years ago. In the first half century, the Movement grew to 8,500 congregations across the nation. In roughly the past half-century, the Fellowship has added 4,500 U.S. churches, for a total of around 13,000 today.
"The early part of the Movement was prolific in starting churches," says Church Multiplication Network (CMN) Director Steve Pike. "The early historical accounts show starting new churches was so normal they didn't make a big deal about it. They felt compelled to have a Pentecostal voice in every town possible. It was a spontaneous, unstructured, unplanned expansion. We can truly say this Fellowship from the very beginning was a church-planting Movement."
Ministers started churches in basements, brush arbors, storefronts, and fraternal organization halls.
"They had a great passion to reach people who didn't know Jesus," Wood says.
By the 1930s, AG leaders recognized the need to prepare church planters, and that served as the impetus for establishing Bible institutes, which became the colleges and universities of today. Pike notes that during the Great Depression, the AG developed a Missions and Education Department to prepare and send leaders to pioneer new churches. The number of AG congregations more than doubled from 1,600 in 1929 to 3,500 in 1939.
If church planting has been effective in the United States, it has blossomed exponentially elsewhere. AG World Missions Executive Director Greg Mundis says pioneer minister Alice Luce (based upon Anglican missionary Roland Allen's work) proposed that missions emphasize planting indigenous churches after the New Testament pattern. Mundis says worldwide growth began exploding in the 1950s when the self-governing, self-financing, and self-propagation philosophy gained widespread acceptance through the ministry and writings of AG missions leader Melvin Hodges.
Assemblies of God World Missions calculates that an AG church is planted somewhere in the world every 39 minutes, and that includes such improbable settings as under a tree, in a living room, under a tent, and in an open-air jungle site. There are more than 362,000 AG congregations around the globe.
Recent Emphasis
When Wood became general superintendent seven years ago, he quickly identified church planting as one of the AG's five "core values." In 2006, Pike became director of the U.S. Missions Department of Church Planting.
Early on as he conducted research, Pike learned from church growth expert Ed Stetzer that the AG already was nestled among the top 10 church-planting organizations in the U.S., but lagged far behind in providing financial support to such efforts.
"Our advantage was we planted so many churches because of the built-in emphasis of being empowered by the Holy Spirit," Pike says. "Ed Stetzer challenged me to imagine what would happen if we added intentionality and strategy to the anointing."
In 2008, Pike became director of the newly formed CMN, reporting directly to the general superintendent. The number of church plants launched since then has increased annually, with the exception of last year: 247 that first year, 266 in 2009, 325 in 2010, 368 in 2011, 391 in 2012, and 324 in 2013. Pike has a goal of 450 church plants this year, with ambitious yearly hikes culminating with 850 in 2020.
Currently, because of population growth and existing churches that close, the U.S. AG needs to open around a church a day just to keep pace with the need.
When church planting shifted to CMN from AG U.S. Missions in 2008, the Fellowship launched AGTrust. This financial organization matches $30,000 of a church planter's fundraising to assist in startup costs. To date, 320 congregations have participated.
To qualify for the money, church startups must agree to elements that will help ensure their survival. For instance, matching fund congregations have a guiding CMN coach during early development. They also are required to be deliberate about reaching the unchurched, with face-to-face encounters in the neighborhood.
Ninety percent of matching fund churches are functioning after four years. Briggs credits the CMN training and financial backing for trimming years off Destination Church's launch date.
A team approach tends to work when a church-planting pastor receives help from several other missions-minded Christians, often college students. Wood recalls San Antonio pastor John Van Pay meeting with a core team. They gathered to list on a board the names of all the unsaved people they had encountered the week before. In a focused concentration, team members prayed for those acquaintances and made intentional relationships with them. Gateway Fellowship Church started in 2008. Today, more than 1,000 attend.
Rather than opening with a handful of people, the pattern before CMN's existence, now it's rare for a new AG work to have fewer than 100 attendees at the first service.
"Churches are starting with more missional momentum," Pike says. "Our churches are starting stronger and lasting longer. And because we are more strategic, they are starting to make an impact from day one."
"The reason for preplanning is to be large enough when opening to reach the community effectively," Wood says.
Changing World
When the AG organized in 1914, the U.S. population stood at 99 million, in a still predominantly rural society. In the early days of the Fellowship, Pentecostal pioneers went to the highways and byways seeking to start an Assemblies of God church from town to town.
Now, the nation has more than 320 million people, with more than 80 percent of them living in urban areas. Although an AG church still is present in most small towns, church planting has failed to keep up in burgeoning suburbs and metamorphic inner cities.
"Urban center planting is complicated," Pike says. "You have to exegete the cultural situation. It's like thousands of little towns smashed together in one place. If you cross the street in an urban center, you can enter a different world."
Yet a new wave of pioneers is deciphering how to thrive in metro areas.
Verlon Fosner has been an AG pastor for 34 years. A decade ago he led a church in Seattle in a neighborhood rapidly changing from predominantly traditional families to older, fractured singles. The switch resulted in the church hemorrhaging members. Fosner realized he needed to devise a bold strategy for the congregation to remain relevant.
In a three-year transition, Fosner and his team, with help from Assemblies of God Theological Seminary professors, rethought their urban ministry grid. They concluded that continuing a Sunday morning performance-based service in such an urban setting would result in the death of the church.
"We had to find a way to engage a variety of neighborhoods," says Fosner, whose research showed Seattle is comprised of 27 "walking villages" where people for the most part confine themselves to eat, shop, and work.
Subsequently, five years ago Fosner began following a strategy used by the church through the apostolic era. Community Dinners gatherings are the equivalent of weekly agape meals in the Early Church. The meetings target the unchurched in five Seattle locations, such as a senior citizen center or a banquet hall. With evening meals as communion to the poor, broken, and lost, Community Dinners does church around tables, with conversations about Christ in the mix. Meals are provided by caterers, culinary arts professionals, and church personnel, depending on the site.
"It has worked from the first week," Fosner says. "Jesus had nonreligious people at His table. The gospel is profoundly revealed in an abundant feast."
The feasts draw an average of 150 per night, with people of faith sitting beside those who have no spiritual background, and people of means talking to those with nothing. Regular attendees engage visitors about their health, housing, and job needs.
Briggs concurs regarding the importance of sustenance. He notes that Destination Church has an ample supply of snacks and beverages available to attendees.
"Free food is the key to making people feel comfortable and at home," Briggs says. "When Jesus ministered, He always made sure He fed people before He left. How people are welcomed is the deciding factor if they come back."
Community Dinners is based on a "social lift" structure. This year, Community Dinners began leasing two dozen low-income apartments to help local residents return to a sustainable life.
"We must have a mission of social engagement welded to our spiritual mission," Fosner says.
Food likewise played a role in the growth of Puente de Vida, a Spanish-speaking AG congregation in Santa Paula, Calif., pioneered by Adelita Garza in 2009. The church started in a garage with distribution of boxes of fresh fruit, vegetables, dairy products, and meats to first-generation Latino families, mostly migrant workers.
Garza initially had no intention of becoming a U.S. pastor. She envisioned life as an evangelist who would travel the world. But while a graduate student at Fuller Theological Seminary, Garza agreed to join the staff of the predominantly white Ventura First Assembly of God, with the assignment to help diversify the congregation. Eventually the outreach resulted in planting a church for Spanish-speaking families.
"I knew the need was there," Garza recalls. "But God had to take me through a series of events to convince me I was to lead it."
A couple of years into the new work, Garza says God changed the target group of Puente de Vida (Bridge of Life). Professionals and blue-collar workers who didn't understand Spanish began showing up — even though services were only in Spanish.
Garza, who is fluent in both Spanish and English, in 2011 transitioned to bilingual services. She preached a phrase in Spanish then translated it herself into English, in essence doubling the length of the service. In February 2014, the church began separate services; Garza preaches one in Spanish, the other in English.
Evangelism Unleashed
Pike notes that early New Testament churches began the practice of planting daughter congregations.
"Starting new churches is the way the Kingdom advances," Pike says. "Churches that are generous toward the mission of God — sending out other churches and missionaries — rapidly unleash multiplication."
Pike says study after study reveals that evangelism is a key ingredient to church planting.
"The older a church gets, it tends to be less effective in reaching new converts," Pike says. "A brand-new church is effective because it goes after people who need Jesus."
Church planters and their team members are motivated to evangelize, Pike says, because otherwise the congregation will be sparse. So engaging others in the community is a logical step to finding potential followers. CMN encourages a four-step evangelism approach in church planting that encompasses awareness activities, connecting, relational activities, and discipleship.
"New believers bring in other new believers," Mundis says. "They have a fresh testimony and excitement."
"The reason for doing church planting is evangelism — to reach the unreached," Wood says.
Today that can lead to some unconventional, but effective, locations — from elementary schools to taverns. A movie theater is a natural place for unchurched crowds to meet during the week because people are accustomed to going there, feel they can dress casually, and can expect a certain degree of anonymity.
Centennial Celebration
A "Global Church Planting Summit" is one of the three emphases at the August 2014 centennial celebration in Springfield, Mo. Effective church planters from around the world will interact with U.S. counterparts. Pike says many AG churches around the world begin as an effort to bring compassion to a desperate situation, such as providing wells in an area where no potable water exists, or rescuing women out of sex trafficking.
"The global church planting network has created this broadband approach to missions that brings the whole gospel," Pike says. "For example, they not only rescue women out of sex slavery, they go to the root of the problem and plant a church in a neighborhood where the evil exists and give perpetrators the opportunity to hear the gospel and repent of sin."
The summit will enable U.S. church leaders to interact with innovative church planters from around the globe. Whatever the setting, Mundis says church planters share similar challenges. A quarter century ago, Mundis helped plant what is now Vienna Christian Center. Today the church holds nine weekly services conducted in eight languages, with 65 nationalities represented in the multisite congregation.
"If you put a seed in the ground, find good leadership, and get faithful people, God can do amazing things," Mundis says.
It's a lesson that will be shared extensively at the summit.
"We're going to discover ways to step into the future that we haven't even dreamed of before," Pike says.
Because of mentoring from CMN, Bryan Briggs says multiplication seemed logical from the beginning of Destination Church.
"Our goal is to start a new campus at least every two years," Briggs says. "We feel like our mission field is the state of Virginia."
Editor's Note: In May of 2014, Steve Pike accepted a new position with CMN to serve as the Urban Church Planting Strategist for the Assemblies of God. Pike will begin the formation of an urban church planting project that will serve as a reproducible model for effectively starting new churches in densely populated urban centers.