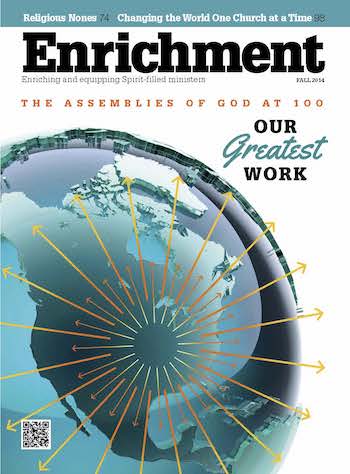 Downloads:
A Final Word
The Assemblies of God: Our Next 100 Years
by Stanley M. Horton
---
Editor's Note: Dr. Stanley M. Horton died July 12, 2014. In what may have been Dr. Horton's last official interview, Enrichment journal's managing editor, Rick Knoth, visited Dr. Horton in his residence on March 24, 2014. Dr. Horton was the inspired choice to provide A Final Word in Enrichment's Centennial issue. We now know that choice was providential. He was asked the question, "Having lived most of the entire history of the Assemblies of God, what would you like to say to those who will be living and serving this church during its next 100 years?" This is what he had to say:
Having lived most of the entire history of the Assemblies of God, I would like to share a few thoughts from my heart to those who will be living and serving this church during its next 100 years.
I have had the privilege of ministering in many areas where Assemblies of God ministers and missionaries are working. I have seen what God is doing. It gives me the assurance that God is faithful, and He is still giving His grace and blessing through us in many wonderful ways around the world. The Assemblies of God has had a tremendous influence around the world, and I believe that influence is going to continue. I believe God is going to continue to use this Movement to break through the oppositions of the enemy, including many false religions.
The methods we use to reach the spiritually lost can change to meet the changes in culture and the problems of the world around us. But the message must always be the same. As ministers of the gospel of Christ Jesus, we need to be faithful to our fundamental truths that have been so important to us during our 100-year history. We need to keep Jesus central as Savior, Baptizer, Healer, and soon coming King.
As I look back over my life, what impresses me is how many different people the Lord has used to give me guidance and to open doors of opportunity for me. The Lord has closed some doors, and I am glad He closed them. I spent three years in New Jersey Metropolitan Bible Institute, 25 years at Central Bible College, 13 years at Assemblies of God Theological Seminary, and have had opportunities to teach and minister in 24 different countries.
All through my life, the thing that has kept me going is to be obedient to the Lord and to take the opportunities that He gives me and not worry about my own desires. God is faithful, and we can trust Him as we walk in obedience to His Word.
When I received the baptism in the Holy Spirit as a student at University of California-Berkeley, it was like a dam broke. The tongues poured out, and I could hardly pray in English for a couple of weeks. The mother of one of our missionaries encouraged me. She said, "Stanley, God has done something wonderful for you. Don't let a day go by without letting Him repeat and renew that for you." Every day, I pray in tongues. I feel the presence of the Lord in a fresh way each time. I am thankful for that, and I pray that our pastors and leaders will continue to be filled with the Spirit, just as the apostle Paul admonished believers in Ephesus (Ephesians 5:18).
As I think about the current state of the church in America, what gives me pause is that some churches are trying to draw attention simply to the blessings God has for us, while saying less about our responsibilities. Some churches are putting too much emphasis on earthly blessings and earthly riches. God has promised to meet our needs. The 23rd Psalm says, "The Lord is my shepherd, I shall not lack." That is, I will not lack whatever I really need. We can go too much in the direction of poverty, thinking that we cannot be spiritual unless we are poor. Or we can go too far in the other direction, that if you are really spiritual you will have material riches. This is a danger.
Another concern I have for the Assemblies of God is we are not encouraging people to be baptized in the Holy Spirit like we once did. We are Pentecostal, and we need to stay Pentecostal! We need to continue to believe God for signs and wonders to be done on the mission field. We need to continue to pray for renewed revival here in America. God knows how much we need it!
I believe the Holy Spirit will to continue to use our ministers, our missionaries, and our people to spread the gospel and to be witnesses for the Lord Jesus Christ, as long as we seek His power through the Holy Spirit. We must keep on being Pentecostal! This is what God has called us to be — a light in this old dark world. We must continue to spread the gospel until Jesus comes.