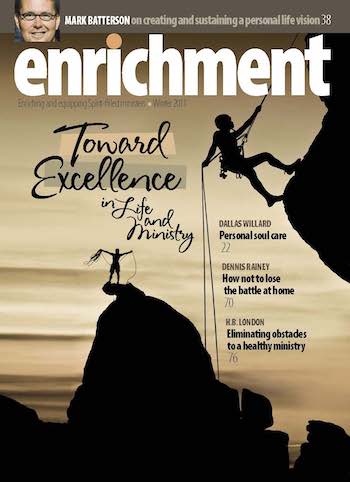 Downloads:
Caring for Your Family
How Not to Lose the Battle at Home
by Dennis Rainey
---
I attended a daylong focus group with more than 20 pastors. For hours we discussed what the church needs to do to strengthen families. At the end of the day I asked, "What is your greatest need when it comes to strengthening families in your church?"
Nearly in unison they said, "My marriage and family."
Ministry was extracting an incredible toll on their homes.
Pastor Ben Freudenburg revealed a portion of the problem when my cohost Bob Lepine and I interviewed him on our radio program FamilyLife Today. He said, "We have become ministers because we have this great passion to care for and love people to Christ. We will do whatever it takes. Sometimes we get misguided and put so much energy into the work of the church that we do not realize what we are doing to our lives and to our families."
The weight pastors carry is one of the more difficult assignments in life. The work schedule alone can create tensions at home. Archibald Hart, senior professor of psychology and dean emeritus, Fuller department of clinical psychology, reported that 90 percent of pastors work more than 46 hours per week, and many work 60 hours. Another survey found that 80 percent of the clergy feel the church has negatively impacted their families, and 33 percent say the ministry is an outright hazard to their families.
Ultimately the state of a pastor's marriage and family is a matter of integrity. The psalmist Asaph wrote of David, "So he shepherded them according to the integrity of his heart" (Psalm 78:72, NASB).1 Are those of us in ministry leading lives that others can emulate?
When Paul spoke of his ministry, he emphasized both sharing the gospel and the example of his own life (1 Thessalonians 2:1–12). He backed his communicating the gospel by his exemplary life. Probably nothing reveals more about a man's character than how he relates to his wife and children.
I am challenged by the remarks on personal integrity David made in Psalm 101. First, he said, "I will walk within my house in the integrity of my heart" (101:2, NASB). He then commented on the kind of person who would influence him: "He who walks in a blameless way is the one who will minister to me" (101:6, NASB). This is what we all seek — to live clean, honest lives that will inspire and encourage others to do likewise.
Read the rest of this article by obtaining a downloadable PDF of the Winter 2011 issue of Enrichment journal.