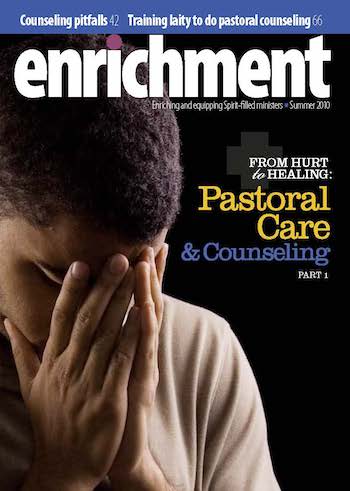 Downloads:
The Competent Christian Counselor
What are the core competencies and qualities of an effective pastoral counselor?
by Donald A. Lichi
---
The Pastor as Counselor: Introduction
The fact pastors spend considerable time in the role of counselor is well documented. Despite an increasing number of mental health delivery systems (e.g. Christian psychologists, counselors, human relations specialists, personal coaches, etc.), most people still look to their pastor as the first source of counseling and soul care. The reasons for this are easy to understand. The pastor's natural access to the lives of people through sermons, birth, child development, adolescence, graduations, premarriage, marriage, remarriage, death, crises, ceremonies, hospital care, death, and funerals makes him the obvious first choice for counsel during times of distress.
The pastor is in a unique position to offer comprehensive soul care because he is aware of the parishioner on a week-to-week (if not daily) basis. Unlike most professional therapists the pastor (literally shepherd) feeds the flock with spiritual food and sees they are protected from spiritual danger.
In multiple ways the pastor-teacher tends to the flock on a long-term basis, often from cradle to grave. As EMERGE Ministries founder Dr. Richard D. Dobbins states, "The pastor is in a unique position to powerfully influence a person's horrifying image of God, crippling ideas of self, destructive habits, and hurts from the past."
On the whole people trust their pastor for the care of their souls. The problems presented to the pastor are no different from those presented to a professional counselor. Premarital preparation, marital problems, parent-child relations, anxiety, guilt, depression, vocation, sexual problems, various addictions (including pornography), and matters of faith top the list of presenting concerns.
While larger churches may have specialized pastoral care services available, in most instances the typical Assemblies of God pastor provides counseling as one of his many responsibilities.1,2 But how does the pastor provide competent Christian counseling?
What is Competent Christian Counseling?
It does not take long after people have placed their confidence in Christ to realize they continue to struggle with preconversion habits of the heart. Unfortunately, postconversion problems often lead parishioners to doubt their salvation experience.
A believer still carries the familiarity of generational influences, family-of-origin experiences, and a lifetime of choices. Much of this history is embodied in the habit structure of their life. After all, everyone has a history that includes the good, the bad, and the ugly. Tragedy and depression provide examples where church members question God's love and care. Often they come to their pastor for reassurance, rescue, and recovery.
Competent Christian counseling demands that we move beyond simple sin management3 or behavior modification. Competent Christian counseling must provide guidance and means by which one enters into an intentional, conscious spiritual development program where the love of Christ comes before all else. The effect will be the type of spiritual formation in the counselee that over time develops the type of character, mind, and holy habits that resonate with the life of Christ. In short, God blesses the church with various ministry offices (apostles, prophets, evangelists, and pastor-teachers) for the purpose of completing and maturing the saints, for the work of ministry. 4
I concur with Dr. Gary Collins, a pioneer and leader in Christian mental health, who offers the following definition of Christian counseling: "Attempts to define or describe Christian counseling tend to emphasize the person who does the helping, the techniques or skills that are used, and the goals that counseling seeks to reach. From this perspective the Christian counselor is:
A deeply committed, Spirit-guided (and Spirit-filled) servant of Jesus Christ
who applies his or her God-given abilities, skills, training, knowledge, and insights
to the task of helping others move to personal wholeness, interpersonal competence, mental stability, and spiritual maturity."5
Gerard Egan states, "Helpers are effective to the degree that their clients, through client-helper interactions, are in a better position to manage their problem situations and/or develop the unused resources and opportunities of their lives more effectively."6
Competent Christian counseling assists in diagnosing problems, determining expectations, defining strengths, and developing treatment strategies all of which allow the counselee to better realize his Kingdom potential. We will look at these aspects in more detail below.
Purpose of Christian Counseling
For what purpose has God gifted the church with their pastor (of which counseling plays a central role)? The answer is in Ephesians 4:12 where we discover the phrase, "for the perfecting of the saints." Ephesians 4:12 uses a term katartismon not found elsewhere in the New Testament, although corresponding verbs are found in other verses (Matthew 4:21, "repairing something"; Hebrews 11:3, "bringing the universe in the beginning into its intended shape and order"; and Galatians 6:1, "to restore to spiritual health a person who has fallen").
Remember, the evangelistic mission of the church is to introduce the lost to Christ while the pastoral mission (which includes counseling) helps the believer realize his divine or Kingdom potential. The good news is that God can save the sinner and transform him into the image of Christ. God's Spirit is at work to transform the whole person. He extends healing to the body, mind, emotions, relationships, and our personal walk with Jesus Christ. Encouraging the counselee to place his confidence in Christ is a wonderful privilege and responsibility of the pastor.
The person seeking pastoral help ideally matures to a condition of fitness for the discharge of his functions in the Body. In other words, a person's healing is never just for himself. Rather, God brings healing to a person's life for the sake of others as well.
The Plan and Process of Competent Christian Counseling
For many pastors, the idea of counseling has a certain idealized glamour. After all, people seek your wisdom and guidance for the large issues of life. Writing in the book, Building Your Church Through Counsel and Care,7 Randy Alcorn notes "from a distance, counseling has a pretty face — it seems mysterious, stimulating, and challenging. Up close you see the pockmarks. Because counseling is difficult, draining, and sometimes frustrating, it's easy to lose the sense of wonder about it. … I considered counseling as just one phase of the pastoral ministry. Now I know how easily it can overshadow not only your ministry but also your entire life. It's like the proverbial camel that sticks its nose into the tent and, once allowed that liberty, follows with its shoulders and forelegs, pushing till there's room for nothing else."
I advise pastors not to spend more than 4 to 6 hours per week in their role as counselor. I also suggest they limit the duration of personal counseling to 3 to 5 sessions. If the problem is not largely resolved by then, it may be time to refer. (See sidebar, "When To Refer.")
Do not minimize the effect your sermons play in the ongoing care of the counselee's concerns. Remember, personal counseling can consume your time. Counseling is just one of many roles and responsibilities you have. To keep expectations realistic, develop a written policy by which you adhere to some basic counseling guidelines. (See sidebar, "A Sample Pastor's Counseling Policy.")
Once the pastor explains expectations, he must then structure the counseling relationship. Here is a brief sample of the structure I typically use near the beginning of the counseling relationship:
The counseling process consists of three parts: your part, my part, and things we work on together.
Your part is to be open and honest as you discuss your concerns.
My part is to listen and try to understand. That is why I ask questions and take notes during our counseling sessions.
The third part is a shared responsibility and includes confidentiality, decisionmaking, and learning. Confidentiality means I will not discuss with others the things we talk about here. (Note: Exceptions to this rule include suicide risk, homicide, and child abuse/neglect.) We will work hard together to make decisions, but the responsibility for making decisions is yours. Finally, it is my desire you will learn a number of things in our counseling sessions that you will transfer to other areas of your life.
Following the structure, a good way to open the counseling process is to ask, "Why are you here?"; "How can I best serve you?"; "What brings you to see me?" I allow the counselee to provide a brief explanation of the concern. Then, taking a solution-focused approach, I ask the counselee to imagine what the concern would look like if he could solve the problem. Amazingly, people often do not think in terms of solutions or preferred scenarios when they only focus on their problems.
---
Goal planning comes next. I urge the counselee to develop clear, manageable goals that lead to problem solving and decisionmaking. Simultaneous with goal setting, I work with the counselee to intentionally restore balanced health in his body, mind, emotions, relationships, and especially in his personal walk with Jesus Christ. Thus, it is typical at the beginning of each subsequent session that I ask about these five dimensions: physical (eating, sleeping, exercise, and rest), intellectual (thought life, journaling, obsessions, reading), emotions (mood, energy), social (significant relationships, work life, family life, friendships), and spiritual (devotional life, prayer, Bible reading, spiritual disciplines).8 I also work with the counselee to develop measurable goals in each of these five aspects.
Remind the counselee that while will power is a necessary component of counseling, it is insufficient to deal with ingrained habits of sin. The human will can never accomplish what God's grace can. Living and walking in God's path of disciplined grace produces in us a willingness to act and do His pleasure (Philippians 2:13). (See sidebar "Core Counseling Competencies for Clergy.")
At the end of each session, assign homework. This communicates that you expect him to take ownership in the counseling process. Homework is a vote of confidence he can make healthy changes in his life with God's help. Balanced health, over time, reverses many of the effects of being unhealthy and builds godly habit structures in the life of the counselee.
The counseling session ends in prayer that calls upon the Holy Spirit to remind, assist, comfort, convict, and challenge the counselee. Prayer also offers the opportunity to summarize the salient points of the counseling session.
The Pain of Competent Christian Counseling
Competent Christian counseling is risky. Sometimes it is painful. One key disappointment pastors face is after people begin to make progress, they falter, regress, or simply reject the work you have done. The apostle Paul felt similarly when, after pouring his life and heart into the Galatian churches, he discovered they had rejected the simple truth of salvation by faith alone in Christ. He grieved as he witnessed members of the church fade backward and return to the "weak and beggarly" elements of their past life (Galatians 4:8,9, KJV). He compared his anguish to the "pains of childbirth until Christ is formed in you" (Galatians 4:19). Perhaps you have felt the same way, having invested your heart to counsel someone in your congregation, only to find he has totally rejected God's wisdom and reverted to his former way of life.
What you can do is rest assured of the truth of God's Word and ways. Continue to urge, plead, warn, admonish, and lay out for the counselee the predictable outcome of his choices. Let him know that if he continues to feed the "old self," it will lead to a broken relationship with God and have other negative consequences (see Galatians 5:16ff). On the other hand, if the counselee will wisely submit to God's Word and walk in step with the promptings of the Holy Spirit, his life will yield the fruit of the Spirit (Galatians 5:22ff).
Assessing Competent Christian Counseling
To assess competent Christian counseling the pastor needs to monitor whether the counselee achieves the expected outcomes. It is important to inspect what you expect. What worked and what did not? Has the counselee made progress toward achieving his objectives? Do you see effects of a transformed life in the development of new and godly habits? Do you see the fruit of the Spirit in the counselee (Galatians 5:16–26)? Do you see the counselee making the life choices that put off the old self and put on the new self? Does he avoid immorality, self-centeredness, and addictions? Does he develop an affection for others, exuberance about life, and serenity? Is there a willingness to stick to the things of God? Is there a sense of compassion in his heart? In short, does the counselee experience a love for the things God loves and a hatred of the things God hates? Does he grieve over the things that grieve the Holy Spirit?
Because of his reliance on the Holy Spirit, the pastor should anticipate supernatural breakthroughs in difficult counseling situations. Competent Christian counseling relies on the Holy Spirit to provide power, comfort, and discernment. The pastor is a major conduit through whom the Holy Spirit ministers effectively to the counselee's wounds from the past, provides enablement for life's present struggles, and offers hope for a glorious future.
Editor's note: The author wrote four articles on Christian counseling for Enrichment journal in 1999–2000 entitled: "A Biblical Model for Counseling in the 21st Century."
Notes
1. See my article "The Many Roles and Demands of the Assemblies of God Pastor" in Enrichment, 1, no. 2 (Spring 1996): 88–93.
2. See my chapter "Personal Counseling in the Power of the Spirit" in The Pentecostal Pastor, ed. Thomas E. Trask; Wayde I. Goodall; and Zenas J. Bicket, (Springfield, Missouri: Gospel Publishing House, 1997).
3. See Dallas Willard, The Divine Conspiracy (San Francisco: HarperCollins Publishers Inc., 1998). Willard's chapters 2 and 9 provide an excellent discussion on the shallowness of much of Christian life and the necessity to form "habits of holiness."
4. Francis Foulkes, The Epistle of Paul to the Ephesians,Tyndale New Testament Commentary (Grand Rapids: Wm. B. Eerdmans Publishing Company, 1978), 120.
5. Gary Collins,The Biblical Basis of Christian Counseling for People Helpers.(Colorado Springs: NavPress, 1993), 21.
6. See Gerard Egan, The Skilled Helper, 8th ed. (Pacific Grove, California: Thomson Brooks/Cole, 2007). This is an excellent introductory book on basic counseling skills with a positive, solution-focused approach. It is often used in seminary training for professional counselors as well as pastoral counseling training.
7. See Building Your Church Through Counsel and Care (Minneapolis: Bethany House, 1997).
8. I strongly advise that most counselees develop basic spiritual disciplines to bring them into a personal and transforming relationship with Jesus Christ. Among my favorites are Richard Foster's, Celebration of Discipline: The Path to Spiritual Growth (New York: HarperCollins, 1998); and Dallas Willard's, Renovation of the Heart: Putting on the Character of Christ (Colorado Springs: NavPress, 2002).
When To Refer
In some instances, assessment of the counselee's issues and identification of his goals reveal that he needs services or resources that surpass the pastor's level of competence. In these cases, the wise pastor will refer the counselee.
Referral is a professional as well as ethical issue, and it is important for the pastor to ascertain various referral sources for the counselee. Appropriate referrals also allow the pastor to use his time with efficiency and wisdom.
In general these are some reasons to refer:
You feel overwhelmed by the counselee's problem.
The counselee is stuck or unwilling to be active in taking responsibility for change.
The counselee is poorly motivated, hostile, has a long history of poor relationships, or expects to be a passive recipient of help.
You are concerned about the counselee's self-destructive, suicidal, or violent behavior, or if he seems to be out of touch with reality.
If you notice excessive weight loss or gain or eating problems.
If you suspect drug abuse.
If you suspect child abuse.
Be sure to explain to the counselee the need for the referral, the anticipated benefits of the referral, and, if possible, provide a choice of options.
Some counselees may resist a referral and insist you are the only one who can help them. Thus you must describe the behaviors that concern you and give your reasons for making the referral. Reassure the counselee that you have confidence in the referral source and emphasize the importance of a timely follow-through with your suggestion.
As appropriate, you may state that once he has received appropriate help you may be able to see him on a follow-up basis providing he has gotten the help you have suggested.
DONALD A. LICHI, Ph.D., Akron, Ohio
Core Competencies for Clergy
Certain personal and professional qualities appear common among pastors who are effective in their role as counselor. The pastor brings his worldview, life experience, personal history, character, integrity, and beliefs about others into the sacred space of counseling.
As Egan notes,1 the difference between success rates has more to do with the (counselor) and the quality of the counseling relationship than with the type of treatment. The relationship between the counselor and the counselee is the single best predictor of treatment outcome.
Here are some of the core competencies and qualities of the effective pastor serving in the role of counselor:
A deep personal love of Jesus and dependence on the power of the Holy Spirit with an ability to practically apply Scripture and biblical principles.
An ability to listen to the counselee's concern and at the same time listen to the Holy Spirit.
Ability to focus attention on the counselee.
Positive emotions: personal happiness and optimism.
Interpersonal skills: the capacity to love, value, forgive, and nurture others.
Personal responsibility: courage, perseverance, humility, and moderation.
Future mindedness: the ability to see Kingdom potential in another.
Originality, creativity, and wisdom.
Patience: especially with a counselee who has recently come to faith in Christ. Many counselees continue to struggle with preconversion habits of the heart.
Assertiveness: ability to challenge, confront, and offer corrective feedback in such a way that the counselee maintains his integrity.
Self-awareness: aware of the feelings generated by certain counselees. (See "Navigating Counseling Pitfalls" article by M. Wayne Benson page ___, where he deals with transference and counter transference).
Knowing when helping is no longer helping and when the counseling relationship should end. (See sidebar "When To Refer.")
Ability to maintain confidentiality.
DONALD A. LICHI, Ph.D., Akron, Ohio
Note
1. See Gerard Egan, The Skilled Helper, 8th ed. (Pacific Grove, California: Thomson Brooks/Cole, 2007).
Long-Term Versus Short-Term Care
The nature of the pastor-parishioner relationship is potentially lifelong. However, because of numerous other responsibilities, I advise pastors to limit the amount of time spent each week in their role as counselor to about 4 to 6 hours, and I suggest placing a limit of 3 to 5 sessions for a presenting issue. During these sessions help a person identify his problem, explore solutions, and determine the best course of action to resolve the issue.
The model I recommend for pastors is a brief insight solution-focused style versus a long-term psychotherapy model. The following are common distinctives of short-term, solution-focused helping:
Introduce people to a personal love relationship with Jesus Christ, and lead them to be filled with the power and presence of the Holy Spirit.
Work with the counselee to construct solutions to his concerns rather than allow too much time focusing on what is wrong in his life.
Utilize the counselee's strengths, resources, and possibilities rather than focus on deficiencies, liabilities, and seemingly insurmountable hurdles.
Look for exceptions to the presenting concern and amplify these exceptions as part of constructing solutions. For example, when a counselee is struggling with a particular temptation, try to determine the times, places, and circumstances where the counselee has had victory. Then use these exceptions as an example of when the problem cycle was disrupted and use the exception as a building block to deal with future temptations. In theological language, we focus on the things that strengthen the inner man rather than focus on the problems of the old self.
DONALD A. LICHI, Ph.D., Akron, Ohio
After the Referral
Church ministries are not a replacement for professional counseling. Some people with deep and long-standing problems may need more help than the pastor and church can provide. Yet, even when it becomes necessary to refer a person for more extensive counseling, the church and pastor remain a vital part of the support system for helping people return to emotional and mental health.
While pastoral counseling may be brief, a pastor's relationship with a counselee who is also a parishioner is usually ongoing. As the counselee's pastor you can help him find places within the church where he can continue to grow and find healing. In so doing, you are helping the counselee live the words found in Ephesians 4:22–24: "You were taught, with regard to your former way of life, to put off your old self, which is being corrupted by its deceitful desires; to be made new in the attitude of your minds; and to put on the new self, created to be like God in true righteousness and holiness."
CHRISTINA M.H. POWELL, Ph.D., Boston, Massachusetts