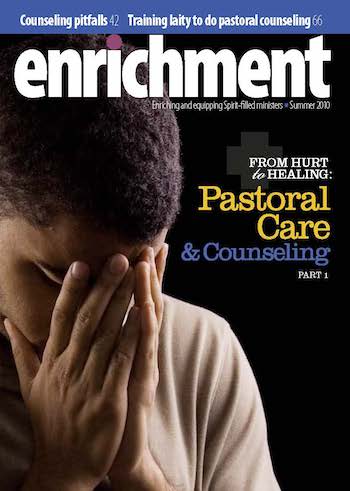 Downloads:
Ministers' Wives and Infidelity
God is not as concerned about your happiness as He is about your obedience.
by Gabriele Rienas
---
Q: I am devastated. Our pastor's wife left her husband for another man in the church. I am the youth pastor's wife, and I hardly know how to express how stunned and bewildered I feel. Our pastor (call him Peter) says he sensed a growing distance between the two of them but had chalked it up to the current season of family life with busy adolescent children and a hectic ministry schedule. Melissa (not her real name) has been adamantly unwilling to repair things, let alone discuss it. She has made it clear that she has made up her mind and has left with the other man. Wounded and broken, Peter is resigning and moving away. I have now become aware of similar circumstances in other churches. As a young wife, I am greatly disturbed. How did this happen and how can I prevent this in my own life?
A: We have long been aware of the possibilities/risk of marital infidelity on the part of the preacher, but you raise a circumstance that is becoming increasingly familiar in ministry communities: The pastor's wife who leaves her husband for another man. Perplexed and stunned to learn of such a development in the lives of our ministry peers, we ask, "How did this happen?" and "What would prevent something like this from happening in other families?"
Obviously, marital infidelity has always been around and each situation is unique. There are, however, some cultural and historic realities that contribute to an increase in both the incidents of unfaithfulness among ministry wives as well as an increase in the number of women who, once found out, are adamant about leaving their current situation for a new one.
Cultural and Historic Realities
Emphasis on self-gratification/happiness
Our society's emphasis on self-fulfillment, self-gratification, and personal happiness is akin to an obsession. The message is strong and clear: You deserve to be happy. You deserve to have what you want. You deserve to have it all now.
Even in the current economic climate, with a new emphasis on simplicity, we continue to receive mixed messages on every front. The temptation to buy into this gratifying belief is enormous. Eventually it becomes part of our spirituality as well.
Women who feel unhappy and unfulfilled are most susceptible to these subtle, internal messages. The mantra of many women in this predicament is a rationale that goes something like this: God does not want me to be unhappy. I have been miserable for a long time. This new situation makes me happy. Therefore, I will take my chances with God.
Highly sexualized culture
Short of moving to a desert island, we can no longer escape the constant sexual content that bombards us at every turn. Electronic advances ensure that we now have exposure to wanted or unwanted material frequently. In "Kids Bombarded With Sex Images Having Sex Earlier Says Montreal Child Psychologist," Hilary White reported on how sexual content on TV affected young people (Link). The Kaiser Family Foundation study defines sexual content as anything from discussion about sex to outright depiction of sexual activity. They found that 70 percent of all shows averaged about five sex scenes per hour. While men are more visually stimulated, women are more emotionally moved by these images, especially if they have unfulfilled longings for love and relational intimacy. Over time, viewing this kind of gratification becomes less shocking and more normal, and as a society we find it less and less offensive. What we have repeatedly viewed becomes the norm for expressing strong feelings of love and longing.
Empowerment
The good news is that more and more women are coming into a place of empowerment in their gifts and passions. More women are stepping into leadership positions and taking their God-given place in the Kingdom than ever before. However, with every positive, God-ordained shift in emphasis, Satan is there to twist the truth and destroy what was meant for God's glory. The bad news is that just as empowered men have struggled with pride, self-gratification, and selfish pursuits; empowered women are now more than ever faced with these same issues. The pastor's wife, who in former times would never have dreamed of asserting herself this way, now feels free to say, "I can do what I want and no one can stop me. I have a right to be happy."
Loneliness
Loneliness has reached epidemic proportions in society. It is especially rampant among pastors' wives. Isolation in the midst of activity and group interaction is the irony. The desire to set a positive example keeps some pastors' wives from exploring their true thoughts and feelings with anyone. Even if they want to be honest with someone, they are clueless as to whom they would turn. Wanting to support their husbands and protect their ministry, they avoid speaking up about important marriage difficulties and concerns while internal pressure and discontent builds. When an opportunity to feel desired and cherished comes, unmet longings and dissatisfaction fuel the temptation.
Counteracting Negative Influences
Understanding the cause is only the first step in preventing the occurrence of this kind of destruction. There are also some practical things we can do both as a community and as individuals to counteract these negative influences.
Talk about it
Prevention is always preferable to recovery. One of the simplest preventative measures we can employ as a community is to have an honest and open dialogue of real issues. We cannot be naïve about the possibilities. In reality, no person is exempt from this kind of temptation. If leadership sets the stage by openly and honestly addressing biblical sexuality, temptations, and tools for maintaining purity, it promotes an atmosphere of mutual honesty and vigilance.
In my personal research into this kind of situation, I heard repeatedly, "We never dreamed she could have done something like this. Everyone was completely shocked and disbelieving. True, we saw some vague signs that a relationship was developing and we even questioned the propriety of it, but we never thought that she would take it this far."
To their credit, the community was reluctant to think bad thoughts about its leadership. However, our desire to think the best of one another should not outweigh common sense. Open dialogue promotes the right to ask questions and to have concerns addressed maturely.
Guard the marriage
An affair is a 100 percent indicator of difficulties in a marriage relationship. As much as people would like to insist that it was a lapse of judgment or a mistake, it is always a hostile act toward the marriage partner.
No one would disagree that engaging in extramarital sex has the potential to and will most likely cause great pain for the spouse. Willingness to risk inflicting needless pain on someone we love always has its roots in hostility. Therefore, the No. 1 preventer of temptation is a strong marriage relationship.
If a relationship is strong and fulfilling, there is no need to go elsewhere. No persons in their right mind would take the risks if their spouse was fully meeting their needs.
Sadly, pastors sometimes neglect their marriages in the name of God's work. Congregational needs and multiple obligations threaten to crowd out quality marital time. Gradually the passion wanes. Mutual preoccupation becomes a substitute for quality intimacy and interaction. For a while, this seems to work.
Many pastors' wives may even admit this is true of their marriage but still insist they would never be tempted. Beware of your confidence. Since God created us for intimacy and close connection, when a substitute opportunity comes along the temptation is very real.
Denise never dreamed she would find herself in this predicament. She had never been as ministry oriented as her husband. She only wanted to serve her children and family and take a supportive role at church. Knowing her husband spent most of his time at church and wanting to be in closer proximity, she turned her attention to the church coffee shop where her business sense excelled and the shop thrived. She frequently worked alongside a young man whom she liked and respected. They began to share casually about their lives, becoming more and more self-disclosing as time went on.
She began to look forward to her coffee shop hours knowing she would come away feeling special and affirmed. The rest is a familiar story. When it all came out, Denise stubbornly refused to seek reconciliation with her husband, opting to move on with the coffee shop man. She adamantly believed that true love finally awaited her. Sadly, the devastation was far-reaching.
It is not uncommon for ministry wives to admit they feel very lonely and neglected by their husbands. Believing that to complain would be to protest against God, some suffer quietly, making them prime candidates for someone else's attention to their emotional needs. Satan will certainly see to it that that opportunity arises.
Ministry couples need to discuss and explore marriage difficulties. There are ministries geared to provide marital assistance for pastors. Most district offices have resources and helps. Many district offices contract with Christian counselors to provide safe situations for credential holders.
Vigilance
Denominational leaders have given much attention to the dangers of the pastor becoming involved with other women. More than ever they examine, discuss, and warn pastors of these dangers. Even though this kind of sin will always be present, those who heed the warnings are putting greater emphasis on boundaries and safeguards. For example, some pastors are refusing to meet with women in closed-door settings. Office door windows are becoming common in new church construction. Pastors are more frequently turning counseling over to trained helpers after a few initial sessions with the counselee. These are common-sense efforts to guard against temptation.
The pastor's wife should also make sure there are safeguards and boundaries in place. Humble acknowledgment of human weakness should bring vigilance. We are warned: "So, if you think you are standing firm, be careful that you don't fall! No temptation has seized you except what is common to man. And God is faithful; he will not let you be tempted beyond what you can bear. But when you are tempted, he will also provide a way out so that you can stand up under it" (1 Corinthians 10:12–14).
Use common sense in building relationships with members of the congregation. Do not spend large amounts of time alone with members of the opposite sex. This is true even if you are involved in ministry together. Ironically, the same passion that drives us toward ministry can make us emotionally vulnerable and more intimately connected with others who share it. This is the reality; be wise with it.
Be vigilant with close couple friendships in the church. If you spend time together vacationing and sharing major life events as couples, guard yourselves against emotional hijacking, especially when your marriage is going through a rocky period. Do not discuss intimate topics and guard against too much self-disclosure that leads to greater vulnerability.
A word to the pastor's wife: pursue self-awareness and honesty. Take care of issues that arise. At the first sign of attachment or an emotional tie with someone else, take drastic steps to reveal it to appropriate accountability partners and quickly distance yourself from the temptation. Admittedly, your newfound sense of affirmation and well-being may feel really good, making the temptation all the more magnetic. Realize there is no future in pursuing this kind of gratification, and the end result is wide-reaching destruction. With the help of a qualified person flee from it and explore what led to this temptation in the first place.
We have all heard the biblical race-running analogy. None of us starts out in ministry planning to drop out of the race partway through. Our desire is to finish well. May this be the desire that propels all of us to vigilantly guard what God has entrusted to our care.
A Word to Those in These Shoes
There is no future for you in this current pursuit. As much as you would like to believe you have found happiness and fulfillment, know that your pain blinds you to the realities of what you can expect in the long run:
1. Family and children who are irreparably destroyed. (Both yours and his.)
2. A community of believers devastated, betrayed, and disillusioned in their faith. Not only will it undermine the positive influences you may have invested in them; it will also affect future relationships they have with spiritual leadership.
3. Less happiness rather than more. Your current euphoria and sense of well-being are temporary. This relationship will certainly end up in much the same place as your marriage. In the end, second-time marriages are not any happier or fulfilling than first marriages. Ask five honest people who are in those shoes.
4. Loss of all your friends and the life that you now know — everything will change. Do not think it does not matter. No one person can be enough to substitute for all of the upheaval and loss you will experience.
5. Regret. Whether your pride allows you to admit it or not, you will certainly come to regret this decision. Try living with regret for 30-40 years. Talk with someone else who has been in these shoes and hear about the misery it brings.
6. God is dishonored. God is clear about His will for you to stay with your husband. God is not as concerned about your happiness as He is about your obedience. Fulfillment and true joy come from doing the right thing. It does not always feel good, but the reward is greater.
Though it may be painful, run, do not walk, away from this temptation. While it may feel like a bandage being ripped from a tender spot, nothing good can come out of this. If you do the right thing, you will emerge again from the dark place you find yourself. After a season of pain, you can find true joy. Trust God on this.
Gabriele Rienas, Beaverton, Oregon.