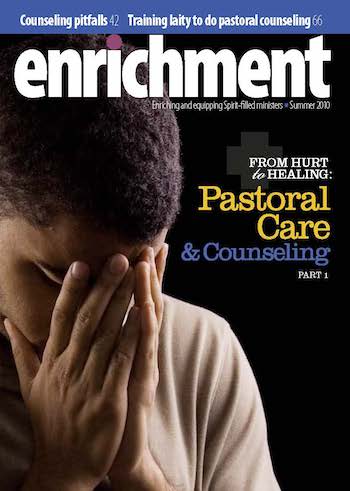 Downloads:
Left Behind
Ministering to Survivors After a Suicide
by Victor M Parachin
---
Twenty-four hours after New Year's Day, a well-liked attorney ended her life by jumping from a hotel window ledge. Her friends and colleagues were stunned. Her closest friend said: "None of her friends or I had any inkling she was depressed or that anything was remotely wrong. She was a brilliant lawyer with an excellent job, a beautiful home, and exotic vacations. She had many good friends. Of all the people I know, she was the most self-possessed, confident, and able. We are all shocked and perplexed by what happened. It was such an awful and truly tragic waste of life."
Sadly, that incident is not isolated. Globally, every 3 seconds someone attempts to take his or her life. Almost 1 million deaths per year are the result of suicide. That number is higher than the total number of deaths each year from homicide and automobile accidents combined. Furthermore, statisticians estimate that every suicide leaves 6 to 8 survivors. In the United States, for example, the 31,000 reported suicides cause 180,000 to 250,000 men, women, and children to become suicide grievers every year. While any death produces grief, a loss to suicide can be deeper, more intense, and prolonged. Those left behind are left with a variety of conflicting, confusing, and chaotic emotions. Because suicide still carries a stigma, grievers are tempted to withdraw and isolate themselves.
To recover and regain equilibrium, suicide survivors need the presence and gentle support of caring friends. When people experience loss and grief, the Bible calls us to offer comfort. Like the prophet Isaiah we are to "preach good news to the poor," and "bind up the brokenhearted" (Isaiah 61:1). To those trapped in emotional prisons of grief, we are to engage in the ministry of Jesus who said: "The Spirit of the Lord is on me … to preach good news to the poor … to proclaim freedom for the prisoners and recovery of sight for the blind, to release the oppressed" (Luke 4:18). Here are seven ways to minister to and help survivors heal after a suicide.
Prepare yourself emotionally and spiritually. To be the best possible caregiver and supporter, pastors need to engage in self-reflection to be certain they can approach a suicide survivor in a healthy, balanced way free of cultural stigmas about suicide. Ask: Do I see suicide as something shameful, a social taboo? If so, you may end up cooperating with the family in a conspiracy of silence surrounding the suicide. Another question to ask: Do I believe the person who commits suicide is mentally ill? While some people who have struggled with mental illness commit suicide, many do not. Perceiving all suicides as a mental illness can lead helpers to develop a "contagious" view whereby people may also perceive survivors as mentally ill. To be an effective comforter, one needs to honestly understand the fragility and unpredictability of life. Suicide can occur in any family.
Also, prepare yourself to be a better helper by reflecting on spiritual resources you can utilize with suicide survivors. These can include:
Prayer: When the prophet Jeremiah was grieving, God told him: "Call to me and I will answer you and tell you great and unsearchable things you do not know" (Jeremiah 33:3). To the discouraged and disheartened, God says: "Call upon me, and I will answer"(Psalm 91:15).
Hope: The Psalmist reminds those who are grieving that: "The eyes of the Lord are on the righteous and his ears are attentive to their cry" and, "The Lord is close to the brokenhearted and saves those who are crushed in spirit" (Psalm 34:15,18)
Comfort: God is our invisible companion through all of life's changes and challenges, ever present with comfort: "As a mother comforts her child, so will I comfort you; and you will be comforted" (Isaiah 66:13). "Praise be to the God and Father of our Lord Jesus Christ, the Father of compassion and the God of all comfort" (2 Corinthians 1:3)
Community. When people experience a devastating blow, they are not alone. The community of faith is there to provide support and encouragement. The apostle Paul noted that people of varying gifts and talents fill the church and are to use their gifts to help others: "We have different gifts, according to the grace given us. … if it is serving, let him serve; if it is teaching, let him teach; if it is encouraging, let him encourage; if it is contributing to the needs of others, let him give generously" (Romans 12:6–8).
Make your presence known and felt. As soon as you hear about a suicide, call, or better yet, visit. Let survivors know you are there to care and share in any way you can. Being there is vital because many people falsely view suicide as evidence of personal and family failure.
In an article published in the American Journal of Psychiatry, researchers D. Ness and C. Pieffer found that people blame and avoid family members who lost someone to suicide more often than they do relatives of people who have died under other circumstances. That attitude often reinforces feelings of guilt, self-blame, and shame causing survivors to withdraw and further isolate themselves from sources of support. When you learn about a suicide, be a first responder, offering compassionate presence and support.
Do not underestimate the power of presence. At first, you may feel there is nothing you can do and nothing you can say to help a suicide survivor. Override those feelings of fear and hesitation and replace them with your gentle voice of support, understanding, and compassion. Your presence will generate healing and hope.
After his father's death to suicide, Albert Y. Hsu wrote Grieving a Suicide. In it he stresses the therapeutic power of friendship: "Survivors of suicide don't need pat answers to incomprehensible questions. We simply need the loving presence of others to help us keep our lives going. We need companions on the journey, not answers. We don't need the pain to be minimized; we want others to be willing to be with us in our pain and grief." As their friend, be present with those who grieve a suicide. Get close to them. Sit with them on the mourning bench. Be a source of comfort and support. Do not underestimate the good you can do by simply being there.
Be a good listener. When there has been a suicide, some people feel uncomfortable simply listening, and quickly say something to "make things better." Do not succumb to the temptation to talk. Sit quietly by your grieving friend and listen. In so doing, you create space for your friend to talk about his or her pain. Do not change the subject and do not inject superficial advice. As you listen, work at combining good listening skills with offering empathy. Characteristics of an empathic friend include:
Accepting your friend's emotions, whatever they may be.
Bringing a nonjudgmental attitude to your friend and the suicide death.
Being comfortable with tears.
Offering warmth, affection, sympathy, affirmation.
Reminding a griever of internal strengths they have to deal with the loss.
Avoiding the giving of unsolicited advice.
Allowing a griever to mourn in his or her own unique way.
Expressing willingness to be available whenever he or she wants to talk.
In their book, Silent Grief, authors Christopher Lukas and Henry Sieden state one of the best ways friends can help suicide survivors is by listening. "What helps most is to create a climate in which a person's own capacity to heal himself can flourish. That climate is one in which the helper mainly listens," they write. To become a more effective listener, Lukas and Sieden advise caregivers to "practice listening. You will be surprised at how little listening we do as part of everyday life. It is a forgotten skill." As an example, they cite a psychotherapist whose 20-year-old patient killed herself. The psychologist felt guilty over her death and indicated that to his colleagues. "They hastened to reassure him, to remind him that he was only one influence in her life, that she had a will of her own, that no one controls another person's life, and so on," they write.
As the psychologist listened to the outpouring of comments from his colleagues, he became more agitated and angry. "If only they had let me talk about how I feel," he said, "instead of cutting off my guilt." The lesson from that experience: listen far more than you talk because it is listening which creates the space for survivors to clarify and sort out their own innate wisdom.
Avoid trite comments and empty platitudes. Although people mean well when trying to deliver comfort to someone grieving a suicide death, they often say careless, meaningless, and foolish things. Here are some statements suicide survivors hear and dislike. Avoid these because they only serve to anger grievers:
Did you know she was mentally ill?
It was his time.
God wanted him more than you did.
Too bad she wasn't stronger.
He's in a much better place now.
God never gives us more than we can handle.
It's time to get over it.
Better ways of responding include using these types of empathetic statements: I'm so sorry. This must be very hard for you. I want to help in any way I can. Tell me what happened. Tell me how you feel. It's okay to cry.
Recommend attending a grief support group. Most communities have bereavement support groups and many have groups specifically for loss to suicide. Locate a group in your community noting the location, time of meetings, and contact person. Offer this information to your grieving friend, encouraging him or her to participate. In a grief support group, grievers encounter others who share in a similar experience and truly understand the nature of grief. By talking with other suicide survivors, grievers experience affirmation, validation, a reduced sense of isolation, and witness others coping successfully. Healing is accelerated in such an environment.
After his father died from suicide, Hsu received a brochure informing him about a survivors of suicide support group. It read: "Survivors need a safe place to explore their feelings of grief and anger, to raise questions and doubts. We will welcome you at anytime." Since it had been half a year since his father's death Hsu felt he was doing well but decided to attend. There, members took turns telling stories of what happened to their loved ones. "When it was my turn," he recalled, "I choked up as I told the group my story. I had not cried for my father for some months now, and I was surprised that tears came back so quickly. As heads nodded around the room, I exhaled a long-pent up breath of relief. These were people who understood the grief of suicide. I didn't have to worry about what they would think of me or the suicide; they were a community of fellow survivors, helping one another grieve on the journey."
Stay in touch after the funeral. At the time of a death, extended family, friends, and colleagues usually surround survivors. However, in the days following the funeral most support dwindles off. Yet, it is in the months after the loss when survivors most need support. Be the person who spreads support over the long haul. Remember the journey through grief is filled with countless unfamiliar landmarks and unexpected twists. Make frequent visits and phone calls, especially during the first year following the death. Be aware of holidays, anniversaries, birthdays, etc., making contact during those difficult times of the year.
Those who lose a loved one via suicide can experience grieving and growing through the tragedy. Grief and growth will go hand in hand only when friends support survivors with great compassion, love, wisdom and patience. With the help of such companions, survivors' lives will enlarge rather than be constricted by one tragic event.
Victor M. Parachin, freelance writer, Tulsa, Oklahoma