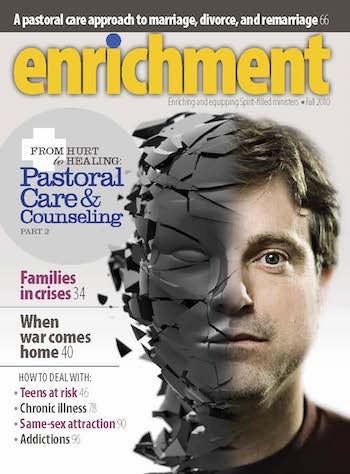 Downloads:
Through the Valley
Pastoral Care of the Dying and Bereaved
---
See Also:
Hurtful Things People May Say:
It is God's will.
God only takes the best.
He is in a better place.
You should not ask "Why?"
All things work together for good.
He never gives you more than you can bear.
You have an angel in heaven.
Helpful Things People Can Say:
It is okay to cry.
I will listen.
I am here.
I care about you.
What can I do for you now?
You must hurt terribly.
I am so sorry.
Common Fears of the Dying:
dying alone
pain
distress
dying in an institution
being a burden
kept alive only by machines
Four things, 11 words, we need to say:
"Please forgive me."
"I forgive you."
"Thank you."
"I love you."
Adapted from IRA BYOCK, M.D., The Four Things That Matter Most (New York: Free Press, 2004).
LOU-ANN REDMON, R.N., Stow Ohio
How to hold the hand of the dying and walk alongside the bereaved
By Lou-Ann Redmon
As a pastor are you comfortable ministering to the dying and bereaved? Consider these common responses and where your comfort level lies:
"Are you still crying? It has been 3 weeks. You know your mother is in heaven. Where's your faith?" This comes from a loving Christian husband, trying to comfort his wife.
"Grow up. Stop sinning. Get in the Word." This comes from a well-known pastor to an angry young Christian husband with two children, after the death of his wife.
"You've believed in God all your life. Why do you question Him now?" This comes from a mother, a strong, lifelong faithful woman of God, following the death of her son in war.
If these Christians, deep in the throes of grief's agony, were sitting in your office, would you offer those words? Would you consider them good advice? Would you, or could you, offer something else? Explore these questions and find answers that can provide a healing balm to the broken hearts within your church. People can find solace and comfort inside your church because there are things you can do to be an effective caregiver.
Read the rest of this article by obtaining a downloadable PDF of the Fall 2010 issue of Enrichment journal.
Grief and Bereavement Resources
Grief Materials
Care Notes. Order from: One Caring Place: www.onecaringplace.com
HOPE FOR BEREAVED: Understanding, Coping and Growing Through Grief (handbook). Order from: www.hopeforbereaved.com
Grief Digest. Order from Centering Corporation: www.centering.org
Grief Support Guide, a handbook for pastors and churches by Lou-Ann Redmon. Order from: www.thegriefcareplace.org
Willowgreen is a multifaceted provider of information, inspiration, and support for life transition and aging, loss and grief, illness and caregiving, hope and spirituality, and healing presence. For more information, visit: www.willowgreen.com
New Leaf Resources promotes healthy relationships and personal growth through counseling, education, and consultation from a Christian perspective. Contact: www.newleafresources.org
Various resources including a DVD video series. Order from: www.griefshare.org
Professional Training and Information
American Academy of Bereavement
CMI Education Institute, Inc. is a nonprofit organization committed to providing high-quality education and training for health-care professionals, counseling professionals, and the general public on topics related to palliative care, mental health, grief and bereavement, serious illness, loss and/or other subjects of interest to health-care and mental health professionals, and all persons working with those who are grieving and/or suffering from physical or mental illness. For more information, visit: www.cmieducation.org
Center for Loss and Life Transition
The Center for Loss is dedicated to "companioning" grieving people as they mourn transitions and losses that transform their lives. We help both mourners, by walking with them in their unique life journeys, and both professional caregivers and laypeople, by serving as an educational resource and professional forum. For more information, visit: www.centerforloss.com.
Grief Recovery Institute
Provides resources and training for those recovering from grief or want to learn how to minister to those experiencing grief. For more information, visit: www.grief-recovery.com.
Online
Support groups designed to help those who are grieving.
Google Searches: Christian Grief Resources; Grief Support Training for Clergy and Congregations
Books
Dobson, Dr. James, 1993. When God Doesn't Make Sense. Wheaton: Tyndale House Publishers.
Grollman, Dr. Earl A. 1995. Living When a Loved One Has Died. Boston: Beacon Press.
Hsu, Dorothy. 1995. Mending. Fort Washington, Pennsylvania: Christian Literature Crusade.
Lewis, C.S. 1980. A Grief Observed. New York: Bantam Books.
Manning, Doug. 1979. Don't Take My Grief Away From Me. Springfield, Illinois: Insight Books.
Manning, Doug. 2004. The Power of Presence. Springfield, Illinois: Insight Books.
Westburg, Granger. 1971. Good Grief. Philadelphia: Fortress Press.
Ziglar, Zig. 1998. Confessions of a Grieving Christian. Nashville: Thomas Nelson Publishers.
Zonnebelt-Smeenge, Susan J. and Robert C. DeVries. 1998. Getting to the Other Side of Grief. Grand Rapids: Baker Books.
Suggested additional authors:
Therese A. Rando, Ph.D.: Web site: thereserando.com
Darcie D. Sims, Ph.D.: Web site: www.griefinc.com/griefinc/people/darcie.htm
Harold Ivan Smith, D.Min.: Web site: www.nph.com/nphweb/html/nph/contributor.jsp?contrib=1271
Alan Wolfelt, Ph.D.: Web site: www.centerforloss.com