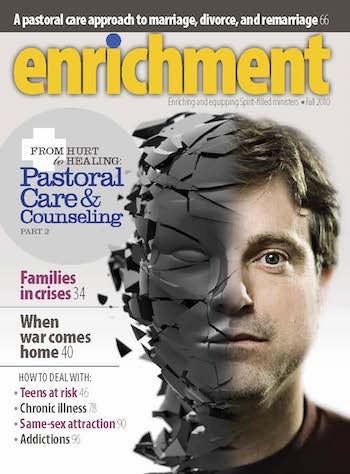 Downloads:
Premarital Counseling
Helping Couples Take the Wheel and Keep it Between the Lines
---
Just as there are four directions on a compass, there are four things every couple needs to consider as they prepare for marriage
I recall when my father asked me to sit on his lap to assist him in keeping the car between the lines. I remember the exact location even as I write. It was amazing that I was driving. The excitement when he invited me to sit behind the wheel by myself eclipsed that feeling. Then came the day he turned the keys over to me so I could drive by myself.
I remember the three phrases he told me: "Look as far ahead as you possibly can," "Pay attention to where you are," and "Check your mirrors and blind spots." These three statements apply as we help couples prepare to navigate the road leading to marriage.
Look As Far Ahead As You Possibly Can
In premarital counseling, pastors need to help couples view what is coming in marriage, the good, the bad, and the … let's keep things positive. As a pastor and a licensed professional counselor, I have been doing premarital counseling for over 25 years. I have found that just as there are four directions on a compass, there are four things every couple needs to consider as they prepare for marriage. A long look in the direction of love, the direction of grace, the direction of honor, and the direction of truth will give couples their bearings in finding their way.
One fundamental component to help couples prepare for marriage is to look ahead in the direction of understanding and demonstrating love. A definition of love is key. I define love as being AC/DC. Love is the Accurate Consideration and the Deliberate Contribution to another's need. Simply, love is finding a need and meeting it. This is John 3:16 love.
You can help couples come to a deeper understanding of love by having each partner inventory the 15 components of love the apostle Paul mentions in 1 Corinthians 13. I have a tool that describes the original meaning of the words Paul uses. Then I ask couples to rate their love level on a scale of 1 to 10. Download the Love Inventory tool from Gary Chapman's best-selling book, The Five Love Language.
The second direction to look at is the direction of grace. Grace is the message of the Cross. The vertical beam represents the total dependency we must have on God to receive His grace and the horizontal beam represents the diligence we must exert to give grace. God has called us to live graciously with the one with whom we are in relationship.
I recommend that couples come up with a system to help them share their grace walk with each other. I am not a big fan of couples devotionals. I suggest a couple develop a personal and relational system that works for them.
In my marriage some of the most significant grace moments come by tracking and sharing with my wife. Consequently, some of the most spiritual times have been on sunset walks or patio conversations. Couples should track such times by writing them down.
The third direction for couples to see as far as they can is the direction of honor. Paul reminds us to honor each other above ourselves (Romans 12:10). Encourage couples to identify character traits of their partner and express them openly. This should not be difficult for couples anticipating marriage because they are already focused on each other's positive attributes.
Honoring and valuing each other may be as simple as understanding each other's temperaments. Have couples take inventories to help them better understand each other. Some tests are the Taylor Johnson Temperament Analysis (www.tjta.com/abouttjta.htm), the Swift Personality Profiling Sytem, and the Adjective Checklist (www.mindgarden.com/products/acl.htm).
The fourth direction is for couples to look as far as they can in the direction of truth. Truth leads to vulnerability and vulnerability leads to intimacy.
Have couples fill out a premarital assessment away from each other. This assessment gives the couple opportunity to answer truthfully. If there are discrepancies in the assessments, address these individually at first and then bring those revelations to counseling. Download it at: www.ccstoday.com/pre-marital-assessment.aspx.
Pay Attention to Where You Are
Few couples I have counseled were zipping toward their destination of marriage completely unaware they were speeding, almost out of gas, with warning lights glaring. Most couples, long before the proposal, have had countless DRTs (Define the Relationship Talks). Many couples have already been married and have children. The mindset that we are counseling uninformed or misinformed marriage seekers is a fallacy. Church and state requirements may be the reason couples are attending counseling.
Wilford Wooten, director of counseling for Focus on the Family, advises couples: "It just makes sense to take a closer look at any issues you may be struggling with. It doesn't mean you have to abandon the relationship. Don't throw away the cheese; just cut off the mold. Getting counsel before you get married will help you grow together and go past the obstacles. It will strengthen your relationship for the future by helping you take an honest look at where you currently stand."
Many issues can be present in the premarital relationship. If they show up remotely in premarriage, they are going to be prevalent in the marriage relationship. In 25 years of marriage counseling, I see five core issues that affect the level of stress in the relationship: communication, finances, intimacy, shared relationships, and work stress. Other issues needing to be addressed are: parenting, conflict resolution, leisure activities, and marriage expectations.
I use Prepare Test from Life Innovations (www.prepare-enrich.com). I recommend couples take advantage of this evaluative instrument. It measures 11 components of the marriage relationship. Find a registered test administrator in your area or take the training yourself. I suggest: The Complete Guide to The First Five Years of Marriage: Launching a Life Long, Successful Relationship by Wilford Wooten and Phil Swihart.
Check Your Mirrors and Blind Spots
Important to getting couples to look forward as far as they can and pay attention to where they are in the relationship is to help them see from where they have come. Two issues from the past can have lasting impact: premarital sex and family-of-origin issues.
Premarital sex involves sex with the existing partner, other partners, or sexual abuse. Statistics show that 77 percent of evangelical males are not virgins at the time of marriage (www.healthymarriageinfo.org). In a culture enamored with sex, there is a mandate for pastors, counselors, and mentors to deal with this issue in premarital counseling. Past engagement in sexual activity will impact the relationship of marriage if not addressed.
A number of excellent resources deal with issues of sex and intimacy. A resource to help with sex before marriage isReclaiming Intimacy: Overcoming the Consequences of Premarital Relationships by Heather Jamison. Resources for a discussion of biblical intimacy are Red Hot Monogamy: Making Your Marriage Sizzle by Bill and Pam Farrel, or Intended for Pleasure by Ed Wheat. A source for dealing with sexual abuse issues is The Wounded Heart by Dan Allendar.
Couples also need to address family-of-origin issues. Often opposite-sex parenting relationships impact the way one partner views the other. A book that can help is Becoming A Family That Heals: How To Resolve Past Issues and Free Your Future by Dr. Beverly Rodgers and Dr. Tom Rodgers.
I recommend using Prepare Inventory by Life Innovations. A section of the test is devoted to discussing issues dealing with family of descent. The test comes with a book that gives advice in this area and to other issues.
I recommend five or six 1-hour sessions. Pastors can design premarital counseling sessions in one of three ways. First, contact a professional counselor to create a counseling package for you. Second, have the couple do much of the research away from the counseling sessions. Third, involve couples of healthy marriages to teach marriage classes or mentor couples. Let me elaborate.
I recommend the use of professional biblical counselors. Inform these counselors what you want them to cover in counseling and ask them to work out a discounted financial package for your church. I also recommend you ask the couple to make this financial investment into marriage preparation. Counseling then becomes something of value to them. Many times relatives or friends help with the costs of professional counseling.
I work with pastors and have set up a deeply discounted premarriage package. See my Web site (www.ccstoday.com/page11924244.aspx). I engage couples in an intensive counseling program and on completion am available for a free consultation with their pastor. I give the pastor a report on areas of counseling that may need further attention. On more than one occasion I have suggested a couple not get married without additional counseling. This takes the pressure off the pastor needing to make that decision. When a couple completes counseling, I give them a letter of certification they present to the person officiating their wedding.
The second way to get extensive premarital counseling is by encouraging the couple to do their homework. I recommend a minimum of five 1-hour sessions of premarital counseling with the couple doing 3 to 4 hours of research and interaction between sessions. This requires the couple to invest 15 to 20 hours between sessions, not a huge investment considering the couple will spend a lifetime together. The out-of-session activities need to support and build the counseling package. These should involve book studies, premarriage manuals, worksheets, field trips, and online research. I ask couples to interview another couple that has been married for more than 20 years and report their findings.
The third way to help couples get the most out of counseling is to solicit help from others in the church or community. Often there are those on whom God has placed a burden for marriage and mentoring marriages. These couples can be an invaluable counseling source. If professional counseling is unavailable, create sessions that combine pastoral premarital counseling, couple assignments, and member mentoring.
Final Considerations in Helping Couples Steer to Successful Marriages
When doing premarital counseling, keep in mind three considerations. First, couples will object to premarital counseling generally for three reasons. They will object because they fear the counseling will reveal their incompatibility. Remind couples there is no perfect compatibility in marriage. Knowing where opinions differ can help resolve conflicts. The goal of premarital counseling is to bring these opinions to light. By discussing them, there will be potential to avoid future conflicts. The counselor is the friend of the marriage not the enemy.
The second objection is the couple feels they already know everything about each other. Remind them that if they know everything about their partner, then they have a boring partner and will have an equally boring marriage. God intends marriage to be an adventure where we get to know our partner more and more. Life changes bring people changes and learning to navigate both is what premarriage counseling is all about.
A couple's third objection is the cost. Ask couples to compare premarital counseling to the cost of divorce. In fact, most religious institutions and community centers will provide counseling with minimal financial obligation.
The second thing to consider in doing premarital counseling is the church's standard policy for weddings. Have a marriage policy in place so there is an understanding of the roles and obligations of the church and those using the church's marital services. You can find, copy, and adapt the Marriage Policy for Churches at www.CCStoday.com/source.aspx.
Finally, I'm seeing two trends when couples are preparing for marriage. First, fewer couples are having church weddings. I have had couples marry on beaches, in parks, and even in a horse barn. Couples are moving to environments that represent their lifestyles and interests.
The second trend is that nearly half of the couples I see for premarital counseling have been married before or are living together. There is a need to have information on blended family issues. A book to address the blended family concern is Blended Families: Creating Harmony As You Build a New Home Life by Maxine Marsolini. Again the Prepare testing offers feedback for couples with children, couples with adult children, and cohabitating couples.
Conclusion
I'm finishing this article on a road trip to Galveston, Texas, for a family vacation. My oldest son is driving. He is using the same advice I received from my dad. He is doing a great job. As my wife and I share this journey with him and our other two unmarried sons, I realize this is probably our last family trek with all of our sons being single. I hope for my sons what I hope for members of your congregation: When it comes to premarriage counseling, may they find counsel that will help them keep their marriage between the lines.