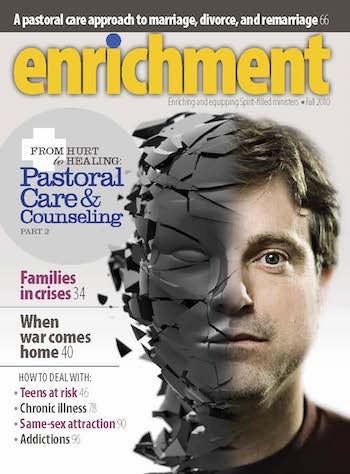 Downloads:
People With Names
People are not numbers to be counted, but persons to be loved, cared for, taught, guided, and prayed for — and ultimately presented to Christ as trophies of His grace.
by George O. Wood
---
Today's church focuses so much on the subject of leadership that those in the ministry can easily forget we are not called to be chief operating officers; rather, our calling is to shepherd the flock of God under our care.
People, not organization, are our first priority. Relationship outranks structure.
We find a prime example of this truth in Romans 16. Paul steps down from the high mountains of doctrinal truth and conduct to embrace the people to whom he writes. Romans 1 through 15 show him as Spirit-inspired apologist, theologian, and overseer. Romans 16 shows Paul as pastor with a shepherd's heart.
The great truths in Romans are for ordinary believers. J. Vernon McGee commented that in Romans 16 Paul "leaves the mountaintops of doctrine to come down to the pavements of Rome."
Paul named 35 individuals in chapter 16, 27 to whom he sends greetings, and eight who send greetings to the Roman church through Paul.
We learn from this list that the church is a web of relations rather than a maze of hierarchy. Take a moment to look at the 27 people who receive the Romans letter and see if there are parallels with the people to whom you minister.
The Recipients
1. Phoebe. Phoebe means radiant or bright. In mentioning her, Paul shows the importance of filling out a reference form or giving a letter of recommendation (2 Corinthians 3:1). Phoebe is probably the carrier of the Roman letter, and Paul identified her as a deacon at the Cenchrea (port city for Corinth) church.
The King James translators could not bear to translate the Greek work deacon to apply to a woman so they called her a servant. The NIV translators seemed to have had the same reluctance so they also designated her as "servant." But Paul used the same word for Phoebe as he did for himself and Apollos (1 Corinthians 3:5), Tychicus (Ephesians 6:21; Colossians 4:7), and Timothy (1 Timothy 4:6). Paul also refers to her as being "a great help to many people, including me." Helper can also mean patroness, a hint that Phoebe may have been a woman of wealth and position.
Phoebe represents the multitude of women in our congregations who similarly provide care for others.
2/3. Priscilla and Aquila.This couple worked with Paul as tentmakers. Paul met them in Corinth after they had been expelled from Rome (Acts 18:1–4). They sailed with him from Corinth and he left them at Ephesus (Acts 18:18,19). They had a church in their house when Paul wrote 1 Corinthians from Ephesus (1 Corinthians 16:19).
At the writing of Romans, Priscilla and Aquila are back in the Imperial City hosting a house church. The last mention we have of them is their location again in Ephesus (2 Timothy 4:19).
It is interesting that Paul and Luke never mention Aquila without his wife; and four of the six occasions where their names are in the text, Priscilla's name comes first. This is akin to addressing a letter as Mrs. and Mr., suggesting Priscilla was the more visible ministry leader. Paul called them coworkers who risked their lives for him.
Do we see ministry as a solo act, or are we joined by a team around us? Do we love people so well they would die for us?
4. Epenetus. His name means "worthy of praise," and he was Paul's first convert in Asia. Could he have been one of the 12 in Acts 19?
Do we honor the builders in our midst — the people who laid the foundations for our churches — or do we regard them as disposable assets?
5. Mary. The only thing Paul said of her is that she worked very hard. That designation suggests Paul took account of the varying levels of service in the church.
Mary must have felt affirmed by her pastor, Paul. It is wonderful when leaders praise those who deserve applause.
6/7. Andronicus and Junias. We do not know whether Andronicus and Junias are two men or husband and wife. Junias is a feminine name, and it is unlikely two men would have been associated together for so long. They were in Christ before Paul. Paul calls them relatives and fellow prisoners. Most surprising, Paul said they were "outstanding among the apostles." Either they were well known to the apostles or distinguished as apostles.
The Early Church father, Chrysostom, took the latter view when he said: "And indeed to be Apostles at all is a great thing. But to be even amongst those of note, just consider what a great encomium this is! But they were of note owing to their works, to their achievements. Oh! How great is the devotion of this woman that she would be counted worthy of the appellation of apostle!"
Paul's mention of Andronicus and Junias raises the pastoral issue of our recognition of those couples who have served with distinction in ministry before our own time, and also those couples where the woman had taken the lead pastoral or preaching role.
8. Ampliatus. Paul describes this man as the one "whom I love in the Lord." Unlike Mary who was commended for hard work, Paul did not say anything like that of Ampliatus — just that he is loved. Could he have been invalid or physically disadvantaged?
Are there people whom we care for who have nothing by way of activity to offer the church, but whom we nevertheless love?
9/10. Urbanus and Stachys. Possibly this is another married couple. Urbanus' name means "of the city, polite." Stachys means "ear of corn." Were their personalities like their names? Paul describes them, respectively, as a fellow worker and beloved (KJV).
Are there people we pastor who have good manners and being around them is a treat like eating from a fresh ear of corn? Do we say publicly endearing things about the people we serve?
11. Apelles. There must have been a season in Apelles' life during which he went through a great trial simply because he was a believer. Paul commends him for being "tested and approved in Christ."
As pastors and ministers, are we noting those in our midst who are passing through difficult seasons and are we saying to them "Atta boy" when they have stood their ground?
12. Aristobulus' household. Wow. The gospel has penetrated Caesar Nero's administration. Aristobulus had been a friend of Caesar Claudius and the grandson of Herod the Great. After Aristobulus' death, his "household" (i.e. family and servants) merged with the Imperial household, but still bore his name.
Are there people we minister to who are well connected with civic leadership in our communities? Has the gospel penetrated the up and out as well as the down and out?
13. Herodion. Another wow. Herodion's name connotes identification with Herod. Paul calls him a relative — suggesting that in Paul's preconversion days he had some fairly good family connections.
Most of us in ministry also have relatives serving with us. How can we keep the balance of honoring and utilizing them without the accusation of nepotism?
14. Narcissus' household.Narcissus had been executed on orders from Nero's mother, Agrippina, 3 or 4 years before Paul wrote the Romans letter. He had served as secretary to Caesar Claudius and was reputed to have become rich through bribes. Later, when Paul writes to the Philippians from prison in Rome, he wrote "all the saints greet you, especially those of Caesar's household" (Philippians 4:22). Most likely Paul was referring to the households of Aristobolus and Narcissus.
Do we recognize and pray for those fellow believers serving in the utmost reaches of government, even those serving in administrations like Caesar's who are hostile to the gospel?
15/16. Tryphena and Tryphosa. Their names suggest they are twins or sisters. And, there is a paradox because Paul describes them as hard workers in the Lord despite the fact their names mean dainty and delicate. Just by looking at them you might not guess they could roll up their sleeves and get to work.
How often have I misjudged people by first impression? Someone who looks like a prima donna may instead be the best worker in the church.
17. Persis. Notice here the tact of Paul. When referring to Epenetus (verse 5) and Ampliatus (verse 8), he calls them "my well-beloved" and "my beloved." But he calls Persis "the beloved" (KJV). Why? Persis is a woman, and Paul wants no one to draw a false conclusion. Unlike Dainty and Delicate, whose work Paul describes in the present tense, Paul describes Persis' work in the past tense.
Do we remember the shut-ins, the people who served faithfully but now are laid up with age or infirmity?
18. Rufus. This is my favorite person because Rufus means "Red" or "Red-haired." Could he be the son of Simon of Cyrene, who carried the cross (Mark 15:21)? Was his mother, who also served as a mother to Paul, the widow of Simon? If so, no wonder Rufus is "chosen in the Lord."
Do we recognize in our pastoral care the sons and daughters of those who carried the cross of Christ in their day?
19 through 23. Asyncritus, Phlegon, Hermes, Patrobas, Hermas. Are these bachelors or leaders of home groups? We do not know. But they are important enough to be on Paul's list.
Are we making sure to recognize everyone as we care for the flock of God in our care?
24 through 27. Philologus, Julia, Nereus and his sister, and Olympas. Here, perhaps, is another house church. The mention of Nereus brings conjecture. In 95 A.D., two distinguished Roman citizens — a husband and wife, Flavius Clemens and Domatilla — were condemned as Christians. Domatilla was the niece of the then reigning emperor Domitian and the granddaughter of Vespasian. She was exiled and her husband killed. Nereus was their chamberlain (bedroom attendant). Could it be this same Nereus, household servant, who led them to the Lord?
There are people in our churches who perform servant functions as maids, cooks, dishwashers, and the like. Do we affirm them that their work and ministry is noble and can be a powerful witness for Christ?
Observations
What observations about pastoral care can we make from Paul's list of 27 names?
First, we are the church. We do not go to church. It is a wonderful thing to name 27 persons in a local body who have touched your life, whose names and ministries you know.
Second, we do not have one minister; we are all ministers. Look at the descriptions Paul gives these people in Romans 16: helper of many (verse 2), risked their necks (verse 4), worked hard (verses 6,12), fellow worker (verses 3,9), approved in Christ (verse 10), and beloved (verse 8). Paul commends these people for their character and conduct. They would be surprised to know we are writing about them 20 centuries later. There is a place in ministry for everyone.
Third, women provide vital service in the church — 9 of the 27 are women, and Paul describes 2 of the 9 as deacon or apostle.
Fourth, couples serve the Lord. There are at least three: Priscilla and Aquila, Adronicus and Junia, Philologus and Julia. How wonderful to observe couples in our own churches effectively serving together.
Fifth, family members serve the Lord. There is Rufus and his mother, Nereus and his sister, and the probable sisters or twins, Tryphena and Tryphosa. Our churches similarly are filled with families who love Jesus. Do we note the family connections to one another? Can we list them as did Paul?
Sixth, singles also serve the Lord — and there is a raft of them mentioned in Romans 16.
In other words, this list shows that the church is comprised of people from many backgrounds: single and married; male and female; Jew, Greek, and Roman; rich and poor; upper, middle, and lower socio-economic and cultural backgrounds. What unites us all is Christ.
Paul tells all these people to "greet one another with a holy kiss" (verse 16). Why? Because we must never take one another for granted. Even in a church as mature as Rome, there is need for embrace. We all need to give and receive love. The phrase, "Have you hugged your kid today?" should also apply to our fellowship in the church, "Have you given a holy hug to one another when you meet?"
Those With Paul
But Paul is not done. A small group is peeking over his shoulder as he dictates the letter and they are saying, "Give everyone my greetings, too." Who are they?
1. Timothy. He came from a mixed-faith home with a Jewish mother and grandmother who served Christ and a Greek father who did not. We, too, have persons in our churches who come from mixed-faith families. Paul became the spiritual father Timothy never had, working hard together for over two decades.
Can we become spiritual moms and dads to the fatherless or motherless in our churches?
2/3/4. Lucius, Jason, and Sosipater. Could it be that Lucius is one of the five prophets and teachers of the Antioch church whose prayer meeting launched the missionary journeys (Acts 13:1)? Is Jason the one who was dragged by a mob from his home in Thessalonica because they believed he was sheltering Paul (Acts 17:5–9)? Is this the Sosiapter from Berea who accompanied Paul with the offering on the journey to Jerusalem (Acts 20:4)? It seems likely the answer is yes to all the questions. They are all called relatives, although the term can also mean fellow Jews. If relatives, then Paul had indeed been active in winning his own extended family to the Lord.
Can we identify relatives whom we influence to follow Christ?
5. Tertius. His name means "third." This is the kind of name given to a slave — designating the order of birth. Some slaves were educated, and such was Tertius since Paul identifies him as the one to whom he had dictated the Roman letter.
Do we give our secretaries and office staff recognition?
6. Gaius. This probably is Gaius Titius Justus whose house was next door to the synagogue in Corinth (Acts 18:7) and who was baptized by Paul (1 Corinthians 1:14). Paul enjoyed his hospitality as he writes the Roman letter from Corinth. Since his home housed the apostle Paul, it is evident that the call Jesus made to the rich young ruler to sell everything and give to the poor did not apply as a universal principle for all those whom Jesus calls.
Thank the Lord there are people in our congregations of financial means who open their hearts, homes, and checkbooks to the cause of Christ.
7. Erastus. In 1929, members of the American School of Classical Studies in Athens found in Corinth a marble paving block with the inscription: "Erastus, Commissioner for Public Works, laid this pavement at his own expense." I have personally seen the stone block. New Testament scholar, F.F. Bruce, suggests that, after Erastus became a believer he was either promoted to city treasurer (the term given him by Paul) or demoted from city treasurer to commissioner for public works. He is one of the few early Christians identified for his involvement in city government.
Let us encourage our people to run for city council, school board, county commissioner, and other civic offices in order that those with strong Christian belief and conduct may serve the public.
8. Quartus. His name means "the fourth." Probably Quartus was born to a slave family and given a number for a name. In addition to Tertius (3rd) and Quartus (4th), Paul also had Secundus (2nd) from Thessalonica on his team. The world numbered slaves. They were determined by their economic value. The gospel values people not by their number, but by their relationship. Paul calls Quartus "our brother."
Some day people will sum us up with a word, a phrase, or even a sentence. What will it be? Worker? Relative? Brother? Friend? Outstanding in the Lord? Saint? Hospitable? In Christ? Perhaps it will be one or more of these terms, but Paul's listing of 35 people in Romans 16 teaches us two main things about pastoral care.
First, how would we want the apostle Paul and our living contemporaries to sum up our lives? If a verse in Scripture had your name, what would you want it to say?
Second, let us be diligent as pastors to take note of the people whom we lead and privately and publicly commend as often as we can. They are not numbers to be counted, but persons to be loved, cared for, taught, guided, and prayed for — and ultimately presented to Christ as trophies of His grace.