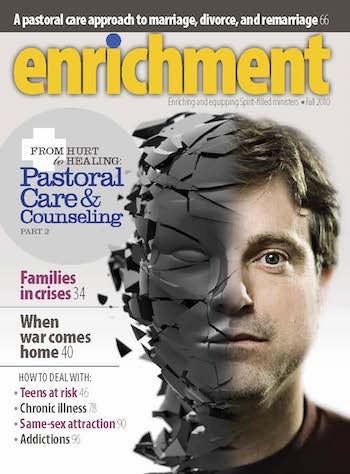 Downloads:
Is There a Reason for Hope? Pastoral Care to the Chronically Ill
Caring for those who experience the difficulty of chronic illness or disability requires a thoughtful, prayerful, and intentional process.
---
Providing caring to those who have transient illnesses with pain and discomfort gives ministers an opportunity to pray for hope and healing. But when the illness seems unrelenting and there are no signs of healing or freedom from the illness or disability, how do we minister? How do we pray?
One of my best friends is a pastor, evangelist, teacher, and therapist. His son was in a severe accident, is confined to a wheelchair, and has limited mobility with no medical promise of significant healing. During these past months — now drifting into years — there has been some small progress but nothing approaching healing or restoration of mobility. How can a friend and a pastor minister to a family in this situation?
God Accepts the Real Feelings of Those Who Suffer
The first thing caregivers must do to be of service to those in similar situations is to understand where the person is. Dr. M. Gay Hubbard in her publication, More Than an Aspirin,1 discusses the states of mind that are part of the thinking process in long-suffering individuals. She advises helping a person talk openly and frankly with God about how he sees his situation. This includes a willingness to admit real feelings; many that people often think are unacceptable. For example, admitting feelings of anger, self-blame, blaming God, and feelings of loneliness and hopelessness is a good place to start.
God knows how an individual is processing what is going on with his life. God is not surprised, alarmed, or overwhelmed. In our best moments, we are aware that God accepts us where we are so we can move to the place where we can accept God's perfect will for us. The apostle Paul prayed intensely for God to remove the thorn in his flesh. But God told him, "My grace is sufficient for you, my power is made perfect in weakness" (2 Corinthians 12:1–10).
Having Faith in God Is Not a Guarantee That God Will Heal Immediately
Despite biblical evidence to the contrary, many still say that if a person has enough faith, God will heal him. Faith is not easily quantifiable. Faith is the dimension of Christian experience that brings us to the place of being open to the will of God and trusting that God, who is sovereign, will make sense of the nonsense that seems part of disability and suffering.
The problem for many who suffer and for those who minister to those who suffer is that we are impatient and unrealistic. We live in a culture that expects instant gratification and quick results from our efforts, including our prayers. When it comes to healing, we have come to expect the same response from God.
The task before us in ministering to those who experience continued pain and suffering is to recognize that all healing is temporary. Even when God in His mercy does heal in a miraculous fashion every individual will eventually die. For those God does not heal, they will realize the healing they are seeking in eternity. This is not simply giving up; it is recognizing our finitude as a function of living in a fallen world.
Develop a Clear Theology for Accepting the Unacceptable
Preparation for ministry to those with chronic situations such as Alzheimer's, brain injury, untreatable cancer, or developmental disabilities found in the Autism Spectrum Disorders or other genetically ordered problems requires we develop a clear theology of living with those things we cannot change. There are numerous instances when God does not heal as we pray for His grace in special measure.
In places where this author has ministered, we have anointed and prayed for healing. Sometimes God delivers, heals, and restores. At other times people need grace to accept the fact healing is not going to come at this particular time. One man came month after month to be anointed and prayed for. At one point he asked, "Do you think I should keep coming for prayer?" We instructed him to come as often as the Holy Spirit prompted him to come. What did happen was a gradual change from a request for healing to a request for grace in the midst of suffering. Some would argue he had given up, but the reality was that a patient and supportive ministry gave him freedom to look to God for strength to endure his chronic disability.
Lewis Smedes in his classic, Love Within Limits,2talks about the meaning of long-suffering in the context of understanding the reality of God's love in all circumstances. He reminds us that long-suffering is to endure what we want very much not to endure. Those who are growing in their faith often ask, "If God loves me, why does He let me suffer like this?" Every minister knows of circumstances in which mature Christian people suffer in so many ways and yet are not delivered or healed.
Help the Sufferer To Realize That Bad Things Happen to Godly People
Jeffrey H. Boyd3 reminds us that it is possible to construct a biblical theology of chronic illness. He raises the question about where illness comes from. He reminds us that chronic illness occurred in Bible times. The Gospel of John tells about the man at the pool of Bethesda who was an invalid for 38 years before Jesus commanded him, "Pick up your mat and walk" (John 5:8, NIV). Mark 5 records the story of the woman with an issue of blood who had sought healing from physicians for many years. When she touched the hem of Jesus' garment, Jesus' power healed her. We ask, "What happens when a person is not healed? Who is at fault? What went wrong?"
It is certainly obvious that God allows chronic illness. While the Early Church fathers taught that health is good and a blessing, they remind us that all health and healing comes from God.4 Even though physicians and medicine may be involved, healing comes from the goodness of God. This does not mean, as some erroneously suggest, that we should not seek medical help. It does mean that everything that happens to us as individuals must first pass through the will of a sovereign God.
A study of the Book of Job helps to understand that the prince of the darkness of this world, Satan, can have an influence on the health and life of individuals. God allows chronic illness to occur for a purpose.
We do not always understand the purposes of God. God and His will are a mystery. When God allows Satan access to His chosen ones He always intends this to bring glory to Him. This means we must help those to whom we minister find the mercy and grace of God. Illness and death entered the pristine creation of God as a consequence of the disobedience of our first parents.
When visiting with a family of a 5-year-old boy who died as a result of burns over 70 percent of his body — the result of a Fourth of July celebration that literally exploded on him — the family asked, "Why?" That moment was not the time for a theological discussion of the sovereignty of God. They were looking for answers and there were none. The only reply the Holy Spirit gave the pastor was, "These things are hard to accept and please understand there are no simple answers."
Jeffrey Boyd5 suggests that the pastoral caregiver help people ask the following questions:
A. Do I trust God or not?

B. How can I glorify God?

C. How do I adjust to a future that is different from expected?

D. Does God have some way of making sense of this in the future that He has not yet revealed?
It is always difficult in the face of adversity of any kind to be patient and wait to see what develops. When there is loss of health, mobility, cognitive capacity — or the loss of a dream, such as expecting the birth of a healthy, normal baby and discovering there is a significant impairment — there is a response of confusion, numbness, disbelief, denial, and other grief reactions. It is essential that pastoral caregivers walk with afflicted people through the grief experience rather than trying to short-circuit the grief response with spiritual sugar pills.
Help the Sufferer Deal With the Grief He Is Experiencing
One helpful resource for dealing with grief is the work of Dr. William Worden6 who reminds us that grieving is not an event but a process. Naming the loss, allowing for the expression of negative emotions, walking with the sufferer through the process of attempting to change the reality of the situation, and patiently staying with the person until he comes to the place of accepting the reality of the loss are essential in the healing process. This is critical when we recognize there will be no healing, recovery, or significant change. Pastoral counselors have come to name this process of walking with the sufferer as the ministry of presence. Sometimes the absence of words may be a gift of the Holy Spirit to teach the pastor to depend upon the ministry of the Spirit.
Caring for those who experience the difficulty of chronic illness or disability requires a thoughtful, prayerful, and intentional process. One of the first things an afflicted person learns to live with is uncertainty about what will happen next. It is possible to learn to live one day at a time. It is a realistic appraisal of what a person can count on. Sometimes He gives us a glimpse of freedom from pain or relief from the depression as evidence that He is with us to bless us even in the midst of chronic illness. Joni Eareckson Tada,7 who has lived a victorious and incredibly productive life despite an accident that left her severely impaired, has blessed thousands through her ministry.
One of the most destructive things that an individual must deal with is the presence of negative emotions, such as: hostility, anger, fear, and hopelessness. The caregiver must learn to accept a person's expression of these emotions to help him begin to not attach these negatives to the experience he is going through. Dr. Paul Brand and Philip Yancey8 warn us to separate the negative meaning we have attached to the problem and focus on what can be done in a positive way to accept and deal with it.
The Absolute Necessity for Being in Community
God did not create us to live in isolation. From the beginning of creation God determined it is not good for people to be alone. He created us as social beings that need to function in relationships. It is tempting for those who are afflicted to cut themselves off from others and suffer in silence. But God has given us the Church, the body of Christ, as a place for caring and nurture. We must be gentle with people about urging them to return to worship and fellowship, but we must patiently bring them to the place where they are ready to return for the support that can come from a compassionate community. When Dr. Larry Crabb9 was recovering from cancer, he discovered a sense of hope from the fellowship and care of his church community.
One great evidence of healing or recovery is when a person who has suffered so much comes to the place of wanting to serve others. When a chronic situation causes a person to step aside, he may wonder, What good am I; I can't do anything? Some intercessors in the kingdom of God have been bedridden or disabled.
Our task as caregivers is a privilege, despite the fact we are not always sure what to say or do. The key is to learn to listen carefully to the threads of the conversation to be able to tune into the issues the chronically ill person is dealing with. It is acceptable to check with the person to ask practical questions about how he is doing at the moment. Chronic illness is not a static condition. There are moments of bottoming-out despair, and there are interludes of freedom from discouragement and even from searing pain. The most important thing the caregiver gives is his time and attention.
Do not make false promises about your availability. Train members of the congregation to be caregivers. Look for those who are spiritually mature, who know how to listen. Beware of those who may create tension by suggesting a lack of faith or spiritual maturity on the part of the sufferer. Learn the ministry of silence. Some individuals who are in chronic pain or depression are often unable to respond to continued dialogue. To simply sit with the person may be in itself a great ministry that God will use to bring the message of hope.
The Message of Hope Is Not an Empty Promise
At the heart of the gospel is the message of hope. This hope is based on the faithfulness of God. The triad of the consequence of the gospel is the gift of faith and hope given to every Christian because of the proactive and unconditional love of God. As caregivers, we continually share the reality of that love as we minister in the name of Jesus Christ to those who suffer from chronic illness. Our hope that we share is not limited to this finite existence, but our hope grows out of the recognition that we live by faith already in eternity.
Notes
1. M. Gay Hubbard, More Than An Aspirin: A Christian Perspective on Pain and Suffering (Grand Rapids: Discovery House, 2009).
2. Lewis Smedes, Love Within Limits (Grand Rapids:Eerdmans Publishing,1978).
3. Jeffrey H. Boyd, "A Theology of Living with Chronic Illness" (Presented at the 53rd Annual Meeting of the Evangelical Theological Society, Colorado Springs, Colorado, November 16, 2001.)
4. Jeffrey H. Boyd, "Does Chronic Illness Come from God or Satan in the Bible?" (Presented at the New England Evangelical Theological Society annual meeting in Nyack, NY, March 16, 2002.)
5. Jeffrey H. Boyd, Being Sick Well: Joyful Living Despite Chronic Illness (Grand Rapids: Baker Books, 2005).
6. J. William Worden, Grief Counseling and Grief Therapy: A Handbook for the Mental Health Practitioner (New York: Springer Publishing Company, 2009).
7. Joni Eareckson Tada, A Lifetime of Wisdom: Embracing the Way God Heals (Grand Rapids: Zondervan Publishing, 2009).
8. Dr. Paul Brand and Philip Yancey, The Gift of Pain: Why We Hurt and What We Can Do About It (Grand Rapids: Zondervan Publishing House, 1997).
9. Larry Crabb, Connecting: Healing for Ourselves and Our Relationships (Marshall, Tennessee: W Publishing Group, 1997).
A Final Thought To Caregivers
Those who suffer need a caregiver who walks in faith and understands that God is always available to come to the aid of the sufferer even when it seems there is no hope. Learning to be a patient, compassionate listener who is willing to listen to what the person has to say gives opportunity for that person to be honest with God. This kind of openness with God is the beginning of a Spirit-empowered dialogue that will bring comfort to those who feel they have been abandoned in their despair. Our confidence is in the God of all comfort who comforts us in all of our distresses, as the apostle Paul reminds us. God provides this comfort so, despite the distress of the sufferer, God can use the one who is suffering to bring hope and comfort to others.