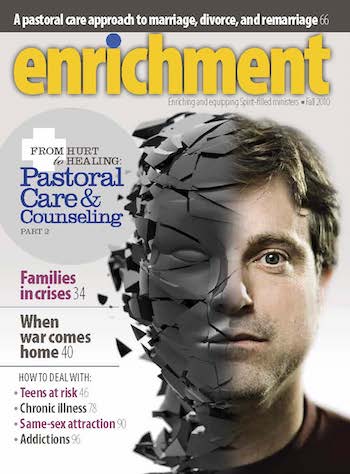 Downloads:
Assessing and Treating Families in Crises Part 2
Here are guidelines and tools you can use to understand and help families in need
by C. Jefferson Hood
---
This article is Part Two of a two-part series about how pastors and Christian counselors can use Family Systems Theory to assist the people they counsel. Part One of this series appeared in summer 2010 Enrichment journal.
Imagine the wife of one of the most influential leaders in your church requests a visit. When Suzanne arrives at your office she is cordial, but subdued. After some polite banter she dives into what she has come to talk about, almost like she is afraid that if she does not start discussing her concerns right away, she will lose her nerve. She tells you she is concerned about her relationship with her husband, Hank.
"Hank is a sweetheart. He really is. He has loved me for 15 years in the way a husband should love his wife, the way I long to be loved. The problem is I have not been able to receive his love. I have concluded in the last few months that I have a wall between Hank and me, a barrier that keeps him at a distance. I am not able to relax into his embrace and be close to him.
"On our wedding day I vowed to 'grow together in oneness from this day forward' with Hank, but I have been unable to do so. I have prayed. I have read Scripture. I have studied books by pastors and counselors. I have made annual resolutions to try harder. I have listened to your sermons and tried diligently to apply what you have taught us about love and marriage and families. What is wrong with me?"
What would you do to help this woman? You may have some ideas about how to get to the bottom of what is troubling her, but let me suggest that Family Systems Theory may have some tools to offer.
Your question after reading Part One of this series may be: "All this information about a family being a system is interesting; but, as a pastor, how do I apply this thinking to the people in my church?"
Read the rest of this article by obtaining a downloadable PDF of the Fall 2010 issue of Enrichment journal.