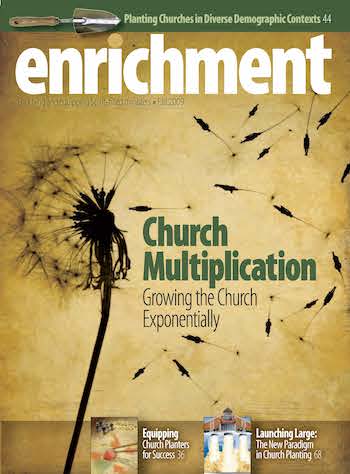 Downloads:
The Seven Most Important Questions When Going Multisite
If you are among the growing numbers of churches that are considering reproducing through multiple locations, here are the seven most important questions you need to answer.
---
I laughed when Mental Floss magazine strained their editorial brains to compile a list of "The 25 Most Important Questionsin the History of the Universe."The list included questions that really matter such as:
"What makes No. 2 pencils so special?"
"Who's that AOL guy who eerily knows when you've got mail?"
"How can I win at that ultra-important-corporate-decision-making-process — rock-paper-scissor?"
While Mental Floss may list those among the most important questions, none of those questions are on the most important list for churches that are developing multiple sites.
Over the past 20 years, a movement of churches has emerged that sees the best and most effective way for reaching out is through reproducing locations of their church. The following shows the dramatic increase in the number of churches that have multiple locations:
1990: 10 multisite churches in the United States
1998: 100 multisite churches in the United States
2004: 1,500 multisite churches in the United States
Today, 30 percent of all churches are considering the multisite option, and the top 100 fastest-growing churches in the country average 2.4 sites.
If you are among the growing numbers of churches that are considering reproducing through multiple locations, here are the seven most important questions you need to answer:
Dream Question: "What Is the Dream?"
When pastors tell me they want to go to multiple sites, I ask, "How many sites?" or "How big is your dream?" If they say, "We would like to be a church of two or three sites," then their challenges are not necessarily easy, but they are simple and straightforward. I often tell churches wanting to go from one site to two sites that it is like adding another worship service. The difference: Instead of adding another worship service at their current location, they are going to add another worship service at a different location. If pastors think of it in those terms, it dramatically reduces the complexity.
The biggest challenge going from one site to two sites is the fact it requires the pastoral staff to equip others to do ministry. Most churches with two locations will not be able to afford to double their staff, so equipping cannot be lip service. Your staff will need to equip lay leaders to do ministry because they can physically only be at one location at a time.
If a church answers the dream question, "We want to be a church of four or more sites," then the challenges are increasingly complex. These challenges will include deciding what will be decentralized to each location and what will be centralized. The question of centralized versus decentralized will include decision-making processes, curriculum creation and content, finances, etc.
One person who pushed me to dream bigger is Lyle Schaller. He ribs me by looking me in the eye and saying, "Dave, your biggest problem is that I have a bigger dream for your church than you do." Every time he says that, my dream gets bigger. Right now I am dreaming of a church with 200 sites locally and 100,000 3C Christ followers (followers who celebrate, connect, and contribute). And that does not include NewThing, because that is another dream.
For some of you reading this, your biggest problem is that God has a bigger dream for your church than you do. So start by prayerfully answering the question: "What is the dream?"
Brand Question: "What Is Essential to Your Brand?"
When McDonalds opens a new location, they may or may not have a playland, but they will have hamburgers. When Starbucks opens a new store, they may or may not have a drive-thru, but they will have coffee. There are some things essential to a brand while other things are optional. One of the tough decisions every church has to make when reproducing sites is determining which ministries are essential and which are optional.
When Community starts a new site, we know there are four essentials to our brand: a celebration service, adult small groups, Kids City, and hospitality. At some of our larger sites, we have a support and recovery ministry and a school for the arts. I love our support and recovery ministry and school for the arts, but we cannot afford to reproduce everything we do at our established sites at our new sites.
Newer churches understand this question because when you start a church from limited resources, you are forced to answer the question "What is essential?" New churches will then implement those programs and that, in many ways, determines the brand of the new church. Established churches struggle with this question because over the years churches add programs and not keep to just the essentials. I have known of churches that are going from one site to two sites that want to reproduce every program and ministry including the bookstore at the new site. This is not answering the brand question; this is avoiding it.
Organization Question: "What Is Your Organizational Design?"
If you answered the dream question by saying two to four sites, I recommend an organizational design that takes your existing vertical ministry silos and adds a horizontal process across these ministries. The horizontal silos represent each campus. In this organizational design, the authority resides in the vertical silos and influence resides with the campus pastor in the horizontal silos. The organizational design looks like this:
If you answered the dream question by saying four or more sites, take the previous organizational design and turn it on its side. The biggest change is that the authority now resides with the campus pastor and the influence resides with the ministries. This is a necessary shift to make sure effective ministry is happening in every context. The organizational design looks like this:
This is a critical question for churches that dream of having more than four sites. If you do not answer this question, you will most likely not realize your dream.
Leadership Question: "Do you have a leadership farm system?"
Multisite churches are like baseball teams. Baseball teams need a continual pipeline of new and young players who can take the field to improve their team and replace retiring players. These new players will come via free agency or through the team's farm system. The more expensive way is to pay big bucks and sign a free agent from another team. The more efficient means is to create a farm system that constantly develops talent from within your organization.
Since a multisite church's dream is to reproduce new sites, like a baseball team, it creates the need for a farm system of new and young leaders to fill ministry roles. A church can go the free agent route and recruit leaders from other churches, but churches with big dreams will never see them fulfilled if they depend on other churches and organizations to do their leadership development for them.
Churches that have created a farm system for developing more and better leaders usually do it through their small group ministry. At Community we have several campus pastors and with our NewThing Network we have several church planters who have come up through the following farm system:
About a year after we started Community, Troy and Janet McMahon decided to check out our new church. Immediately they knew this would be their church home, and I knew Troy was a leader with potential. Troy was working for General Mills and was a golden boy on their management fast track. I invited him to join a small group I was starting and become my apprentice leader. When Troy said yes to become my apprentice leader, this was the first step on a long journey of developing his leadership gifts.
I started meeting with Troy once a week for breakfast. We soon became good friends. Over the next 2 months we shared the leadership of this new small group. Sometimes I would lead and sometimes he would lead. After each small group meeting, we would debrief over breakfast and I would invest in Troy. In less than a year Troy was ready to start his own small group. He easily gathered a group of people including a new apprentice leader he would develop. In addition to the weekly small group meeting, Troy also met weekly with his new apprentice leader investing in him until he was ready to start his own group. This reproduction process again took a little less than a year. Troy then moved from being a leader to a coach of leaders.
A few years later I was looking to add a staff person to oversee the business aspect of our ministry. Because of Troy's leadership gifts and proven commitment to the mission and vision of our church. I asked Troy to join the staff. He not only said yes; he also raised some of his own salary. Within the next year we prepared to go to multiple sites for the first time. I asked Troy to be our first campus pastor. Troy had successfully moved through our leadership pipeline: individual Þ apprentice leader Þ leader Þ coach Þ staff Þ campus pastor.
A little over a year ago Troy approached me about starting a new church. Although Troy had never been to seminary, it was clear he not only had the gifting but also had the proven track record to be effective as a new church pastor. In 2007, Troy's family and 20 others moved from Chicago to Kansas City to start Restore Community Church. The new church launched under Troy's leadership had more than 400 at the first service. Within 6 months their average attendance was 500. And it will not surprise you to know he had on his staff an apprentice campus pastor and two apprentice church planters whom he was developing.
Do you have a farm system that is growing campus pastors? Where are you going to find the leaders and staff for those sites of which you are dreaming?
Artist Question: "Do you have a plan for artist development?"
Of all the multisite questions on this list, this question most often is overlooked. In the same way you need a leadership-development strategy, you also need an artist-development strategy. Reproducing a new site can be looked at as simply reproducing your small group events and your large group events. Your large group events require artists to facilitate and lead worship services. These artists include those who are up front: musicians, vocalists, and actors; as well as those behind the scenes: sound technicians and videographers.
We have both an informal and a formal process for developing more and better artists. Our informal process is through apprenticeships. We encourage actors to have an understudy, our musicians to have a second chair, and our technicians to have people shadow them. It is not unusual at Community to see this artist development process play itself out onstage during a celebration service.
Recently when Bill Carroll was leading worship, he announced to the congregation, "Please welcome my new apprentice worship leader Chris Heller." At that point Bill stepped back and a back-up band member stepped to the front of the stage with his guitar and led everyone in one song. After that song Bill finished leading the rest of the worship service. This not only gave Chris his first opportunity to lead worship in front of a large group but also modeled an important value for the entire church. Bill continued to give Chris — who is a talented artist — more opportunities to develop his gifts. Today, Chris is on staff at our newest site as the creative arts director. The last time I was at that location, he had Mark on stage giving him his first chance to lead worship as his apprentice. That is the informal process for developing artists.
Our formal process for developing artists is through our school for the arts. We currently have over 400 artists enrolled in classes and workshops, developing and growing in their talents.
If you are planning on reproducing more locations, what are your formal and informal processes for developing more and better artists?
Funding Question: "Is your funding in place?"
At Community we have nine locations. The campus launches that have gone the smoothest and have been the most enjoyable answered this question. The launches that have been the most challenging did not answer this question. Before you start a new site, make sure you crunch numbers and know you have the funding in place.
The amount of funding a new site will need is different based on expectations and context. Some megachurches expect a new site to have more than 1,000 in attendance at the launch and grow from there. These new sites will have budgets well over $1 million. Other churches will start new sites with a single volunteer leader and will do it on a shoestring. Chances are your church is somewhere in between and the best way to answer the funding question is to do the following:
Prepare a pro forma for the first 3 years of the new site.
Know and communicate the date you expect the site to be self-supporting.
Make sure you have secured all the funding needed for the prelaunch phase.
Adding a new site will most likely mean new staff. These staff members are taking on a new mission in a new location and this should be leveraged for fund raising. In new church work, it is a common understanding that if a church planter cannot raise enough money to start the new church, he probably does not have the leadership gifts to lead a new church. At Community we encourage new staff at new sites to raise part of their salary. It is both a test of their leadership and an opportunity that should not be missed. Some churches that have started new sites have expected the new staff to raise all of their support.
As the new site begins to gather a launch team prior to its opening, we have also expected the launch team to raise significant dollars toward the start of the new site. To not ask the launch team to sacrifice financially for this cause would be doing them a disservice.
Make sure you answer the funding question. Failure to answer this question will not only impact the new site, but the also existing church.
Alignment Question: "How are you going to maintain alignment?"
When we decided to go to multiple sites, Lyle Schaller gave me this prediction: "Dave, there will be lots of churches that will go to two sites, almost no churches with three sites, and lots more that will reproduce to four and beyond." Ten years later he was right. Why would this be true? Some churches answered the alignment question and others did not.
The alignment question asks how you are going to keep all the sites moving toward the same vision with the same values. If there is vision and value drift by any of the locations, it will slow down the whole church. But if you get all locations moving toward the same vision with the same values, you will exponentially increase the impact your church can make. Some churches with a big dream have stopped at two locations because they did not answer the alignment question. Other churches are seeing their big dream realized as all their sites are moving forward instep and having a huge impact.
At Community we have developed what we call the "The Four 1s" that keep us in alignment:
1 Vision: every site is pursuing the same vision.
1 Big idea: every site is being taught the same big idea.
1 Budget: we have multiple locations, but one church budget.
1 Eldership: we have a plurality of elders that represent all sites and oversee the church.
If your dream is more than two locations, answering the alignment question is critical.
If you want to be successful in your multisite transition, make sure you answer these most important questions. Make sure you know the answers. Make sure your team knows the answers. And if these questions have scared you off, then maybe it will make you smile knowing that Elwood Edwards is the man behind the AOL message that 63 million times a day says, "You've got mail."
Principles for Multisite Churches


Multisite is about quality, not quantity
Becoming multisite is not about being a megachurch or getting huge. It is about taking who you are, reproducing the ethos or quality experience of your church, and bringing it to more people. The multisite church is really just one form of what I call the reproducing church — the idea that you are continuing to produce at all levels, whether it has to do with reproducing leaders and artists at a micro level, or reproducing congregations, campuses, and even churches at the macro level.
Multisite is about mission, not size
We often see examples of large mega (even giga) churches that are multisite. But fundamentally, any church that has one leader who is ready to start a new thing can reproduce itself. Youonly need one leader. We need to keep it that simple. Remember, larger churches are much more complex organizations and less of an organism, so they are harder to reproduce than a small church. It is incumbent on church leadership to start new churches. The senior or lead pastor must bless that and not be afraid of it, or afraid of losing people. That is a scarcity mentality.
If smaller churches have the right ethos and a missional DNA, they will be able to reproduce. Even from the beginning, start thinking, How can we do multiple locations? Church planters are transitioning from thinking, How can I plant a church, grow it, and make a big impact? to the sharpest and the brightest planters thinking from day one, How can I do this in multiple locations?
Multisite is about good stewardship, not extravagance
Community Christian Church has nine locations locally, and we have also started 21 churches internationally in less than 4 years. We want toplant churches and start new sites, but right now we are focusing more on multisite for a good reason: stewardship. We have looked at retention rates. When we first started CCC, we had 465 people at the first service. Our average attendance our first quarter was 180. That gave us a 39 percent retention rate.
Then we started a second campus and had 552 people at the first service, 360 of which stayed, giving us a 65 percent retention rate. We spent about the same money launching both the church and the second site. We started our third site and had 606 people at the first service, and 350 stayed. This was a 58 percent retention rate.
So, when you compare the original church plant — at 39 percent retention rate —the second campus had a 26 percent increase in retention. At our third site, we had a 19 percent increase. So a basic stewardship question is, "What is your return on your dollar?" Within a certain geographical proximity, multisite allows you to reach more people for the same amount of money, or reach more people for less money.
DAVE FERGUSON, Naperville, Illinois
Church-Planting Churches
We are witnessing an increased interest in church planting within many local churches today. Twenty-five years ago it was almost impossible to find a local church that had church planting as a major initiative. However, today an increasing number of new churches want to be "church-planting churches." Thus, most of the churches that want to be "reproducing churches" are less than 20 years old.
Denominations appear to be encouraging their churches to become church-planting churches with some positive results. However, it appears that although denominations are reporting a marked overall increase in church planting and in parent churches, most denominations report that only 15 percent of their churches are actually parenting churches.
Churches that aggressively plant churches operate differently from other churches. Many of these churches have paid staff assigned to church planting. Also, these churches typically become more involved with other partners and plant more churches. The Leadership Network research reveals a direct correlation between the senior pastor's commitment to church planting and the church's ability to plant successfully.
Size matters among churches that plant other churches. Churches that are 200 or less in attendance are four times more likely to plant a church than churches of 1,000 or more in attendance while churches between 200–500 in attendance are twice as likely to plant a church than their larger counterparts.
All the recent church plants that have reproduced a daughter church see church planting as part of their DNA from the beginning, often having it written into their chartering documents or taught in membership classes.
ED STETZER, Alpharetta, Georgia, is missiologist and senior director of the Center for Missional Research at the North American Mission Board, Southern Baptist Convention. From "Who Starts New Churches?" Leadership Network. Used with permission.