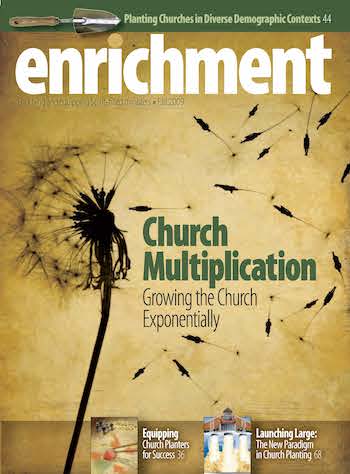 Downloads:
The 10 Ts in an Apostolic Church Plant from Acts 19
Consider these 10 elements in Acts 19 for a church plant that shakes a city.
by George O. Wood
---
In Acts 19, Luke chronicled the most successful church plant in Christian history. This church plant started with 12 spiritually dormant disciples and within 30 months grew to such proportion that over 25,000 citizens gathered riotously in an outdoor theater to protest the burgeoning church because the pagan economy was collapsing.
If we had a similar situation today, all the sin industries — the pornography and sex industry, the immoral television shows, the tobacco and alcohol purveyors (to name a few) — would likewise react vehemently against the rising tide of the gospel within our secular culture.
The Ephesus church plant, led by the apostle Paul, provides a helpful checklist as we assess our own efforts in bringing the gospel into the nearly 18,000 communities in America without an Assemblies of God church.
Here are 10 elements in Acts 19 for a church plant that shakes a city.
Timing
At the outset of the second missionary journey, Paul wanted to go to the Roman province of Asia, but the Holy Spirit kept him from doing this (Acts 16:6). The key city in Asia was Ephesus; it is understandable why Paul wanted to go there. His strategy lay in targeting the urban areas, and from these population hubs he would fling out new churches into the outlying regions.
He stopped briefly at Ephesus as he neared the end of his second journey and promised: "I will come back if it is God's will" (Acts 18:21). Only in retrospect do we understand why the Holy Spirit prevented him from going earlier.
On the first missionary journey, he founded churches to the east of Ephesus; and, on the second journey, he established churches to the west. When he finally came to Ephesus on the third missionary journey, he was equal-distant from the churches on the east and west. He was perfectly positioned to keep letters and couriers going in both directions so these fledgling congregations could be strengthened and remain sound in doctrine and practice.
Additionally, the Spirit knew Paul needed to build up his church-planting muscles before he tackled Ephesus. He described having to fight wild beasts at Ephesus (1 Corinthians 15:32). The city of Ephesus presented the greatest challenge faced heretofore. It was a city where east met west, where pagan worship crystallized in one of the seven wonders of the ancient world — the Temple of Diana.
Taking this city was no cakewalk, and the Spirit knew it. Thus, the Spirit had Paul wait until an opportune time.
We must likewise not simply plunge into a church plant without waiting on the Spirit and asking: "Is this the right time? Do we have a green light from the Holy Spirit? Is this the strategic moment of opportunity?"
Template
A template is a pattern or mold used as a guide to form a piece or product. There certainly is a template in what happened when Paul met up with the nominal 12 believers at Ephesus.
Here is the background. The great preacher/orator, Apollos, preceded Paul to Ephesus. Apollos was a learned Alexandrian Jew, thoroughly knowledgeable of Scripture, filled with great fervor, and taught accurately about Jesus. However, he knew only the baptism of John, so Priscilla and Aquila privately taught him more accurately. Apollos' deficiency appears to be a lack of knowledge concerning the person and work of the Holy Spirit. That deficiency is reflected in the 12 believers Paul finds at Ephesus. They were probably converts of Apollos since they, too, only knew the baptism of John.
Paul asked them, "Did you receive the Holy Spirit when [or after] you believed" (Acts 19:2)?
The question Paul asked is crucial to Pentecostal theology of Spirit baptism and empowerment. His question contains an aorist participle (having believed) and an aorist main verb (did you receive). In the Greek, when an aorist participle is used with an aorist main verb, the action described can be simultaneous or subsequent.
For example, Judas said, "I have sinned (aorist main verb), having betrayed (aorist participle) innocent blood" (Matthew 27:4, my translation). Clearly the sinning and the betraying are simultaneous events.
However, look at Matthew 22:25: "Having married (aorist participle), he died (aorist main verb)" (my translation). Clearly the marrying and the dying are sequential and not simultaneous.
In Acts, Luke describes Spirit baptism as sequential (Acts 2:4; 8:17; 9:17) to conversion, and simultaneous with conversion (Acts 10:44–48).
Clearly the Ephesian 12 were followers of Jesus inasmuch as they are called disciples. Paul does not treat them as pre-believers. He does want to know one thing: Did they either receive the Spirit when they believed or after they believed? Their answer is clear: "No" (Acts 19:2).
In his first meeting with them, Paul immediately knew where the problem lay — why the believing community in the teeming city of Ephesus only had 12 unproductive disciples.
Paul knew that, if the church at Ephesus was to grow and have a powerful impact on the city, it had to start, as did the Jerusalem church, with the template of Spirit-baptized believers. He needed a fired-up core to begin with.
G. Campbell Morgan, even though he was not a Pentecostal, said in his commentary on Acts: "Apollos, a Jew, an Alexandrian, learned, mighty in the Scriptures, fervent in spirit, careful in his teaching, bold in his utterance, could only take the people as far as he had come himself, not one yard beyond it, not one foot above it. … Paul came, and not because he was a better man than Apollos, but because he had fuller knowledge, a fuller experience, he lifted these same 12 men to a high level."
We need to recognize that church planting involves far more than having the right demographics, leadership, skill set, gift mix, finances, and planning. We need the Holy Spirit. Let us be like the apostle Paul who was not afraid to ask the starting nucleus of his church: "Having believed, did you received the Holy Spirit?" Non-Pentecostals do not ask that question. We must, if we are to see apostolic results.
Let us begin new churches with a core template of Spirit-filled believers.
Teaching
Paul's method of ministry at Ephesus consisted of a content-based apologetic for the faith. He argued persuasively (Acts 19:8). In short, he knew the questions that needed answered, and he responded with knowledge and passion.
In some circles today, we do almost anything to reach people except present answers to head and heart questions.
Paul counseled Timothy, who later followed him as pastor at Ephesus: "Do your best (i.e., study) to present yourself to God as one approved, a workman who does not need to be ashamed and who correctly handles the word of truth" (2 Timothy 2:15). Peter seconds Paul: "Always be prepared to give an answer to everyone who asks you to give the reason for the hope that you have. But do this with gentleness and respect" (1 Peter 3:15).
If we are going to establish solid church plants, we must also have content. Music, external phenomena, friendliness, advertising can attract. But discipleship must be at the core of our approach. We must avoid the danger of gaining an audience; we seek to transform the called-out ones, to form the true and living church of Jesus.
At Ephesus, Paul answered questions. We know he taught in three locations: 3 months in the synagogue (Acts 19:8), 2 years in the hall of Tyrannus (Acts 19:10), and continually from house to house (Acts 20:20).
I am especially interested in the hall of Tyrannus because I believe that detail puts in play something we may be tempted to neglect in our churches today — intensity in the discipleship process. You cannot bring about deep transformation in the lives of people by only having them for an hour or two on Saturday night or Sunday morning.
One of the variant readings for Acts 19:9 — the so-called Western text — gives the hours Paul taught in the hall of Tyrannus — 11 a.m. to 4 p.m. Those hours were used for siesta in Ephesus, but Paul used the cultural downtime for training believers.
Add up the hours. Five hours a day for 2 years. Assume it went on 5 days a week, with 4 weeks off a year for vacation. The total amounts to 1,200 hours of training/teaching per year (5 hours daily x 5 days x 48 weeks = 1,200).
No wonder the gospel radiated out from Ephesus to the whole of the Roman Asian Province. Paul taught intensively and trained others to carry the gospel. He built a participatory church, not a church that simply came and watched a few do ministry.
Each of our churches should consider itself a Bible school that trains the laity continually for the work of evangelism. Every member learning, growing, witnessing, and assuming leadership must become our mantra.
Team
All Asia heard the word of the Lord (Acts 19:10). How? Through disciples. Paul had helpers, two of whom were Timothy and Erastus (Acts 19:22). His mentorees became elders (Acts 20:17). His vocational labor supported his own needs and those of his companions (Acts 20:34). Writing from Ephesus to the Corinthians, Paul named those in ministry with him: Sosthenes, Stephanas, Fortunatas, Achaicus (1 Corinthians 1:1; 16:17), Apollos (1 Corinthians 16:12; 2 Corinthians 8:18,19), Aquila and Priscilla (1 Corinthians 16:19), Titus (2 Corinthians 8:16,17).
In other words, Paul did not do church planting as a Lone Ranger. He mentored future leaders. He ministered alongside. He did not try to do it alone.
To reach a city or community takes a team.
Toil
Let no one kid you. Church planting (or any ministry) is hard work.
Paul evidently used the afternoons to teach in the hall of Tyrannus, and in the evenings he taught house to house. What was he doing in the mornings? Making tents. The "handkerchiefs and aprons" taken from his work place (Acts 19:12) were not puffs or clean white linens, but seat rags and work aprons. He reprises his work at Ephesus by saying he was a hard-working, successful small businessman (Acts 20:34,35).
Further, in a city where financial gain was the inspiration for all service of religion (silver shrines of Diana exported to the world), Paul declined to take the silver, gold, or apparel of any.
When Paul later describes his ministry at Ephesus, he does not focus on the miracles (which were many), but on the mundane. He never converted money into miracles. He invested in others, not himself.
I think of a pastor whose church engaged in a long day of food distribution and evangelism for the poor. When asked if he would do it again, he replied, "No. That is too much hard work." No wonder his church is not growing.
Church planting (or any ministry) is not for those who want to be "at ease in Zion."
Tears
You can work so hard in the ministry you lose sensitivity to people. Paul worked and faced great pressures, yet he "served the Lord with great humility and with tears" (Acts 20:19). Let us not work so hard that we cease to be tenderhearted.
I look back on pastoral ministry, and my greatest satisfaction lies not in the structures we built, the numbers we gained, the increase of missions giving we experienced. Satisfaction comes from the lives that were touched.
When Paul said a final goodbye to the leadership of the Ephesian church, Luke records: "They all wept as they embraced him and kissed him. What grieved them most was his statement that they would never see his face again" (Acts 20:37,38). You get that kind of depth in relationship and commitment only when you dearly and deeply love people.
I grieve when ministers are glad to leave a church, or a church is glad when its ministers leave. It tells me something was missing that is vital in a healthy and expanding church.
Let us be moved with compassion for people as we plant new churches.
Tinder
Tinder is a flammable substance adaptable for use as kindling. Its purpose is to incite or inflame.
That certainly happened at Ephesus. People took sweat rags and aprons from Paul's workshop and laid them on the ill and demon possessed, and they were healed.
Paul had been doing all the right things — teaching, working, and evangelizing. But if the church is to go beyond normal growth there has to be the God-things.
Pastor Mung preached with my dad in the old days in Northwest China. When the persecution finally lifted somewhat, he restarted the church in 1983 with 30 old people. By the time he died in 2004 at the age of 96, the church numbered 15,000. Before he died, I asked him, "How did this happen?"
He answered, "Well, Jesus Christ is the same yesterday, today, and forever … and we pray a lot." He then described the miracles the Lord had done in that town.
May we similarly describe our church planting and revitalization growth in terms not of what we have done, but what the Lord has done (Acts 14:27).
The final match to the tinder at Ephesus came in the watershed moment of the seven occultists — the sons of Sceva — who experienced the name of Jesus exploding in their hands like a wrongly held weapon (Acts 19:13–20).
Look at the anomaly. This was the most effective miracle of Paul's nearly 3 years at Ephesus, and he did not have a thing to do with it. But the effect was tremendous — both on the general public who were "seized with fear" and upon believers who burned the occultic paraphernalia they had kept after conversion.
When the power of the Holy Spirit hits a church, we find that a lot of believers have retained in their possession the "dark works" of the enemy. If the people in our churches would bring their sinful videos, DVDs, magazines, books, Internet logs, bottles, and illegal drugs, we would have quite a bonfire as well. They keep such because there is no compelling demonstration of the Spirit's power in the church.
Exponential growth in church planting occurs whenever there is tinder — an event or series of events that only the Spirit can orchestrate, an occasion or occasions that catapult the church into a new level of growth and influence.
Thorn
The thorn is the part we would rather do without. But any church planting will have it. Writing from Ephesus at the end of his third missionary journey, Paul told the Corinthian church about the thorn in his own life that despite prayer had not been removed.
Paul never tells what the thorn is, and it is good he did not. No one of us has the same thorn.
I do not know of any effective ministry or church plant where there has not been suffering of some kind on the part of leadership.
I wish I could counsel church planters that it would all be a bed of roses, but there will be hardship and difficulty that is not taken away, despite our prayers and best efforts.
We must not let our thorn defeat our mission. We can have the same testimony as Paul, "My grace is sufficient for you, for my power is made perfect in weakness" (2 Corinthians 12:9).
Transparency
Paul told the Ephesian elders in his goodbye address: "You know how I lived the whole time I was with you, from the first day I came into the province of Asia" (Acts 20:18).
What a statement. No missing gaps in his life, no time-outs for seasons of sin, laziness, or self-indulgence. He was on duty the whole time. He was never a fair-weather church planter or pastor.
Writing from Ephesus, he told the Corinthians that he never wore a mask (2 Corinthians 3:13–18). There was no difference between his ministerial persona and his person; or, as we would say, between his conduct in the pulpit and in private.
Church planting will only be as effective as the church planters are authentic. Our task is to continually live in such a way that we can say to others, "Follow me, as I follow Christ (see 2 Thessalonians 3:7,9).
Threat
Church planters are also aware of dangers. Paul certainly was. He warned the Ephesian elders of two threats to the well being of the church: (1) wolves coming in from the outside, and (2) the emergence of those from inside who would distort the truth to draw away people after them (Acts 20:28–30).
Wolves bring havoc. They tear up people. The true nature of wolves and false teachers is to cause division due to their insatiable quest for self-promotion. They are more interested in building their own church, their own nest — than in building Christ's church.
So, it falls on godly leaders to look out for the well-being of the church, which Christ bought with His own blood.
Before Paul tells leaders to watch over the flock, he directs them to "watch over yourselves" (Acts 20:28). The watch is personal and ministry-oriented. We must watch over ourselves before we watch over others. You are an overseer, not a big boss. We are protectors and defenders of Christ's people, remembering the high cost of the possession we now guard.
Conclusion
Dynamic church planting and growth occur when these 10 apostolic Ts are present:
timing
template
teaching
team
toil
tears
tinder
thorn
transparency
threat
Look at the result when these elements are present in church planting. "The word of the Lord spread rapidly and grew in power" (Acts 19:20).
May the Lord give us that kind of result in the unreached communities of America as we vigorously plant new churches and revitalize existing ones.