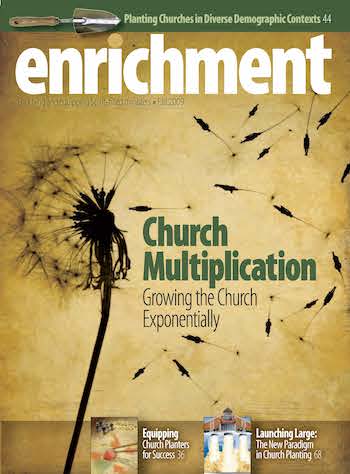 Downloads:
Practical Applications of Old Testament Pneumatology
Our Need for His Help
by Tim Enloe
---
Surveying Old Testament encounters with the Holy Spirit reminds us of the Spirit's patience, ability, and wisdom. We read about some unpedigreed and even dubious characters that had profound supernatural experiences, and then led others to supernatural victory. As in the story of the turtle sitting atop a high wooden fencepost, one fact is obvious: Both the turtle and Old Testament leaders did not get there by themselves.
The major Old Testament Spirit narratives speak to us on many levels of responsibility — first as individuals, then as leaders, and yet they also have universal implications. I want to reflect on some practical applications at each of these levels. I long that we desire to renew His transformation, power, and guidance in our lives and ministries.
On a Personal Level
Zooming in on charismatically endowed individuals can be inspiring — but it can also get ugly. From Moses to Samson to David, bittersweet moments of personal victory and failure demonstrate this simple truth: Personal consecration can affect the duration of such an endowment.
Moses' tantrum at Meribah-Kadesh reveals that the residue of his previous murderous anger and tablet-smashing outbursts still lingered. Striking the rock brought a premature and geographically limiting end to his leadership. Disobedience can be costly, decreasing the time span of Spirit-empowered effectiveness.
The Gideon narrative is an example of a Spirit-empowered leader missing God, therefore missing God's best. This incident immediately followed a great victory. His penchant for Ishmaelite earrings snared him and all Israel into idolatrous worship (Judges 8:23–27). Gideon's story had a great first half, but holiness issues changed his biography to have a flavorless — even sour — conclusion.
And then there's Samson — half-Spirit empowered leader, half-unconsecrated pleasure addict. His story reminds us of God's grace despite human weakness. Samson's contradictory end of both victory and defeat leaves the reader wondering what could have been if only he had a deeper level of consecration.
God selected Saul as king at the insistence of Israel — even though a monarchy was apparently not yet the divine plan. Saul's commissioning includes both astoundingly precise prophetic interaction with Samuel and unique personal interaction with the Spirit of prophecy. Shortly after his coronation, he blatantly disobeyed God by sparing the Amalekite king, Agag. This began a cycle of God mercifully reaching out to a disobedient Saul, who seems to become more and more bent on his own destruction. Once again, a lack of consecration lowers the ceiling of what could have been.
King David is the clearest Old Testament prototype for the Messiah — a soft heart — but a vulnerable Achilles tendon. Note his fear of the Holy Spirit's possible departing following his sin against Uriah and Bathsheba: "Do not take Your Holy Spirit from me" (Psalm 51:11, NASB). This man after God's own heart knew there were consequences to sinful decisions.
At this point you may wonder, How can any of us make it? Certainly if Moses, who received both the original and duplicate copies of the Law — hand delivered on granite stationery — cannot finish the course, how can we? The new covenant demonstrates that Spirit-enabled moral change is more than possible; it is expected. Paul tells us, "If by the Spirit you are putting to death the deeds of the body you will live" (Romans 8:13, NASB).
The new covenant provisions of the Holy Spirit's work of regeneration and sanctification make what was once impossible now possible — even for leaders. Comingle that with an unfolding level of New Testament grace and mercy, and suddenly we have an opportunity to break the cycle and experience the fullest duration of our individual anointing.
On a Leadership Level
Numbers 11 demonstrates a compelling truth: holy desperation at the leadership level — even when motivated by frustration and discouragement — can welcome a corporate encounter with the Holy Spirit.
Moses — prophet par excellence, priestly mediator, and theocratic ruler — evidences a frustration we all face in ministry: leading people who are not always as committed to following as we are to leadership.
We can only surmise God's planned intentions in this story, but Moses apparently had to come to the end of his strength — or at least the realization of it — that led to the first recorded corporate outpouring of the Spirit. From Moses to Paul we are reminded that divine strength is perfected in our weakness (1 Corinthians 12:9).
Moses gave his frustration voice when he prayed, "So if You are going to deal thus with me, please kill me at once, if I have found favor in Your sight, and do not let me see my wretchedness" (Numbers 11:15, NASB).
We can identify — at least to a lesser degree — with Moses' complaint to God, "This is all Your fault; I was happy tending my father-in-law's sheep when You called me into ministry." The overwhelming physical, emotional, and spiritual loads we carry can either cause us to crawl into our hiding places or trigger desperate prayer sessions that bring heaven to earth.
In Acts 4, the newly Spirit-enabled and persecuted apostles voice their desperation to God. Rather than conceding defeat or receding territory, their desperate prayer shook heaven which, in turn, shakes earth: "And when they had prayed, the place where they had been gathered together was shaken, and they were all filled with the Holy Spirit, and began to speak the word of God with boldness" (Acts 4:31, NASB, my emphasis).
The application is obvious: Do not be afraid to let your desperation out before God and before the people you lead. Authentic, unfeigned desperation can be a powerfully contagious motivator when appropriately communicated. Spiritual passion is caught, not taught, so choose to be contagious by not being afraid of appearing weak or vulnerable before those you influence. Why not allow your spiritual desires, even frustrations, to be transparently expressed in healthy ways?
The Holy Spirit will honor your sincere humility and dependence on Him. After Moses' desperate petition, he went from standing alone to having a corporate outpouring that empowered 70 Spirit-anointed helpers to ease his load. The Holy Spirit still desires to hear humble leaders cry out for His help.
On a Universal Level
On a nearly universal scale we see a divine premise to the Spirit's enabling: His power equips us to do what was previously humanly impossible. Whether the impossibility lies within the laws of physics or the sheer scale of the task, the Spirit helps us in our weakness and inability.
Moses, Joshua, Bezalel, Othniel, Gideon, Jepthah, Samson, Saul, David, the prophets, and many others found this to be true:
Stuttering fugitive murderer becomes emancipator and covenant prophet with a flair for the dramatic.
Protégé earns national trust and international respect when he proves his calling by demolishing a city's walls with several daily parades and trumpet blasts.
Plowhand with variable humidity fleece mops up the battlefield with 300 men.
Shepherd boy dismantles a giant foe that once mocked both the boy and his God after inserting a small pebble into the behemoth's head.
God seems to use the least likely in ways that are outside of their natural circumstances and abilities to ensure the rich contrast between the empower-er and empower-ee.
Often we follow our own naturally attainable plans by default, not stopping to verify whether we are being led from above. Then a second mistake frequently follows: We do not realize that a lack of Spirit dependence reaps a lack of Spirit intervention. We can easily get accustomed to operating without His help.
The following two questions have served me well in reorienting my need for the Spirit's enabling because they have distinct power to reveal who is behind my plans and actions:
Differentiation: What is the Holy Spirit leading me to do?
Implementation: Do I need His supernatural ability or can I manage this by myself?
Paul's reminder to the Corinthians of his modus operandi needs to be a clarion call to us: "My message and my preaching were not in persuasive words of wisdom, but in demonstration of the Spirit and power, so that your faith should not rest on the wisdom of men, but on the power of God" (1 Corinthians 2:4,5, NASB).
Remember, when the Holy Spirit is upon us, we can do things we cannot normally do.
Concluding Thoughts
Perhaps you — with me — have felt underpedigreed, undereducated, underfinanced, understaffed, or undersomethinged. Is the revelation of our inadequacy an admission of defeat or an opportunity for the Spirit's enabling?
If you are feeling frustrated like Moses or ill-equipped like Gideon, remember your weaknesses can be your greatest opportunities for His strength.
So, what is God leading you to do? Can you handle it without His help?
We must identify the divine goals and mandates on our lives, and then rely on the Holy Spirit's patience, ability, and wisdom to get the job done.
Perhaps some prayers of desperation will welcome His help even today.