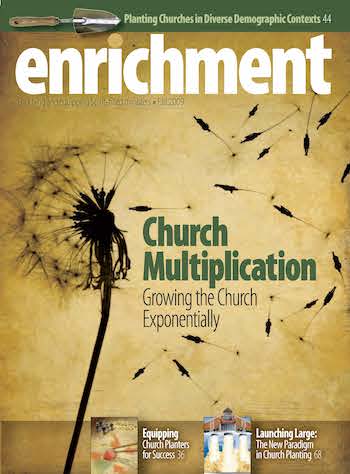 Downloads:
One Passion One Purpose
Planting thriving churches in diverse demographic contexts
---
The increasing diversity of America represents a demographic challenge for the church. To meet this growing challenge, denominations, local churches, and networks are taking a more proactive role in multiplying churches than in previous decades. New models, strategies, and approaches are required in order to plant thriving churches in diverse demographic contexts.
Steve Pike, director of Assemblies of God Church Multiplication Network, visited with six Assemblies of God church planters from six demographic contexts. Their practical insights will benefit those who share their passion for church planting.
Participants in this interview include: Jeff Leake, MultiChurch Movements, Pittsburgh, Pennsylvania (parent church planting); Jaren Lapasaran, Jr., Heights Worship Center International Ministries, Hacienda Heights, California (ethnic church planting); Chris Beard, First Christian Assembly of God, Cincinnati, Ohio (multicultural church planting); Denny Curran, River of Life Assembly of God, Cold Spring, Minnesota (rural church planting); John Van Pay, Gateway Fellowship Church Assembly of God, Helotes, Texas (suburban church planting); Otto Wegner, Highway Mission Tabernacle, Philadelphia, Pennsylvania (urban church planting).
Explain the common, nonnegotiable principles that apply to every church-planting project.
Leake: One core principle is the idea of reproduction — disciple making. Church planting is the expression of disciple making in a community. This is not simply sending a pastor, people, or money, but reproducing healthy DNA in a new church family. Reproduction is a key.
Curran: People matter. If we lose our passion for people, it becomes more difficult to reach out or spend the resources to reach the community.
I walked into a board meeting one day and all my board members had their arms folded. I said, "What's up, guys?"
They said, "We haven't planted a church in over 2 years. What is wrong with us?"
That spoke to me about their passion for people. People matter, and we are going to touch lives any way we can.
Lapasaran: For ethnic groups, a nonnegotiable guiding principle is the Great Commission. Ethnic groups crossed land, sea, and air to come to America. We feel God has sent us because He designed our destiny, even if we left our country of origin because of political or economic persecution. Yet, we were scattered to preach the gospel wherever we go.
Van Pay: If we do not love each other as a church family, we will find it difficult to reproduce ourselves and fulfill the mission to which God has called us. When people come through the doors of our church, they will know if we have deep love for each other. It has to be modeled from the top down. That means it begins with me, the lead pastor, down to our launch team, and then to our staff. Building people and relationships has been key for us.
Wegner: One nonnegotiable principle is the practice of presence. A lot of people want to do something or see something happen in a community, but do not want to live there. We would never stand for that in world missions: "I'm wanting to reach people in Australia, but I'm going to stay in the U.S. to do it." A study in Philadelphia reported that less than 40 percent of the pastors and primary leaders of churches live in Philadelphia.
We have a slogan: "It's the presence of God's people that guarantees the presence of God." If a church planter is not willing to live in a neighborhood, he is not qualified to lead.
Beard: A leader who has a good handle on what he is called to do and is willing to lay down his life, with God's help, to do it has a good sense of what God has put in his heart to accomplish.
What practices founded on these principles have proven for you to be effective?
Leake: The practice of good planning comes out of BootCamp. Church plants cannot live off past success, because a church plant does not have a history to build on. That is one of the benefits of a church plant: You must do this well or you will die. Church planters must learn how to cast vision, form a strategy, and build a team. These areas are necessary to effective leadership. As a parent church pastor, I strive to build the leader of the new church, not just the church. Investing in the new leader so he can succeed is a great plus.
Another practice comes from Nelson Searcy's book, Launch (see Nelson Searcy's article in this issue, Launching Large: The New Paradigm in Church Planting on page___). We recently introduced preview services into the church-planting process. This has worked well to help a church gain momentum.
There are great materials now to aid church planters — whether BootCamps or through organizations like Church Leader Insights. Learn to be a good resource so you are learning and growing and can do things effectively.
Beard: Concerning a multiethnic or a racially reconciled context or vision, there are not a lot of tools. Church planters need to have a conviction to help people work through understanding each other. Church planters need to have a strong theology of church. Church is not just diversity for diversity's sake, but building a church that looks like heaven.
Wegner: The church will ultimately take on the personality of the primary leaders. We teach what we believe, but we reproduce who we are. The objective is to reproduce after our kind. On occasion I have made the mistake of skipping that step. But I have never been disappointed when we have good people who have the skill sets and the gift mix. I have never been disappointed when they are people of integrity, are generous, and are unselfish in their time.
Lapasaran: To have a successful ethnic church plant, we first find a man, a family, or a church to lead our church plant. Most ethnic church planters are bivocational. Concerning strategy, if a person is outgoing, we start with evangelism. But if a person is relational, then we start with a home group. As we find the person and discover his giftings, that predicts what we will do.
Van Pay: In the suburban context, our church family is learning that our money and talents are not ours, so we need to be generous. The antidote to greed is generosity.
We have simplified our calendar by focusing on what is truly important. Eighty-one percent of our adults volunteer in our church and city each month. We regularly have volunteer orientations where people get a behind-the-scenes look at our teams, then try one out. If they fit, they serve once or twice a month, opening more opportunities for others. We celebrate and tell stories of people serving the Lord and others in love. It has been fascinating to watch how their faithfulness in attendance and giving has increased as a result of being generous with their talents.
What are some challenges that are specific to your area of planting, and how have you overcome them?
Curran: A year ago we planted a church in Sartell, Minnesota. Because the parent church is a strong relational church, some people said, "I live in Sartell, but I do not want you to ask me to help plant that church." But they ended up going, and it was exciting.
A week before we planted the church in Sartell, 500 people gathered in small groups in our foyer, crying, and hugging. I thought something was wrong. They said they realized this was the last Sunday they would be in this church.
Pastors need to create a vision in their church so it becomes a natural thing for people to leave when you plant another church.
One lady said, "This is so wrong, but it is so right." Some people who had a hard time making the switch because of the deep relationships they had here are building relationships in the new church plant.
Releasing the people has been a challenge. A lot of people have had a hard time doing that. What we do from the pulpit and how we create that climate helps us.
Leake: I want to see the churches we plant become thriving churches. Early on we would have a good push for our church plant with a lot of enthusiasm and backing. Then once a church was functioning as a sovereign church, we pulled away to plant another church. Often the churches we planted hit a plateau. One of the strengths of the multisite system is that the mother organization that helps birth these campuses owns the ongoing success of these campuses because people perceive all of the campuses as one whole.
Now we are asking how we can continue to push our resources as a parent church to the edge and keep our church plants where they feel they are connected to something that helps them grow. Our goal, even though we are planting sovereign churches, is to create a network that helps these churches continue to thrive.
Beard: Our city is historically fractured and segregated. The body of Christ, just like the rest of the city, has homogeneous congregations. We are working to overcome that inertia in the mind-set of believers who would be a core group of planters at the district and sectional leadership levels.
We need to realize the demographics of our country are drastically changing. Seven out of 10 new employees nationwide are people of color or women. If we do not start to change, down the line a lot of us will be in trouble. This is not the main motivation to change, though. We must change because God loves all people. We need to overcome the challenge of the homogeneous church-growth principle and the mind-set of "can this really work?"
Once people start coming to Christ, are baptized, and demonstrate a different kind of Kingdom community, the energy and excitement are incredible. In Cincinnati, church planters — black, white, and Latino — are starting to come out of the woodwork with a desire to plant multiracial churches. People throughout the city are starting to ask, "What is going on?" This is a new prophetic voice we did not have because we were racially, politically, ideologically, and theologically segregated congregations. Overcoming that inertia is the biggest challenge. Once you start breaking through that and get financial and numeric traction, it is an incredibly exciting ride.
Lapasaran: The first major challenge in starting ethnic and immigrant churches is to find a place to meet. After identifying the person who will take the lead, we start our churches in homes or in other suitable locations. To become a church that will reach its community, we need existing churches to coparent with us. This is a challenge. For our church to grow, we need trained leadership and support from other churches that might loan us a Sunday School teacher, a women's director, a youth or children's leader, or any resource to help us nurture an ethnic congregation.
I met with a district official after our living room could no longer accommodate the growth we were experiencing. The next Sunday he opened his church to us. On that Sunday we had 50 of our ethnic people worshiping together with an existing church.
Curran: One challenge I have is creating a vision and keeping my church outreach focused. I also am looking for people who are qualified to plant a church. When we first started planting churches in 1993, nobody wanted to plant a church. Today, many people want to plant a church, but the success of a church depends on the leader.
We are behind schedule on our next church plant. We have a place to meet and a core group, but we are looking for the right person who has the right DNA to lead the new congregation.
We have started a Master's Commission connected with North Central University. Church planters will go through our Master's Commission. Two years of our Master's Commission will be equivalent to 2 years at NCU, and then students will finish their degree with an emphasis on rural community at NCU. We are calling it Heartland Master's Commission. We plan to identify students we think will do well in a rural setting and begin shaping them in a Master's Commission.
My biggest frustration is finding people who I think will qualify. The assessment we are doing is helping.
Van Pay: Before launching our church, we were aggressive in meeting unmet needs in our community. With weekly services, administration, and pastoring, the No. 1 challenge has been to stay missional. We knew that at the 3-year mark, churches can become inward. We are fighting against this by planting churches and meeting needs.
Our dream was to be a part of launching a church in our first year in our city, country, and world. On our launch service, we gave our first offering away by planting an Assemblies of God church in Tanzania for $4,500. During the summer, we gave $1,262 to a Baptist church less than 2 miles from us. In the fall, we gave $3,800 to The Well Church (Assemblies of God) in Oklahoma. We have partnered with homeless shelters, inner-city food banks, and mentoring programs. On our first missions trip we took 32 men to Galveston, Texas, for 3 days rebuilding a floor of a church affected by Hurricane Ike.
There are people who are generally qualified as church planters, but how do they fit into a specific context?
Wegner: In the 1950s Melvin Hodges, J. Philip Hogan, and others committed to the indigenous church principle and redirected energy to training indigenous peoples to do ministry. That is where the exponential growth took off.
The Assemblies of God tends to be suburban, rural, Southern, and Western, so we have few indigenous people trained to work in urban areas. The way we train people in our colleges is not the way urban people tend to learn. Also, working in the inner city becomes more inaccessible when young people graduate with huge college bills and have been trained for ministry in a rural setting.
Lapasaran: Our organizational structure with regard to the ethnic language fellowships and how our finances are being structured are specific challenges. Presently, we have 75 churches in our ethnic fellowship, but none of those churches can fund our church planting. We must rely on other churches or the district for funds. Some of our pastors are suggesting that part of the ministers' tithe given to the district be redirected to the fellowship to help us operate an office for the ethnic language fellowship.
How can districts help you be successful in what you are doing, and how can other churches and individuals partner with you?
Leake: My district does a really great job on a couple levels. They have a seed fund, similar to MX9. They have a 20/20 plan where they provide matching funds from other church organizations that want to plant a church. They provide BootCamp every year. We send all of our potential church planters through the assessment process. They have also encouraged churches in the district to partner with the churches we plant. We have some rural churches that are sending work teams and mission teams to an inner-city ministry.
The district has given opportunity for one of our inner-city planters to visit sectional meetings and cast vision. The district celebrates the successes, which is great affirmation. This kind of district support helps build a sense of partnership between a parent church and a district or the General Council.
Wegner: I am from the PennDel district. Our district does it very well. They did something in our current church plant that really helped us. Superintendent Steve Tourville began affirming what we do. It is axiomatic that every group become what they are affirmed for doing. Historically we have celebrated other things, but now that church planting is in vogue, I do not think it is complicated for district or national leaders to hold up church planters as examples of what is needed, what is good. That moves the whole process forward.
Curran: In the Minnesota District, Superintendent Clarence St. John and Roger Stacey, church planting/U.S. missions director, have created an atmosphere for church planting. Some pastors have not completely caught the vision. We need to be outreach focused and get away from the maintenance style of ministry and begin to reach the lost for Christ. We have had success because this atmosphere has been created. Church planters do not want to feel they are an island fighting on their own. The assessment has been a great tool that's come out of our district and in Springfield.
Van Pay: District officials can help by encouraging and partnering with church planters. Planting a church can be lonely and exhausting, so having a friend who is a pastor to the church planter is a tremendous blessing.
As for churches, we are on the same team, but the spirit of competition can be tempting. I meet monthly for prayer and fellowship with five church planters. They are a tremendous support. Pastors of existing churches can partner with church planters by donating resources, unused equipment, office space, monthly support, and even volunteers for the first 6 months.
Beard: It is an exciting day today, more than it was a few years ago when pastors were fearful, territorial, and concerned about someone planting a church near them. District and national leadership recognized this territorialism and began saying, "We need to plant churches; this is a good thing. We grow the Kingdom as we multiply churches." They started resourcing and removing barriers. In the Assemblies of God, there is an exciting new momentum because leaders are willing to face our problems and say, "Let's turn a new leaf and grow the Kingdom."
Curran: I was not raised Assemblies of God. I come from a strong Irish Catholic background. When I came into this Movement, prayer was a great priority. Churches prayed. We are where we are today because of those who prayed.
Prayer is the No. 1 tool we use to identify a target area. We have people saturate a community in prayer once we identify that community. Much of the success we are having in church planting is the direct result of the prayer.
Lapasaran: Right now in Las Vegas we host 24-hour nonstop prayer. This has been going on for the last 3 years for the city of Las Vegas. We are ready to plant 10 churches in Las Vegas.